A. B. San Francisco
A. B.
(Albany Brewery)
San Francisco
Claus Spreckels, Albany Brewery
San Francisco, California
Orange Amber Cylinder Beer
Provenance: Eric McGuire Collection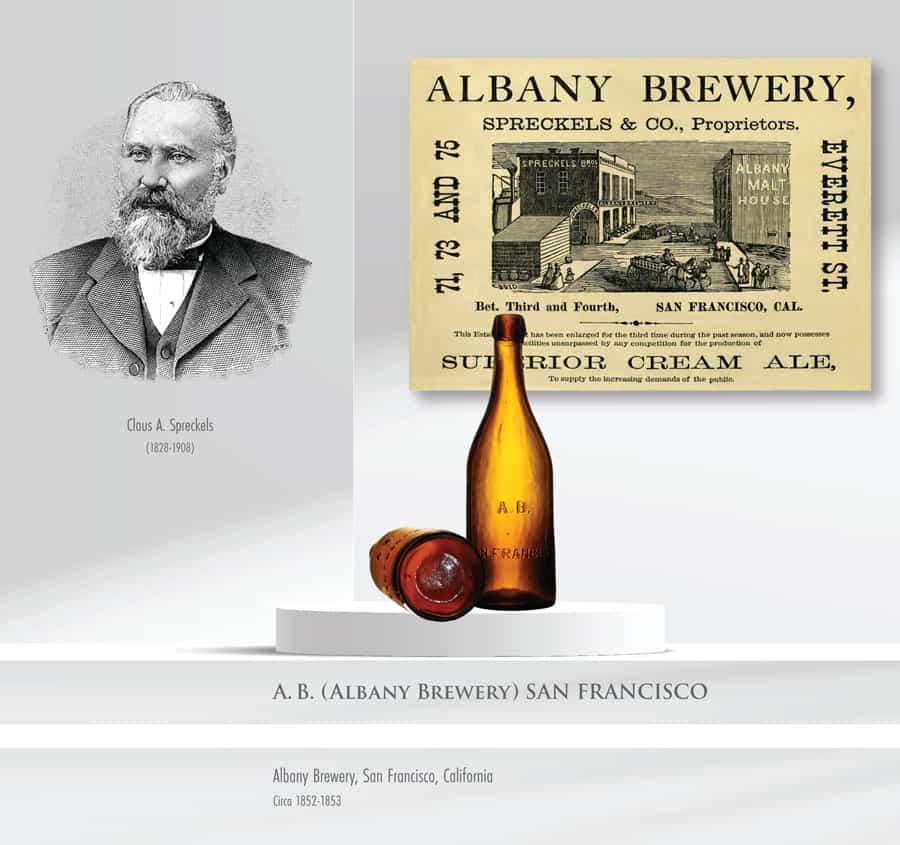 At one time, the distinctive trademark letters "A.B." were almost "household words" synonymous with the Albany Brewery in San Francisco, California. Claus Augustus Spreckels was the brewery's most influential proprietor in the early days. He became very wealthy and later moved into the sugar industry, where he was known as the "Sugar King of the Sandwich Islands."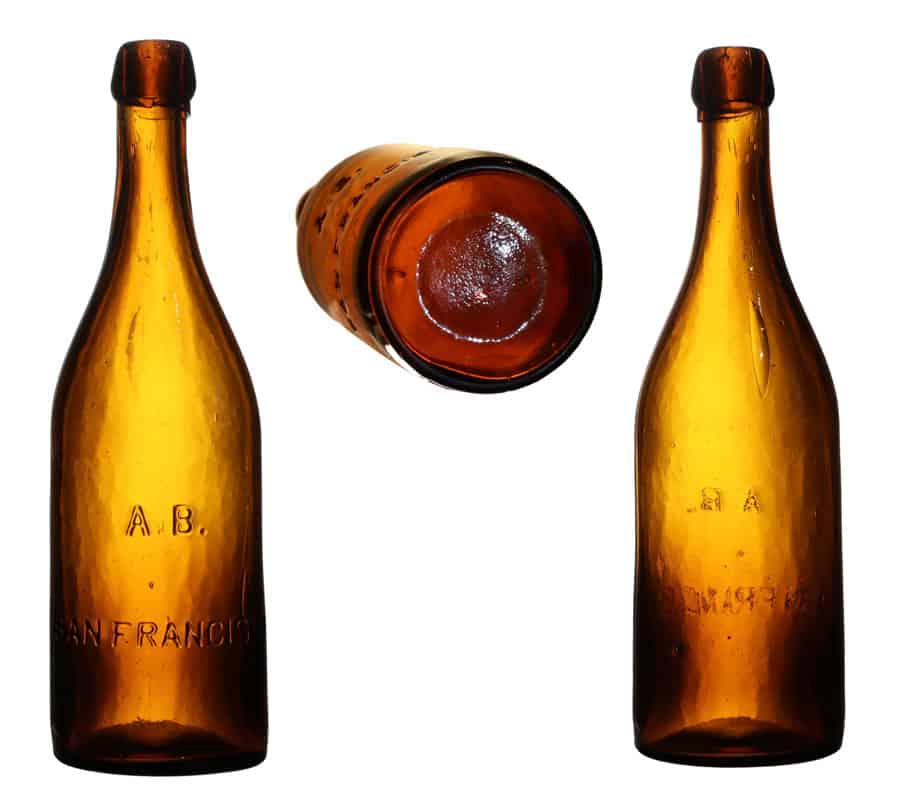 Our rich orange-amber beer bottle is simply embossed 'A.B. SAN FRANCISCO' in two lines in sans serif copy. These letters told anyone in any saloon, grocery, liquor store, or advertisement, for that matter, that it was the best beer, ale, lager and porter in the region. At a time when many bottles had an abundance of embossed copy, this minimalist effect is quite remarkable and a feat in marketing. The bottle is 9 ½ inches tall, exudes character, and would have contained about one quart of liquid. It appears typical in style of the San Francisco beer bottles first produced in the early 1880s to about 1887. The tapered mouth is sloppily applied, and the bottle base is plain.
It is unclear whether the bottle was produced by Albany Brewery or made for another retailer who sold the product. One bottler has been identified in Santa Cruz, California, but virtually nothing is known about his business. Only three or four bottles are known. The featured specimen was found in Marin County, California, in the 1980s.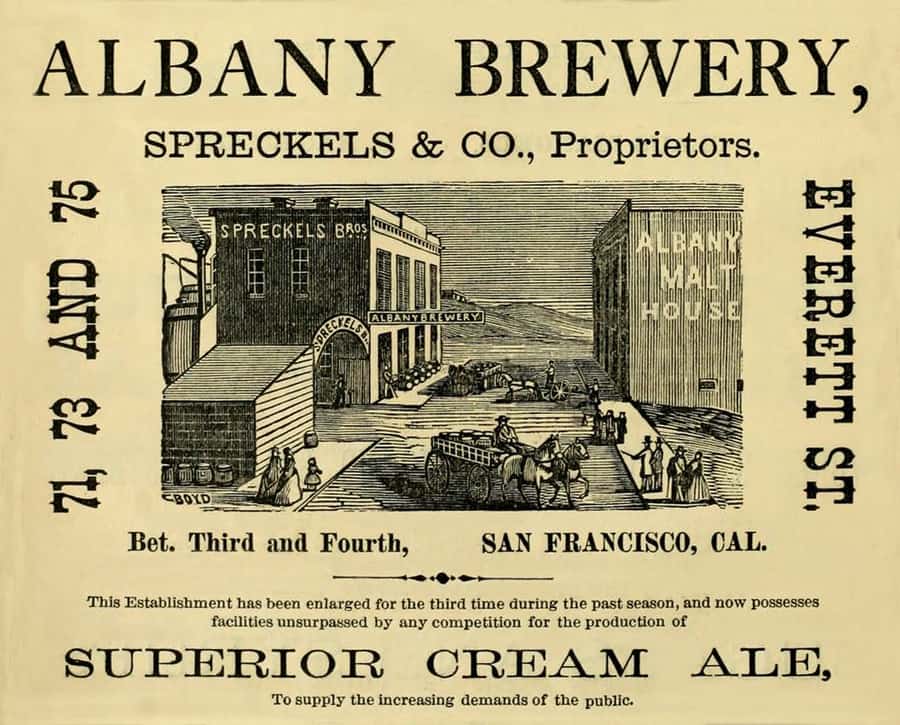 Claus Spreckels & Co. was one of the first brewing enterprises in San Francisco, having been started in the late 1850s by a group of men led by Claus Spreckels, who bought a quarter interest in the Albany Brewery for $40,000. This investment was the foundation of an amassed large fortune and the beginning of Spreckels commercial importance. The brewery's motto was "Let the fittest survive." The enterprise continued for many decades with a number of different people in control until Prohibition.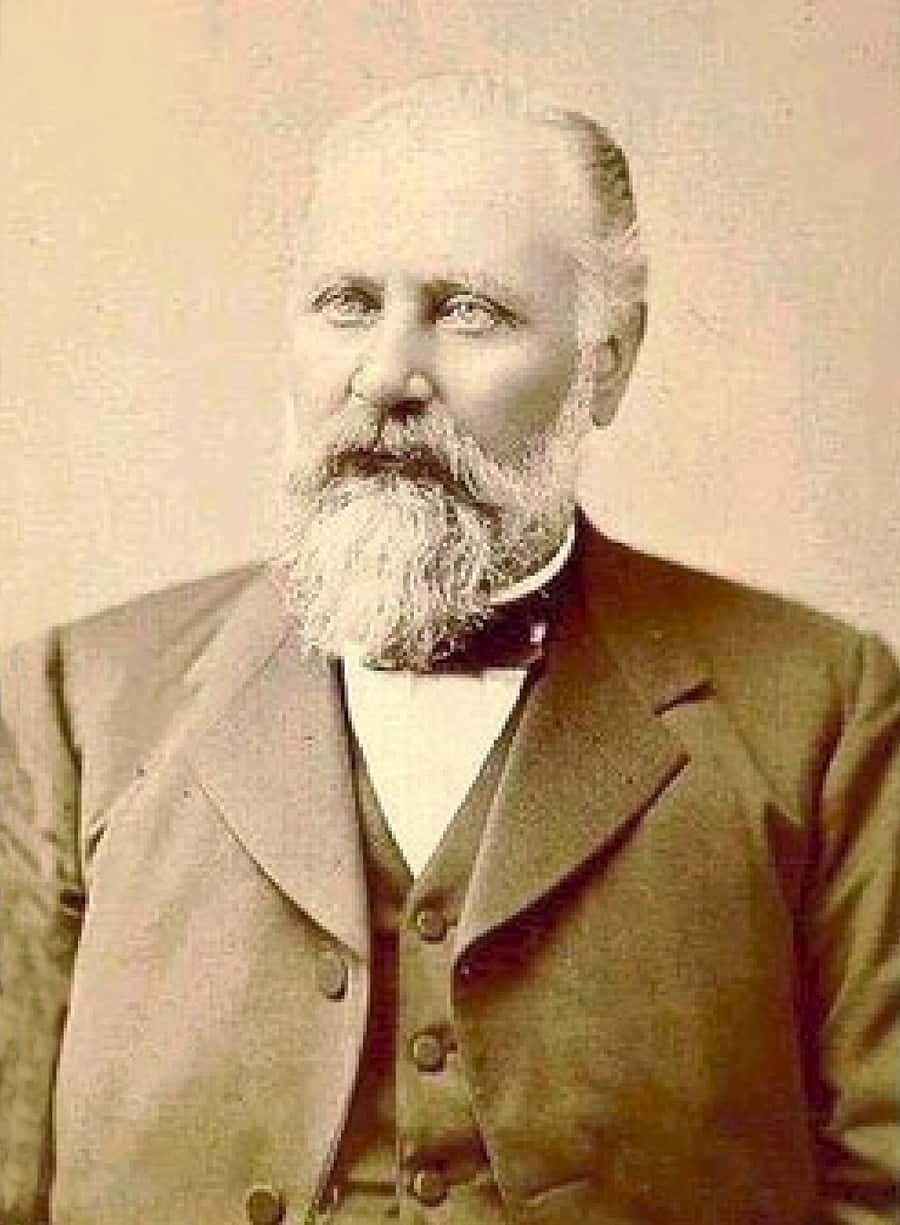 Claus Spreckels was the eldest son of John Diedrich Spreckels and was born in Lamstedt, Hanover, Germany, on July 9, 1828. In 1846, when he was 18, Claus Spreckels emigrated to America with only three dollars in his pocket, settling in Charleston, South Carolina, where he worked in a grocery store. Not long after, he purchased the store.
Anna Christina Mangels was Spreckels' childhood friend. She and her brother had emigrated to New York City during the political purges in Germany in 1849. Claus and Anna began a long-distance courtship in an era when steamship passage between Charleston and New York took 60 hours. They were married in the spring of 1852. Spreckels had many connections and ties to the North, and over the next few years, he traveled there several times for business. In 1855 he sold his Charleston grocery store, moved to New York City, and opened another.
Later that year, Spreckels' brother Bartold arrived in New York from San Francisco and told of his and their brother Peter's adventures in the Gold Rush. Claus saw an immense opportunity, pulled up his roots, and took his wife and two infant children to San Francisco in the spring of 1856, having traveled the five-month journey around the horn of South America. Upon arrival, Spreckels opened a small provisions and groceries business, preferring this work to the hazards and hardships of mining. Everything he touched seemed to turn to gold, and he made large profits in his business. Two years later, in 1857, Albany Brewery was opened, centrally located on the South side of Everett Street near Fourth Street.
Claus Spreckels and his brothers ran the brewery for seven years. They were selling A.B. beer through his brother Peter's sample room, the Town Talk Saloon. In 1867 Claus and Peter left Albany Brewery to form the California Sugar Refinery. Henry, with junior partners Claus Mangels, Claus Brommer, and Frederick Hagemann, took control of the brewery.
Henry guided the brewery ably for the better part of the next decade. He added partner Diedrich Brommer in 1876. Then, in September 1877, Henry died of a heart attack at age 35, and the junior partners had to take control. The new manager of the brewery was Frederick Hagemann. He and Claus Mangels were also on the board of the California Sugar Refinery, and they worked with Claus Spreckels to tie up Henry's estate. By 1880 his estate was settled, and the Spreckels family was officially out of the brewery business. Claus Spreckels and his brother Peter concentrated on the California Sugar Refinery.
In 1888, the Albany Brewery's name was changed to Hagemann Brewing Company though they kept the brand "A.B." letters. The officers were F. Hagemann Jr., President; Rudolph Hagen, Vice-President and Treasurer; and Joseph Rech, Secretary. They made many improvements, including a new malthouse, tripled their sales, and sold 30,000 barrels that year. They boasted that they had the best model brewery in the city, and there were many. The Hagemann family operated the brewery for another 40 years before it was closed by Prohibition in 1920. They never reopened.
Claus Spreckels died at 80 on the day after Christmas 1908. His and Peter's efforts in the sugar business paid off. Claus was hailed upon his passing as the Sugar King of the Pacific Coast. He would eventually be recognized as one of the most successful German immigrants in 19th-century America.
Primary Image: A. B. (Albany Brewery) San Francisco bottle imaged on location by Eric McGuire, FOHBC Virtual Museum West Studio No. 2.
Support: Research assistance, Eric McGuire, FOHBC Western Region Director, Petaluma, California
Support: Reference to Tavern Trove, dedicated to preserving the memory and history of America's Brewing forefathers.
Support Image: Auction Lot #6: Albany Lager San Francisco Tip Tray, Albany Brewing Co., San Francisco, CA, The Meek Co., Circa 1908, 4-1/4" diameter. This is an exceptionally rare tray from a small west coast brewery and features one of many Meek Co. stock images (Louise). – Morean Auctions, June 2018.
Join the FOHBC: The Virtual Museum is a project of the Federation of Historical Bottle Collectors (FOHBC). To become a member.