John & G J Postel Mineral Water
John & G J Postel
Mineral Water
Cincinnati O
P – This Bottle is Never Sold
John and George J. Postel, Cincinnati, Ohio
Light Blue-Green Aqua Soda
Provenance: Doug Shutler Collection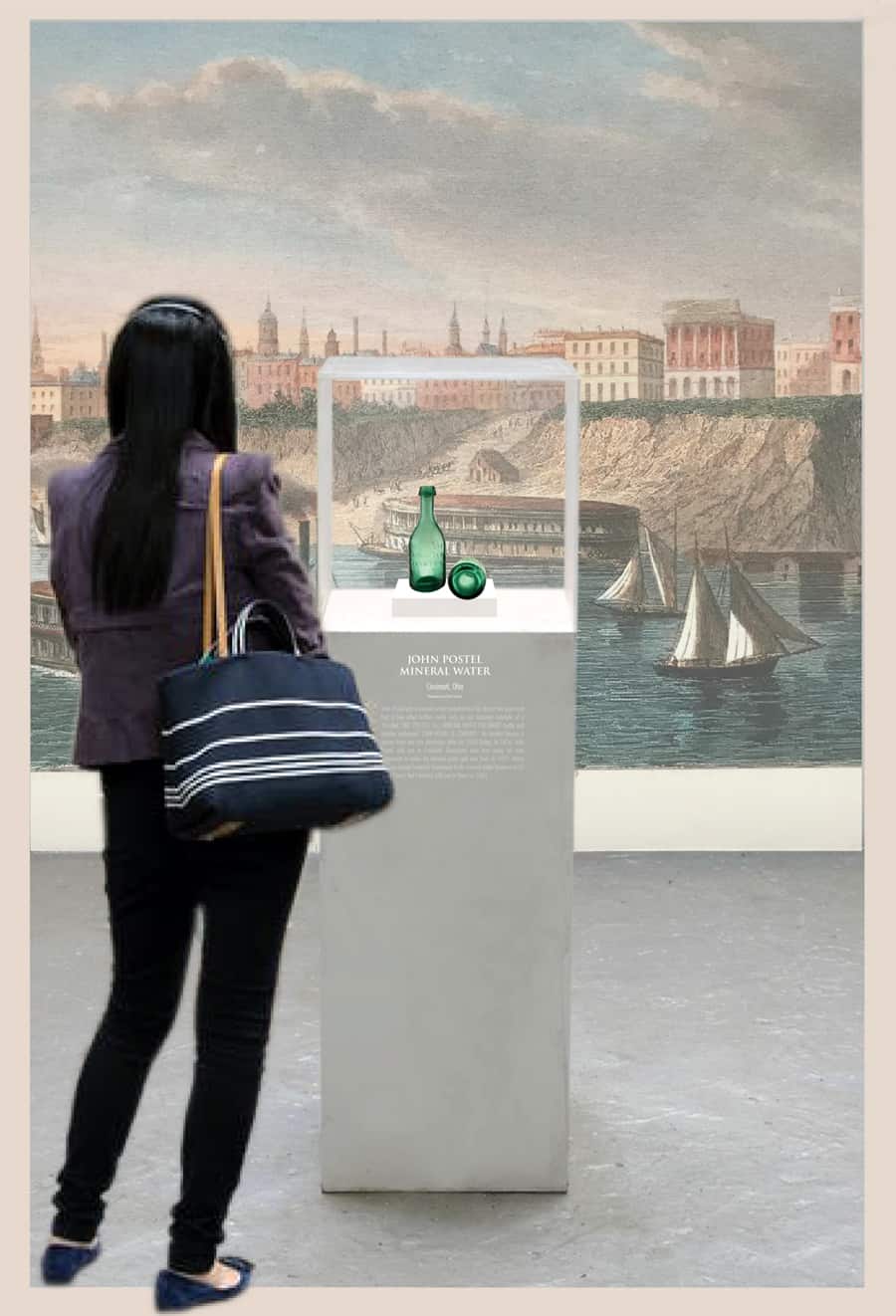 Before soft drinks, there was a significant mineral and soda water industry in the United States, populated mainly by regional manufacturers. Water quality was a considerable concern in the antebellum days of cholera epidemics. Mineral or soda water was considered safer than well or other flowing water.
Thomas M. Rutherford was among the first mineral water manufacturers in the fast-growing city of Cincinnati, founding his business in 1845, which was eventually passed on to his son John. In 1846 or so, brothers John and George J. Postel founded another mineral water business at the northeast corner of Lodge Alley and Gano between Walnut and Vine Streets. We see them listed together in the 1849/1850 Williams' Cincinnati City Directory. The names of these two brothers is embossed on our subject bottle. John was the elder brother born in Germany on June 11, 1801. George J. Postel was born around 1814 in Germany. Like many Germans, they would emigrate to America seeking relief from political oppression and economic strife. Many would make their way to Cincinnati, which had a sizeable German population and wide-open land.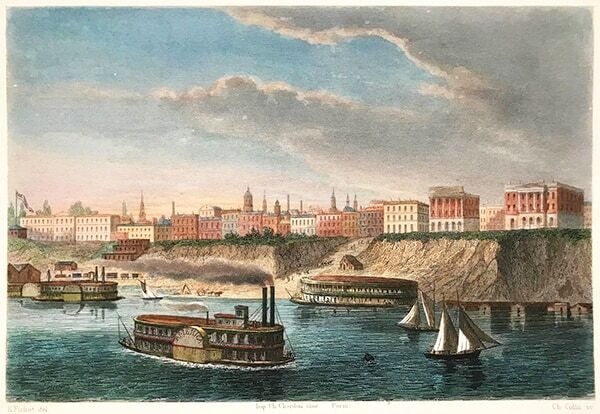 John Postel was a mineral water manufacturer for almost ten years and had a few other bottles made, such as our museum example of a 10-sided 'JNO. POSTELL (sic) MINERAL WATER CINCINNATI' bottle and another embossed 'JOHN POSTEL & COMPANY.' His brother George is absent from any city directories after his 1850 listing. In 1856, John Postel sold out to Frederick Goosmann, who used his equipment to make his mineral water and root beer. In 1859, Henry Verhage joined Frederick Goosmann in his mineral water business at 65 Gano Street, but Frederick sold out to Henry in 1860.
The difference between "soda water" and "mineral water" during the 19th century was often vague. Soda water was generally considered flavored artificial mineral water with the purposeful addition of carbonation and various compounds and flavoring. Mineral or spring water, as it was also called, would generally be natural waters from spring sources that were typically highly mineralized with carbonates like alkaline, sulfurous compounds, and or various salts, which often carbonated naturally. The confusion sometimes arises when mineral water is used as a generic term applied to multiple natural and artificially carbonated, non-artificially flavored waters, including many utilized for their perceived medicinal qualities. Please visit the museum Spring & Mineral Water Gallery.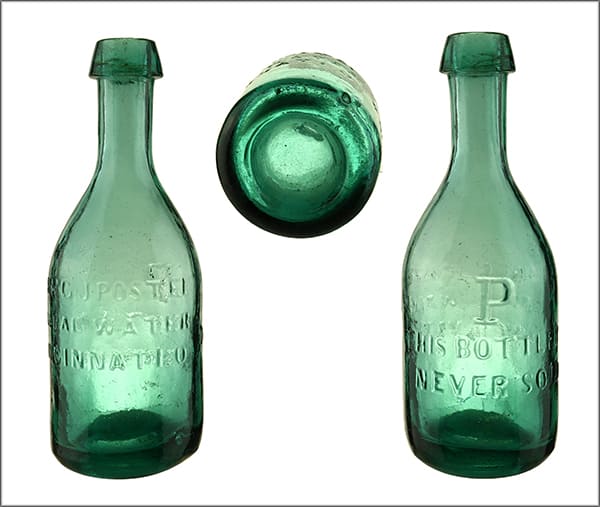 We have two (2) John Postel Mineral Water bottles in our Soda Water Gallery. The first is in light blue-green aqua glass, 7-1/8″ tall, cylindrical, and has an applied tapered mouth and an iron pontil. There is a straight-line, sans-serif horizontal copy on the obverse and reverse of the bottle. The embossed copy on the front reads, 'JOHN & G J POSTEL' (1st line), 'MINERAL WATER' (2nd line), and 'CINCINNATI O' (3rd line). The reverse has an enlarged embossed 'P' in a serif typestyle. Beneath in two lines is embossed 'THIS BOTTLE IS NEVER SOLD.' Many soda water bottles were reused and had extensive base and side wear as soda water bottles were the property of the soda bottler and were sometimes marked like our example or similar embossing to that effect.
The second Postel bottle in our Soda Water Gallery is 7-¼" tall x 2-5/8 (4) and is also in a blue-green aqua glass color. This 10-sided soda has a rounded tapered applied mouth and an iron pontil. There is an embossed teardrop bead on each panel at the shoulder. The embossed copy reads shoulder to base, 'JNo POSTELL' (panel 1, note the spelling error in Postel with a second 'L.' The "o" in "JNo" is raised and has two dots under it). The second-panel reads 'MINERAL WATER,' and the third-panel CINCINNATI'. The reverse has a large embossed serifed 'P.'
See the museum example of the 10-sided Jno Postell Mineral Water Cincinnati.
Primary Image: John Postel bottles imaged on location by Alan DeMaison, FOHBC Virtual Museum Midwest Studio
Support: Reference to The American Pontiled Soda Database Project, Tod von Mechow
Support Museum Image: 10-sided Jno. Postell (sic) Mineral Water bottle from the Doug Shutler collection and imaged by the midwest Virtual Museum studio.
Support Image: Cincinnati landing on the Ohio River c. 1850, engraving, Colin-Fichot, The Cincinnati Map Collection
Support: Reference to Soda & Beer Bottles of North America, Tod von Mechow
Join the FOHBC: The Virtual Museum is a project of the Federation of Historical Bottle Collectors (FOHBC). To become a member.