Dexter (Wreath of Fruit)
Dexter
(Embossed Wreath of Fruit)

Adam R. Samuel, Philadelphia, Pennsylvania
Aquamarine Quart
Provenance: Jerry McCann Collection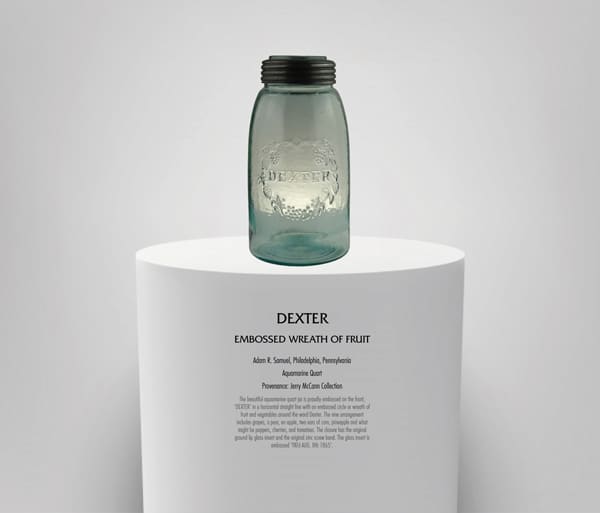 The beautiful aquamarine quart jar is proudly embossed on the front, 'DEXTER' in a horizontal straight line with an embossed circle or wreath of fruit and vegetables around the word Dexter. The vine arrangement includes grapes, a pear, an apple, two ears of corn, pineapple, and what might be peppers, cherries, and tomatoes. The closure has the original ground lip glass insert and the original zinc screw band. The glass insert is embossed 'PATd AUG. 8th 1865'.
Adam R. Samuel was one of the first, if not the first proprietor to run a glass business devoted solely to the production of fruit jars. Samuel advertised in 1867 that he was the manufacturer and proprietor of the Willoughby Patent 1859, Haller Patent 1860, Kline's Patent 1863, Mason's Patent, and Franklin Fruit Jars which were the predecessor of the Dexter jars. This actually meant that he was holding the patents for these jars that he obtained from patentees William T. Gillinder and Edwin Bennett of Philadelphia. Samuel at that time was located on the southeast corner of Howard and Oxford Streets in Philadelphia, Pennsylvania as noted in the newspaper advertisement below.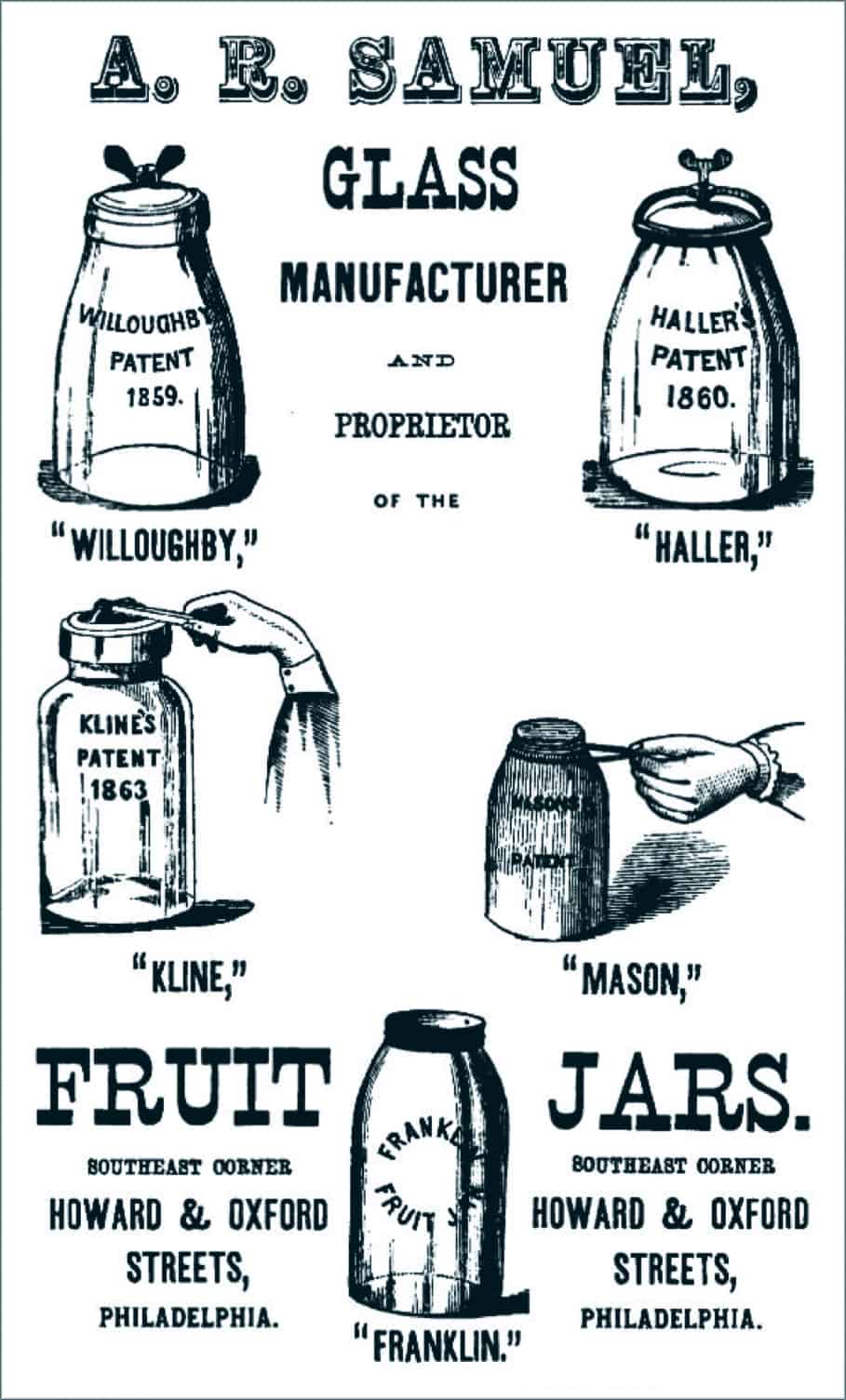 There are some embossing and lid variations of the Dexter jars that were made in the early 1870s to mid-1880s. One only had the embossed name 'DEXTER' horizontally on the front of the jar while the other had the same 'DEXTER' embossing surrounded by a circle of embossed fruit and vegetables. There is also a slight variation with different fruit and vegetables that we have pictured further below. Another variant has 'DEXTER' embossed in a slight arch with a ring of fruit and vegetables and 'IMPROVED' embossed in a slight inverted arch (see Creswick illustration below). All of these jars were the same jar as the Franklin No. 2 Dexter Fruit Jars which were earlier Samuel jars.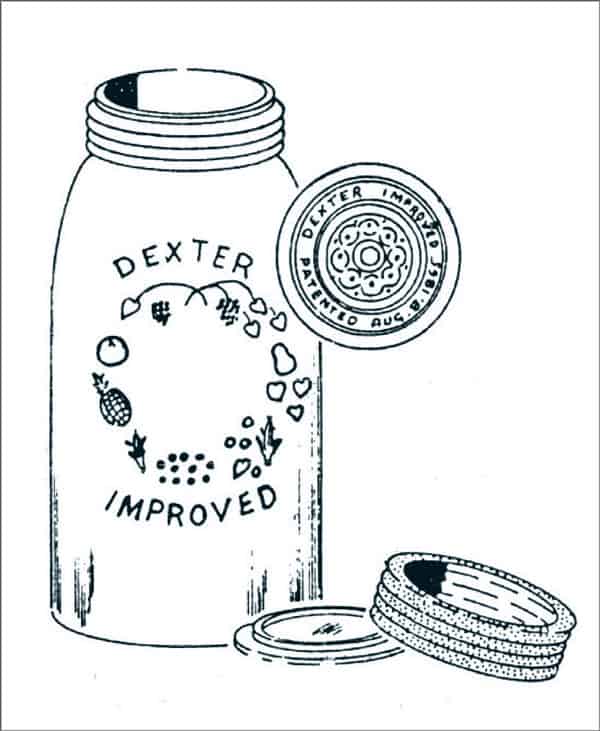 If A. R. Samuel made the Franklin Dexter jars into the early 1870s, he (or his sons) probably dropped the "Franklin" name at that point and made the jar that was only embossed 'DEXTER'. These appear to be less common than the Dexter jars with the embossed fruit, so they were probably only made until the end of production at the Keystone Glass Works circa 1875.
Adam R. Samuel first worked as an apprentice at the Dyottville Glass Works, in Philadelphia, Pennsylvania, and then worked at the firm of Kensington Vial and Bottle Works of Sheets and Duffy, also in Philadelphia. An economic depression and a glassworkers' strike soon ended Samuel's connection with Sheets & Duffy so, in the spring of 1859, Samuel began manufacturing fruit jars in one of the furnaces of the Kensington Glass Works. It was reported that he made 2,500 fruit jars a year during his time there.
Samuel then began construction of the Keystone Glass Works at the corner of Howard and Oxford Streets in 1862 and the plant began production on February 22, 1863. He expanded operations shortly thereafter. By then he had control of five of the most popular fruit jar patents, and a furnace that was capable of turning out from seven to ten thousand gross jars per annum.
By 1870, Samuel incorporated the business, An 1870 Industrial Census of Philadelphia, Pa. listed:
A.R. Samuel, Keystone Glass Works., Mfr. of Fruit Jars, Capital: $50,000, employs 60 men and 60 children, Payroll $50,000 per year, active 10 months per year, Raw Material: 250 tons Soda Ash; 1,000 tons Sand; 8,750 bushels Lime; 2,500 tons Coal; 6,000 cords Wood. Annual Product: 100 gross Pint Jars – $700; 9,000 glass Quart Jars -$72,000; 4,000 gross Half Gallon Jars – $48,000."

Industrial Census of Philadelphia, Pa., 1870
Adam R. Samuel died on February 24, 1873, and his sons William H. and John B. Samuel continued to run the business as a partnership until at least 1875.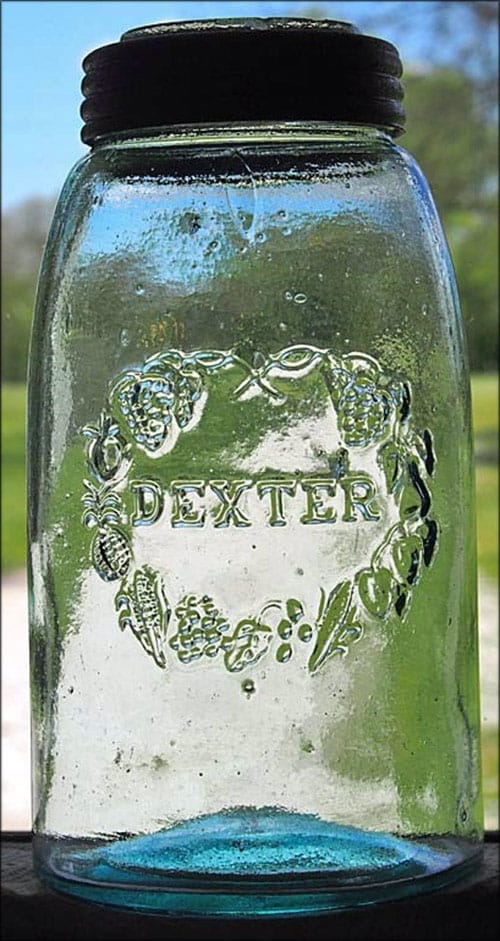 Support: A.R. Samuel, the Philadelphia Jar Maker by Bill Lockhart, Jim Sears, and Beau Schriever
Support: Reference to Red Book #11, the Collector's Guide to Old Fruit Jars by Douglas M. Leybourne, Jr. Use of Creswick illustration courtesy Doug Leybourne.
Support: Reference to Fruit Jar Annual 2020 – The Guide to Collecting Fruit Jars by Jerome J. McCann
Support Image: DEXTER circle of fruit jar in aquamarine, quart. – Greg Spurgeon, North American Glass
Support Image: Auction Lot 9911: DEXTER with CIRCLE of FRUIT Quart, Aquamarine, Closure: correct original glass insert lid with 1865 patent date, and original zinc band (some pinholes in band but very solid), sparkling glass, shallow chipping on the ground mouth, Embossing: strong, Base: "T", Age: late 1800s, Availability: a scarce and appealing pictorial jar – Greg Spurgeon, North American Glass
Support Image: Auction Lot 6577: FRANKLIN DEXTER Fruit Jar, Quart, Aquamarine, Closure: original glass insert with 1865 patent date and original zinc screw band (tight horizontal split in the band), Appearance: shiny glass, Condition: roughness and flaking of the ground mouth, Embossing: strong, Base: unmarked, Age: late 1800s, Availability: uncommon – Greg Spurgeon, North American Glass