Brown Chemical Co Curatine For The Blood Liver & Kidneys Baltimore Md
Curatine For The Blood Liver & Kidneys
Brown Chemical Co.
Baltimore Md.
The Brown Chemical Co., Baltimore, Maryland
Rectangular Aqua Medicine
Provenance: Bob Jochums Collection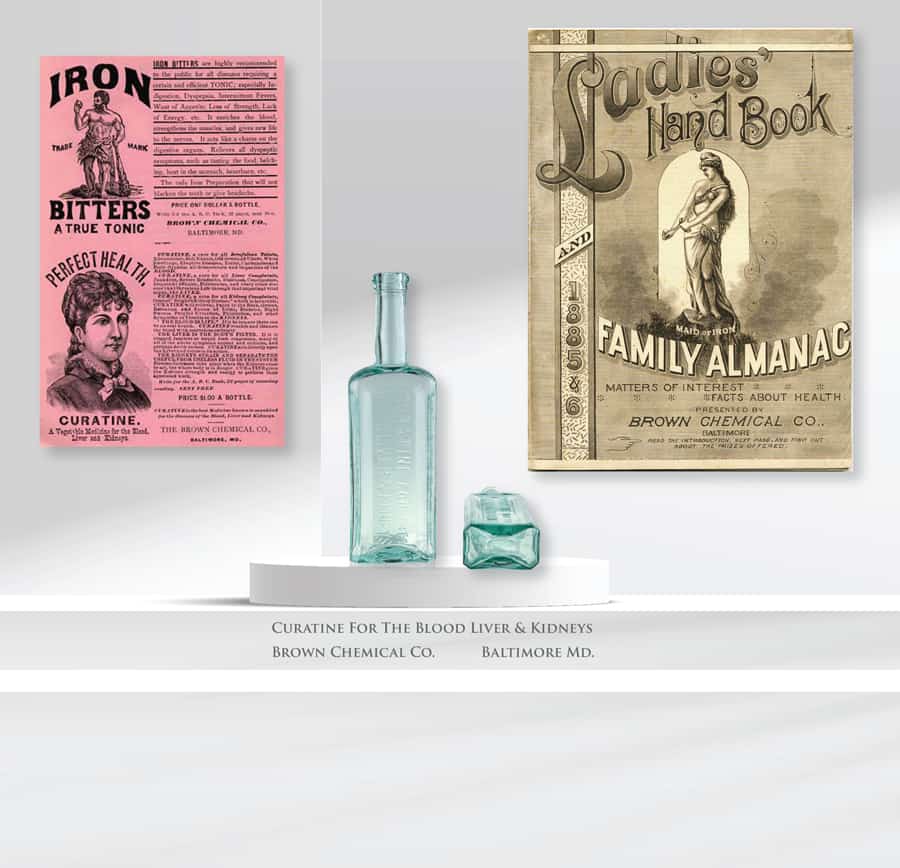 Many antique bottle collectors, especially Bitters collectors, will recognize Brown Chemical Co. of Baltimore, Maryland. Initially, the company was a fertilizer manufacturer that also produced the immensely popular Brown's Iron Bitters. Our subject museum example marked "Curatine" was a medicine that briefly appeared and set the stage for the bitters.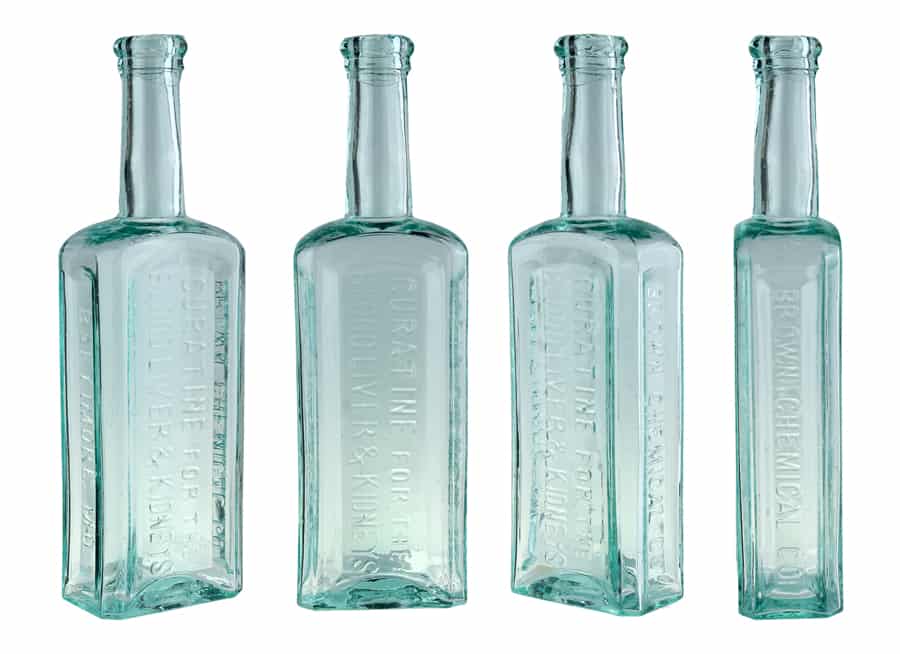 The aquamarine rectangular medicine bottle measures 9 ¼ x 2 ¾ x 1 ¾ inches and is in excellent condition. Each bottle side is beveled. There are four inset chamfered panels, with three that contain a thin embossed sans serif copy. 'CURATINE FOR THE BLOOD LIVER & KIDNEYS' occurs on one of the face panels in two lines from the top of the panel to the bottom. The opposite side has no embossing and is where the proprietor would have placed a paper label. The two thin vertical sides are embossed 'BROWN CHEMICAL CO.' and 'BALTIMORE MD.' The neck is tall with an applied round mouth. The base is smooth with an inset circle.
William H. Brown was born about 1824 in Baltimore, Maryland. The 1850 United States Federal Census notes that he was a 25-year-old merchant with parents Garret (55) and Mary Brown (50), and presumably brothers George F. (28), Alexander (27), Albert (24), Septimus (22), Charles (20) and Samuel (16). Catherine (22) and Sarah Brown (2) were the females listed. The father, Garret Brown, started as a dry goods merchant in 1815 in Baltimore. Later, the business would transfer to his son William.  
Mid-1800 Baltimore city directory listings were typically for Wm. H. Brown & Bros. at 4 S. Liberty Street and then 25 S. Sharp Street. The brothers were very successful retail and wholesale druggists in the business center of the growing city. They were usually listed as "Importers and Jobbers of Drugs, Medicines, Chemicals, Essential Oils, Corks, Sponges, Fancy Goods, Perfumery and Druggists' Sundries." The business lasted until the late 1870s when the company changed to "The Brown Chemical Co." in 1879 with Wm. H. Brown, President, W. S. Powell, Treasurer, and Wm. L. Layfield, Secretary. Their big seller was "Powell's Prepared Chemicals, The Best and Cheapest Fertilizer" with the "Quality Not Quantity P Purity" trademark. They also sold Peruvian Guano, Dried Blood, Pure Ground Raw Bone, Sulphate Soda and Ammonia, and many other products targeting farmers and agriculture.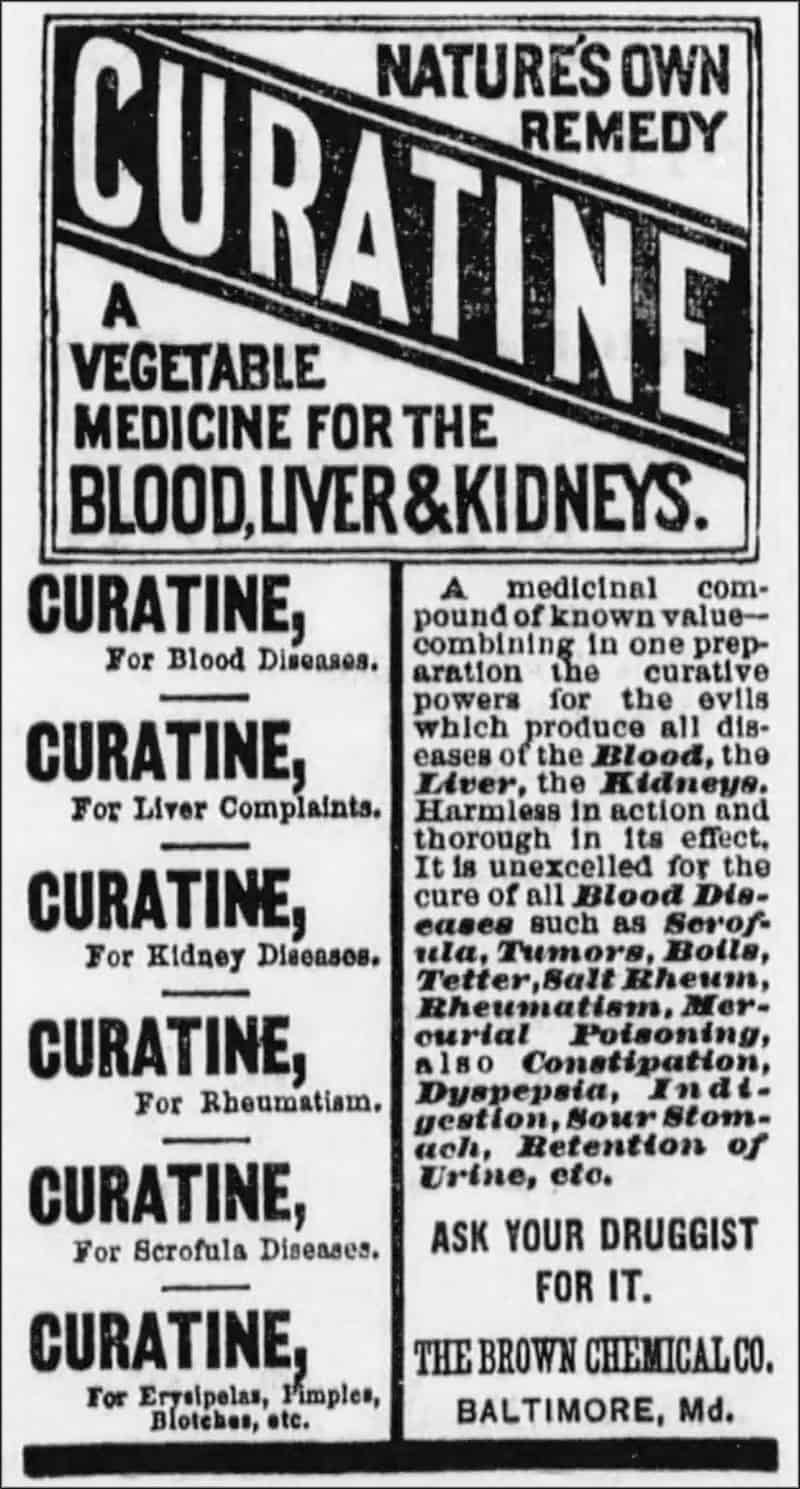 In April 1880, Brown Chemical Co. expanded to medicine manufacturing and announced "Curatine," which sold for $1 a bottle. They said it was "Nature's Own Remedy" and "A Vegetable Medicine for the Blood, Liver & Kidneys." Sensing a strong market, they repositioned and announced Brown's Iron Bitters on January 1, 1881. Advertising and box directions said, "The Best of All Brown's Iron Bitters, Prepared Only by Brown Chemical Co. A true tonic and a sure appetizer. A complete strengthener. A valuable family medicine. Health and temperance. Not a substitute for whiskey. Not sold as a beverage. Not composed mostly of spirits. Not sold in bar rooms. A dose for an adult a tablespoon and a wine glass full of water after meals children in proportion." The smallish bitters square bottle also sold for $1. Brown's Iron Bitters was a big seller, so much so that dozens of advertising trade cards and games were available to the public, with handsome almanacs produced yearly from 1881 through 1896.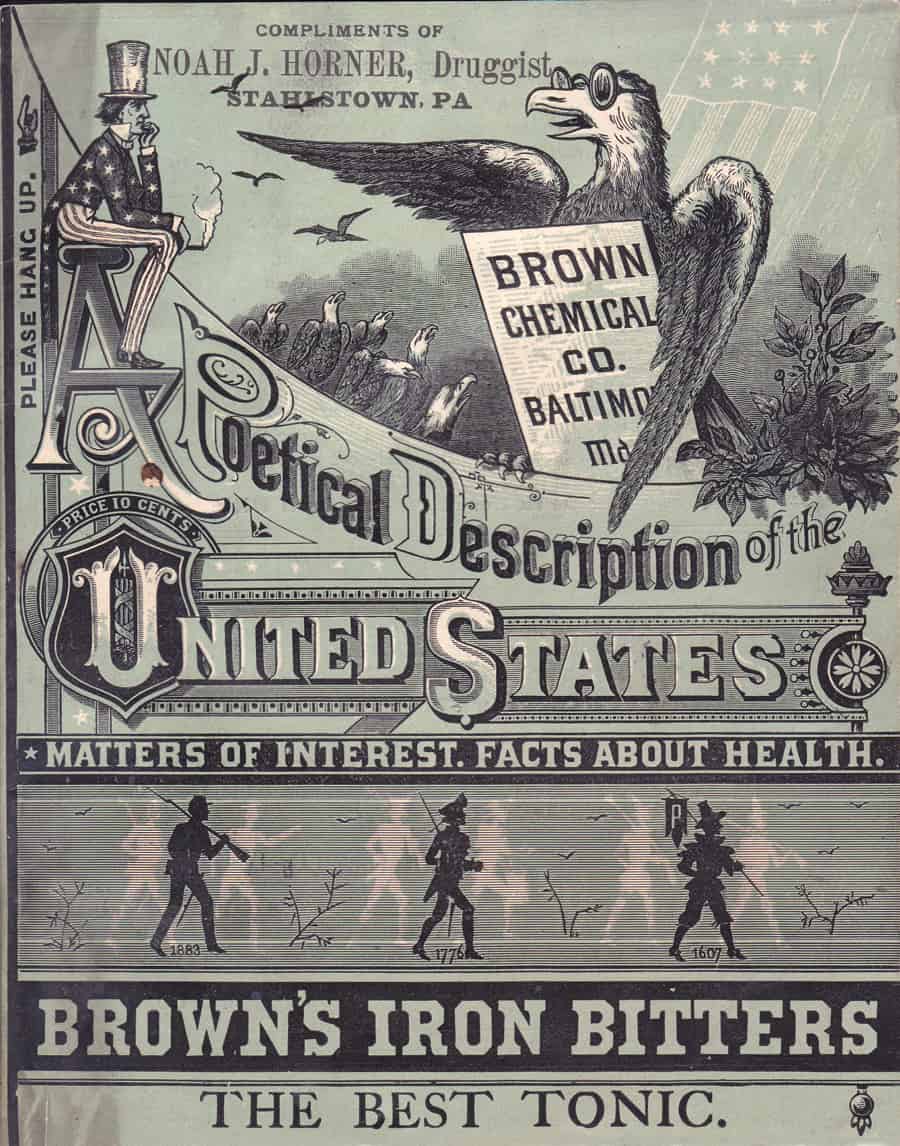 William H. Brown died in November 1889 after an illness of three months from Bright's disease. His obituary read, "Thursday, November 21, William H. Brown, a widely known and highly respected member of the wholesale drug trade of Baltimore, Md, died at his home in that city at the age of sixty five. He was the last one of the firm Wm. H. Brown & Bro., which was established in 1815 to conduct the drug and importing business. This firm, consisting of Alex E. Brown, Wm. H. Brown and John E. Morrison, became known all over the West and South, not only for the magnitude of business but also for their high standard of commercial rectitude. After the death of Alex. Brown, Mr. Morrison, the conduct of the business devolved on Mr. W. H. Brown, who carried it on until it was merged into the large business of J. H. Winkelman & Co., about ten months ago, under the style of the Winkelman & Brown Drug Co., since which time until his death, Mr. Brown was the treasurer of the new organization. Mr. Brown was 65 years of age and died honored and respected by the whole mercantile community and letters of condolence and regret are still being received by his company from his friends all over the country."
In 1903, the William H. Brown & Brother Company was incorporated for manufacturing perfumery, toilet articles, etc., with a proposed capital stock of $15,000 by Frederick A. Ohrenschall, Adolph C. Meyer, Clinton L. Crawford, Alfred S. Niles, and Oscar Wolff. In 1925, the company was listed at 830 North Howard Street, Baltimore, Maryland, and its capital stock was increased from $15,000 to $100,000. George K. and Frank F. Drexel (died 1917) served as their perfumers.
In 1904, a fire raged through the business section of Baltimore, destroying many of those engaged in the wholesale and drug trade. The building occupied by William H. Brown & Bro. Perfumery Company was destroyed. They would refit, rebuild, and last many more years.
Primary Image: Curatine Brown Chemical Co. bottle imaged on location by Alan DeMaison, FOHBC Virtual Museum Midwest Studio.
Secondary image: Yellow amber and citron Brown's Iron Bitters from the Ferdinand Meyer V collection.
Join the FOHBC: The Virtual Museum is a project of the Federation of Historical Bottle Collectors (FOHBC). To become a member.