Embossed Horizontal Rings Target Ball
Embossed Horizontal Rings Target Ball

American
Cobalt Blue
Provenance: Ex: Ralph Finch Collection, American Glass Gallery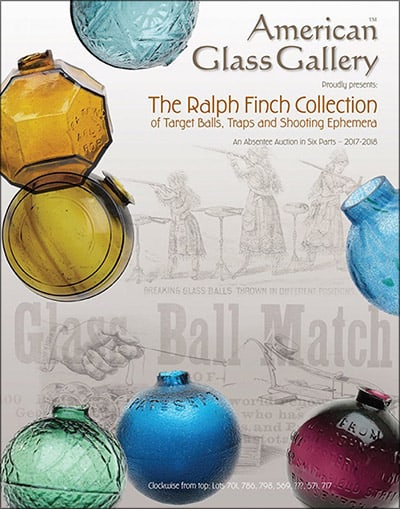 When the immense Ralph Finch collection of target balls was auctioned by American Glass Gallery in six sessions back in 2017 to 2019, there were four glass balls that were titled "Embossed Horizontal Rings Target Ball." We have two of them in the museum; our feature ball in cobalt blue and a second in golden amber. Both are pictured below for comparison.
View Embossed Horizontal Rings Target Ball in golden amber.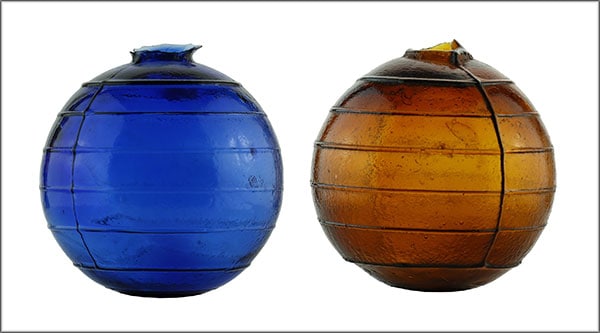 Both of our museum balls were made in a 3-piece mold and have seven pronounced horizontal rings. They are 2-5/8″ in diameter and have rough sheared mouths. They are considered American-made.
Target balls were typically covered with embossed copy and/or geometric patterns. The relief on the glass ball helped the propelled shot from glancing from the ball. You will see next to our embossed horizontal rings examples, on the same display shelf, examples of an Embossed Concentric Rings Target Ball, Embossed Block Pattern Target Ball, Embossed Circles Target Ball, and many others with diamond and quilt patterns.
Primary Image: Auction Lot 612: Embossed Horizontal Rings Target Ball, America, 1875 – 1900. Cobalt blue, embossed with (7), heavy horizontal rings, 3-piece mold, rough sheared mouth, dia. 2 5/8", perfect. Although it is not necessarily a 'fancy' mold, this particular mold is not easy to find. A great example, beautiful color, outstanding condition. – The Ralph Finch Collection of Target Balls, Traps and Shooting Ephemera, An Absentee Auction in Six Parts – 2017-2019, John Pastor and American Glass Gallery
Secondary Image: Auction Lot 611: Embossed Horizontal Rings Target Ball, America, 1875 – 1900. Golden amber, embossed with (7), heavy horizontal rings, 3-piece mold, rough sheared mouth, dia. 2 5/8", perfect; (a little washable residue, but no form of damage). A very scarce ball, this example having nice character and crudity with good texture to the glass. – The Ralph Finch Collection of Target Balls, Traps and Shooting Ephemera, An Absentee Auction in Six Parts – 2017-2019, John Pastor and American Glass Gallery
Support: Reference to the American Glass Gallery, The Ralph Finch Collection of Target Balls, Traps and Shooting Ephemera, An Absentee Auction in Six Parts – 2017-2019