American Glass Works Limited Wax Sealer
A G W L
Pitts Pa
Attributed to Arsenal Glass Works, Lawrenceville, Pennsylvania
Pale Yellow Green Quart Wax Sealer Jar
Provenance: Ron Hands Collection
This intriguing and somewhat mysterious pale yellow-green quart wax sealer jar is base embossed 'A G W L' and 'PITTS PA' in converging arches, one convex and one concave creating a circle. The "P" in "PA" is smaller. In some examples, there are periods being used while on other jars, the periods do not exist or are very hard to see. The mold also uses an embossed hand-drawn number "2" centered in the base, horizontally.
Wax sealers with this base embossing are scarce but in this color, they are considered extremely rare. The consignor says he has never seen another "AGWL" jar in this glass color and purchased it at the Ohio Bottle Club Mansfield Antique Bottle Show in 2007.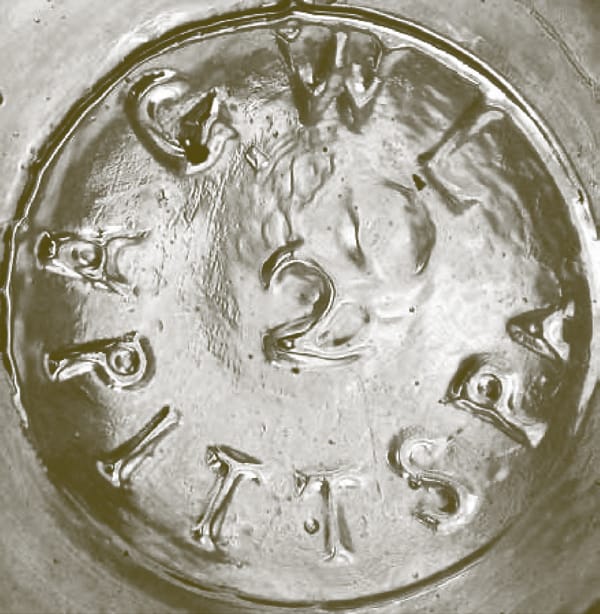 Initially, glass factories and companies were small, but, as the population grew, and additional modes of transportation became available, both the numbers and size of the glass factories grew, especially after the Civil War. In 1803, for example, Pittsburgh factories produced $13,000 worth of glass. By 1850, however, that number had risen to an even million dollars worth, and output climbed to $14,276,228 by 1902. One of the larger producers of glass bottles in Pittsburgh was the American Glass Works.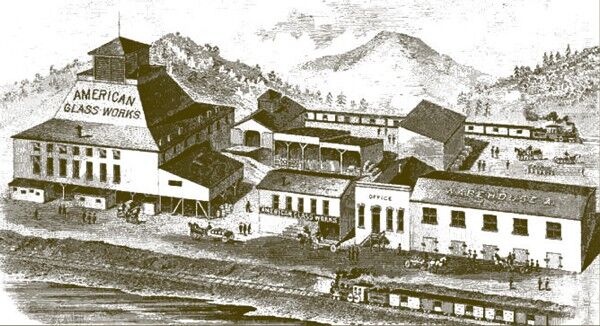 There is some question as to who produced this jar? Some jar authorities believe that the initials "A. G. W. L." stand for "American Glass Works Ltd." which had a factory in Pittsburgh, Pennsylvania. A November 25, 1868 newspaper advertisement in the Pittsburgh Weekly Gazette commends this establishment and the proprietors, Page, Zellers & Duff for making glass of the same quality as imported glass from England. The glassworks were primarily concerned with stained, enameled, and ground glass. They were combining glass-making with glass-staining and had achieved, "a reputation second to none in the country." They were also manufacturing oval, square, and round glass, shades for flowers, and wax fruit. Wax sealer jars were not specifically mentioned though "round glass" can certainly be a bottle or jar.
At about the same time, Aetna Glass Works, located in Lawrenceville, Pennsylvania was making wax sealer fruit jars according to an 1869 newspaper advertisement. Their initials were also "A.G.W.L" with the "L" standing for Lawrenceville which was a section of Pittsburgh that was annexed to the larger city in 1868. Aetna Glass Works and Wm. Davidson & Co. first advertised in 1856 that they made, vials, bottles, and all kinds of green and flint glassware, window glass, etc. They were located at 23 Market Street in Pittsburgh.
Lawrenceville was also the home of Arsenal Glass Works. Lawrenceville was selected as the home of the Allegheny Arsenal, or Pittsburgh Arsenal, due to its proximity to the river – hence the "Arsenal" name for the glasshouse. Lawrenceville, again in this interpretation, provided the "L" at the end of the "AGWL" initials. They were also advertising wax sealer jars in the late 1860s. The GXI-15 Prospector – Eagle and "Arsenal Glass Works Pitts. Pa." historical flask, in bright yellow-green, reminds us of the glass color and clarity in our subject AGWL museum jar contributing us to believe that this may be the glassworks that made our jar.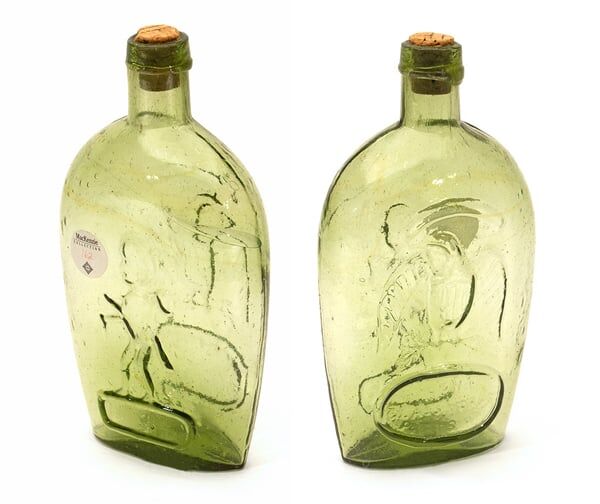 Primary Image: "A G W L Pitts Pa" base embossed wax sealer jar imaged on location by Alan DeMaison, FOHBC Virtual Museum Midwest Studio
Support: Reference to American Glass Work, Ltd. and American Glass Works, Pittsburgh by Bill Lockhart, Pete Schulz, Beau Schriever, Carol Serr, and Bill Lindsey with contributions by Jay Hawkins, FOHBC, Bottles and Extras, January-February, 2012
Support: Reference to Digging up the past in the Fifth and Wood corridor, Artifacts discovered at the PNC skyscraper construction site date back to when Fifth Avenue was the center of the commercial district, Pittsburgh Post Gazette, November 25, 2012
Support: Reference to Red Book #11, the Collector's Guide to Old Fruit Jars by Douglas M. Leybourne, Jr.
Support Image: Auction Lot 42: Prospector – Eagle And "Arsenal / Glass Works / Pitts. Pa." Historical Flask, Arsenal Glass Works, Pittsburgh, Pennsylvania, 1865-1867. Bright yellow-green, applied mouth with ring – smooth base, pint; (bubble on the base edge has 1/8 inch opening in cover glass). GXI-15 Beautiful bright color with a yellow striation in the shoulder. Fine condition. ExJudge E.S. MacKenzie collection. – Norman Heckler Jr. & Sr., Norman C. Heckler & Company, Auction #120
Join the FOHBC: The Virtual Museum is a project of the Federation of Historical Bottle Collectors (FOHBC). To become a member.