GI-22 Washington Classical Bust Portrait Flask
GI – 22
Washington – Classical Bust And "Baltimore X Glass. Works." Clay Portrait Flask

Baltimore Glass Works, Baltimore, Maryland
Olive-Yellow Quart
Provenance: Anonymous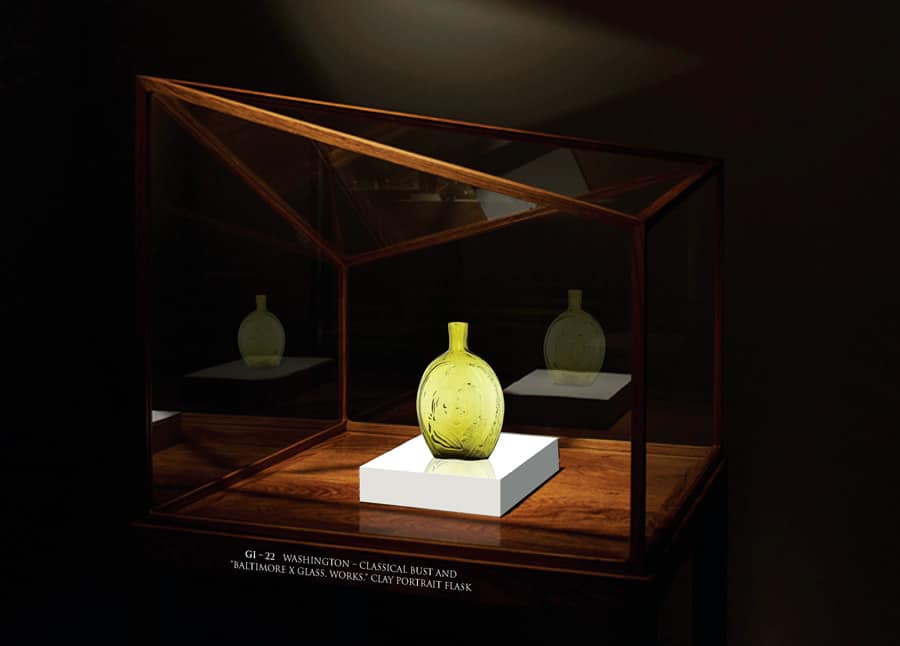 Our museum example of a GI-22 quart is interesting as it depicts George Washington in a toga and has an embossed typographic error. Usually, George Washington during this era was depicted as a General in uniform or as our first president.
The Washington bust flask was produced at the Baltimore Glass Works in Maryland somewhere between 1831 and the early 1840s. The flask was also ranked number 36 on the McKearin list of "Most Desirable Flasks, Group B." Either Henry Clay or Zachary Taylor is embossed on the reverse. The historical flask is extremely rare in this outstanding olive-yellow glass color.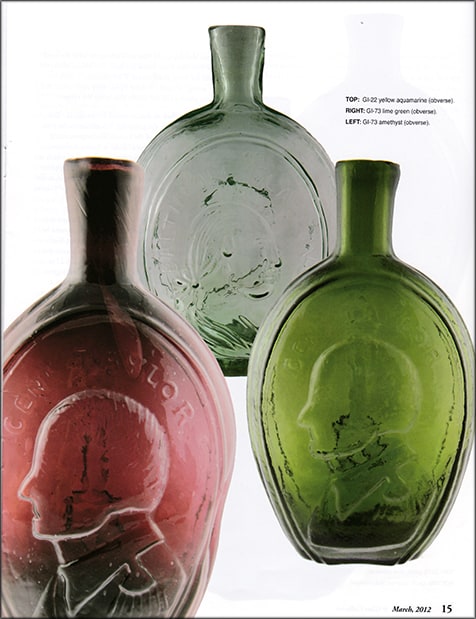 The flask features a pronounced embossed bust of George Washington facing to the right in an embossed outline oval. His eye has been flattened in illustration. He has a braid of hair worn hanging at the back of the head and is wearing a classical toga. 'BALTIMORE x GLASS. WORKS.' is embossed surrounding the bust in a shortened horseshoe shape with the 'B' in 'BALTIMORE' starting just above the hair queue. An outer horseshoe ribbing encircles both the oval, bust and embossed copy. The two-letter 'S's in 'GLASS' were cut intaglio in the mold so they are reversed when read on the flask. There is a period after 'Glass' and 'Works.' The 'x' between 'Baltimore' and 'Glass' is raised.
The quart flask has a plain lip and pontil mark. Known colors are aqua which is rare, medium green, very rare, pale-yellow, and olive-yellow which is extremely rare.
During this period, wigs were fashionable but George Washington kept his own hair long and tied it back in a queue or ponytail. Since he didn't wear a wig, Washington powdered his hair, giving it the iconic white color seen in famous portraits. Powdering one's hair was another custom of the time.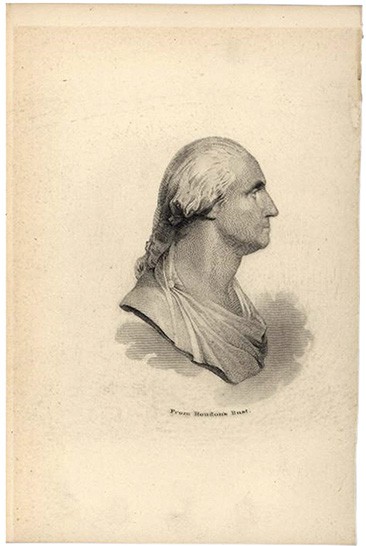 In 1832, the U.S. Congress commissioned sculptor Horatio Greenough to create a statue of George Washington on the occasion of the centennial of the first president's birthday. Installed in the Capitol Rotunda after its completion, Greenough envisioned the statue to be a symbolic representation of Washington as a great exemplar of liberty. The 12-ton marble statue atop a granite pedestal and base depicted the first president wearing a chest-baring toga. While many viewers appreciated the artist's attempt to create a timeless masterpiece, others saw only an inappropriately dressed Washington. A friend of the artist noted: "This magnificent production of genius does not seem to be appreciated at its full value in this metropolis."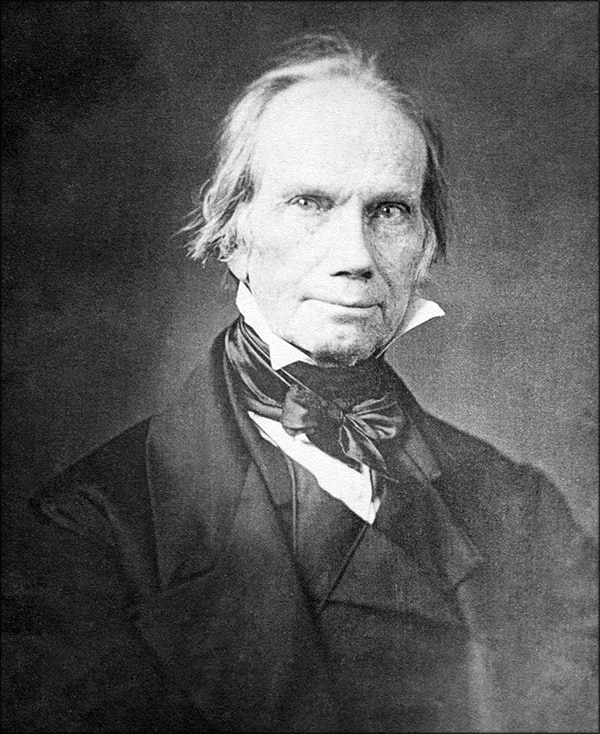 The reverse of the flask has a plain bust of Henry Clay facing right. There is no embossed copy. An oval and horseshoe ribbing surrounds the bust as on the obverse side. The eye has also been flattened in illustration.
There is some doubt as to the identity of the bust on the reverse. It may be Zachary Taylor or Henry Clay. In 1926, noted early American glass authority Stephen Van Rensselaer in Early American Bottles and Glass called out Taylor on this flask without giving reasons for the designation. Most period illustrations and representations of Henry Clay seem to match more closely than Taylor who was always depicted in uniform and does not look like the bust on our subject flask.
See a similar example in our museum of a GI-17 Baltimore Glass Works, Washington Bust Portrait Flask.
Primary Image: GI-22 Washington – Classical Bust And "Baltimore X Glass. Works." Clay Portrait Flask imaged on location by the FOHBC Virtual Museum midwest studio led by Alan DeMaison.
Support: Reference to American Bottles and Flasks and Their Ancestry by Helen McKearin and Kenneth M. Wilson, Crown Publishers Inc., New York, 1978.
Support: Reference Baltimore Beauties by Mark Vuono. Antique Bottle & Glass Collector, March 2012. The trio of Baltimore flasks image from same.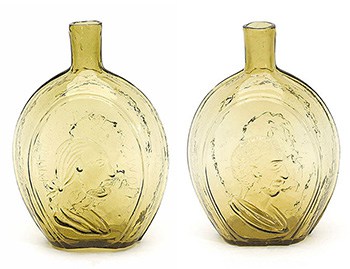 Support Images: Auction Lot #136: The paler yellow Washington – Classical Bust And "Baltimore X Glass. Works." Portrait Flask, described as in "Screaming yellow", sheared mouth – pontil scar, quart. GI-22. Strong embossing. Big, beautiful, colorful portrait flask in an unbelievable and rare color. Classical bust probably of Henry Clay. Dr. Gary and Arlette Johnson collection. – Norman C. Heckler & Company Auction #102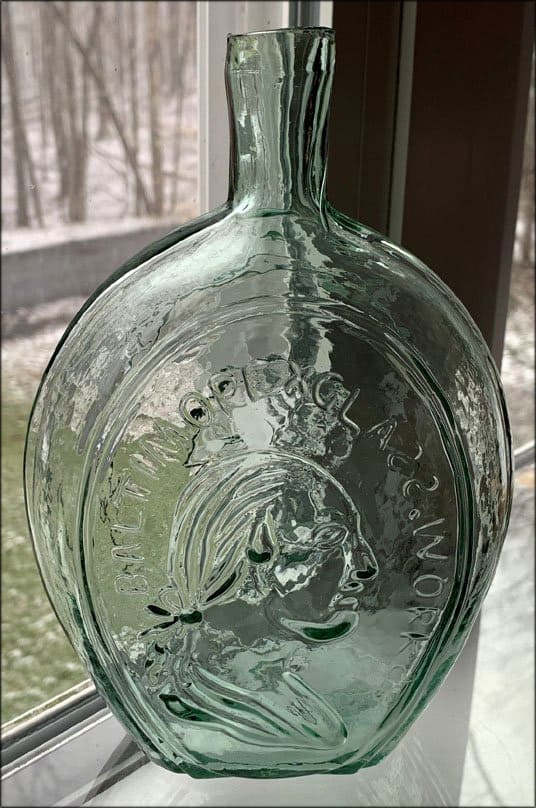 Support Images: Item FL510, GI-22, Washington "BALTIMORE GLASS. WORKS" – Classic Bust, greenish aqua, Open Pontil, Quart, very bold embossing, has lots of whittle, has a tiny (1/8") chip on the edge of the lip otherwise sparkling perfect condition, without the tiny chip this would be the finest possible aqua example of this very rare flask, one of the best looking aqua flasks we have ever seen, Number 36 on the McKearin list of Most Desirable Flasks, Group B. We find only 2 aqua examples being sold at auction in over 20 years, circa 1832 to 1842, GreatAntiqueBottles.com, The website of Ed and Kathy Gray
Support: Reference to "Washington-Taylor" Flasks from River Bridge by Paul Vincent, Collections Assistant, Museum of the Albermarle – FOHBC Bottles and Extras, September – October 2018