Kellogg's Nelson County Extra Kentucky Bourbon Whiskey W. L. Co. Sole Agents
powered by Advanced iFrame. Get the Pro version on CodeCanyon.
Kellogg's Nelson County Extra Kentucky Bourbon Whiskey
W. L. Co. Sole Agents
W L Co (Monogram)
Calvin W. Kellogg, San Francisco, California
Wilmerding, Loewe Co., San Francisco, California
Red Amber Labeled Fifth
Provenance: Richard Burgarella Collection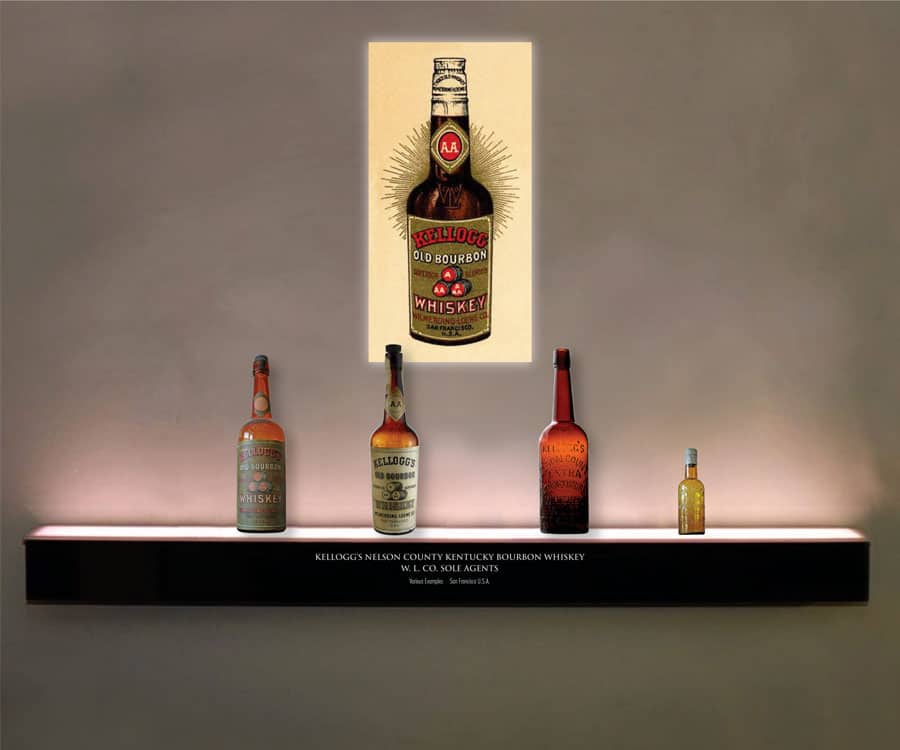 C. W. Kellogg was one of the most familiar figures in the liquor trade on the west coast. Our outstanding museum bottle proudly displays his printed name on the label and embossed name on the fifth-sized cylinder. Aside from his interest in the liquor trade, Kellogg was well-known in insurance, banking and mining circles and had his share of the ups and downs of life.
Our R. E. Barnett #851, Variant B, inside thread amber tool top example is considered extremely rare and is possibly the finest known fully labeled Kellogg's AA Whiskey using the old western black and white on tan color label.
The label side of the rich dark orange-amber bottle has the embossed 'W L Co' (Wilmerding Loewe Co.) monogram on the shoulder. The primary label reads, "Kellogg's Old Bourbon Whiskey," with graphics depicting three stacked-on-side ringed barrels. "A," "AA," and "AAA" is marked on the barrel ends. "Nelson Co. Kentucky" copy book-ends the barrel graphics. "Wilmerding – Loewe Co. San Francisco, U.S.A." copy anchors the bottom of the label in three straight lines. The tall tapered neck has a verticle diamond label with a printed diamond and a circle with "AA" centered within. A long thin rectangular paper seal straddles the mouth. It was long broken to access the contents of the bottle. You can read the remnants of a cursive "Wilmerding, Loewe Co." on both ends.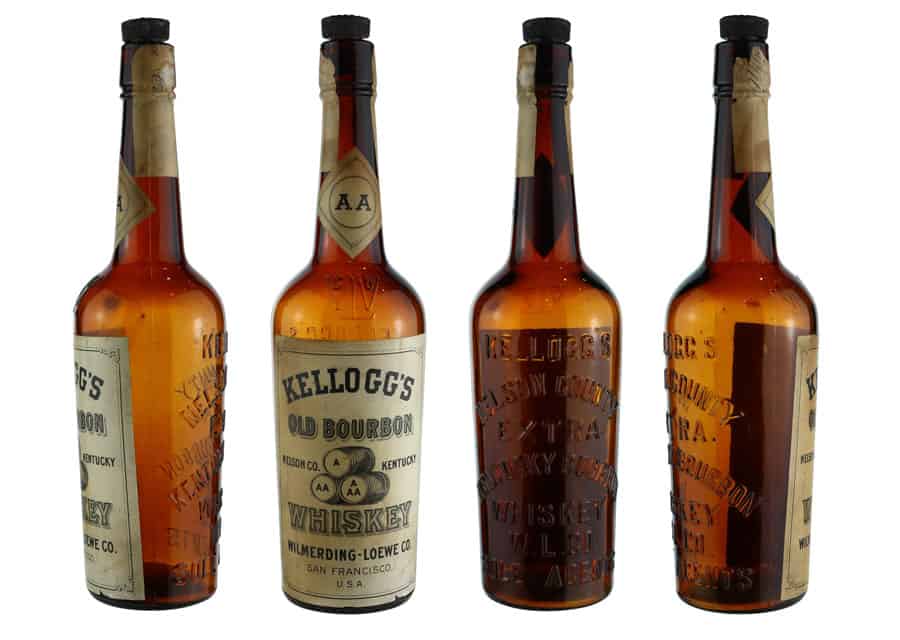 The super-relief embossed copy reads, in seven lines, 'KELLOGG'S NELSON COUNTY EXTRA KENTUCKY BOURBON WHISKEY W. L. CO. SOLE AGENTS' in a sans serif typestyle. The "Nelson County" and "Kentucky Bourbon" lines are arched downward. The tooled collar and ring mouth has an inside threaded stopper or closure embossed with the 'W L Co' monogram and reads "Kellogg's Bourbon" with small letters reading "Riley" beneath. The Riley patent utilized an ebonite thread stopper. The base is smooth with an embossed number '64' and what looks to be an outlined small circle.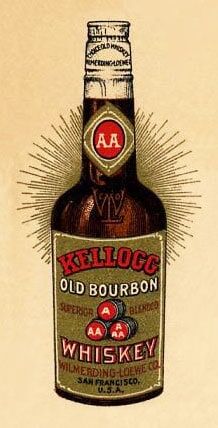 Kellogg bottles are found with both tooled and applied tops. The older bottles are usually whittled red amber glass and stand out when placed next to another whiskey in other shades of amber. Examples of the older Kellogg bottles were found in the San Francisco Bay area and the coastal areas from Santa Cruz to Eureka, California. The red amber bottles were made in Germany for the West Coast whiskey market.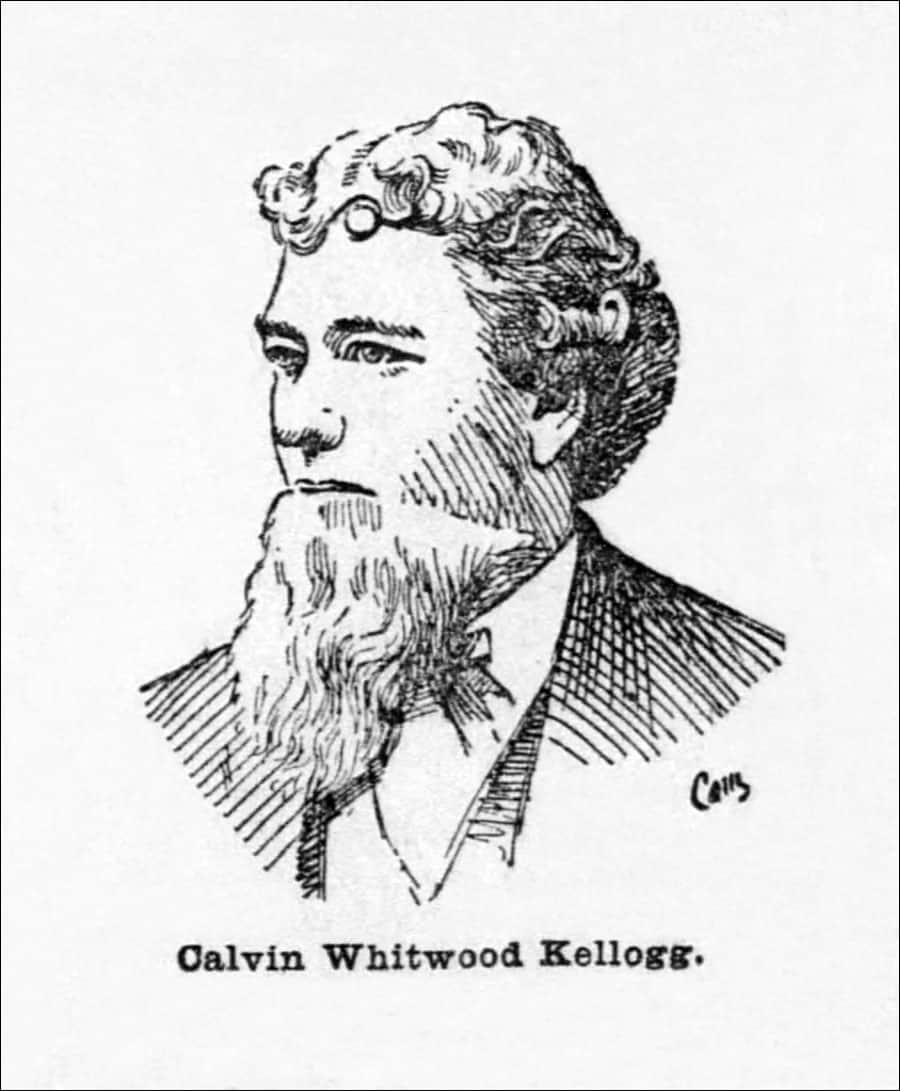 C. W. Kellogg
Calvin Whitwood Kellogg was born on April 9, 1823, in the small town of Sempronius, Cayuga County, New York. He came to San Francisco, California, in the early 1850s and was listed as a grocer at 25 Commercial Street in 1853, followed by a few years of experience in mining. He then became a salesman with the house of Fargo & Co. in San Francisco. When Fargo retired, the firm became Wilmerding & Kellogg in 1869. Julius Clute Wilmerding and C. W. Kellogg admitted a new partner named John Tuthill Haviland in January 1875. The partnership was re-titled Wilmerding, Kellogg & Co. This would last through 1878.
Julius Clute Wilmerding is associated with other examples in the museum Spirits Gallery. See museum examples of McKennas Nelson County Bourbon and C. W. Stuart's Extra Kentucky Whisky and United We Stand Whisky
After disastrous financial speculations by C. W. Kellogg, Wilmerding, Kellogg & Co. changed their name to Wilmerding & Co. in 1879. During these business partnerships, good old Kentucky bourbon was packaged and sold to the populace in California and new growth areas like Oregon, Washington, and Idaho.
J. C. Wilmerding continued to run Wilmerding & Co. until he died in 1894. Louis H. Loewe of Loewe Bros. & Co. then took rein of the company with the banner Wilmerding, Loewe Co., and they would remain in business until 1918. After the death of J. C. Wilmerding, C. W. Kellogg succeeded in effecting a business arrangement with the Loewe brothers and Wilmerding, Loewe Co. before he died in 1895. In 1906, Wilmerding, Loewe Co. registered the Kellogg ("Kellogg," "Kellogg's," and "Kellogg's AA") brands along with "Days of 49" and "1860 Bourbon."
C. W. Kellogg died a millionaire on April 12, 1895, after a short illness when he was taken down with minor pneumonia approximately two months prior. As the sickness progressed, acute Bright's Disease set in, which ended in his death. The funeral occurred at his residence and was attended mainly by the mercantile and banking community. He left a new-wife widow, half his age, and three children by a former marriage. The children would contest his recent divorce from his first wife, their mother, his new bride and marriage, his will, and his deeds set aside as the new wife was now the beneficiary of all.
Primary Image: Kellogg's Nelson County Extra Kentucky Bourbon Whiskey cylinder imaged on location by Alan DeMaison, FOHBC Virtual Museum Midwest Studio.
Support: Reference to Whiskey Bottles of the Old West by John L. Thomas, 2002
Support: Reference to Pacific Wine & Spirit Review, Vol. XXXIV, No. 6, San Francisco, April 20, 1895
Support Image: KELLOGG'S NELSON COUNTY EXTRA KENTUCKY BOURBON WHISKEY WL CO. SOLE AGENTS. We never tire of these red whittled beauties made for the Wilmerding Lowe Company. This one is about as nice as they get. Loaded with whittle and lots of tiny bubbles. Top specimen. Grades a 9.8. – Jeff Wichmann, American Bottle Auctions, Auction 57
Support Image: Auction Lot 58: "KELLOGG'S / NELSON COUNTY / EXTRA / KENTUCKY BOURBON / WHISKEY / W.L. CO. / SOLE AGENTS – W.L.C." (monogram), (Thomas, #171), California, ca. 1890 – 1897, red amber, 12"h, smooth base, applied double collar mouth. A few tiny spots of non-offensive haze are on the shoulder, otherwise in pristine perfect condition. Deep reddish color, highly whittled glass. This bottle has a German connection. Ralph van Brocklin Collection. – Jim Hagenbuch, Glass Works Auctions, February 2020
Support Image: Pre-Pro.com (shot glass)
Support Images: Western Whiskey Gazette, Bruce Silva
Join the FOHBC: The Virtual Museum is a project of the Federation of Historical Bottle Collectors (FOHBC). To become a member.