Quaker Springs – I.W. Meader & Co.
Quaker Springs
I. W. Meader & Co.
Saratoga Co. N.Y.
Old Saratoga Spring Water
Isaac Wilde Meader, Quaker Springs, New York

Emerald Green – Pint
Provenance: Dave Merker Collection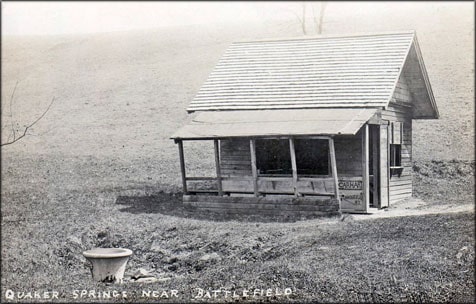 If you are looking for ornate spring pavilions, Doric columns, stone, and marble, such as you might see in Saratoga Springs, you won't find them at Quaker Springs which is a hamlet in Saratoga County, New York.
The name Quaker Springs came from a type of mineral spring located in the area which is also known for its Revolutionary War positions. Because of their proximity to the Hudson River, the springs were known by the French and English voyagers long before the Springs of Saratoga or Ballston. It is believed that the Indians used the springs for medicinal purposes.
When looking at Quaker Springs, you will most certainly find that Isaac W. Meader was a prominent man in town and was responsible for bottling one of the four springs. He had some beautiful Quaker Springs mineral water bottles made with his name on them and had a strong conviction that the mineral springs could be developed into a prosperous business.
Our museum bottle represents a pint in a beautiful emerald green glass color. It is cylindrical in form, with rounded shoulders, a slightly tapered neck with an applied sloping collar mouth with a secondary ring. The bottles (S-43) are all apparent Congressville Glass Works products.
The typography on the face of the bottle starts with embossed arching-down text reading 'QUAKER SPRINGS' on the front. This copy is anchored by 'I. W. MEADER & Co.' in a horizontal line. 'SARATOGA Co. N.Y.' is embossed on the third line. The embossed copy 'OLD SARATOGA SPRING WATER' occurs in a similar manner on the reverse side of the bottle. The bottle has a smooth unmarked base.
The Quaker Springs bottles are fairly rare, but examples do come to market every couple of years if you are paying attention. Pints seem tougher to find than quarts.
The Stone and Stewart Atlas of 1866 shows Quaker Springs with four marked mineral water springs, all located within approximately 200 yards of each other. One or more of the springs were used as the source of mineral water for bottling purposes. All four had different and unique qualities. The springs contained various degrees of lime, magnesium, and iron, with carbonic gas and salts of sodas. One of the springs was noted as containing an abundance of sulfur.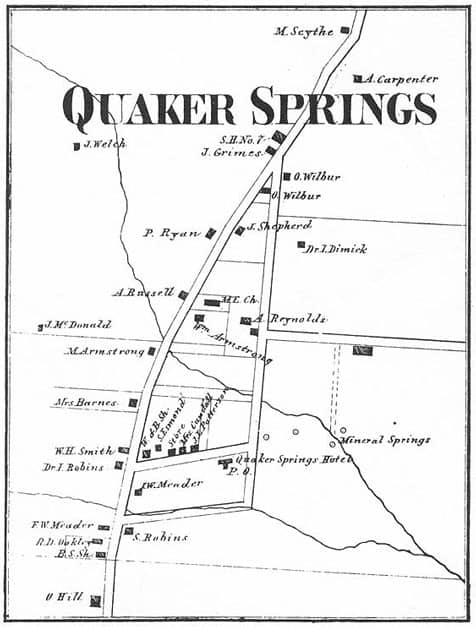 In 1708, the property where the springs are located was presented to Peter Schuyler and thirteen others. Each of the parties was to pay 13 bushels of wheat yearly as payment or taxes. Many years later, the first recorded sale of the property, including the springs, is that of Sam Esmond and his wife Amandy, to Albert Crook of New York City on June 6, 1862. Crook would set out to name, tap and bottle his Paradise Spring water with his own embossed bottles. See our museum example of Albert Crook – Paradise Spring.
Crook was not very successful and in 1867, he sold his business to Isaac W. Meader who would run the well until the mid to late 1870s. The Meader and Crook families remained very close, in fact, Isaac Meader and his wife even named a son after Albert Crook.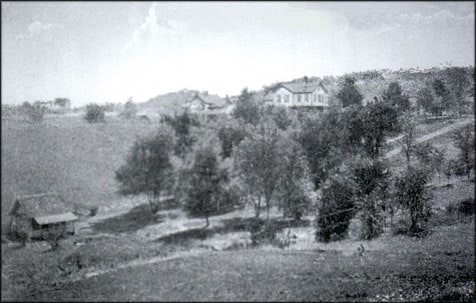 Isaac W. Meader
Isaac Wilde Meader was born in Quaker Springs on December 21, 1841, and was educated in common schools. His great-grandfather, Robert Meader, accompanied by his two brothers, from sound Welsh stock, came to America just prior to the Revolutionary War and settled in Nantucket, Rhode Island.
When Isaac was sixteen years old, he started out working for a farmer in Quaker Springs for one year for sixty dollars, losing only two days during all that time; at eighteen he worked for another party for two years, losing only three days time. When he was twenty-two years old, he learned the carpenter's trade from his father. His first job was building the farmhouse of John Kirkpatrick. He also built the hotel at Quaker Springs. His buildings could be found in every town in the county and comprised churches, hotels, schools, residences, depots, public buildings, etc.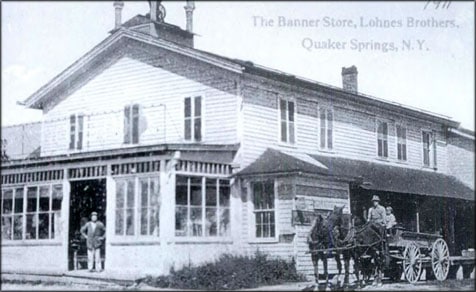 Also when he was twenty-two years of age, Meader succeeded S. F. Bradt in the business of general merchant at the Banner Store in Quaker Springs where he built up a flourishing trade. He was also the town postmaster. A Quaker Springs directory from 1871 lists a harness maker, blacksmith, shoemaker, wagon maker, doctor, lawyer, hotel keeper, preacher, and Meader as a general store owner and postmaster.
In 1867, Isaac Meader married Catherine Frances, daughter of John Lohnes who was one of two brothers who initially started the Banner Store. They had two children: Frederick and Mary. Meader had seven brothers and three sisters. This was also the time period where he started his mineral water company. This enterprise only lasted a few years. Like picking the proverbial short stick, one has to wonder if Albert Crook and Isaac Meader owned the spring with the high sulfur content. Isaac Meader would live a long life and die on October 22, 1922.
Primary Image: Old Saratoga Spring Water bottle imaged by the FOHBC Virtual Museum midwest studio by Alan DeMaison.
Support: Historical photographs courtesy Saratoga Room collection, Saratoga Springs Library
Reference: Reference to The Spouter Newsletter for Collectors of Saratoga-Type Bottles, August 2019
Join: The Saratoga Type Bottle Collectors Society. Request information at jullman@nycap.rr.com