Wells, J.
Wells, J.
P
Josiah H. Wells, Pittsburgh, Pennsylvania
Aqua Porter
Provenance: Doug Shutler Collection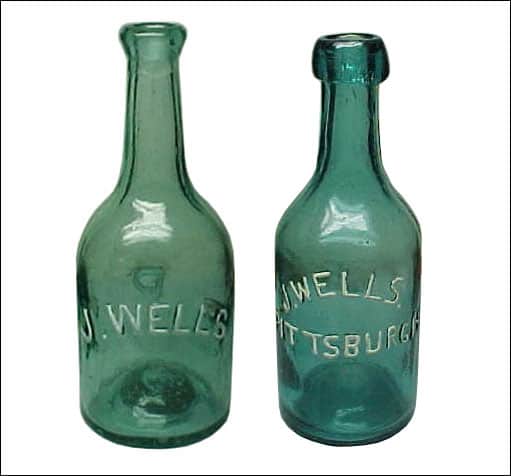 Josiah Wells was at one time or another a shoe manufacturer, cigar maker, and mineral water manufacturer in Pittsburgh, Pennsylvnia. Wells had his name embossed on both a very rare porter and blob-top soda water bottle that can be found in collections.
Our circa 1855 to 1860 bottle is embossed 'J. WELLS' on the front in large arched letters. The reverse of the deep aqua bottle has a large embossed prismatic letter 'P' for Porter. Early bottlers in Pittsburgh sometimes put a "P" for "Porter" or an "S" for "Soda" on the reverse side of their bottles. There is an inverted tapered mouth on the long neck and an improved pontil. Examples are also found with iron pontils.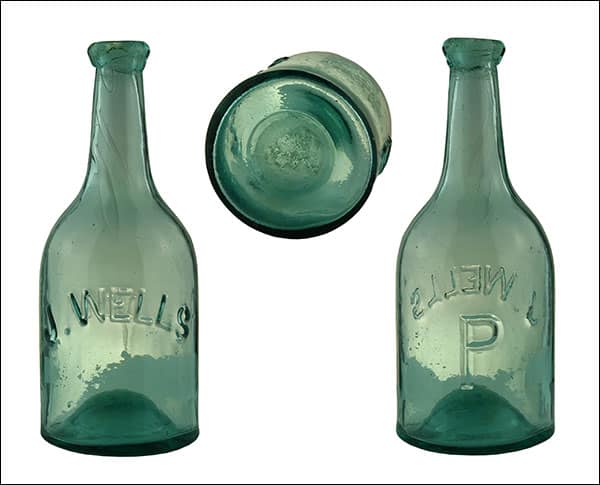 Josiah Wells was born in Pennsylvania around 1816. He wed his first wife Mary in the late 1830s and they had six children, Nancy J., Emanuel N., Catherine E., Mary M., Amanda J., and Emma Wells. Wells wed again to Elizabeth Kirkpatrick on January 4, 1853, in East Birmingham, Allegheny, Pennsylvania.
The 1850 United States Federal Census listed Josiah Wells as a shoemaker while the 1860 United States Federal Census listed Josiah Wells as a mineral water manufacturer. His 1860 profession corresponds with available 1856 through 1860 Pittsburgh city directories that also list him as a mineral water manufacturer first at 56 Wayne Street followed by 626 Liberty Street.
The difference between "soda water" and "mineral water" during the 19th century was often vague. Soda water was generally considered flavored artificial mineral water with the purposeful addition of carbonation and various compounds and flavoring. Mineral or spring water as it was also called, would generally be natural waters from spring sources that were typically highly mineralized with carbonates like alkaline, sulfurous compounds, and or various salts which often carbonated naturally. The confusion sometimes arises when mineral water was used as a generic term applied to various natural and artificially carbonated, non-artificially flavored waters including many utilized for their perceived medicinal qualities. Please visit the museum Spring & Mineral Water Gallery.
From the mid-1860s to 1870, Josiah Wells was listed as a tobacconist making and selling cigars at Carson and Gregg Streets in Pittsburgh. In 1871, Elizabeth is noted as being the widow of Josiah in that year's city directory.
Primary Image: The J. Wells bottle imaged by the FOHBC Virtual Museum midwest studio led by Alan DeMaison.
Support: Reference to Soda & Beer Bottles of North America, Tod von Mechow
Support: Reference to The American Pontiled Soda Database Project