Shriver's Oyster Ketchup Baltimore – Large Size
Shriver's Oyster Ketchup Baltimore
Lea & Perrins Style Top

James Shriver & Co., Baltimore, Maryland
Olive Green – Large Size
Provenance: Lou Pellegrini Collection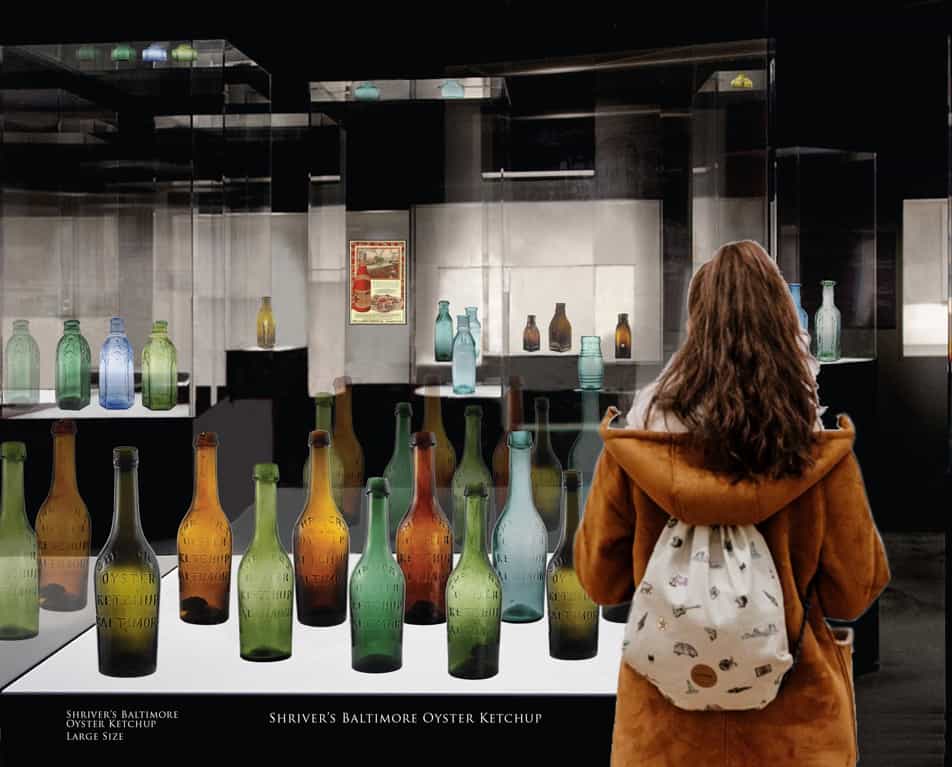 Our subject club-style bottle is the taller of the two size variants of Shriver's Baltimore Oyster Ketchup. What is really interesting and significant about this bottle is the Lea & Perrins style mouth that was applied to the top of the bottle. Typically, it is a sloping collar mouth of varying degrees.
See our museum example of the smaller Shriver's Baltimore Oyster Ketchup bottle and read about the life of James Shriver, his family, and the canning and packing trade in Maryland in the mid-1800s.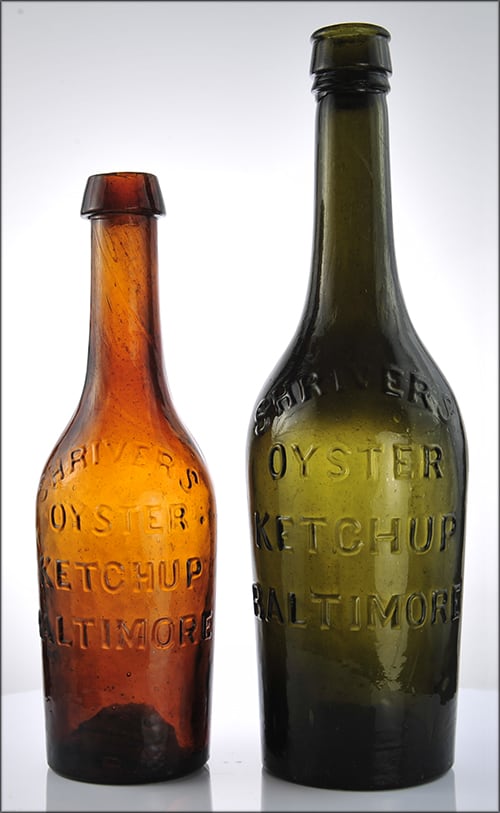 There are two sizes of bottles embossed 'SHRIVER'S OYSTER KETCHUP BALTIMORE.' The smaller is roughy 7 ½" tall x 2″ diameter while the larger is 9″ tall. Both sizes are represented in our museum and are considered extremely rare. There are some examples that are smooth base that were most likely blown at the end term of James Shriver & Co. though most examples are open or iron pontiled.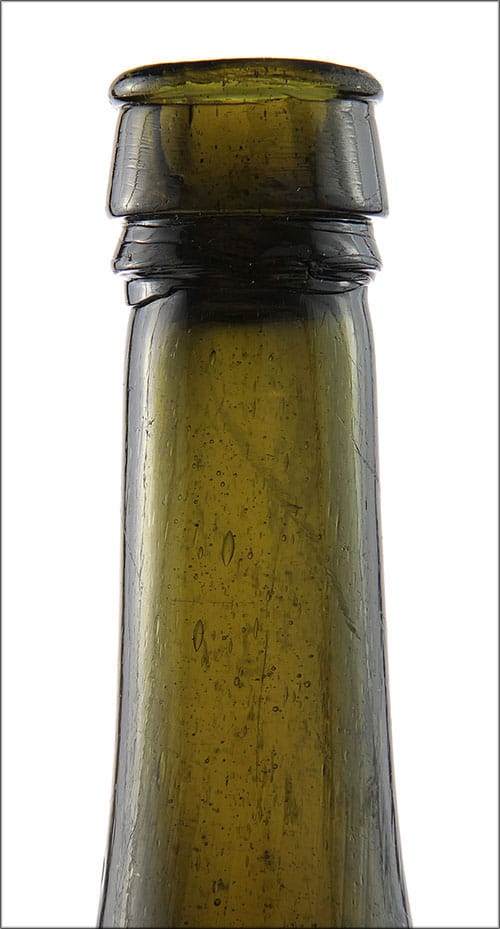 On the face of the bottle is embossed copy reading 'SHRIVER'S' in an arch over three lines of copy reading, 'OYSTER' (2nd line), 'KETCHUP' (3rd line), and 'BALTIMORE' (4th line). A paper label would have gone on the reverse side of the bottle. No example of a bottle with a surviving label is known.
The bottle mouths are typically long or short tapered collars. This museum example has a double tapered collar with a ring on the top in the style of a Lea & Perrins bottle. It is interesting to note that Lea & Perrins bottles of this period had a cork and glass stopper and were of British manufacture. The Shriver's Baltimore Oyster Ketchup bottles were most likely blown at the Baker Bros. Baltimore Glass Works on Federal Hill in downtown Baltimore City inner harbor in the early 1860s.
The bottles exude character with crudity and whittle, bubbles drips, high kick-ups, and stretch marks in the glass. You can find them in beautiful shades of amber, green, and aqua.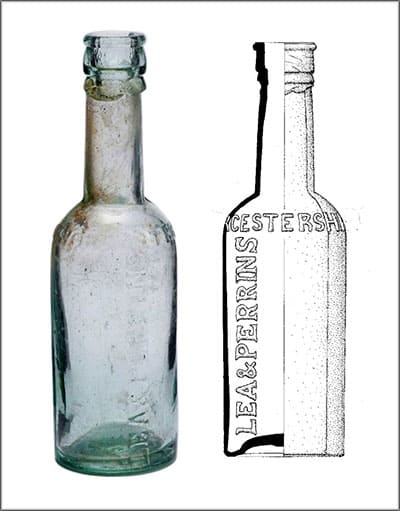 The club-style bottle is a distinctive shape that is closely identified with various brands of sauces that were intended for meat, poultry, and seafood. The origin of this style was most likely the bottle for Lea & Perrins company which was first used in the 1840s. Due to the success of Lea & Perrins, the sauce was copied by scores of other companies and put up in bottles of the same shape, often with the same or similar embossing pattern with different lettering for the producer.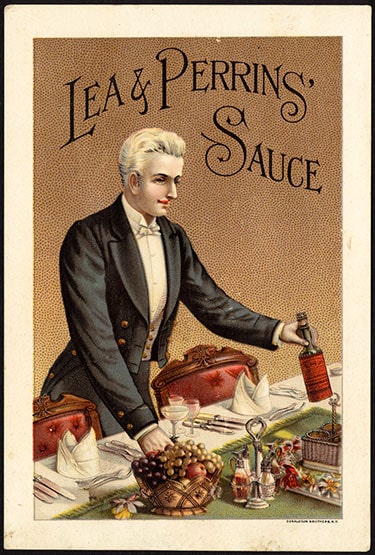 Lea & Perrins is best known for its brand of Worcestershire sauce which was first sold in 1837 by John Wheeley Lea and William Henry Perrins, dispensing chemists from Broad Street, Worcester, England. The sauce was inspired by Marcus Sandys, 3rd Baron Sandys who had served in Bengal and tasted a fish sauce there which he asked them to recreate but ended up putrid until it lay fermenting for three years. The sauce was first imported to the United States by the Duncan family of New York in 1839 which continued involvement for over a hundred years.
By the mid-1800s many sauce brands were shipped west of the Mississippi as thousands of gold seekers made their way to California and the goldfields. This popular condiment soon found a receptive market in restaurants, hotel dining rooms, and in the dining salons of passenger ships.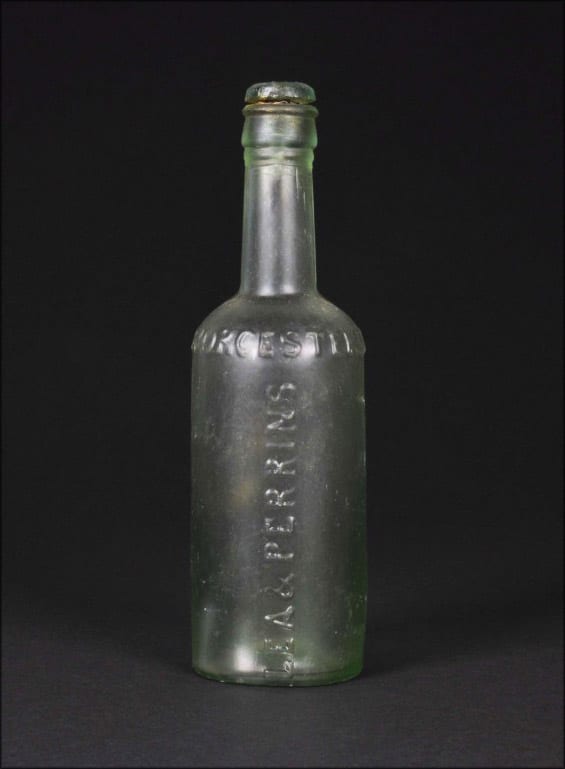 Primary Image: Shriver's Oyster Ketchup bottles imaged by the FOHBC Virtual Museum west coast studio by Gina Pellegrini.
Support: Reference to Ketchup Pickles Sauces – 19th Century Food in Glass by Betty Zumwalt
Support Image: Odyssey wreck example of a Lea & Perrins bottle. – Odyssey Virtual Museum