Mantua 16 Rib Chestnut
Mantua Chestnut
16 Swirled Ribs
Early American Blown Glass

Attributed to Mantua Glass Company
Ravenna, Portage County, Ohio
Yellow-Olive Chestnut Flask
Provenance: John Fifer Collection, ex Darl Fifer Collection
Our early American Mantua Glass Company display in our Free Blown & Pattern Molded Gallery includes this yellow-olive 16-rib chestnut flask. The flask is placed among other Mantua flasks and bottles, and related items including bowls and pans, salt dishes, creamers, celery stands, decanters, and drinking glasses. The chestnut is considered a pint and is 6-3/8″tall.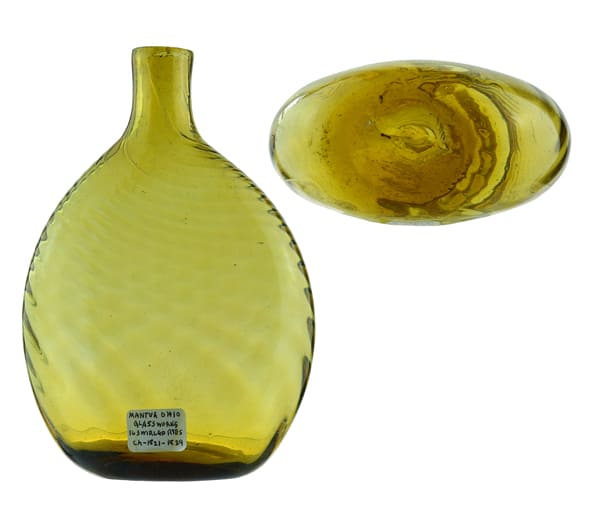 Mantua Glass Company located in Mantua, Ohio produced early American molded glass referring to functional and decorative objects, such as bottles, and dishware, in the 1820s. The objects were produced by blowing molten glass into a mold, thereby causing the glass to assume the shape and pattern design of the mold.
See the museum example of a Mantua free-blown bowl.
See the museum example of a Mantua creamer.
See the museum example of a Mantua 32-rib flask. (coming soon)
Since the early nineteenth century, not long after the establishment of the territory as a State, glassmaking has been one of the major industries of Ohio. This tradition holds an important place in the development of the industry in America.
David Ladd founded the Mantua Glass Company, the first glass manufactory in Ravenna, Portage County, Ohio in 1821. At that time, the settlement consisted of scarcely more than a few log houses, a mill, and a tavern. Ladd moved to Portage County from Connecticut in 1816 and opened his glass factory in a converted tannery. He hired Jonathon Tinker from Vernon, New York as superintendent and primary glassblower for the business. Tinker was the son-in-law of Oliver Lewis, one of the founders of Mount Vernon Glass Works, and had worked in the family business before going to Ohio.
The Mantua Glass Company completed its plant in 1822. The Western Reserve Chronicle published in Warren, Ohio, printed the following on February 9, 1822. "We have lately received as a present from the proprietors of the glass works in Mantua, a very clear well-shaped decanter and elegant sweet-meat, as a specimen of their skill in the important manufacture in which they are engaged. Both of these articles are ample proof of the ability of the enterprising and meritorious owners of this establishment to serve the public in their line of business. We hope they will receive all the encouragement necessary for the support and prosperity of their highly useful undertaking."
Later both Ladd and Tinker built glasshouses on the Cuyahoga River, at Carthage and Franklin Mills, which were so close together that they were incorporated as the town of Kent. Both had brought with them from the East, the traditions of glassmaking – perhaps even some of the molds used there. At both Mantua and Kent, free-blown and pattern-molded glass was made, and three-mold blown as well.
Primary Image: 16-rib Mantua chestnut flask imaged by the FOHBC Virtual Museum midwest studio by Alan DeMaison.
Secondary Image: 32-rib Mantua flask in golden yellow amber. Round. – FOHBC Virtual Museum – John Fifer Collection, ex Darl Fifer Collection
Support: Reference to Harry Hall White, Bottle Archaeologist and Researcher Extraordinaire by Bill Baab, FOHBC Bottles and Extras, September-October 2011
Support: Reference to Ohio Glass: 1815-1953, Toledo Museum of Art, 1953
Support Image: Auction Lot 57: Pitkin Type Flask, ribbed and swirled to the right, 32 ribs, Midwestern, probably Mantua, Ohio, 1822-1829. Brilliant clear medium lavender amethyst, sheared mouth – pontil scar, ht. 5 1/2 inches. We believe this to be the exact example noted in McKearin plate 233, #6 Beautiful color, fine condition, exaggerated neck length. Could this possibly be what pattern molded collectors call, "The Elusive Amethyst Pitkin"? Strong mold pattern. Ex Henry F. Dupont collection, ex Hiram Norcross collection. – Norman Heckler, Norman C. Heckler & Company
Support Image: Fifteen Diamond Chestnut Flask, 19th century, Mantua Glass Company, Fifteen Diamond Chestnut Flask, Department Decorative Arts, Textiles and Sculpture, Dimension: 5 1/2 x 4 1/2in. (14 x 11.4cm), From the Walter Douglas Collection – Minneapolis Institute of Art
Support Image: Petite Globular Bottle, 19th century, Petite Globular Bottle, Mantua Glass Company, Department Decorative Arts, Textiles and Sculpture, Dimension 7 1/4 in. (18.4 cm), Gift of Three Trustees, From the Walter Douglas Collection – Minneapolis Institute of Art
Support Image: Auction Lot 71: Pattern Molded Club Bottle, Midwest, possibly Mantua Glass Works, Mantua, Ohio, 1822 – 1829. Greenish aquamarine, 16 widely spaced melon-type vertical ribs, transitional club form, sheared mouth, applied ring type collar – blowpipe pontil scar, ht. 7 5/8", near mint; (just a slight touch of light wear, otherwise perfect). An interesting piece sharing some characteristics of both the globular, as well as, the club form. The 16 rib count is certainly scarcer than the 18 or 24 rib examples. – John Pastor, American Glass Gallery, Auction #28
Support Image: Club Bottle, 19th century, Mantua Glass Company, Decorative Arts, Textiles and SculptureDimension, 8 3/4 x 4 1/4 x 4 1/4 in. (22.2 x 10.8 x 10.8 cm), Gift of Three Trustees, From the Walter Douglas Collection – Minneapolis Institute of Art
Support Image: Bottle, green, 1821 – 1829, Mantua Glass Works, Mantua, Ohio, 6 ½ × 4 ¼ × 3 in. – Art Institute of Chicago, Emily Crane Chadbourne Decorative Arts Fund