P. Dehm Manayunk
P. Dehm
Manayunk
Peter J. Dehm, Manayunk, Pennsylvania
Emerald Green Porter
Provenance: Tod von Mechow Collection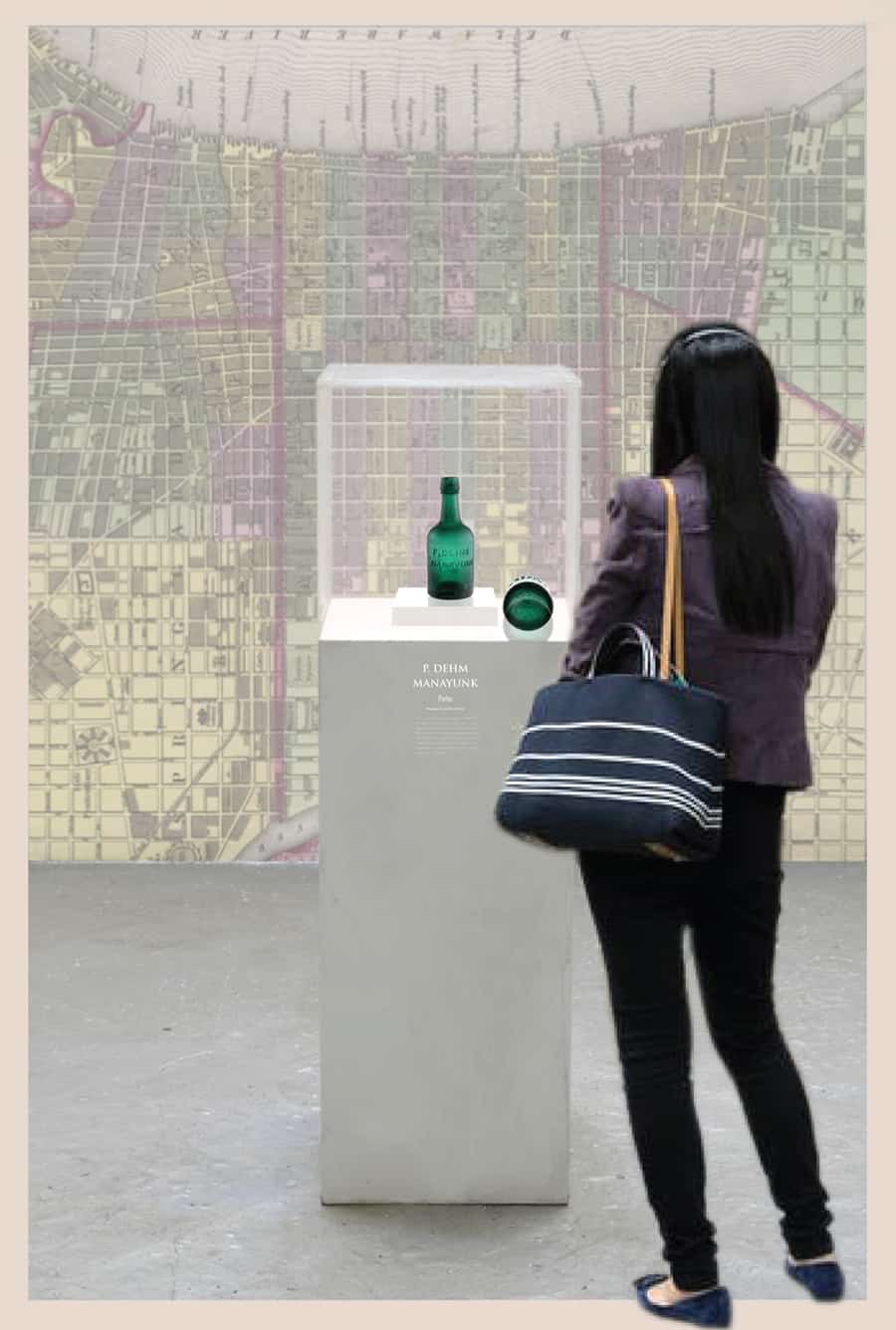 Peter Joseph Dehm was born in Germany around 1829. He is first listed as running a tavern and inn in 1856 on Cresson Street above Cotton in Manayunk. He must have brought his brewing skills from Bavaria as he promptly ordered glass bottles marked "P. Dehm Manayunk." For many years, Dehm would have "lager beer" listed next to his name in the Manayunk city directory listings, where he ran his inn and sold his beer.
Dehm must have had a death in the family or an urgent reason to return home, as there are records of him returning to America and traveling from Hamburg to New York on August 31, 1857, on the ship Hammonia. By 1860 he was again listed as an innkeeper on Leverington Street, Manayunk, Pennsylvania.
Manayunk is a neighborhood in the section of lower northwest Philadelphia located adjacent to the neighborhoods of Roxborough and Wissahickon and on the banks of the Schuylkill River. The first canal to begin construction in America was in Manayunk though the canal was not the first completed due to budget problems. The area's name is derived from the language of the Lenape Native American tribe. In 1686, in documents between William Penn and the Lenape, the Lenape referred to the Schuylkill River as "Manaiung," their word for "river," which translates as "place to drink" or "where we go to drink." The word was later altered and adopted as the town's name.
Philadelphia's textile village of Manayunk rapidly emerged during the 1820s and 30s, completely transforming a quiet bank of the Schuylkill River. Ridge Avenue roughly bounds Manayunk and the mouth of Wissahickon Creek on the south, Pechin Street on the east, Fountain Street on the north, and the Schuylkill River on the west and includes the Flat Rock Dam and the Manayunk Canal. Manayunk survives to relate an important chapter in the story of the industrial revolution in America, and its physical and historical character is unique to Philadelphia.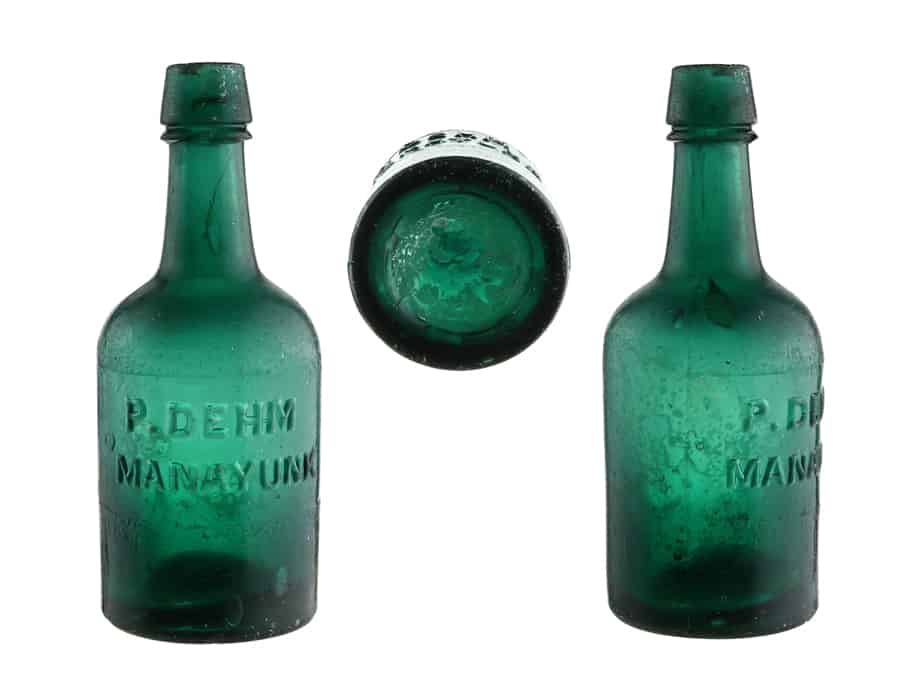 Our extremely rare cylindrical emerald green glass porter-style bottle is embossed 'P. DEHM MANAYUNK' in two lines using bold sans serif copy, which is all set within a horizontal plate. The 7-1/8 inch tall bottle is hand blown, has a double tapered collar and an improved pontil.
According to the 1870 United States Federal Census, Peter J. Dehm was still running a lager beer saloon in Philadelphia. He was married to Margaret Dehm (1837-1875), with children noted under the roof as Elizabeth, Margaret and Mary Dehm. Dehm was also an Alderman. He would retire from brewing in the mid-1870s while maintaining his inn. He died at his home on 106 Cotton Street on August 30, 1879, at a relatively young age of 50.
Primary Image: "P. Dehm Manayunk" porter bottle imaged on location by Alan DeMaison, FOHBC Virtual Museum Midwest Studio.
Support: Reference to Soda & Beer Bottles of North America, Tod von Mechow
Join the FOHBC: The Virtual Museum is a project of the Federation of Historical Bottle Collectors (FOHBC). To become a member.