G. Boehringer 1826 North 25th St Philadelphia
G. Boehringer
(Bartender with Beer Mug)
1826 North 25th St Philadelphia
This Bottle Must Not Be Sold
Gottlob Boehringer, Philadelphia, Pennsylvania
Aquamarine Champagne Beer
Provenance: Tod von Mechow Collection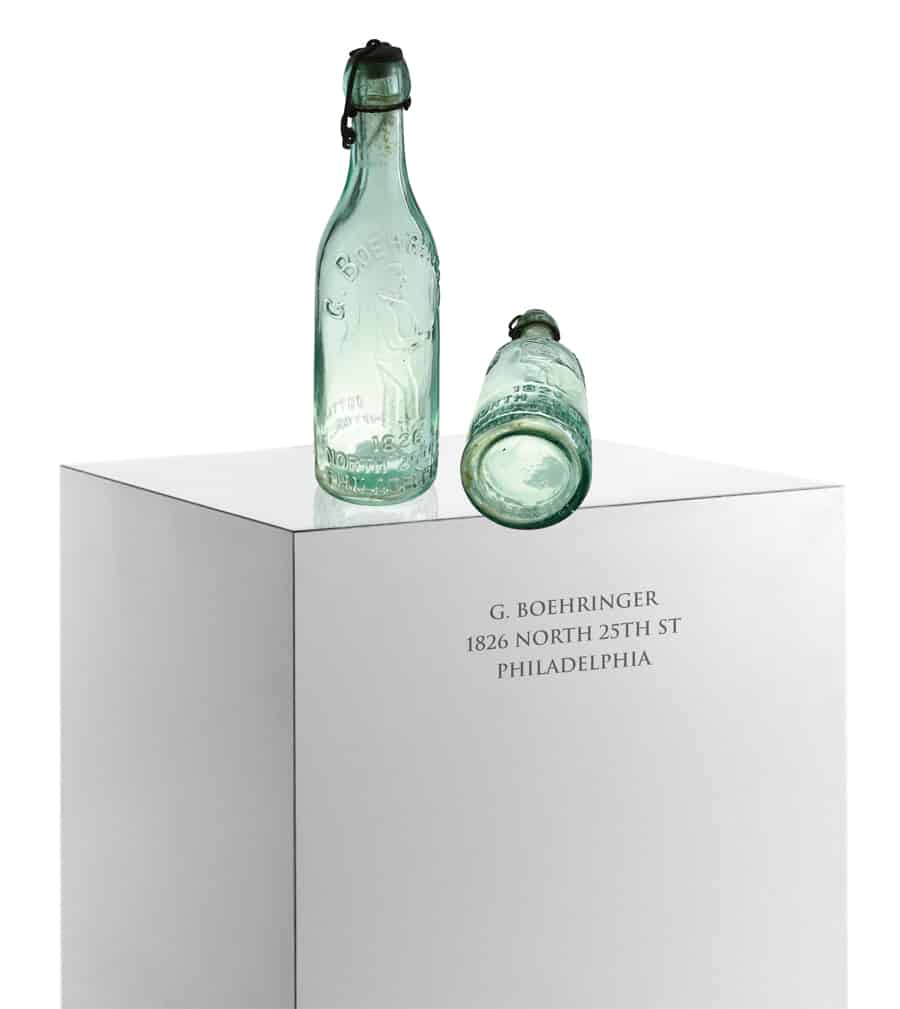 Little is known about Gottlob Boehringer, who had his name and possible likeness embossed on this circa 1890 beer bottle. Boehringer was born in Schorndorf, Württemberg, Germany, on July 3, 1854, and emigrated to the United States sailing from Bremen in April 1871. He was naturalized as a citizen of the United States on May 1, 1878, in Philadelphia, Pennsylvania.
There are other spellings of Mr. Gottlob's first name, such as "Gottlieb," but the majority and most certifiable documents and his tombstone say "Gottlob." He must have traveled alone as no family is listed on early papers, but there were a few other Boehringers in Philadelphia who could have supported his arrival. Gottlob Boehringer married Julia Brucker in 1878, and they had two children, Frederick W., born in 1881, and Katharina L. Boehringer in 1884.
In Philadelphia City Directories from 1877 to 1888, Gottlob Boehringer is noted as a butcher first located at 1832 Tulip, corner of Vienna, and then in 1888, 1826 N. 25th Street, which is his house and place of business. The following year and up to 1895, he is listed as a bottler at the same 1826 N. 25th Street address.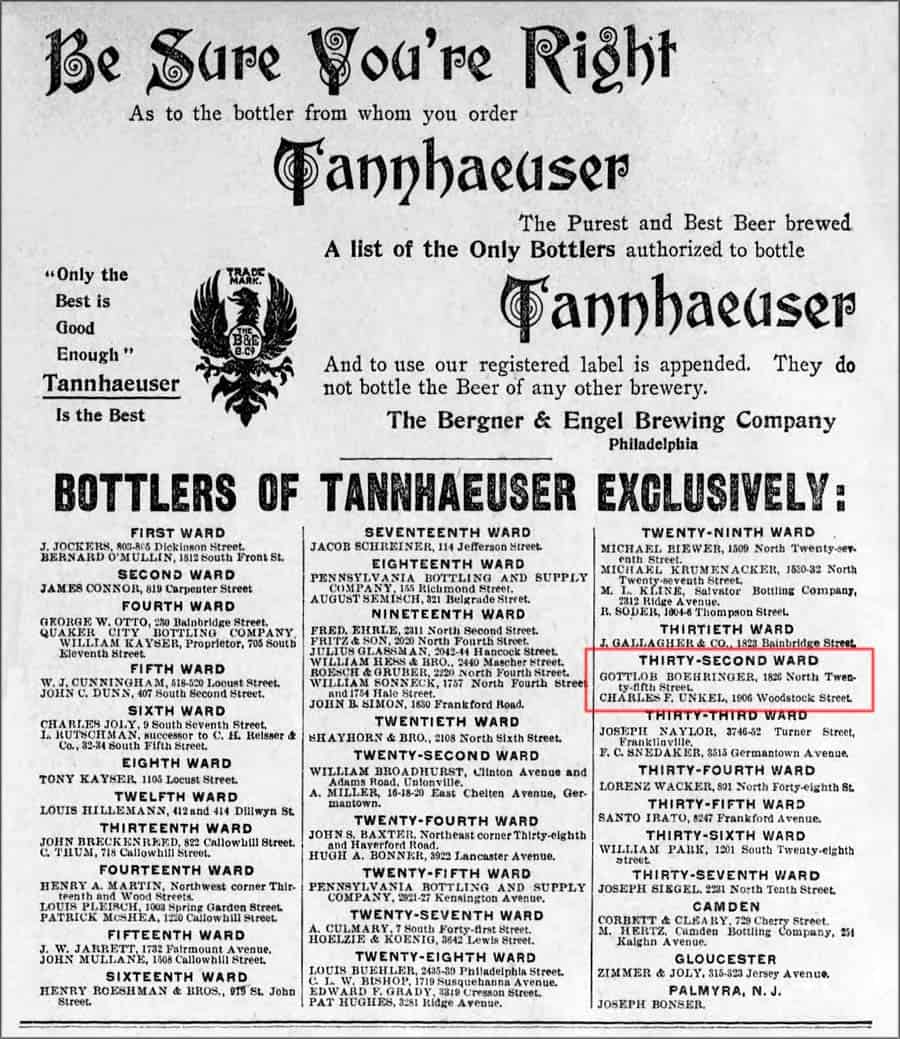 Gottlob Boehringer was an exclusive bottler of Tannhaeuser put out by The Bergner & Engel Brewing Company of Philadelphia. He represented the Thirty-Second Ward and was contracted to use their registered label on his bottles. He also could not bottle any beer from any other brewery. Advertising said, "Be Sure You're Right as to the bottler whom you order Tannhaeuser, the Purest and Best Beer Brewed."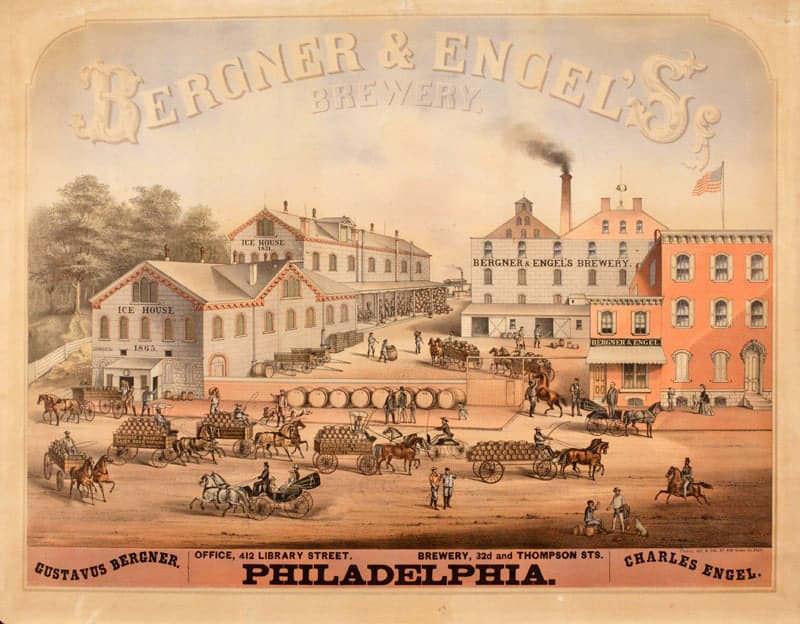 The partnership of Bergner & Engel was formed in 1870 at the brewery of Bergner (erected 1857-1858) following the dissolution of the partnership of brewers Wolf & Engel. Construction of new buildings and additions and the purchase of new equipment for the Brewerytown complex took place in the 1870s. At this time, Bergner & Engel was one of the largest breweries in the country and had an international reputation. Bergner & Engel ceased operations during prohibition.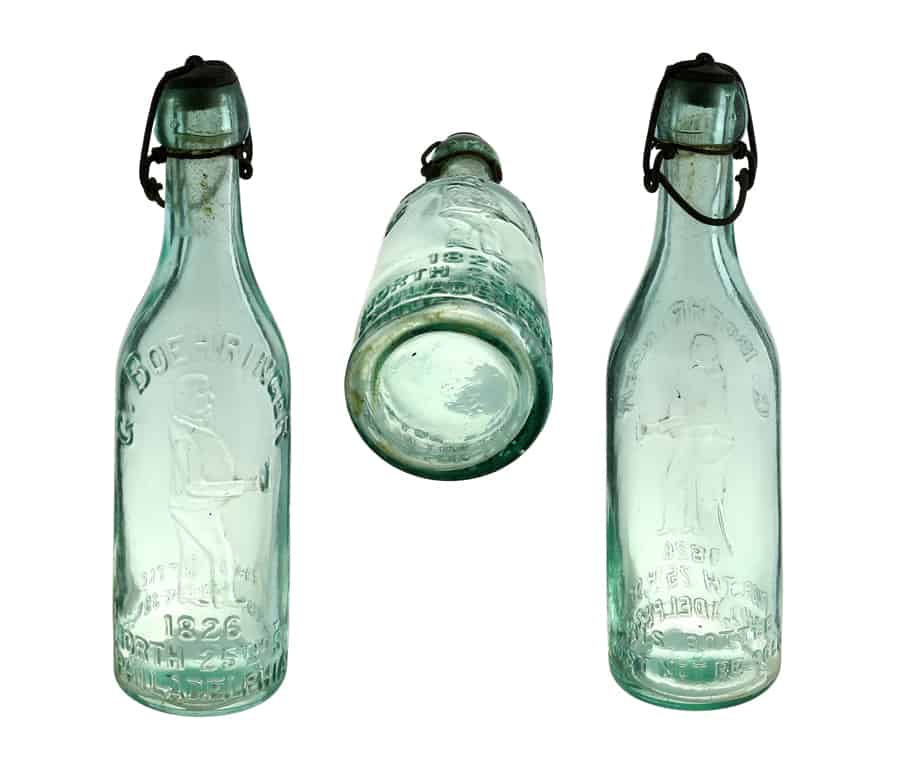 Our museum example measures 9 3/8 by 2 5/8 (5 1/8) inches and is cylindrical, aquamarine, and shaped like a champagne beer bottle. There is a metal Lightning stopper set on a rounded tapered mouth. The base is smooth. The pictorial bottle is embossed in a sans serif typestyle 'G. BOEHRINGER' in a convex arch over an embossed motif of a bartender, walking right, holding a mug of beer. Beneath the man's shoes are three lines of stacked, centered sans serif copy reading '1826' (top line), 'NORTH 25TH ST' (center line), and 'PHILADELPHIA' (bottom line). The "TH" in "25TH" and the "T" in "ST" are raised and underlined. The reverse of the bottle has small sans serif letters in two lines near the base that read 'THIS BOTTLE MUST NOT BE SOLD.' The glasshouse is unknown.
See the museum example of a Trade Mark Lightning jar.
Gottlob Boehringer would live and work in Philadelphia uninterrupted from 1871 to 1896 until he moved to Newportville, Buck County, Pa., where he was a farmer. Boehringer departed for health reasons for his first trip out of the country on the ship Ryndam from New York City on May 28, 1921, to visit Holland, Belgium, France and Switzerland. He returned on the ship Zeeland arriving from Antwerp, Belgium, to New York City on November 13, 1921. He died on January 6, 1929, in Bristol, Bucks County, Pennsylvania.
Primary Image: "G. Boehringer 1826 North 25th Street Philadelphia" Champagne Beer bottle imaged on location by Alan DeMaison, FOHBC Virtual Museum Midwest Studio.
Support: Reference to Soda & Beer Bottles of North America, Tod von Mechow
Join the FOHBC: The Virtual Museum is a project of the Federation of Historical Bottle Collectors (FOHBC). To become a member.