Mason's Patent Nov. 30th 1858 – DuPont
Mason's Patent Nov. 30th 1858
DuPont

Green Aquamarine Quart
Provenance: Jerry McCann Collection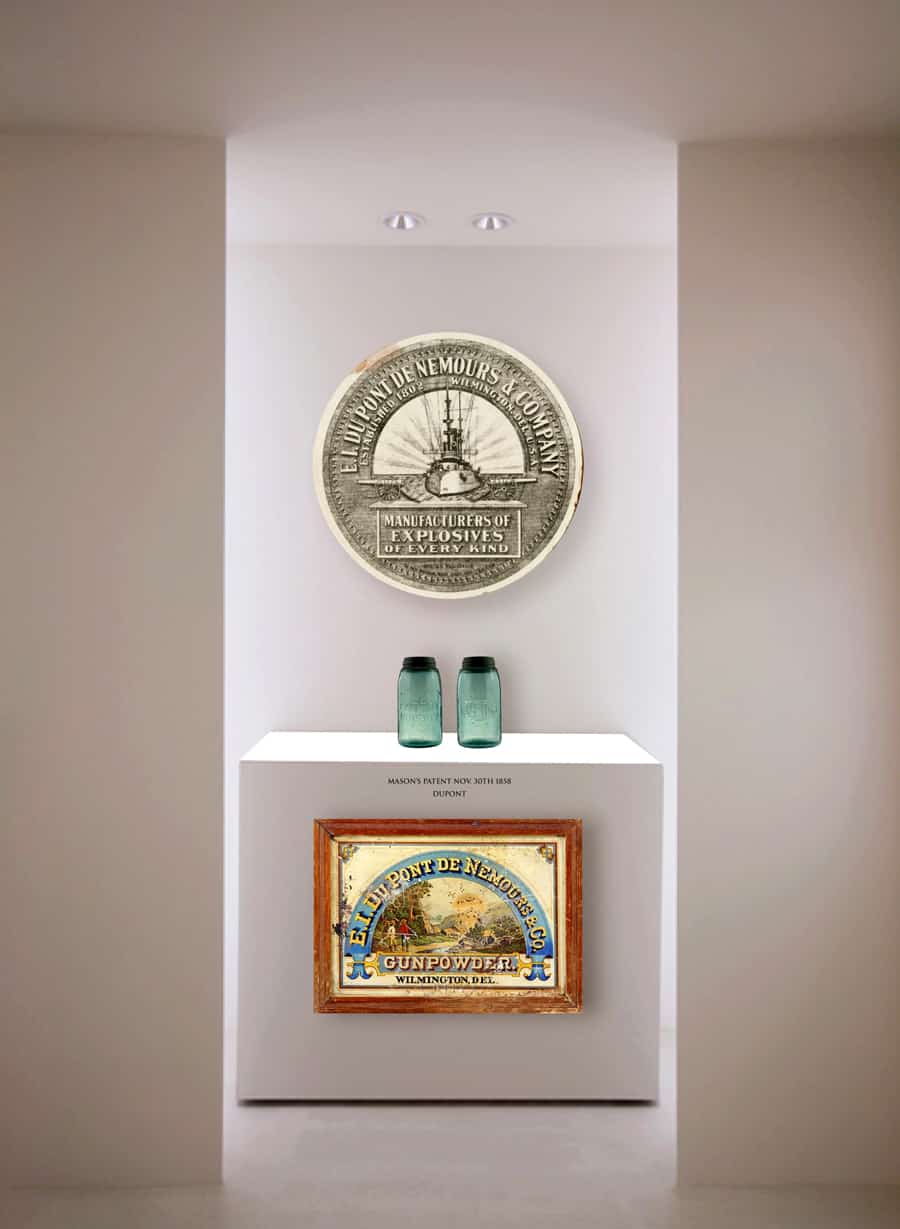 Here is a very rare proprietary brand Mason's Patent Nov. 30th 1858 jar with 'DUPONT' embossed on the reverse. This occurs within a horizontal outline oval which was the DuPont logo for this time period. This brand would be in reference to the DuPont gunpowder and chemical works in Delaware. The jar has a ground mouth and a zinc cap.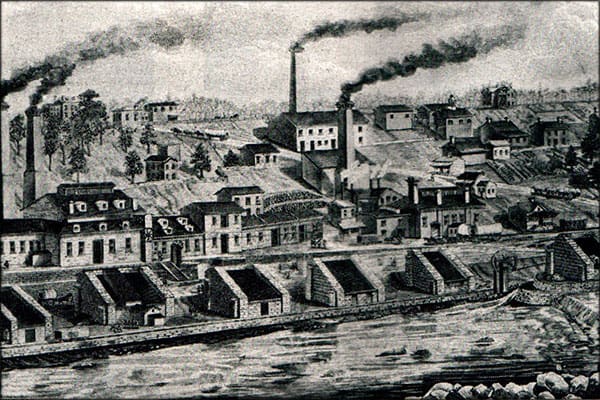 DuPont was founded in 1802 by Éleuthère Irénée du Pont, using capital raised in France and gunpowder machinery imported from France. He started the company at the Eleutherian Mills, on the Brandywine Creek, near Wilmington, Delaware, two years after du Pont and his family left France to escape the French Revolution and religious persecution against Huguenot Protestants.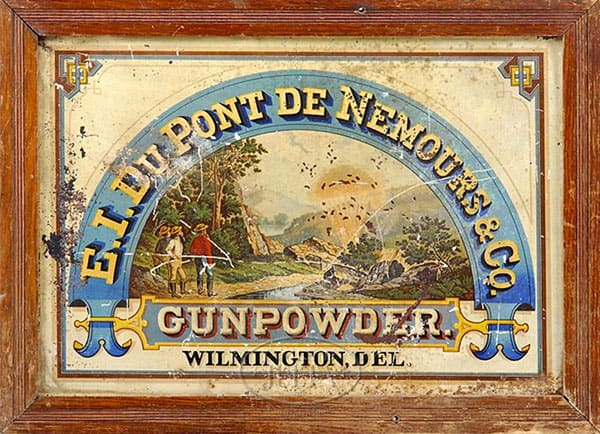 The company began as a manufacturer of gunpowder, as du Pont noticed that the industry in North America was lagging behind Europe. The company grew quickly, and by the mid-19th century had become the largest supplier of gunpowder to the United States military, supplying one-third to one-half the powder used by the Union Army during the American Civil War. The Eleutherian Mills site is now a museum and a National Historic Landmark.
There are a number of variations of this DUPONT jar. In many cases, the jar maker is unknown while in other examples we see base markings indicating where it was made.
We have pictured as support images a pint, quart, and half-gallon. One variation has an embossed "C" with a small, solid arrow or triangle on both ends between the arched "MASON'S" and "PATENT" embossed copy. In some examples, there is illegible ghosting below the "-C-" which looks to be the CFJCo monogram for Consolidated Fruit Jar Company. Others depict variations of the "DUPONT" logo. One has a backward "N."
We have many Mason's Patent Nov. 30th, 1858 jars in our museum. Please visit with each.
Primary Image: The Mason's Patent Nov. 30th 1858 Dupont jar imaged on location by the FOHBC Virtual Museum midwest studio led by Alan DeMaison.
Support: Reference to Red Book #11, the Collector's Guide to Old Fruit Jars by Douglas M. Leybourne, Jr.
Support: Reference to Fruit Jar Annual 2020 – The Guide to Collecting Fruit Jars by Jerome J. McCann
Support: Reference to Consolidated Fruit Jar Co. by Bill Lockhart, Beau Shriever, Bill Lindsey, and Carol Serr
Support Images: Auction Lot 4837: DUPONT on Reverse, Green Half Gallon MASONS 1858 Closure: zinc cap. Appearance: shiny glass with crude and bubbly character, a trace of inside deposit. Condition: Normal nicking of the ground mouth. Embossing: strong. Base: "A109" Age: late 1800s. Availability: rare – Greg Spurgeon, North American Glass
Support Images: Auction Lot 5602: DUPONT in Oval Reverse MASONS -C- PATENT 1858 Quart, Color: Blue-aqua. Closure: zinc cap. Appearance: shiny glass Condition: edge flaking on the ground mouth (one is not yet detached) Embossing: strong, and note the backward – embossed "N" in the DUPONT logo, a mold-maker's error. Base: a large "G" logo enclosing a "1X", indicating that the manufacturer was the Gayner Glass Company of Salem, New Jersey. Age: late 1800s. Availability: a rare proprietary brand Mason jar – Greg Spurgeon, North American Glass
Support Images: Auction Lot 11770: DUPONT in Oval on Reverse MASONS -C- PATENT 1858 Pint. Color: Aquamarine. Closure: zinc cap. Appearance: sparkling glass. Condition: edge flaking on the ground mouth. Embossing: strong. Base: "3" Age: late 1800s Availability: rare reverse-embossed Mason pint – Greg Spurgeon, North American Glass