J.D. Thompson Fine Black Ink Troy – NY
Fine Black Ink MADE & SOLD BY
J. L. Thompson
Troy N-Y
John L. Thompson & Sons, Troy, New York
Olive Master Ink
Provenance: Michael George Collection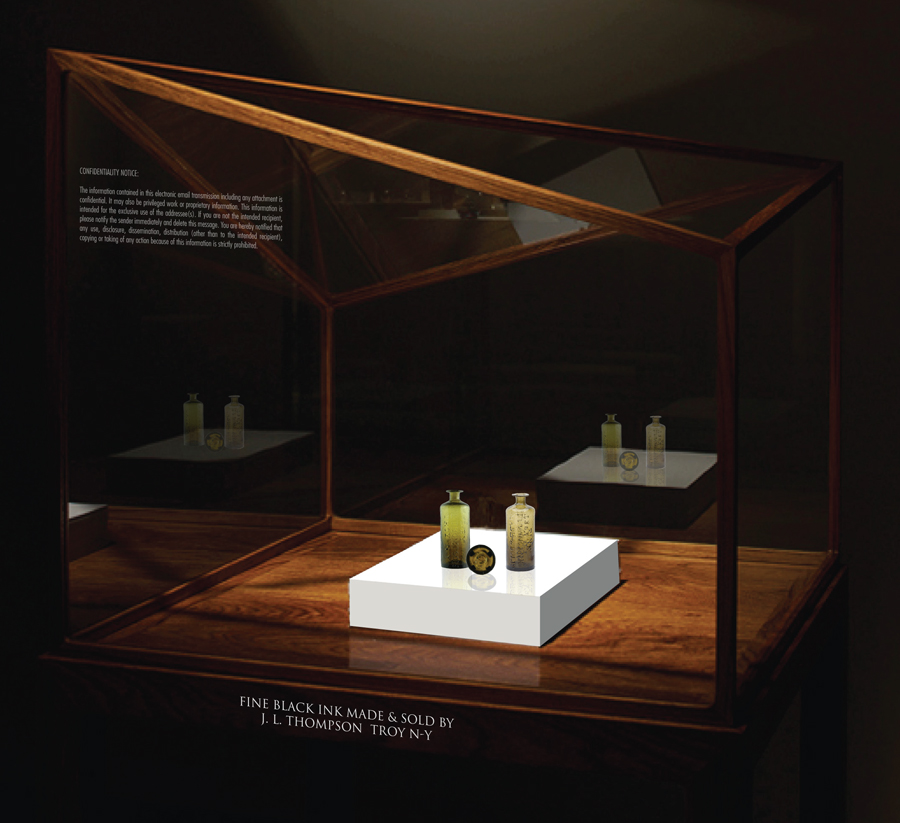 The J. L. Thompson Fine Black Ink bottle is an extremely rare, unlisted master ink. Two examples came out of the Albany area many years ago. Our museum example is perfect, while the other example from Albany had a chipped lip and has since been repaired.
The 5 3/4″ tall cylindrical bottle was blown in medium olive glass. There is a tooled flared mouth and a pontil scar. The bottle is embossed on one face, in three lines of serifed type, 'FINE' (1st line), 'BLACK INK' (2nd line), and 'MADE & SOLD' in the third line. The opposite side is also embossed in three lines, 'BY' (1st line), 'J. L. Thompson' (2nd line), and 'TROY N–Y' in the third line.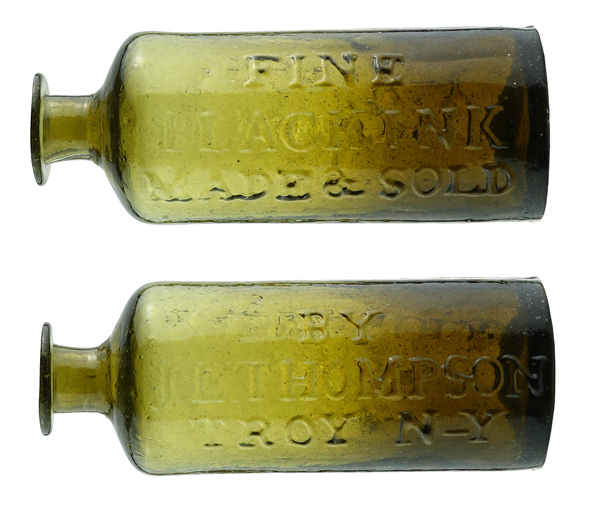 John L. Thompson Sons and Co., Wholesale Druggists, Troy, New York
In 1797, Dr. Samuel Gale, Jr. established an apothecary in connection with his medical office. This operation was the beginning of Thompson Sons. By 1799, Dr. Gale's business was well established and already assuming the aspects of a wholesale drug store. In 1805, Dr. Gale formed a partnership with his brother William.
In 1806, Dr. Gale became postmaster of Troy, followed by marrying Betsy Thompson in 1810. In 1818, her brother, John L. Thompson, at age 19, became an apprentice in the shop. In 1820, the original shop was torn down, as it had become far too small for the growing business. A new building was constructed at 161 River Street. In 1821. Dr. Gale and John Thompson formed a partnership called Gale & Thompson. Seven years later, Dr. Gale retired and sold his interest to Thompson, and the business name changed to J. L. Thompson.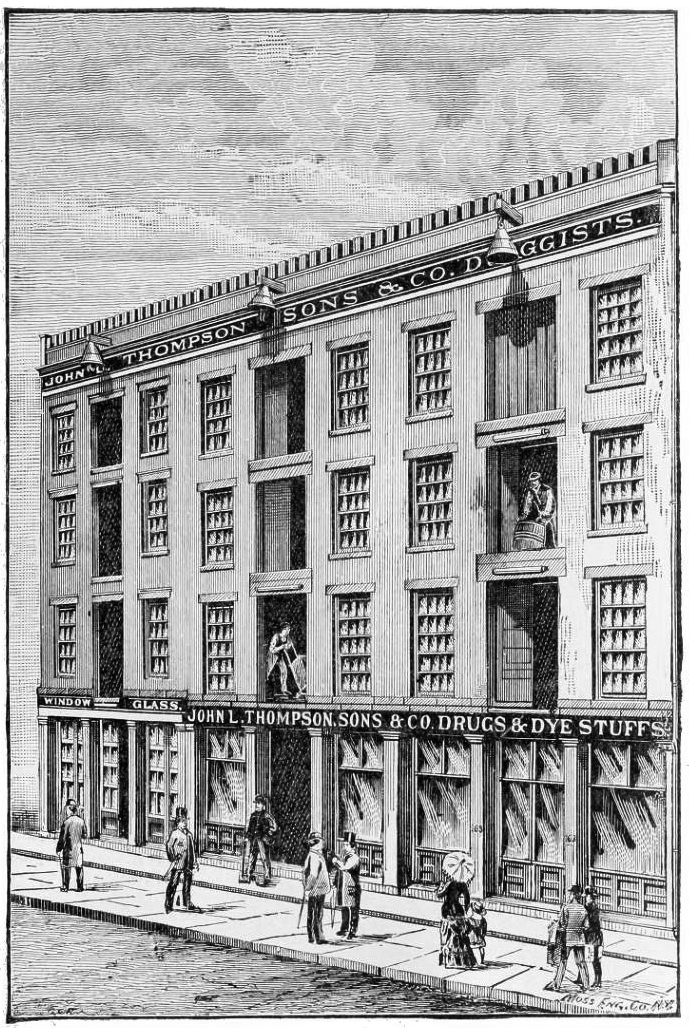 The business continued growing so much that another new building was required just north of the River Street address. In 1835, David Cowee was employed as a clerk and admitted as a partner six years later, accounting for adding "and Co." to the business title. In 1852, a building next door was acquired to warehouse stock. In 1851, John I. and William A. Thompson, sons of John L. Thomson, joined the firm making for the new name John L. Thompson Sons & Co. In 1867, James F. Cowee, son of David, was admitted to the partnership.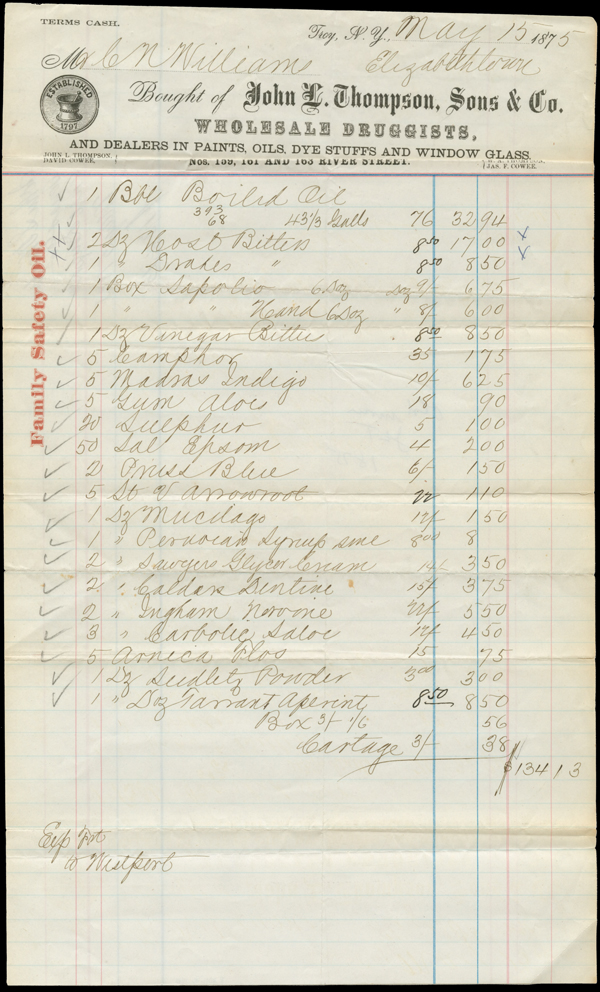 The business began to veer away from wholesale drugs to sell heavy chemicals in the following decades. In 1901, John I. Thompson died, and William followed two years later. In 1903, the business was incorporated, with James Cowee serving as president, Harvey Cowee as vice-president, and William Leland Thompson, son of the late William A., as treasurer. William Leland became president upon the death of James Cowee and served until 1954. Ellis H. Robison entered the business in 1927 as a general manager, and in 1947, he became vice-president and treasurer. He succeeded William Leland as president in 1954. At this time, William Leland Jr. became the sole owner of the business and Chairman of the Board. He would serve until he died in 1957.
Primary Image: The J. L. Thompson Fine Black Ink imaged on location by Alan DeMaison, FOHBC Virtual Museum Midwest Studio
Support: Reference to A History of Troy & Vicinity, A.J. Weise, 1892
Support Image: Auction Lot 93: "Fine / Black Ink / Made & Sold" – "By / J.L. Thompson / Troy N-Y" Master Ink Bottle, America, 1840-1860. Cylindrical, bright yellow olive, tooled flared mouth – pontil scar, ht. 5 3/4 inches; (shallow 1/4 inch by 3/4 inch pontil flake). Unlisted Strong embossing. Extremely rare. Fine condition. – Norman Heckler Jr. & Sr., Norman C. Heckler & Company, Auction #108
Support Image: Building illustration. John L. Thompson Sons & Company Druggists, 159-167 River Street, Troy, NY, a Four-story commercial/warehouse building built in 1870 with fifteen-bay brick and brownstone facade laid in Flemish Bond and later 19th-century alterations. Original features include a storefront with flush brownstone piers and late 19th-century display windows, brownstone sills and lintels; hoists, and recessed cargo entrances with original doors. – A History of Troy & Vicinity, A.J. Weise, 1892
Support Image: Billhead: Bought of John L. Thompson, Sons & Co., wholesale druggists, and dealers in paints, oils, dye stuffs and window glass, nos. 159, 161 and 163 River Street. – The Library Company of Philadelphia
Join the FOHBC: The Virtual Museum is a project of the Federation of Historical Bottle Collectors (FOHBC). To become a member.