GII – 66
Eagle – Anchor and "New London Glass Works" Flask
GII – 66
Eagle – Anchor and "New London Glass Works"
Historical Flask

New London Glass Works, New London, Connecticut
Yellow-Olive Quart
Provenance: Anonymous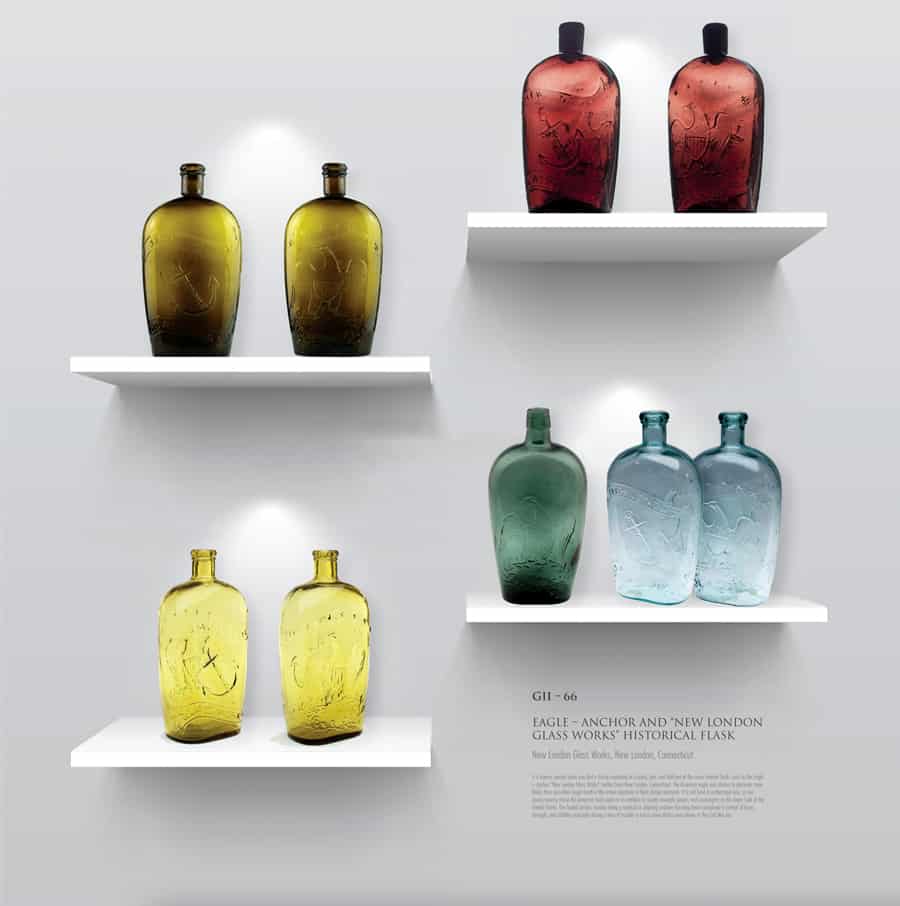 It is always special when you find a family consisting of a quart, pint, and half-pint of the same themed flasks such as the Eagle – Anchor "New London Glass Works" bottles from New London, Connecticut.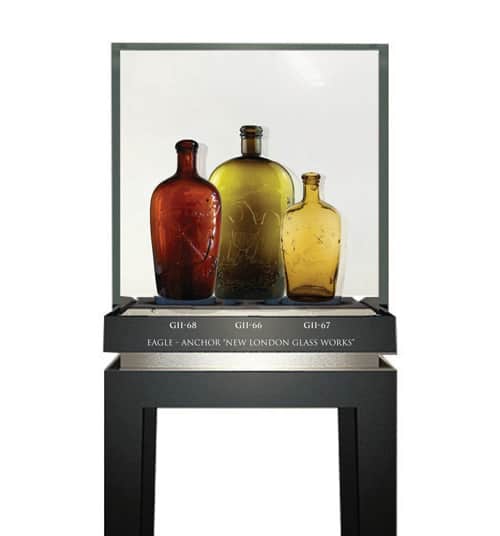 The American eagle was chosen to decorate more flasks than any other single motif in the entire repertoire of flask design elements. It is not hard to understand why, as our young country chose the American bald eagle as its emblem to signify strength, power, and sovereignty on the Great Seal of the United States.
The fouled anchor, besides being a nautical or shipping emblem has long been considered a symbol of hope, strength, and stability especially during a time of trouble or toil as these flasks were blown in the Civil War era.
See the museum example of GII-37 Eagle "Ravenna Glass Company" and Anchor pint.
Our quart yellow-olive Eagle – Anchor "New London Glass Works" historical flask presents an embossed American Eagle with its head turned to the left on what is considered the front or obverse side of the flask. The right wing is a little foreshortened to give the eagle a more three-dimensional appearance. The large breast shield has six vertical bars. There are seven 5-pointed stars embossed in an arc above the eagle. The eagle is perched on a large oval laurel wreath.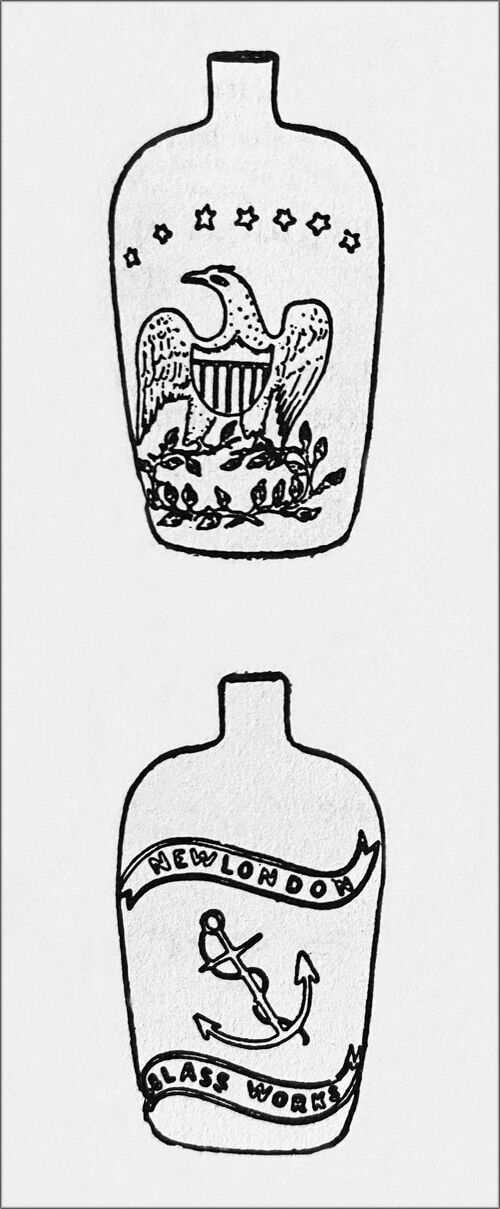 The reverse of the flask displays a large embossed anchor in a diagonal position with the top leaning to the left. The rope is serpentine and turned to the left below the anchor. The ribbon above the eagle has embossed copy within reading 'NEW LONDON' while the ribbon below the anchor has embossed copy reading 'GLASS WORKS.'
As noted, our museum Eagle-Anchor example is a quart. There are also pint and half-pint molds with a similar eagle-anchor design and embossed copy. Our flask has smooth edges and a double-rounded collar. The flask can also be found with a plain lip, a narrow flat collar, or a flat ring below a plain lip.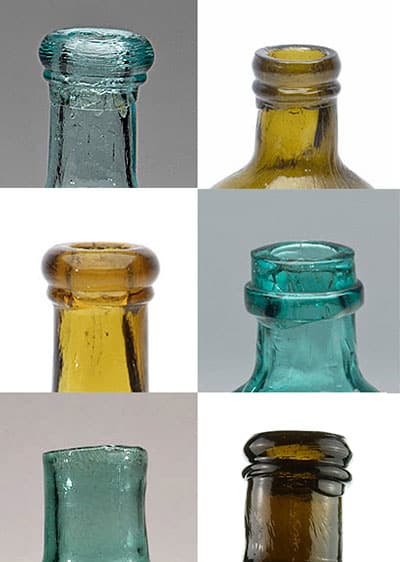 This flask can be found with either a smooth base or pontil mark. Known colors are aqua, yellow, yellow-amber, golden-amber, and red-amber which are considered rare. Very pale green, light emerald green, clear dark green, and copper-amber are considered very rare. Our yellow-olive museum example is extremely rare.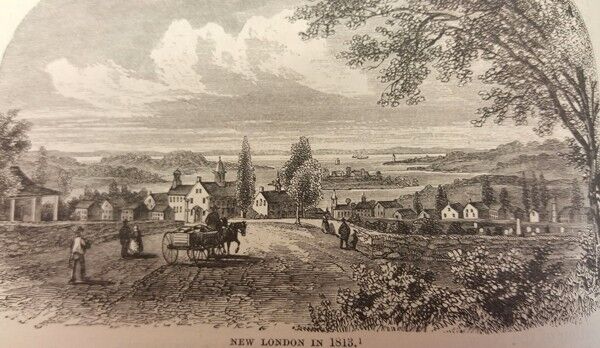 New London Glass Works – Union Glass Works
New London is a seaport city and a port of entry located at the mouth of the Thames River in New London County, Connecticut. It was one of the world's three busiest whaling ports for several decades beginning in the early 19th century, along with Nantucket and New Bedford, Massachusetts. The harbor was considered to be the best deep water harbor on Long Island Sound, and consequently, New London became a base of American naval operations during the American Revolutionary War.
Our flask was produced at the New London Glass Works from 1856 to 1860. The New London Glass Works was founded in 1856, with operations starting late in 1857 or early 1858. The company organizers were N. S. Perkins Jr. and Lorenzo Hodsden, along with Leonard S. Shaffer and Thomas W. Perkins.
Glassmaking operations lasted until sometime in 1865 when New London land records show that the Union Glass Company began their operations. This was probably through the efforts of Charles Prentis, who purchased the New London Glass Co. property and then sold it to the Union Glass Works. Union Glass may have begun its operations either adjacent to the New London Company or on Union Glass Company land. The records are not clear on whether they both were in operation at the same time or if New London Co. ended and the Union Class Co. took over.
Besides the GII-66, GII-67, and GII-68 trio, the GXIII-7 Hunter – Pointer flask is attributed to New London Glass Works. At least one other flask (GXV-23) is marked Union Glass Works along with some marked soda water bottles. The New London flasks and Union glassworks flasks were blown in outstanding glass colors like copper-amber, golden-amber, red-amber, yellow-amber, aquamarine, emerald-green, very-pale-green, olive-yellow, clear deep-green, bluish-green, yellow-green, olive-amber, and pure yellow.
Support Primary Image: Quart, yellow-olive, GII-66, Eagle – Anchor "New London Glass Works" historical flask imaged by the FOHBC Virtual Museum midwest studio by Alan DeMaison.
Support: Reference to American Bottles and Flasks and Their Ancestry by Helen McKearin and Kenneth M. Wilson, Crown Publishers Inc., New York, 1978.
Support: Reference to the Museum of Connecticut Glass website and their New London Glass Works page.
Support Image: Auction Lot 23: Eagle – Anchor And "New London / Glass Works" Historical Flask, New London Glass Works, New London, Connecticut, 1860-1870. Brilliant aquamarine, applied sloping collared mouth – smooth base, quart. GII-66. Strong mold impression with whittled surface. Fine condition. Rare. – Norman Heckler, Norman C. Heckler & Company
Support Image: Auction Lot 135: Eagle – Anchor And "New London / Glass Works" Historical Flask, New London Glass Works, New London, Connecticut, 1856-1866. Aquamarine, applied double collared mouth – smooth base, quart; (spotty light interior haze, potstone to right of shield has ¼ inch radiation). GII-66. Bold embossing and little to no exterior wear. – Norman Heckler, Norman C. Heckler & Company
Support Image: New London Glass Works Flask Brings $6,200 At Daniel Buck (Auctions, Inc.) – Leading the two-day sale was a citron New London Glass Works "Eagle and Anchor" flask. The 1-quart flask with a double collared mouth and a smooth base finished at $6,200, well over its estimate of $300/500. The New London Connecticut glass works operated for only a short time, about 1856–68, and its flasks are not common. – Antiques and the Arts Weekly
Support Image: GII-66, Flask, (sage-green quart) New London Glassworks, American, New London, Connecticut, c. 1860–1866, Gift of William B. McIlvaine Jr. in memory of his mother Marian Fenno McIlvaine – Art Institute Chicago
Support Images: Auction Lot 12: EAGLE – "NEW LONDON" / ANCHOR / "GLASS WORKS" Historical Flask, 1860 – 1866. Gorgeous, bright yellow, almost a lemon yellow, with just a very slight hint of olive, applied round double collar – smooth base, Qt; (only the faintest bit of wear to include a tiny, tissue-paper-thin, open bubble at edge of base, otherwise absolutely pristine perfect). GII-66. A big, beautiful, rare flask, outstanding color, strong embossing, virtually no wear! Robert Irons collection. – John Pastor, American Glass Gallery, Auction #29
Support Image: Auction Lot 12:EAGLE – "NEW LONDON" / ANCHOR / "GLASS WORKS" Historical Flask, 1856 – 1860. Brilliant pink puce, sheared mouth – iron pontil scar, Qt; (the neck is broken, a clay-like substance has been molded to form the neck; the body and remainder of the flask are virtually pristine, only a trace of wear). GII-66. An unlisted, extremely rare, incredible color! One of the absolute prettiest flasks that we have seen in a very long time. Robert Irons collection; Ex. G. Rodman Bouck; Clarence Gardner collections. As noted, the entire body is intact and perfect, no cracks or other issues, boldly embossed, and almost no wear. The neck could certainly be repaired and would present as virtually perfect. The color is absolutely stunning, almost a pinkish strawberry puce. True 'eye-candy' for any collector and a flask that would have a big presence in any window, or on any shelf. – John Pastor, American Glass Gallery, Auction #29