Dr. Atherton's Dew Drop Bitters
Dr. Atherton's Dew Drop Bitters
1866
Lowell, Mass
A 106

Abel T. Atherton, Lowell, Massachusetts

Yellow-Amber Fancy Square
Provenance: Ferdinand Meyer V Collection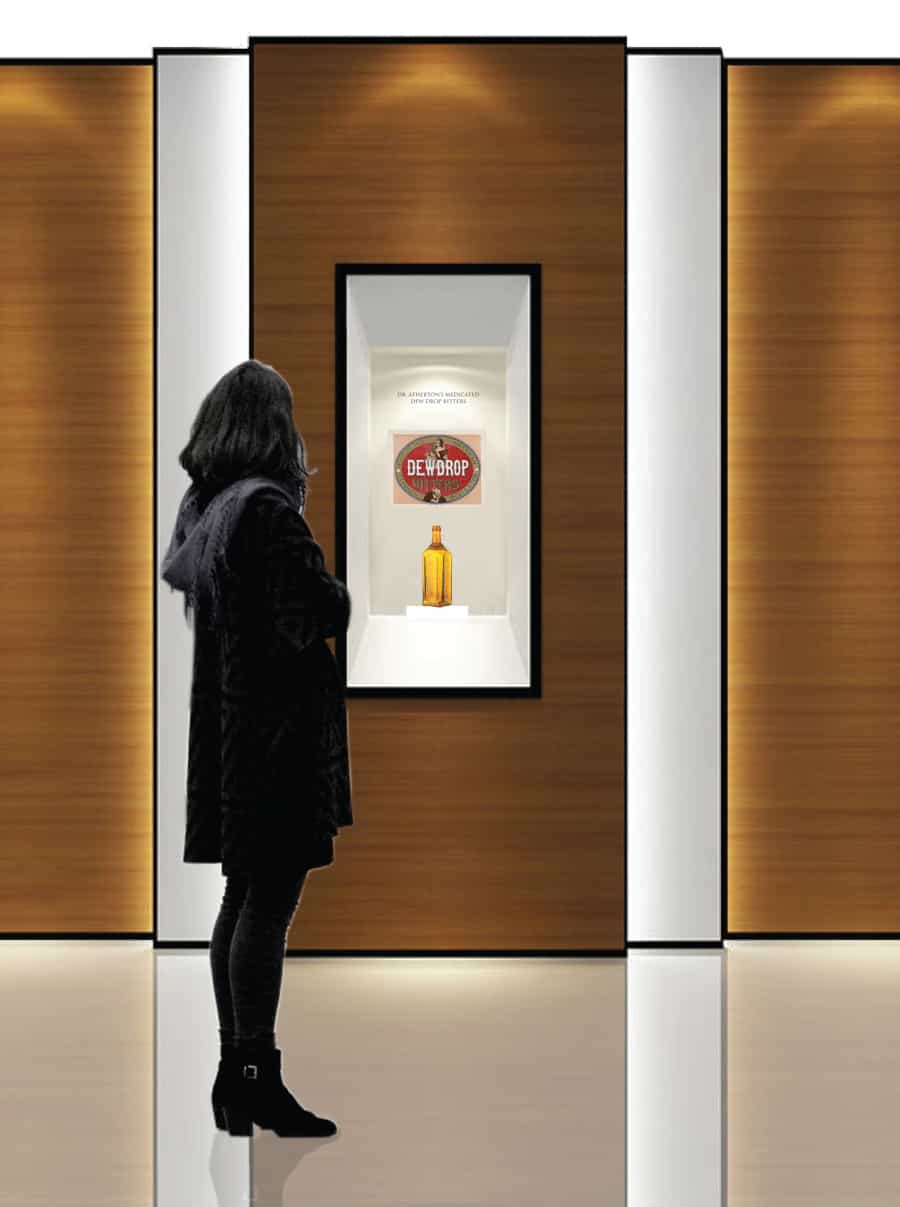 Not much is known about Dr. Atherton's Dew Drop Bitters as it is an extremely rare bitters with only two or three known examples in collections. This museum example is the second one known and was dug on December 19, 2004, by a New England collector. The first known Atherton's Bitters example is pictured in Bitters Bottles Supplement and resided for many years in the John Feldmann collection in Amityville, New York.
A Dew Drop Bitters lithographic print of what is most likely a label, held by the Library of Congress dated December 28, 1868, represents a patent medicine advertisement showing a woman, perhaps a goddess of nature, dripping dew from a pitcher of flowers onto a man below holding a small dose glass to catch the drops. This printed piece is certainly the right time period for Dr. Atherton's bitters product and can be with a high degree of certainty be tied to Dr. Atheton's Dew Drop Bitters.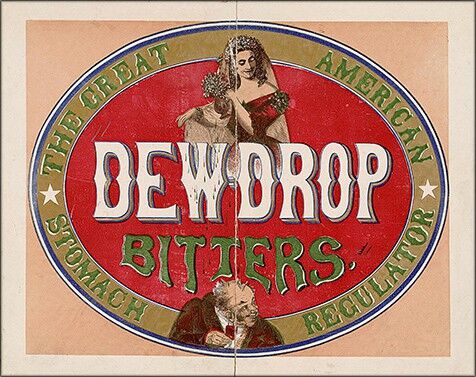 While the bitters were invented by A. T. Atherton, the bitters were apparently manufactured by E. Mishler, 405 Penn Street in Reading, Pennsylvania according to a reported Dew Drop Bitters sign dated 1868. The Mishler name is prominent and well-known to bitters collectors.
The bottle was blown from one of the more extraordinary mold designs with its square form, indented chamfered panels, and stepped rings on the shoulder that connect to the neck of the bottle. The embossed bottle name occurs on three of the panels; 'DR. ATHERTON'S' (panel 1), 'DEW DROP' (panel 2), and 'BITTERS' (panel 3). The fourth indented panel is blank and is where the traditional paper label would have gone. On the base side foot panels is embossed, '1866' and 'LOWELL, MASS'.
The mouth is an applied long tapered collar. Both examples that are represented in the Virtual Museum are honey amber. The colors noted in Bitters Bottles Supplement are olive amber and green which can not be confirmed.
There are two other period bottles that come to mind with a similar stepped ring treatment on the neck. One is London Medicated Health Restorer put out by S. A. Foutz in Baltimore, Maryland and the other is the Chickahominy Bitters which is represented in the Virtual Museum Bitters Gallery.
In an 1867 newspaper advertisement, Dr. A. T. Atherton stated that he was a doctor and a chemist operating in Lowell, Massachusetts, and advertised his Dr. Atherton's Medicated Dew Drop Bitters as a most delightful tonic and the greatest remedy in the known world. He said his bitters were delightful to the taste, that that they were a mild stimulant, and that it could be taken at any time. He said his bitters were the greatest remedy in the known world for the loss of appetite, headache, indigestion, and other complaints requiring tonic, diuretic, or alterative. He was selling his bitters in large bottles for $1.00. He also put out a Cherry Cordial which he advertised separately for the same price. Atherton's Eye Balm was also marketed for 25 cents a bottle. George C. Goodwin & Co. and M. S. Burr & Co. were Atherton's agents in Boston, Massachusetts.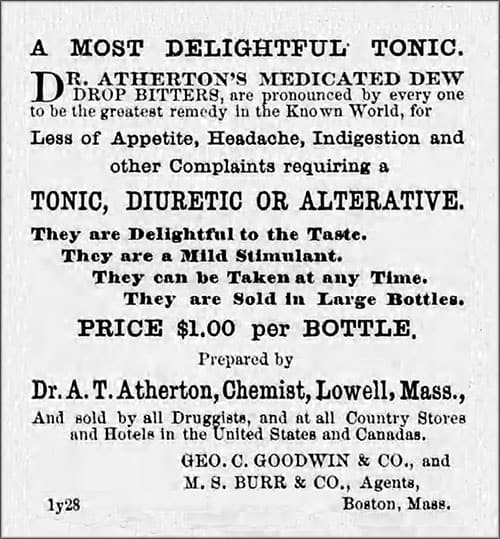 We see no record of Abel T. Atherton actually being a doctor which is not surprising. There are many instances where a bitters proprietor said he was a doctor or put "Dr." in front of the bitter's name to give more credibility to the product.
Abel T. Atherton was born about 1840 in Massachusetts. He and his father Thomas were among the most prominent manufacturers of mill machinery in the country. Abel was considered a designer and inventor. He put out his Dr. Atherton's Dew Drop Bitters under the company name T. Atherton & Son. He was a young 27 years old at that time when he released and started advertising his bitters to the public. Previously he was an accountant. His parents were from England and his father Thomas was also a manufacturer. His home address was 27 Clay Street according to an 1865 Lowell City Directory. By 1870, Atherton was listed as a machinist with Atherton & Turner located at 23 Howe.
Atherton's later years were spent in Pawtucket, Rhode Island focused on manufacturing, selling, and dealing in articles and machinery made from iron, steel, or other metals, such as wood and other fibrous substances. In 1899 he acquired Somerset Iron Works and founded Somerset Manufacturing Company where he was president. Abel T. Atherton would die in 1915 leaving behind many industrial pieces he invented and one great bitters bottle.
The Carlyn Ring and W.C. Ham listing in Bitters Bottles Supplement is as follows:
A 106 DR ATHERTON'S // DEW DROP // BITTERS // sp // near base // 1866 // LOWELL // MASS // sp //
10 x 3 (6 ¾) ½
Square, Yellow olive and Green, LTC, 4 sp, Applied mouth, Extremely rare
Note: Manufactured by E. Mishler, 405 Penn St., Reading, Pa. on "Dew Drop Bitters" sign dated 1868.
Primary Image: Dr. Atherton's Dew Drop Bitters bottle imaged by the FOHBC Virtual Museum midwest studio by Alan DeMaison.
Support: Reference to Bitters Bottles Supplement by Carlyn Ring and Bill Ham. Use of Dr. Atherton's Dew Drop Bitters illustration and Supplement bottle image granted by Bill Ham.
Support Image: Dew Drop Bitters label. Print of a patent medicine advertisement – Library of Congress
Support Image: Dr. Atherton's Dew Drop Bitters sitting on a barrel image provided by Greg Bair, the finder of the 2nd bottle.
Read: Dr. Atherton's Dew Drop Bitters on Peachridge Glass
Join the FOHBC: The Virtual Museum is a project of the Federation of Historical Bottle Collectors (FOHBC). To become a member.