Willington Cathedral Pickle – Amber
Willington Cathedral Pickle
Small Amber Quart
West Willington Glassworks, Connecticut
Gothic Style
Provenance: Lou Pellegrini Collection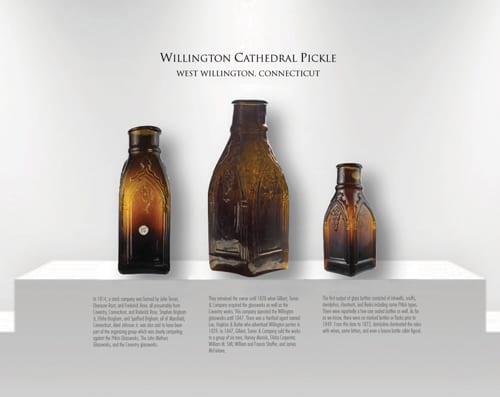 The amber Willington cathedral pickle bottles can be found in three sizes, roughly 8″ (quart), 11″ (half-gallon), and 14″ (gallon). Jim Hagenbuch, then publisher of Antique Bottle & Glass Collector magazine once said, "No question, the amber Willington is the Cadillac of the category." We are fortunate to have two amber Willington cathedral pickles in our museum, the small and medium sizes, both from the Pellegrini collection.
The large gallon example, pictured in the display above, in the center, is from the Charles and Jane Aprill collection, ex Gardner 2825, and measures 13-¾". The left medium half-gallon size is from the Pellegrini collection, ex Gardner collection 541 and measures 11-¼ x 4″ square while the small quart example, also from the Pellegrini collection, measures 8-½ x 3-¼. All three sizes are discussed below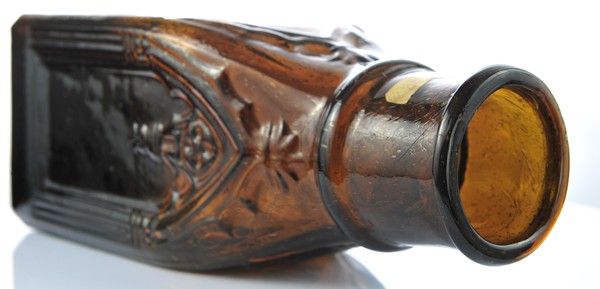 Quart Amber Willington Cathedral Pickle
Our small, 8-½ x 3-¼ inch amber quart Willington cathedral pickle, pictured above, would have used a cork stopper, perhaps sealed with wax and metal foil. The square body has small chamfered corners, a sloping shoulder leading to a round collar-rib at the base of a wide tall cylindrical neck with a rolled-over round collar. There is a rough depressed circular base with a rough pontil mark. The sides have a sunken Gothic arch, ribbed pillars, plain inner frame, outer side ornamented at the top by a tulip capital at the point. The inner frame has a double ogival at the top, a small quatrefoil above the pendant with a conventional ornament in the center. A paper label would have been affixed to the one undecorated side of the bottle.
Half-Gallon Amber Willington Cathedral Pickle
See the museum example of the medium size amber half-gallon Willington Cathedral Pickle. This half-gallon example, pictured above, has a Gardner Collection 541 auction sticker on the side. The Gardner collection is what many consider the most important antique bottle collections ever assembled. The collection was eventually auctioned and the sales occurred on September 25, 26, and 27, 1975, and November 20, 21, and 22, 1975 at Robert W. Skinner Inc, in Bolton Massachusetts. The hard-bound Norman C. Heckler Gardner Collection auction book had the following lot description: "Food, pickle, square with cathedral design, similar to V.R.#3 plate 87, 2 quarts, olive amber, tooled collared mouth – scarred base; ex Osgood collection. (Plate XVI)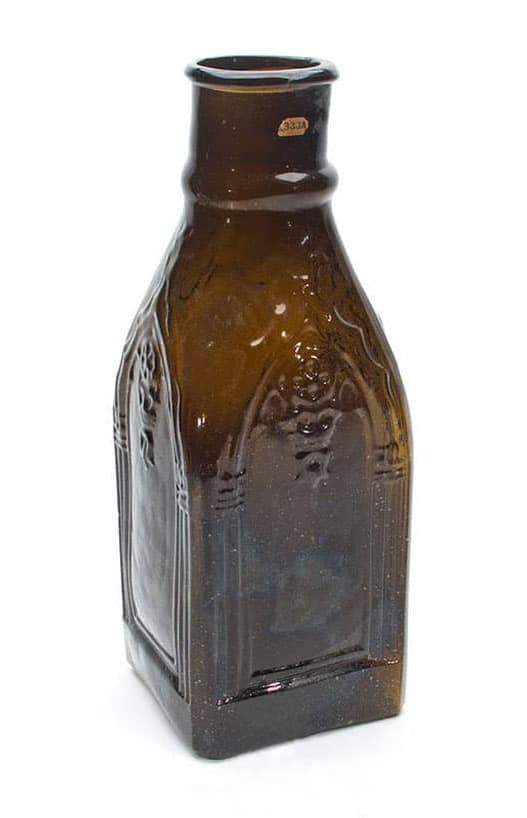 Gallon Amber Willington Cathedral Pickle
This large-size gallon example, pictured above, is from the Gardner collection auction and was lot 2825. The Norman C. Heckler Skinner description was "Food, pickle, square with cathedral arches and fancy design, gallon, olive amber, tooled collared mouth – scarred base, 6 inch crack in semicircle around pontil continuing 3 inches up side. (Plate X)
See the museum example of a yellow-green Cathedral Pickle Gardner 325.
See the museum example of a blue-green Cathedral Pickle Gardner 2287 also attributed to Willington Glassworks.
West Willington Glassworks
The Museum of Connecticut Glass notes the following for the West Willington Glassworks (1814-1872).
In 1814, a stock company was formed by John Turner, Ebenezer Root, and Frederick Rose, all presumably from Coventry, Connecticut, and Roderick Rose, Stephen Brigham Jr, Elisha Brogham, and Spafford Brigham, all of Mansfield, Connecticut. Abiel Johnson Jr. was also said to have been part of the organizing group which was clearly competing against the Pitkin Glassworks, The John Mathers Glassworks, and the Coventry glassworks.
They remained the owner until 1828 when Gilbert, Turner & Company acquired the glassworks as well as the Coventry works. This company operated the Willington glassworks until 1847. There was a Hartford agent named Lee, Hopkins & Butler who advertised Willington porters in 1829. In 1847, Gilbert, Turner & Company sold the works to a group of six men, Harvey Merrick, Elisha Carpenter, William M. Still, William and Francis Shaffer, and James McFarlane.
The first output of glass bottles consisted of inkwells, snuffs, demijohns, chestnuts, and flasks including some Pitkin types. There were reportedly a few rare sealed bottles as well. As far as we know, there were no marked bottles or flasks prior to 1849. From this date to 1872, demijohns dominated the sales with wines, some bitters, and even a booze bottle cabin figural.
Perhaps the most famous of the wares are the Willington gothic cathedral-type pickle jars of varying sizes and colors. They also produced base-embossed cylindrical bottles (there are 9 variants known), varying sizes of berry bottles in olive amber and olive green colors, and of course, the popular Liberty Eagle marked flasks in 1/2 pint, pint, and quart molds.
See the museum example of a quart GII-61 "Liberty" Eagle "Willington Glass Co. West Willington Conn" flask.
The Willington glassworks also produced utility bottles, insulator types, rolling pins, and assorted tableware. The colors of the glass were similar to Pitkin's and Coventry's but the shades of greens are among the most beautiful glass ever produced in this country.
Primary Image: Amber Willington cathedral pickles imaged by the FOHBC Virtual Museum west coast studio by Gina Pellegrini.
Support: Reference to The Amber Willington Cathedral Pickle Jar
Support: Reference to American Bottles and Flasks and Their Ancestry by Helen McKearin and Kenneth M. Wilson, Crown Publishers Inc., New York, 1978.
Support: Reference to Ketchup Pickles Sauces – 19th Century Food in Glass by Betty Zumwalt
Support Image: Auction Lot 1: Cathedral Pickle Bottle, Willington Glass Works, West Willington, Connecticut, 1840-1860. Square with beveled corners and fancy cathedral arches, deep olive amber, applied round collared mouth – pontil scar, ht. 13 3/4 inches; (u shaped crack runs across the base and 2 1/2 inches up one side). Similar in form and construction to Z pg. 456, top left Considered by most to be the "Holy Grail" of pickle bottles. A rare bottle with great provenance and presence. Ex Charles B. Gardner collection, Dr. Charles and Jane Aprill collection. – Norman Heckler, Norman C. Heckler & Company, Auction #174