Geo. Gemenden Planters Hotel Savannah Geo. Brown Stout
Geo. Gemenden Planters Hotel Savannah Geo.
Brown Stout
George C. Gemenden, Savannah, Georgia
Green Porter Type 2
Provenance: Mike Newman Collection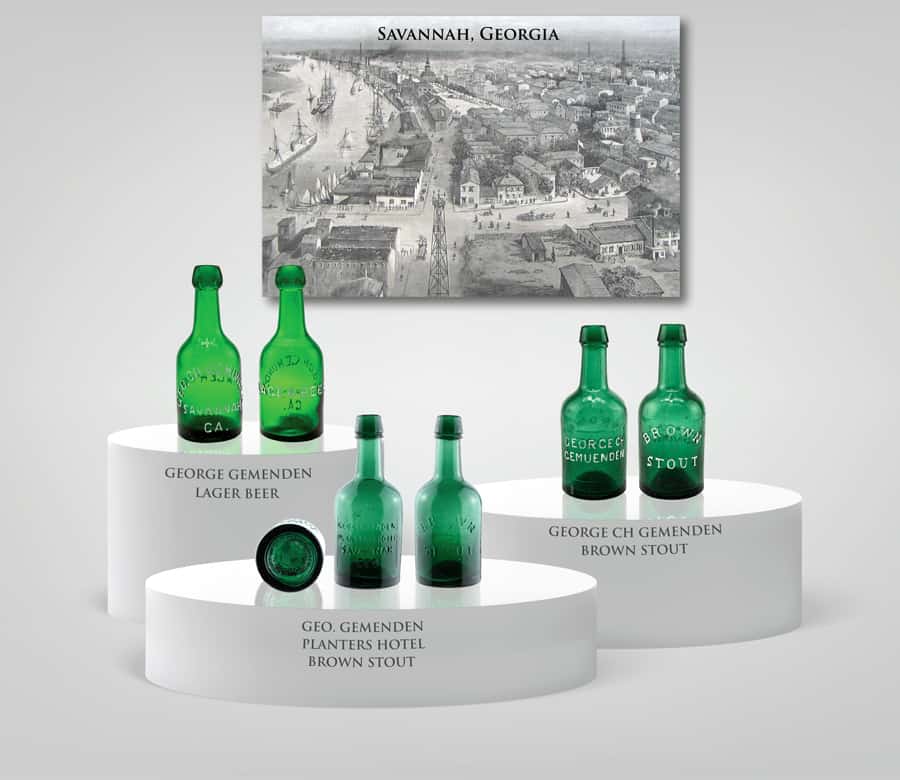 George C. Gemenden was a prolific soda water manufacturer and bottler in Savannah, Georgia. He also has his name embossed on two brown stout bottles and three lager beer bottles.
Stout is a dark, top-fermented beer with a number of variations, including dry stout, oatmeal stout, milk stout, and imperial stout. The first known use of the word "stout" for beer, in a document dated 1677 found in the Egerton Manuscripts, referred to its strength.
The name porter was first used in 1721 to describe a dark brown beer. Because of the huge popularity of porters, brewers made them in a variety of strengths. The stronger beers, typically 7% or 8% alcohol by volume (ABV), were called "stout porters," so the history and development of stout and porter are intertwined, and the term stout has become firmly associated with dark beer rather than just strong beer.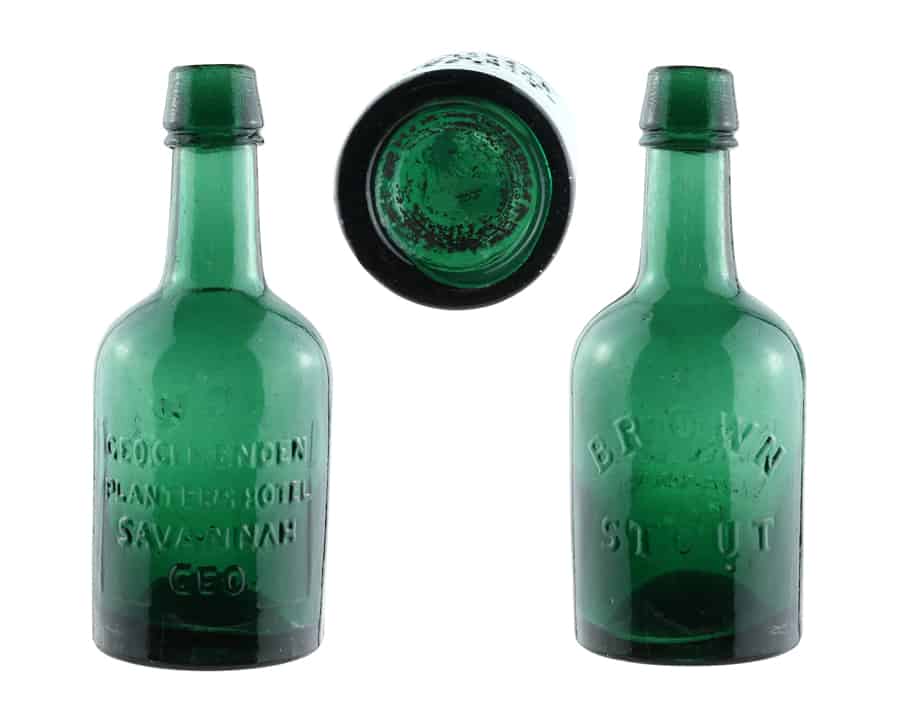 Our rare museum example represents a Type 2, porter form, "Geo. Gemenden Planters Hotel Savannah Geo. Brown Stout." When looking at the obverse side of the rich green cylindrical bottle, there is embossed copy in four lines reading, 'GEO. GEMENDEN' (1st line serif type), 'PLANTERS HOTEL' (2nd line serif type), 'SAVANNAH' (3rd line sans serif type), and 'GEO.' (4th line sans serif type). All copy is set within a slug plate. The reverse side is embossed in two lines, 'BROWN' (arched) and 'STOUT.' The bottle measures 7 inches by x 2 ¾ inches (3 ¼ inches). There is a double tapered collar and a kick-up iron pontil. The bottle can be found in emerald green, blue-green, and forest green glass.
George Charles Gemenden
George Charles Gemenden was a native of Hesse Darnstadt, Germany. Born on November 11, 1811, he decided to immigrate to the United States in the early 1840s when he was about 31 years of age. He and his wife Catherine and a possible son Henry, also native to Germany, settled in Philadelphia. The couple was for sure the parents of two children, a son George Alex and a daughter Cassie.
Records show that Gemenden became an American citizen while in Pennsylvania. He was in the shoe manufacturing business, but for unknown reasons, the family moved to Savannah, Georgia, in 1851. Gemenden started his southern business as a soda water manufacturer. A business that, surprisingly, over the years lured other German soda water manufacturers such as August Meyer, Thomas Maher, George Ebberwein, Frederick Meincke, Henry Kolshorn, Henry Kuck, Henry Lubs, Theodore and Henry Rober, L. Glinde (a.k.a L. G. Linde), J. Manke, Phillip Heller, Charles Umbach, and Albert Von Harten.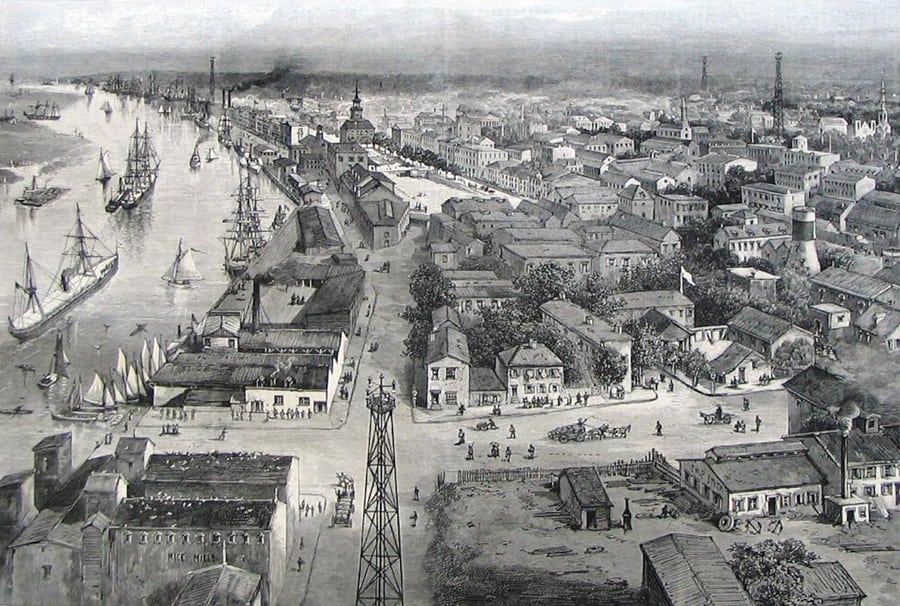 Gemenden's soda water bottling business was soon producing a large number of beverages such as lager beer, porter ale, brown stout, cordials, and of course, soda water. For some reason, his name was misspelled on many of his bottles.
In 1856, Gemenden sold half of his bottle business to bottler Phillip Heller for $1,400.85. The other half was sold to Fanny Silber, a wealthy entrepreneur. The seller had an inventory listing his assets included in the sales and also provides a closer look into his operation. The list verbatim: "One horse, two mules, one wagon, one two-horse wagon, ten vinegar barrels, four fountains, one bottling machine, one soda pump with gasometer, one copper soda water apparatus, four and a half barrels of porter, two barrels of lager beer, three other barrels of lager beer, two barrels of porter, seven cordial stands, one copper kettle, fourteen vinegar steamers, fixtures and shed, one lot of cooper tools, forty-three-dozen syrup bottles, two-hundred forty-nine dozen soda bottles, twenty-three dozen porter bottles, twenty-six and a half dozen lager beer bottles, nine-hundred and thirty-four assorted bottles, three-hundred thirty-six London porter bottles, one lot of tin patches, two kegs, two stoves, two and a half barrels of marble dust, twenty-five dozen cordial bottles, thirty-two dozen soda water with bottles, one-hundred seventy-four pounds of twine, thirty-eight gross of bottles, eight dozen London Porter, one-hundred thirty-nine gross of corks, twenty gallons of cordial, three-dozen bottles, two pounds of different kinds of oil, one barrel of sugar, one steam soda fount and thirty soda water boxes." There was a lot of duplication in the listing, but what was surprising was the total number of bottles, 11,272, with almost half sodas. Perhaps many were unembossed. The vinegar may have been used in the cider-making process but could have been mixed with the marble dust to produce carbon dioxide inside the generator. Cooper tools were used in barrel-making. 
Despite the sales, Gemenden stayed in the soda water manufacturing business for another two years with partner Charles A. H. Umbach. After a year elapsed, Heller was joined by the Robers, C. Clark, and F. W. Headman in a sale of their firm to John Ryan. Ryan seemed to have been cornering the soda market, and that could have been the reason for Gemenden's sell-out, although more probably, he wanted to devote more time to the hotel he had purchased in 1857. 
Planters Hotel
The Planters' Hotel was built before 1840 on the corner of Barnard and Bryan. It was located next to Market Square and near the Savannah River, with its ports full of sailing ships. After two owners, including William Wilson, who operated the hotel from 1842 to 1861, Gemenden began learning the hotel business, emerging as sole owner by 1862 and improving the place's amenities. He placed an early advertisement that read, "New Bathing House at the Planters' Hotel. Prices: Single Bath $.25, Six Tickets $1.00." 
The place prospered, and by 1862 he had added a restaurant, saloon, and an oyster bar in the hotel basement. The saloon was reported to have "a capacious wine vault" in which was stored "innumerable casks, barrels, tierces, tuns, bottles." Gemenden also "directly imported Rudesheimer, Aschmunhauser and other Rhine wines, together with liquors from all countries, lager beer and sweitizercase straight from where they know how to make it." In 1861, Gemenden had advertised his new saloon as "The New Oyster and Refreshment Saloon, under the Planters' Hotel" and boasted it was "well-provided with Oysters, Game, Fish, Etc."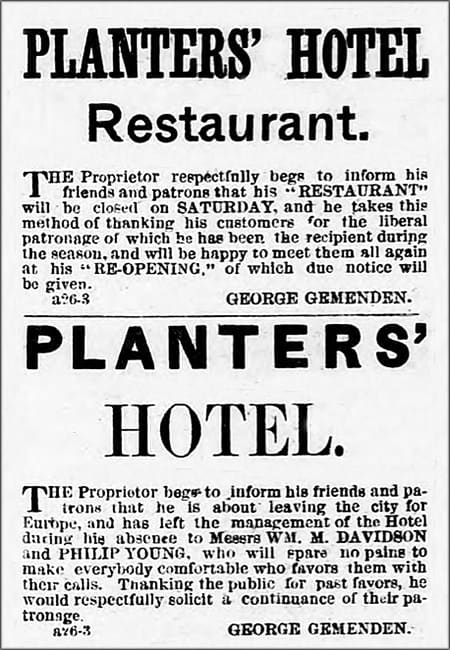 Only one bottle embossed Planters' Hotel was made at this time for Gemenden, and it is rare, with less than 50 known. They are one of the few sodas in the United States featuring a hotel name in the embossing. According to research, only four other bottles were made for early hotels; Old White Bear (circa 1844-1846), Regatto House (circa 1846-1848), Kouli Kahn Hotel (circa 1848-1851), and Hause Hotel (circa 1850-1854), all located in Philadelphia. Gemenden's Planters' Hotel is the most well-known of the hotel bottles.
During the 1860s, Gemenden made many trips to Europe to purchase the finest wines and liquors and often left soda bottler Phillip Young in charge in his absence.
In 1868, his daughter Cassie married Herman L. Schreiner, a well-known German-born concert solo pianist and "one of Savannah's best-known businessmen." Herman was the proprietor of Schreiner's Music House with branches in Macon and Savannah, a book and music dealer who often performed at the Savannah Theater. In 1874, Cassie died of unknown causes at the age of 24. Schreiner married again and eventually returned to Germany. Unfortunately, he got sick on the return voyage only to make it to his German home place to die.
Interestingly, Henry Gemenden, the possible son of George, who showed up on the 1860 census of Savannah working as a barkeeper at Planters' Hotel, was a clerk in 1871 for Herman L. Schreiner at Orange and St. Gaul Streets.
By 1870, the hotel was doing so well that Gemenden's real estate was valued at $10,000 and personal estate at $2,500. The census taker that year listed George, his wife, Catherine, and his son George Alex. The census also listed 57 others who lived in the hotel. It is not known how many rooms were in the hotel, but an educated guess is between 30 and 60.
In 1874, Gemenden listed the hotel for sale, advertising it "with a three-year lease and privilege of five years. The hotel is in thorough order and enjoys an excellent run of customers."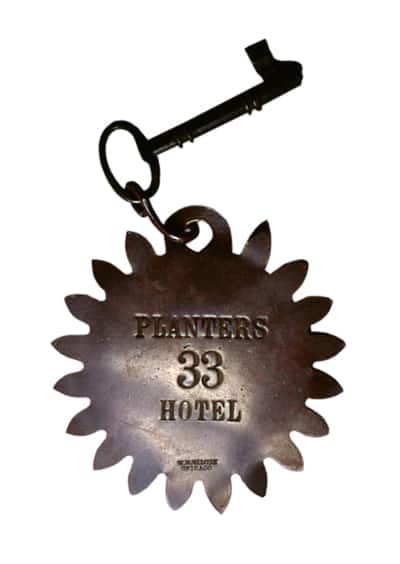 Gemenden seems to have sold the hotel by 1877 because he and his son George Alex are in the saloon business together as G. C. Gemenden & Son, selling lager beer and liquor at the corner of St. Julian and Whitaker.
In 1880, George Charles is listed as a manager for the Savannah depot of one of the country's largest breweries, Bergner & Engel Brewing Company of Philadelphia. Beer brewed in Philadelphia was being shipped in large barrels to out-of-state depots and offices in Washington D.C., Norfolk and Richmond, Virginia, Trenton, Sea Side City, Atlantic City, New Jersey, and Jacksonville, Florida. Gemenden at his same place on St. Julian and Whitaker was putting the beer into his own bottles to sell them.
In 1882, George Alex Gemenden shows up as a manager for Bergner & Engel Brewing Company at 89 West Bay, Jacksonville, Florida. It is not known how long George Alex was in Jacksonville, but a soda and beer bottle was made for him while he was selling beer for Bergner & Engel Brewing Company. An aqua blob top soda bottle with a round slug plate embossed "G. A. Gemuenden Jacksonville Fla." on the front and "This Bottle Not to Be Sold" on the back. The beer, tall, cylindrical, and embossed in an oval plate "G. A. Gemuenden Jacksonville Fla." on the front and "This Bottle Not To Be Sold." Both these bottles seem to be fairly scarce. 
By the year 1886, George Alex Gemenden is back in Savannah. On March 1, 1882, George Charles Gemenden resigned from his position with Bergner & Engel Brewing Company. When he stepped down, Charles Kolshorn, a former employee of Gemenden, took over with his brother. Bergner & Engel Brewing Company was in business for 41 years, opening in 1879 and closing in 1920. Savannah directories show George Charles Gemenden continued operating a beer bottling and saloon business from 1883 to 1886 on the corner of St. Julian and Whitaker, and his residence was listed as 60 Broughton. He had been at this location for almost a decade. However, Gemenden only lived a few more years. His son George Alex seemed to have run the saloon the last two years before it went out of business.
George Charles, his wife Catherine, and George Alex's last living residence was 60 Broughton Street. Gemenden passed away on May 26, 1888, and is buried in the Bonaventure Cemetery in Savannah. He is buried alongside his wife Katherine Gemenden (1827-1890) and daughter Cassie Schreiner (1849-1874). He had been a prominent resident of Savannah for 37 years.
Primary Image: The Gemenden Planters Hotel bottle imaged on location by Alan DeMaison, FOHBC Virtual Museum Midwest Studio.
Research: David Kyle Rakes, Belleview, Florida, from his book Early Georgia Sodas. Gemenden research sources are available upon request.
Support: Reference to Early Georgia Sodas, The Bottles and Proprietors, Atlanta, Augusta, Columbus, Macon, Savannah & Valdosta by David Kyle Rakes and Ferdinand Meyer V, September 2021, Printed in Houston, Texas.
Support Image: Auction Lot 61: "Geo. Gemenden / Savannah / Geo. / (Eagle)" Soda Water Bottle, America, 1845-1860. Cylindrical, bright blue green, applied heavy collared mouth – iron pontil mark, ht. 7 3/8 inches; (professionally cleaned with remaining wear marks). Numerous small bubbles. Strong embossing and beautiful color. – Norman Heckler Jr. & Sr., Norman C. Heckler & Company, Auction #132
Join the FOHBC: The Virtual Museum is a project of the Federation of Historical Bottle Collectors (FOHBC). To become a member.