Millville Improved WTCo Monogram
Millville Improved
WTCo (Monogram)

Whitall, Tatum & Co., Millville, New Jersey

Phoenix Glass Co., Philadelphia, Pa. & New York, N.Y.
Aquamarine Pint
Provenance: Jerry McCann Collection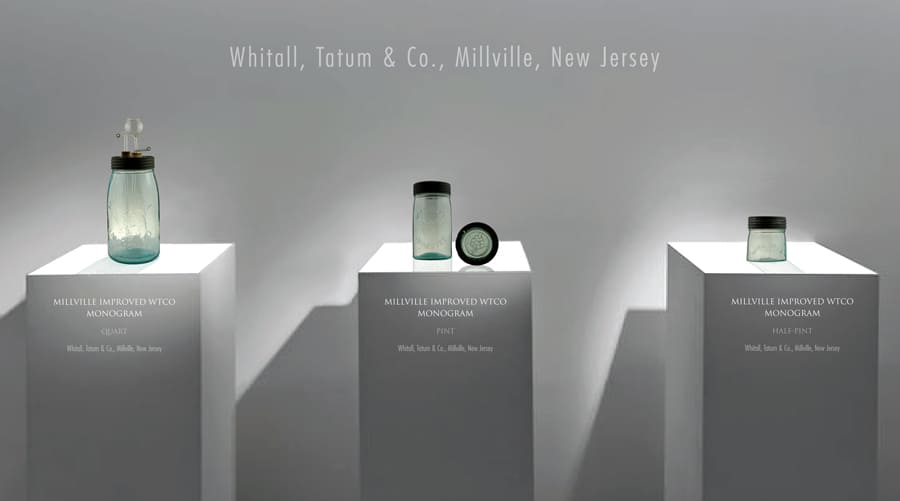 We looked in-depth at Millville Glass Works before as it applied to the Millville Atmospheric Fruit Jar that also appears in our museum jar gallery. Historically speaking, the Millville jars are important having been made by the oldest continuous glassworks in America.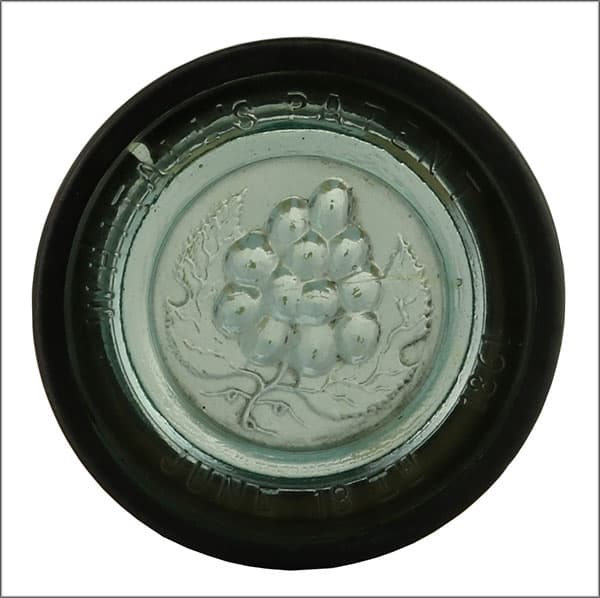 Our museum jar represents a rare aqua pint that has a Whitall Tatum "WTCo." monogram proudly embossed on the face of the Millville Improved jar. These jars can also be found in aqua quarts and half gallons which are more common.
Dick Watson found a glass shard of this jar in a bright cobalt blue…now that would something. No examples have yet to surface.

Jerry McCann
Compared to a regular Millville Fruit Jar, this jar is much scarcer. The improved part is the use of a metal screw band that attaches to the ground glass lip instead of a cast iron clamp to hold the lid on. The embossed grapes on the glass lid have "WHITALL'S PATENT JUNE 18TH 1861" encircling the grapes. The pint jar is sometimes passed over by collectors, the only exception is the half-pint version which is made from a cut-down pint mold. This jar is pictured below and is held by the museum. See Millville half-pint.
Whitall Tatum was in business much of the 19th century. Antique bottle and glass collectors prize the Whitall Tatum druggists' bottles and vials, demijohns, carboys, perfume, chemical, preserve jars and other types of bottles and insulators.
The company developed several innovations in formulas used to make the glass, and in the manufacturing methods for bottles. At first, bottles were cast in metal molds, which left a casting line, and later ceramic and wood casts were developed for flint glass which allowed the glass to be molded without a casting line. Glass types included flint glass, blue and green glass, and artistic colored swirls, used for decoration and paperweights often made by the glassworkers during their lunch hour.
Millville Glass Works was founded by James Lee and went through several changes of ownership over many years. Located in Millville, New Jersey, the glassworks was in operation from 1806 through 1938. The location was ideal for making glass for a number of reasons such as silica-based sand is plentiful in southern New Jersey, and the Maurice River flows through Millville providing a source of water. There were also plentiful forests that provided energy for industrial processes.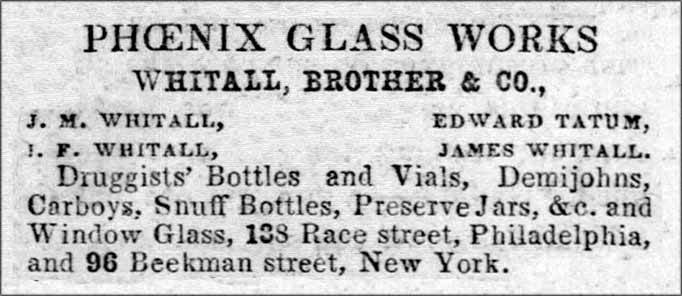 In 1838, John M. Whitall, a master glassblower, became a partner in the Millville Glass Works. He lived in Philadelphia and worked at the company's Philadelphia headquarters at 128 Race Street. The company also operated out of New York at 96 Beekman Street,
In 1845, after his brother Israel Franklin Whitall joined the firm, they became Whitall, Brother & Co., and the factory was named the Phoenix Glass Works. Later, Edward Tatum joined the partnership and in 1865 or so, the name was changed to Whitall, Tatum & Company, and later in 1901 to Whitall Tatum Company. Israel F. Whitall and Edward Tatum headed the company after John M. Whitall retired in 1865, and the ownership was passed on to their descendants.
Whitall Tatum mass-produced special-order prescription bottles for hundreds of pharmacies, such as Smith & Hodgson in downtown Philadelphia. The bottles were embossed with their names and addresses and also marked "W.T. & Co." on the base. The Millville Improved jar were the predecessor of this branding with the interlocking embossed monogram WTCo on the face of the jar.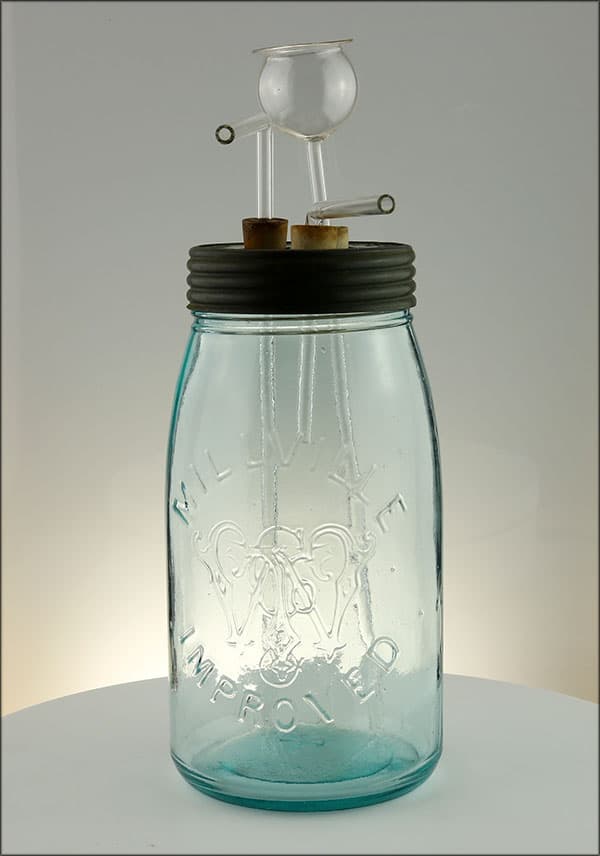 Primary Image: Millville Improved WTCo monogram jar imaged on location by the FOHBC Virtual Museum midwest studio led by Alan DeMaison.
Support images: Millville Improved monogram WTCo. quart in aqua. Various detail images. – Greg Spurgeon, North American Glass
Support image: Millville Improved monogram WTCo. quart in aqua with a chemistry apparatus on the lid – Alan DeMaison photograph for the FOHBC Virtual Museum
Support image: Millville Improved monogram WTCo. half-pint – Jerry McCann Collection
Support: Reference to Red Book #11, the Collector's Guide to Old Fruit Jars by Douglas M. Leybourne, Jr.
Support: Reference to Fruit Jar Annual 2020 – The Guide to Collecting Fruit Jars by Jerome J. McCann
Support: Reference to The Dating Game: Whitall, Tatum & Co.by Bill Lockhart, Carol Serr, David Whitten, Bill Lindsey, and Pete Schulz, Bottles and Extras, 2006