Imperial (Hand Holding a Mace)
Imperial
Trade Mark
(Hand Holding a Mace)
Thomas Patent July 12 1892
Charles E. Thomas, Williamstown, New Jersey
Aquamarine Pint
Provenance: Phil Smith Collection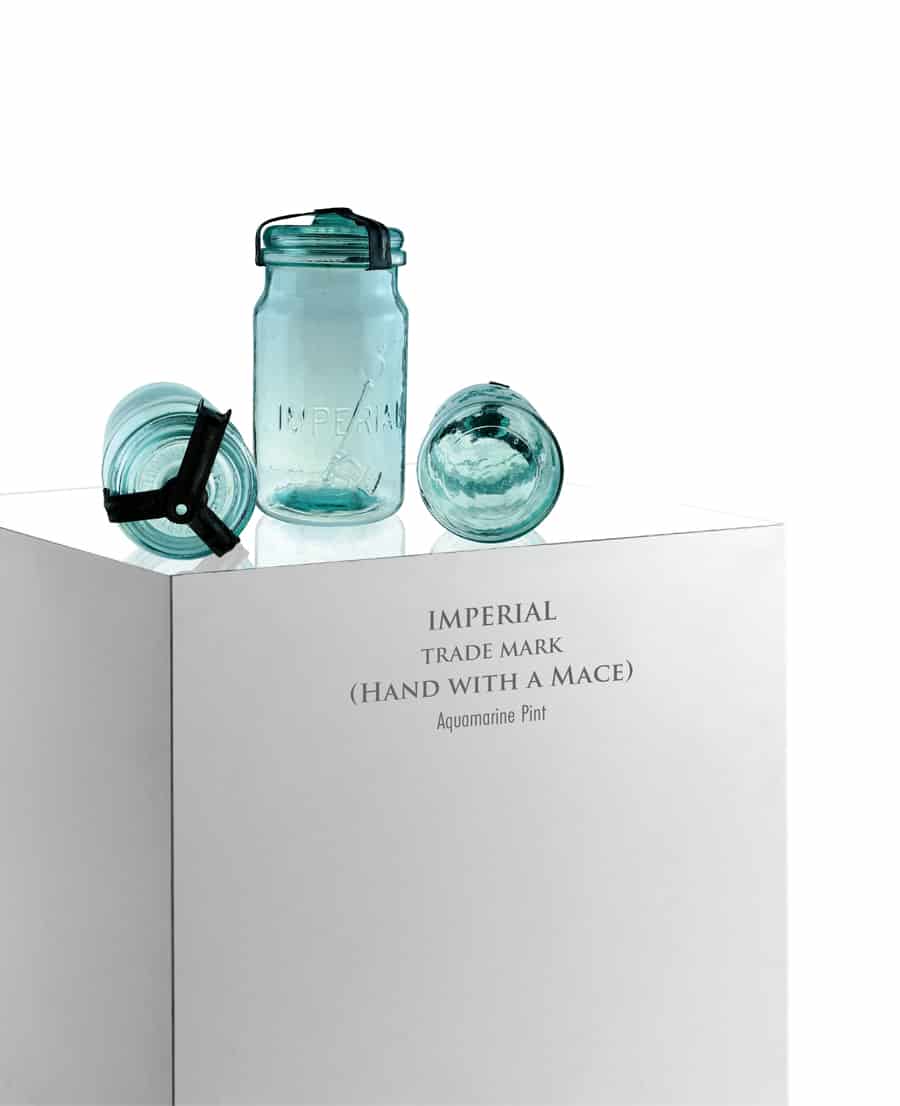 This extremely rare pictorial aquamarine pint "Imperial Trade Mark" jar is attractive as it prominently displays a "Hand holding a Mace" on the face of the jar. A mace is a blunt weapon, a type of club or virge that uses a heavy head on the end of a handle to deliver powerful strikes. Though a mace is noted in historical jar reference, the image could also be a staff used for more benign purposes. With the name "Imperial," this could have been a royal prop.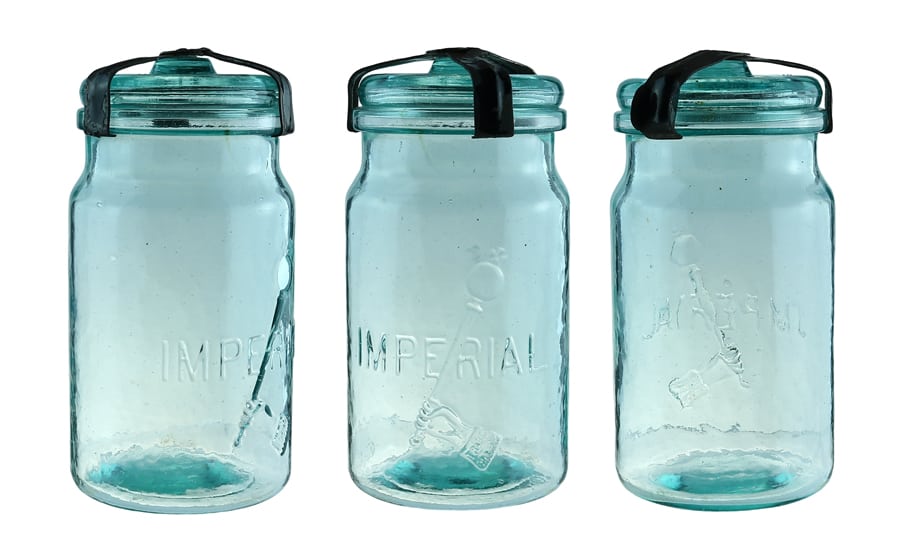 The "Imperial Trade Mark" is a hand-blown jar with a ground lip. The image depicts a cuffed right forearm wrist holding an upright tapered mace or staff with a circular globe end adorned with a Maltese cross. Within the cuff is small embossed copy reading 'TRADE MARK' in two lines. Straddling the graphics is large straight-line horizontal sans serif copy reading 'IMPERIAL.' The closure is a top-seal straddle-lip glass lid with a hinged three-arm sheet metal clamp. Having this jar with the original closure is exceptional. The glass lid is embossed 'THOMAS PATENT JULY 12 1892.' Quarts and clear glass examples are also listed. The base is smooth.
The jar patentee was Charles E. Thomas of Williamstown, New Jersey. The maker is uncertain, but it could have been the Williamstown Glass Works in Williamstown, New Jersey. Product jars that use the Thomas closure include Geo. D. Brown & Co. and Skilton Foote & Cos. Bunker Hill Pickles.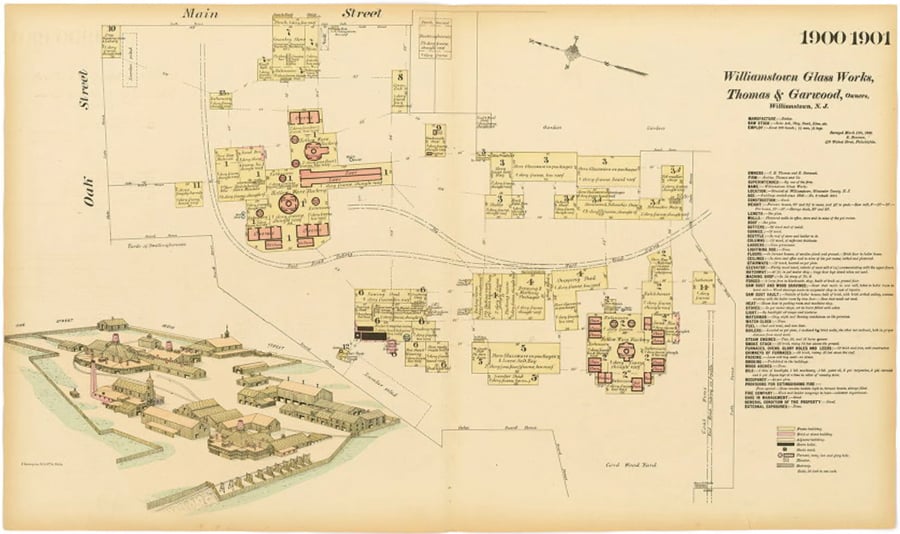 The Williamstown Glass Works has a long history. The first glassworks in Squankum (Williamstown), New Jersey, was called "Free Will Glass Manufactory." The abundance of glass factories in South Jersey was due to the quantity and cheapness of the wood supply. 1883 was the high point of Williamstown Glass Works when the company was producing a wide range of bottles. By 1915, the Williamstown Glass Works was owned by the Garfield family and employed 600 men and specialized in the manufacture of liquor and beer bottles. This company ended production in November 1917.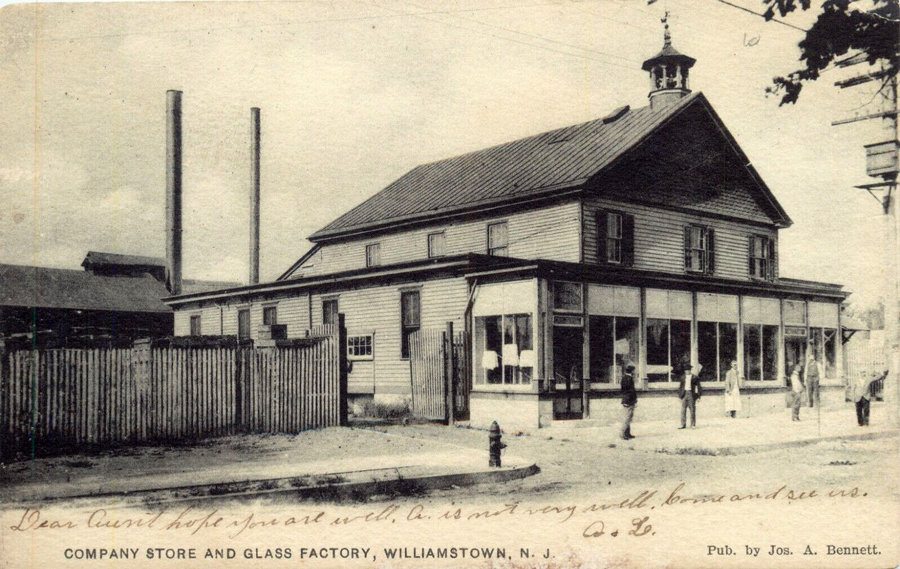 See the museum example Ne Plus Ultra Air-Tight Fruit Jar made by Bodine & Brothers, Washington Glass Works, Williamstown, New Jersey
See the museum example of Potter and Bodine's Air-Tight Fruit Jar.
Primary Image: "Imperial Trade Mark (Hand Holding a Mace)" jar imaged on location by Alan DeMaison, FOHBC Virtual Museum Midwest Studio.
Support: Reference to Fruit Jar Annual 2020 – The Guide to Collecting Fruit Jars by Jerome J. McCann
Support: Reference to Red Book No. 12, the Collector's Guide to Old Fruit Jars by Douglas M. Leybourne, Jr.
Support Image: Auction Lot 164: "IMPERIAL" / (HAND HOLDING A MACE) / "TRADE / MARK" (on cuff of hand), Fruit Jar, possibly Williamstown Glass Works, Williamstown, NJ, 1892 – 1895. Aquamarine, cylindrical, top seal straddle lip with ground mouth, "THOMAS PATENT / JULY 12 1892" (on glass lid), original three arm sheet metal clamp – smooth base, Pt, near mint; (a little faint, spotty, interior milkiness, some surface rust on original clamp). RB #1291. Rare, especially with the original lid and clamp. Provenance: Fred Swiechowicz collection. – John Pastor, American Glass Gallery, Auction #34
Support Image: Auction Lot 15262: IMPERIAL Trade Mark w/ Hand Holding Mace, Quart, All original, Aquamarine, original aqua glass lid and original 3-pronged metal clamp as shown, shiny glass, normal flaking of the ground mouth, Embossing: strong, Base: unmarked, late 1800s, scarce jar and rare to find with the complete original closure – Greg Spurgeon, North American Glass, September 2017
Support Image: Williamstown Glass Works map, 1885, Hexamer General Surveys, Volume 20, Greater Philadelphia GeoHistory Network
Support: Reference to Glass Works in Williamstown, August 14, 2011, Mary & Bill Kephart
Join the FOHBC: The Virtual Museum is a project of the Federation of Historical Bottle Collectors (FOHBC). To become a member.