Dr. Cummings' Compound Extract Sarsaparilla and Dock Portland Me.
Dr. Cummings' Compound Extract Sarsaparilla and Dock Portland Me.
Stephen Cummings, Portland, Maine
Aquamarine Rectangular Medicine Bottle
Provenance: Michael George Collection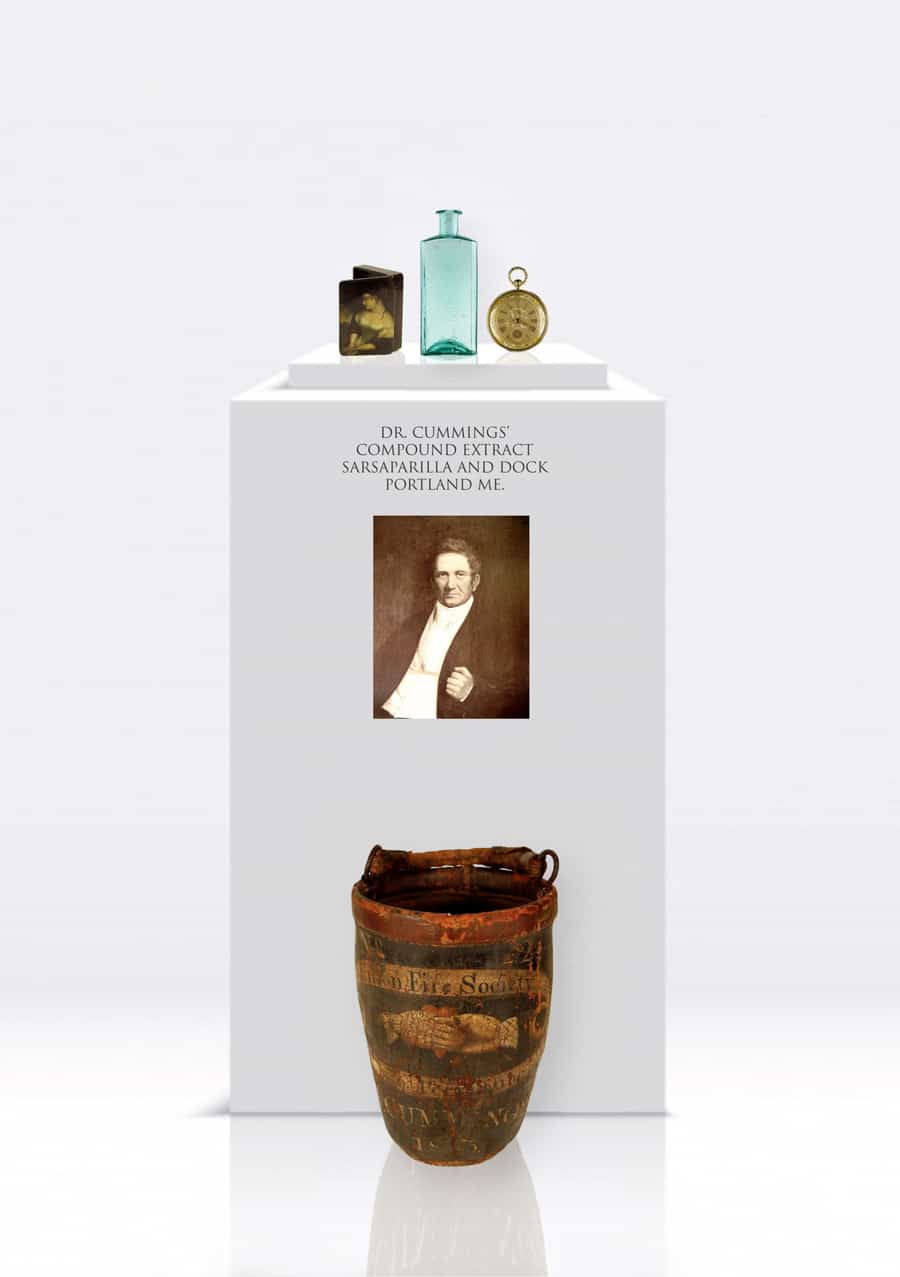 Dr. Stephen Cummings, a life-long physician working from Portland, Maine had his name and product embossed on our extremely rare, 7-½" tall, rectangular aquamarine medicine bottle. The copy is embossed in four lines, vertically, shoulder to base in sans serif copy, 'DR. CUMMINGS' COMPOUND EXTRACT SARSAPARILLA AND DOCK, PORTLAND ME.' The three other panels are blank and may have been used for a long-lost paper label.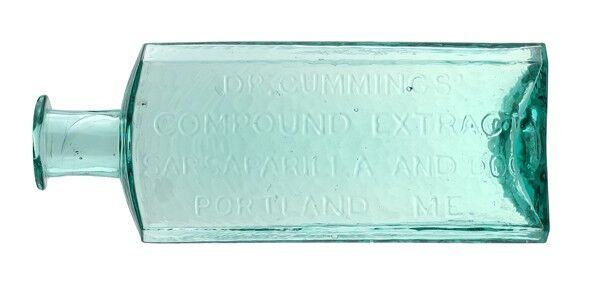 The bottle corners are beveled connecting to a slightly arched shoulder where a round tubular neck terminates with a thin flared mouth. There is a blowpipe pontil scar. The bottle is in immaculate condition with a complete, undamaged lip. which are usually broken when observed in other examples.
Dr. Stephen Cummings
Stephen Cummings was a rather well-known physician who was born on January 12, 1773, in Andover, Essex County, Massachusetts. His father was Jonathan Cummings, and his mother was Mary Eastman Cummings. Cummings was married in 1794 to Eleanor Heald Cummings (1775–1824). The birth of their daughter Sarah Ellen Cummings occurred in 1798. Their son, Sumner Cummings was born on April 24, 1800. He would become a doctor just like his father. A second son, John M. Cummings was born on March 31, 1812. Like Sumner, he became a physician too. A third son, Fitz Henry Cummings was born in 1816. He would die young in 1837.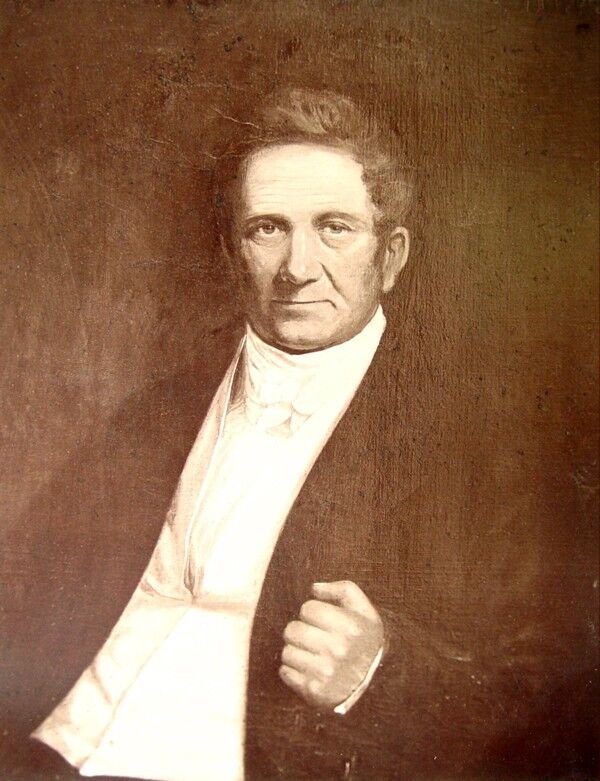 Stephen Cummings moved to Portland, Maine in 1801 where he first worked as a merchant. He soon began to practice medicine. If he obtained his medical degree is uncertain and is doubtful though he certainly presented himself as a doctor from this point forward. In 1826, Dr. Cummings gave his daughter Sarah a French pocket watch before her marriage to Charles Bradley, a Portland merchant. The watch with Swiss mechanics had a case of gold, silver, bronze, and copper and is pictured above.
The first time we see Dr. Cummings practicing as a physician is in 1831 where his office was located on Federal Street at the corner of Temple Street. This is about when he started prescribing his sarsaparilla and dock compound medicine. In 1835, Dr. Stephen Cummings moved into the historical landmark "Freeman-Cummings-Dow" house where he lived until 1852. His first wife Mary had died in 1824. We see no evidence of Stephen Cummings remarrying.
In the early 1840s, Dr. Cummings was still practicing medicine though he may have been more focused on preparing and packaging his medicines. He was working out of the rear of "Alms house" while his son Sumner, who was now a doctor, was seeing patients at the 97 Federal Street address. In 1840, Dr. Cummings purchased a snuff box in Cuba for his daughter Sarah. The inscription inside reading "Gertrude of Wyoming 656 St." Eight years later, Dr. Sumner Cummings, the son, would die on November 24, 1848.
According to later 1880 advertising for a second generation of the medicine, 1830 was the year of first use of Dr. Cummings' Compound Extract Sarsaparilla and Dock. The medicine made it to a broader retail market in 1848 when it was advertised in Bangor and Portland, Maine. The advertising would say, "The medicine has been for some time in use in this city, where the proprietor has passed nearly half a century of his professional life. It was extensively prescribed by him while in practice. Prepared only by Dr. Stephen Cummings, and sold at wholesale and retail by Joshua Bergin & Co., No. 143 Middle Street, and Edward Mason, No. 153 Middle Street, only agents for Portland." It was sold in Bangor, Maine by agents, G. W. Ladd and Joseph S. Ingraham.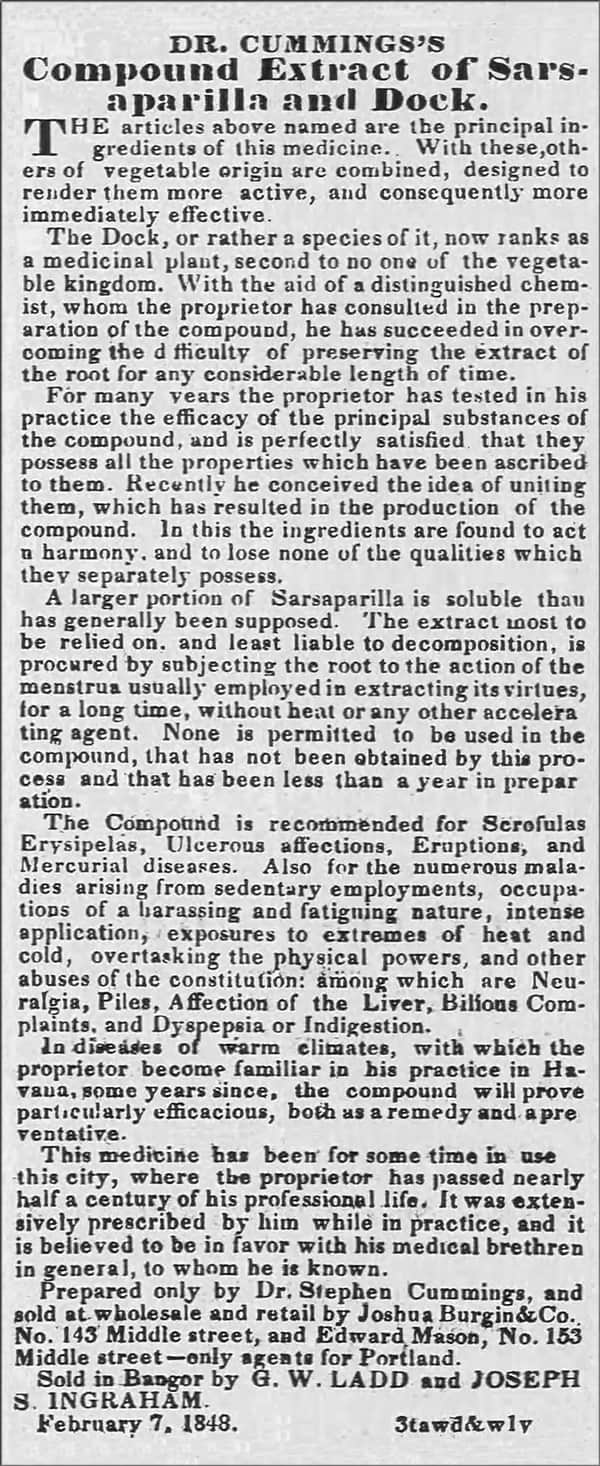 On June 6, 1849, Dr. John M. Cummings, the son of Stephen would marry Harriett S. Corser. The following year Sumner Cummings was born. Thirty years later, the grandson of Dr. Stephen Cummings was the sole proprietor of a new generation of Dr. Cummings' Compound Extract Sarsaparilla and Dock. An advertisement and bottle are pictured below. Sumner had absolutely no experience in the medical profession.
During his life in Portland, Dr. Cummings was a member of the Union Fire Society. His fire bucket is pictured above. Dr. Stephen Cummings died on March 2, 1854, at the age of 81 in Cape Elizabeth, Cumberland County, Maine.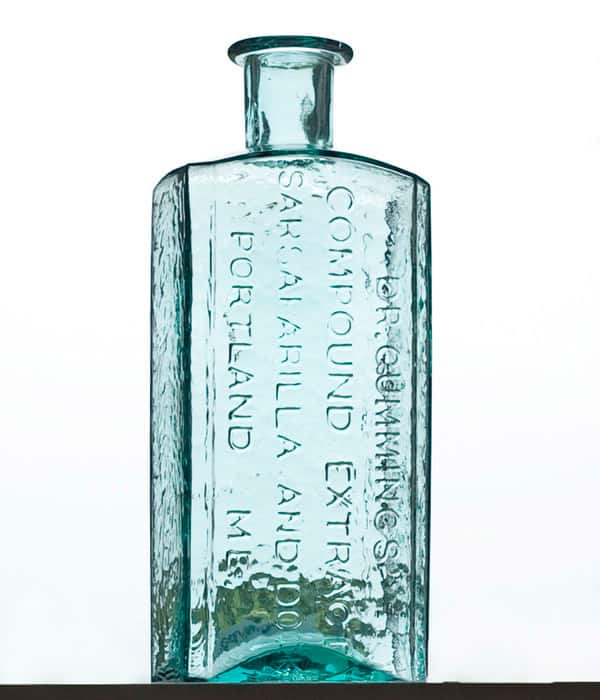 Primary Image: Dr. Cummings' Compound Extract Sarsaparilla and Dock bottle imaged on location by Alan DeMaison, FOHBC Virtual Museum Midwest Studio
Support Image: Auction Lot 213: "DR CUMMINGS' / COMPOUND EXTRACT / SARSAPARILLA AND DOCK / PORTLAND ME.", 1845 – 1855. Aquamarine, rectangular with beveled corners, thin flared mouth – blowpipe pontil scar, ht. 7″; (a hard-to-see, hairline-thin, ½" spider crack on the back corner, above the base, and a couple of in-making cooling lines, ¼" or less, in the base, otherwise pristine perfect). Extremely rare! Ex: Gary Enters collection; Ex. James Hagenbuch, Roger Sweetland, Tom Eccles collections. This is the same example that sold in 2007 (with the noted hairline crack), that brought $800 hammer price. The price, even considering the minor flaw, is a testament to the beauty and rarity of this bottle. Brilliant glass, and one of the most heavily whittled, beautiful bottles, that we have seen in a very long time. The whittling and character are second-to-none! – John Pastor, American Glass Gallery, Auction #29
Support Images: Dr. Stephen Cummings portrait image, Freeman-Cummings-Dow house image, Gertrude of Wyoming 656 St snuff box, Dr. Stephen Cummings Unior Fire Society Fire Bucket and French gold watch image courtesy of Maine Historical Society.
Support: Auction Lot 163: Dr. Cummings' Co. Ext. Of Sarsaparilla & Dock Portland, Me. 7 ¾" Tall, Aqua Oval Shaped Bottle with Complete Contents and Label. Also with Partial Flyer. A Scarce Sarsaparilla Bottle from Portland. Me & Rare to find this complete. – Terry McMurray, McMurray Antiques & Auctions, Auction #71, November 2019
Join the FOHBC: The Virtual Museum is a project of the Federation of Historical Bottle Collectors (FOHBC). To become a member.