J. Lake with Bed-Bug Poison Label
J. Lake
Schenectady, N.Y.
Bed-Bug Poison Label
John Lake, Schenectady, New York
M. L. Williams, Ballston Spa, New York

Prussian Blue Ten Pin Soda
Provenance: Doug Shuter Collection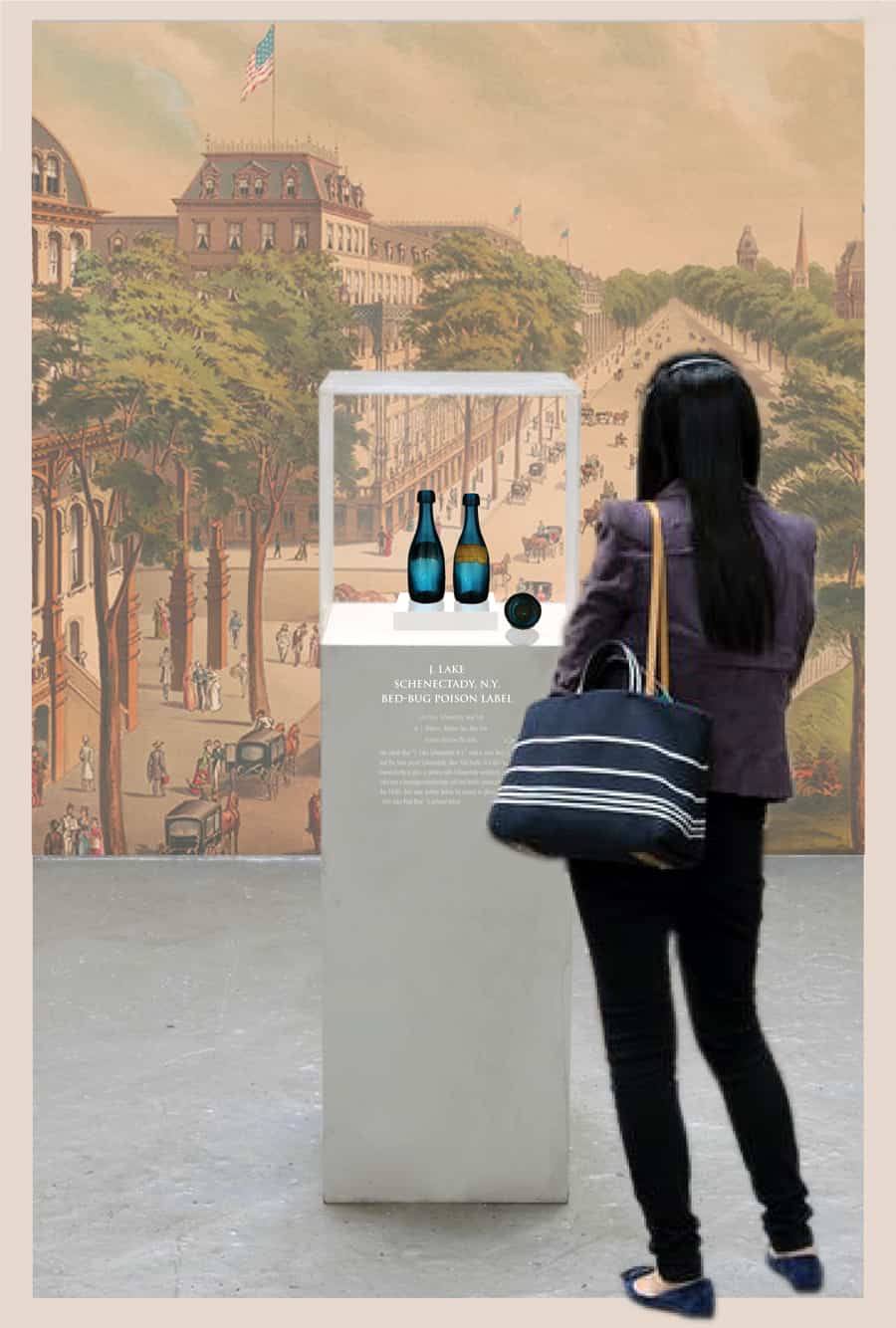 The cobalt blue "J. Lake Schenectady N.Y." soda is probably the top and the most prized Schenectady, New York bottle. It is also the oldest known bottle in glass or pottery with Schenectady embossed. John Lake was a beverage manufacturer and had bottles produced as early as the 1840s that were pottery before moving to glass. A stoneware "John Lake Root Beer" is pictured below.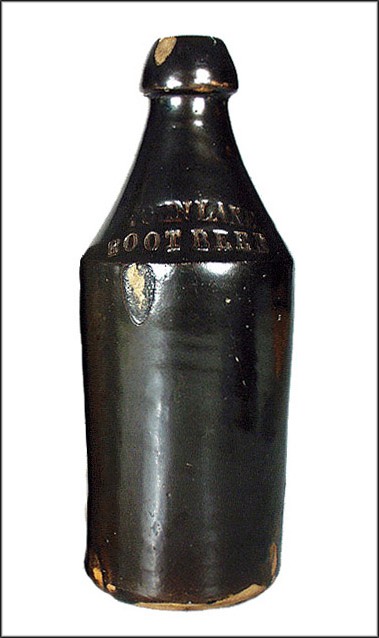 John Lake was in business through at least mid-1859, when he sold out to Robert Weller and James Rodgers. They were manufacturers and dealers in soda, sarsaparilla, mineral water, porter, ale, and cider located at nos. 62 and 64 College Street in Schenectady, New York. Lake then relocated and started his J. Lake & Co. in the early 1860s with Robert Weller. He was listed as a manufacturer and dealer in sarsaparilla and soda water located at Academy Street near Caroline Street in Saratoga Springs, New York. In 1868, John Lake was also listed as a "mineral water manufacturer," living at 83 Union in the Schenectady, New York City Directory.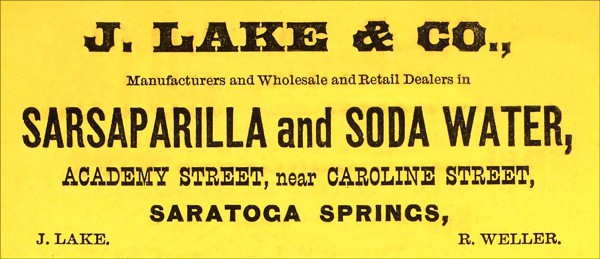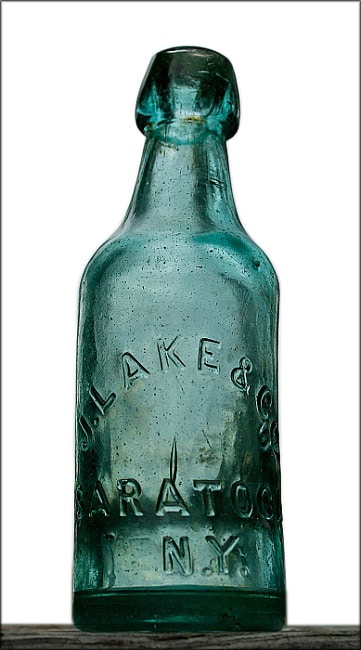 Our labeled 7 ½" tall by 2½ wide, J. Lake Schenectady N.Y. bottle is embossed, 'J. LAKE' in large block letters around the bottle midsection with 'SCHENECTADY. N.Y.' embossed horizontally along the facial base. The bottle is in somewhat of a Prussian blue glass color which is different than the light to dark shades of cobalt and sapphire blue examples that are typically found. The oval soda bottle is considered a ten-pin form and has an applied heavy collared mouth and an iron pontil. It was made in a two-leaf mold by an unknown glasshouse. A cork would have sealed it.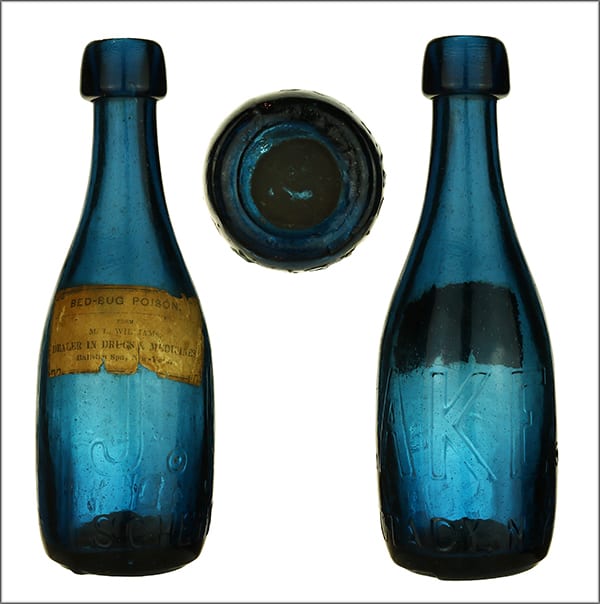 Our subject bottle has been repurposed from containing soda water to contain poison as a "Bed-Bug Poison" label was adhered at a later date. Most soda bottles were made of thicker and heavier glass as the bottles were the property of the proprietor and were reused and resold.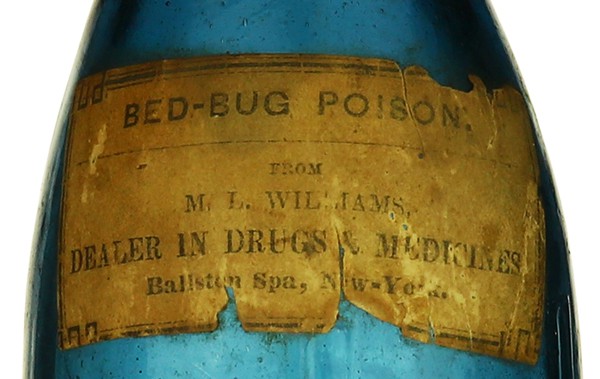 The horizontal yellow-ochre label is mottled and aged. It has a simple decorative straight-line geometric border motif. There are some tears and aging, as you might expect. The copy reads, "BED-BUG POISON. FROM M. L. WILLIAMS, DEALER IN DRUGS & MEDICINES, Ballston Spa, New -York." According to an 1860 United States Federal Census, M. L. Williams was a druggist born in New York around 1826. He was 36 years old and living in Milton, Saratoga, New York. His wife was named Mary, who was ten years younger. We are unsure as to why his label specifically showed up on this John Lake soda water bottle.
Primary Image: The J. Lake Schenectady N.Y. ten pin soda with a Bed-Bug Poison label imaged on location by Alan DeMaison, FOHBC Virtual Museum Midwest Studio
Support: Reference to The American Pontiled Soda Database Project, Tod von Mechow
Support: Reference to Soda & Beer Bottles of North America, Tod von Mechow
Support Images: Auction Lot 48: "J. Lake. / Schenectady. N.Y" Soda Water Bottle, America, 1845-1860. Ten pin form, rich cobalt blue, applied heavy collared mouth – iron pontil mark, ht. 8 inches; (light exterior high point wear, light patchy interior haze). Rich color and bold embossing. Fine condition. Dr. Charles and Jane Aprill collection. – Norman Heckler, Norman C. Heckler & Company, Auction #172
Support Images: Auction Lot 6: J. LAKE. SCHENECTADY NY. Applied top and graphite pontil. Another beautiful soda in a bit of a ten-pin shape this has some light highpoint wear but all iron is intact. Lots of whittle, you'll be glad you bid on this one. A beautiful and brilliant blue. Grades a 9.4+. – Jeff Wichmann, American Bottle Auctions, Auction #58
Join the FOHBC: The Virtual Museum is a project of the Federation of Historical Bottle Collectors (FOHBC). To become a member.