Gutta Percha Oil Blacking Patent Forbes & Co Chatham Square New York
Gutta Percha Oil Blacking
Patent
Forbes & Co
Chatham Square New York
Forbes & Co., New York City, N.Y.
Amber Blacking Bottle
Provenance: Michael George Collection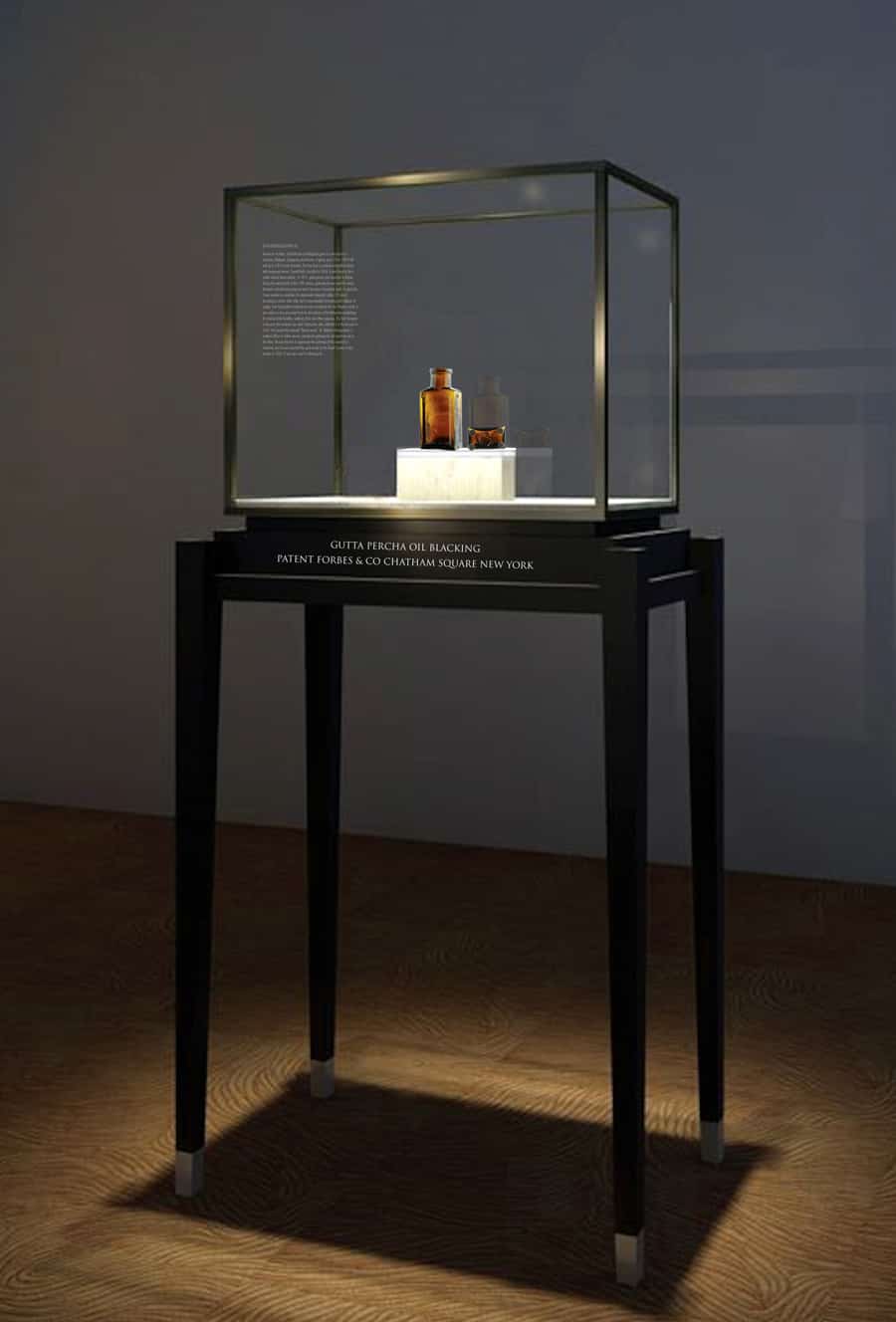 Our museum example of a Gutta-Percha Oil Blacking bottle is a Stoddard glasshouse product from Stoddard, New Hampshire circa 1845 to 1860. Gutta- Percha was a new commercial product introduced to America in the early to mid 19th century.
Our museum example was blown in amber glass and has a yellow-olive overtone. The form is rectangular with four embossed indented panels and an outward rolled collared mouth. There is a tubular pontil scar. The bottle measures 5-1/8 inches tall by 2-½ inches wide by 1-½ inch deep. It is considered extremely rare and is ex Kris Kernozicky collection.
The indented and beveled primary panel of the bottle has embossed copy in four horizontal lines that read, 'FORBES & CO' (1st line), 'CHATHAM' (2nd line), 'SQUARE' (3rd line), and 'NEW YORK' (4th line). The right panel embossed copy reads 'GUTTA PERCHA' while the left panel embossed copy reads 'OIL BACKING.' The reverse side of the primary panel had a recessed arch with arched embossed copy reading 'PATENT.'
Blacking was any preparation for producing a black coating or finish, as on shoes or stoves. It was usually a substance like a liquid polish or paste. With dirt roads, paths, mud, and rough sidewalks in the mid 19th century, you can only imagine how important waterproof blacking was to keep up your appearance.
Gutta-Percha
Known for its latex, Gutta-Percha or Palaquium Gutta is a tree found in Sumatra, Malaysia, Singapore, and Borneo. It grows up to 20 to 100 feet tall and up to 3 feet in trunk diameter. The tree bark is cracked and reddish-brown with evergreen leaves. Scientifically classified in 1843, it was found to be a useful natural thermoplastic.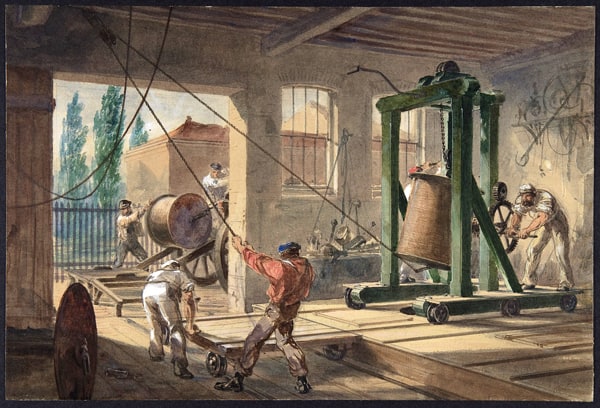 During the mid to second half of the 19th century, Gutta-Percha was used for many domestic and industrial purposes and it became a household word. In particular, it was used as insulation for underwater telegraph cables. Even long before Gutta-Percha was introduced into the Western world, it was used in a less processed form by the natives of the Malaysian archipelago for making knife handles, walking sticks, and other purposes. The first European to discover this material was John Tradescant, who collected it in the far east in 1656. He named this material "Mazer wood." Dr. William Montgomerie, a medical officer in the Indian service, introduced Gutta-Percha into practical use in the West. He was the first to appreciate the potential of this material in medicine, and he was awarded the gold medal by the Royal Society of Arts, London in 1843.
In the 1840s and 1850s, in New York City newspapers and elsewhere, there were many advertisements for India Rubber and Gutta-Percha from shoe and boot dealers focusing on blacking, shoe soles, shanks, and ladies and gentlemans' overshoes or "rubbers" as we used to call them. On a broader scale, Guttta-Percha was being used for life preservers, air cushions, coats and cloaks, storm caps, travel bags, carriage cloth, ladies aprons, bathing mats, tobacco wallets, water pails, hospital sheeting, etc.
Forbes & Co.
We are not certain who Forbes & Co. is though they were located in Chatham Square in lower Manhattan. It could be related to one of three suspects. The first and most probable is Archibald H. Forbes who was listed as a pedlar (sic) and patentee of a bottle stopper in 1848 through 1851 New York City directories and lived blocks from Chatham Square. It could also be William Forbes who was a well-known silversmith who was born in 1799. He worked with his father in 1826 and eventually was in two partnerships, first with Horace Hinsdale and later with William Bogart in lower Manhattan. We also see that Forbes and Co. signed for delivery in 1846 for material from Bombay which could have been Gutta-Percha. There was also a tobacconist, Alexander J. Forbes, addressed at Chatham Square during this late 1840s time period.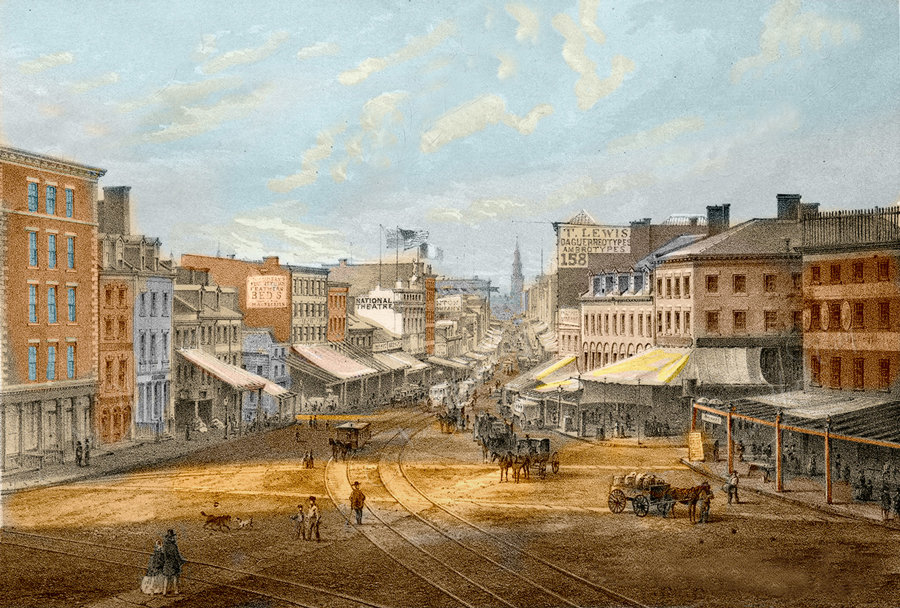 Chatham Square
Chatham Square is a major intersection in Chinatown, in lower Manhattan, N.Y.C., now located at the confluence of eight streets: the Bowery, Doyers Street, East Broadway, St. James Place, Mott Street, Oliver Street, Worth Street, and Park Row. Until about 1820, the square was used as a large open-air market for goods and livestock, mainly horses. It was also on the east side of Five Points (or The Five Points) which was a 19th-century neighborhood partly built on land which had filled in the freshwater lake known as the Collect Pond. The Five Points gained international notoriety as a densely populated, disease-ridden, crime-infested slum that existed for over 70 years.
Primary Image: Gutta-Percha Blacking Oil bottle imaged on location by Alan DeMaison, FOHBC Virtual Museum Midwest Studio
Support Image: Auction Lot 2: "Gutta Percha / Oil Blacking / Patent / Forbes & Co / Chatham / Square / New York" Blacking Bottle, a Stoddard glasshouse, Stoddard, New Hampshire, 1840-1860. Rectangular with four embossed indented panels, yellow-olive, outward rolled collared mouth – tubular pontil scar, ht. 5 1/8 inches, width. 2 ½ inches, depth. 1 ½ inch; (pinpoint-sized surface sand grain blemish, a tiny manufacturer's flaw, tiny bruise with small fissures at the front base corner below the letter "k"). Extremely rare. Kris Kernozicky collection. – Norman Heckler Jr. & Sr., Norman C. Heckler & Company, Auction #101
Support Image: Auction Lot 45: "Patent / Forbes & Co / Chatham / Square / New York / Gutta. Percha / Oil' Blacking" Bottle, probably a Stoddard glasshouse, Stoddard, New Hampshire, 1846-1860. Rectangular with four indented panels, yellow amber, applied round collared mouth – pontil scar, ht. 5 inches; (non-distracting ¼ inch bruise on lower panel edge, light exterior high point wear). Strong embossing. Extremely rare. One of the very few examples sold at public auction. – Norman Heckler Jr. & Sr., Norman C. Heckler & Company, Auction #120
Support Image: Illustration – The Reels of Gutta-percha Covered Conducting Wire Conveyed into Tanks at the Works of the Telegraph Construction and Maintenance Company, at Greenwich, 1865-1866 – Robert Charles Dudley, From the Metropolitan Museum of Art
Support Image: Looking South from Chatham Square, Lithograph illustration of Chatham Square, named after William Pitt, 1st Earl of Chatham and Prime Minister of Great Britain before the American Revolution. Artist Credit: Adam Weingartner.
Support: Reference to The Federation of Historical Bottle Clubs Journal, Spring 1975, article on researching patents and Archibald H. Forbes by Eric McGuire.
Support: Reference to Blacking Bottles & a little more at PeachridgeGlass.com
Join the FOHBC: The Virtual Museum is a project of the Federation of Historical Bottle Collectors (FOHBC). To become a member.