GIII-34 Footed Celery Vase
Blown Three Mold
Footed Celery Vase
GIII – 34
Possibly Boston and Sandwich Glass Co.
Sandwich, Massachusetts
Colorless Celery Vase
Provenance: Michael George Collection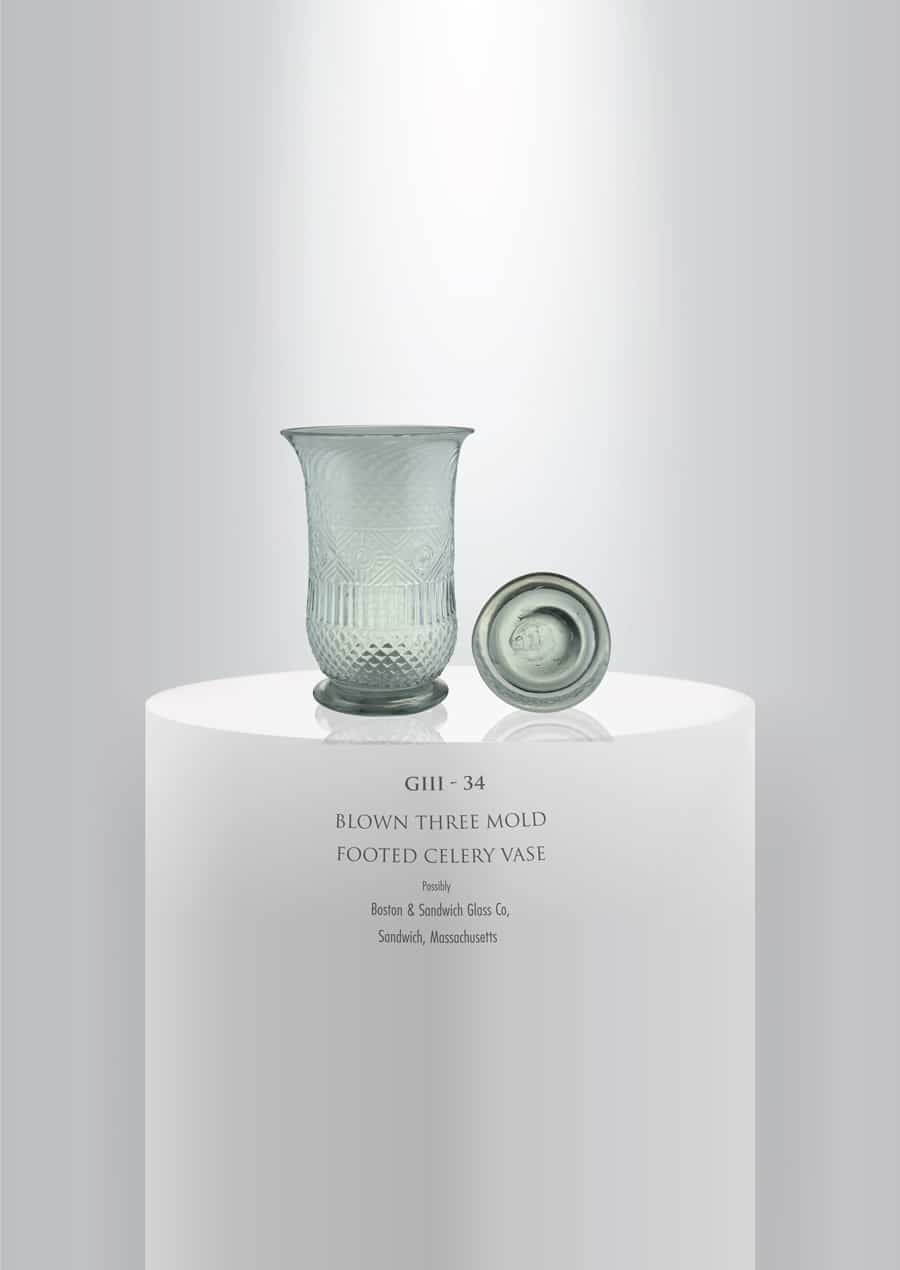 Our museum example represents a rare blown three mold celery vase, possibly from the Boston and Sandwich Glass Co., in Sandwich, Massachusetts from 1820 to 1840. The form is an elongated cylindrical bulbous bowl flaring to a tooled flared plain rim. There is an applied solid circular foot with a base pontil scar. The colorless vase height is 7 1/8 inches and the greatest diameter is 5 inches.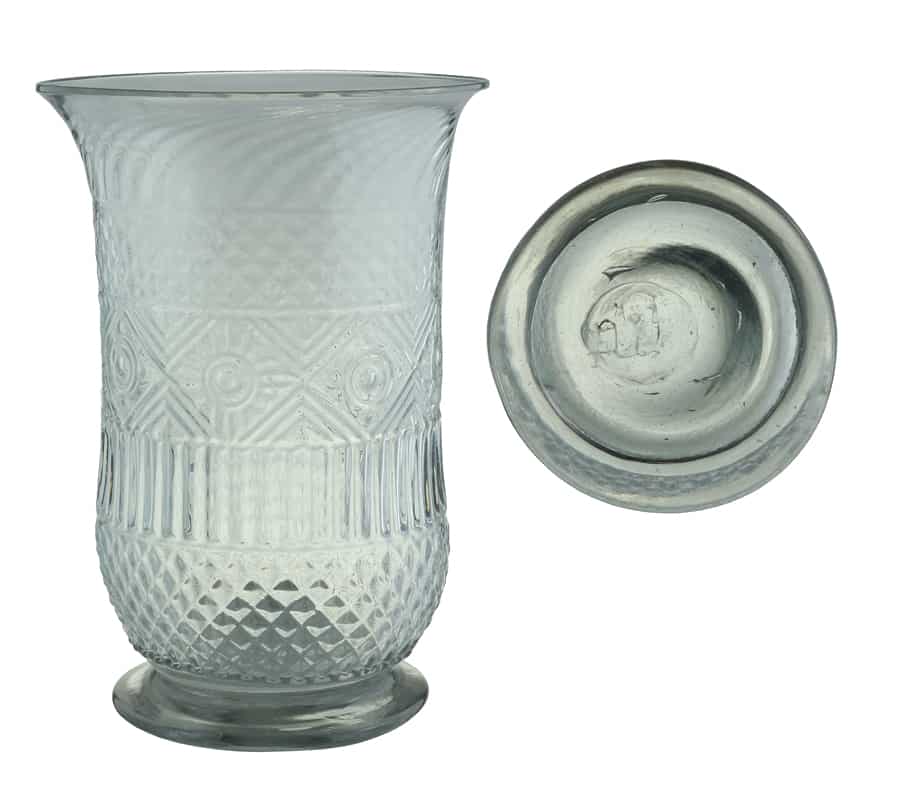 Celery vases have been found in only six geometric patterns. This includes two in McKearin Group II which are considered scarce and four in Group III, with sunburst and diamond motifs that are rare. Generally, they received their pattern in flip and decanter molds and were given an applied circular foot and occasionally a flaring pedestal pattern-molded foot. With the exception of those in pattern GIII-32 with diamond motif 2, only one is known which has a bowl supported by a stem. Celery vases like our GIII-34 are colorless. and there are no known specimens made from colored metal. This celery vase is the only known form of this rare mold.
An example of the GIII-34 celery vase is pictured in American Glass, Plate 109, image 3.
Primary Image: Blown Three Mold GIII-34 footed celery vase imaged on location by Alan DeMaison, FOHBC Virtual Museum Midwest Studio.
Support: Reference to American Glass by George S. and Helen McKearin, Crown Publishers Inc., New York, 1989.
Support: Reference to American Bottles and Flasks and Their Ancestry by Helen McKearin and Kenneth M. Wilson, Crown Publishers, New York, 1978.
Support Images: Auction Lot 94: Blown Three Mold Celery Vase, possibly Boston and Sandwich Glass Works, Sandwich, Massachusetts, 1820-1840. Elongated bulbous bowl flaring to the rim with an applied solid circular foot, colorless, tooled flared rim – pontil scar, ht. 7 1/8 inches, greatest dia. 5 inches; (rim has been finely polished). GIII-34. The only known form for this rare mold. Fine condition. – Norman Heckler Jr. & Sr., Norman C. Heckler & Company, Auction #195
Support: Reference to Some Blown "Three-Mold" Suspicions Confirmed by Dwight P. Lanmon, Robert H. Brill and George J. Reilly
Join the FOHBC: The Virtual Museum is a project of the Federation of Historical Bottle Collectors (FOHBC). To become a member.