GII-15 Geometric Inkwell Kensington – Dyott Glass Works
Kensington
Blown Three Mold
Geometric Inkwell
GII – 15
Kensington Glass Works, Philadelphia, Pennsylvania
Dyottville Glass Works, Philadelphia, Pennsylvania
Medium Sapphire Blue
Provenance: Michael George Collection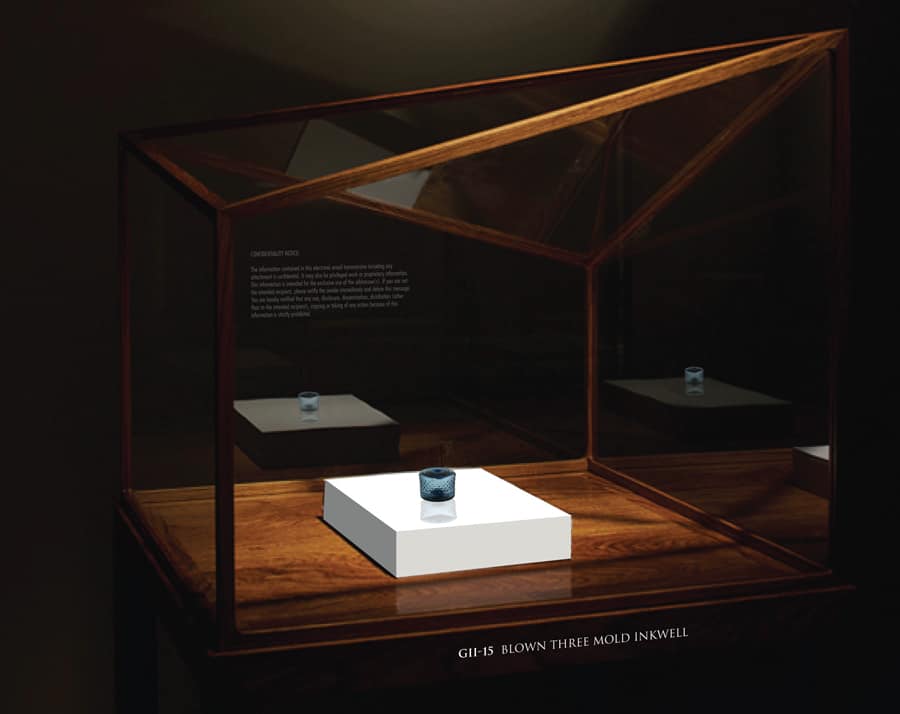 Blown three-mold glass was made primarily from 1815 up until 1840 or so, at least the pontiled examples. Of all the blown three-mold inkwells, the McKearin charted GII-15 has the finest colors of glass which are typically clear and brilliant. Most examples seem to turn up in New York and Pennsylvania leading most glass historians to suggest the Mt. Vernon Glass Co. as the source. That is now been revised to the Kensington and Dyottville Glass Works in Philadelphia.
Our museum example of a GII-15 geometric inkwell is outstanding with its medium sapphire blue color and provenance. The form is cylindrical with a disc mouth and pontil scar. The height is 1 3/4 inches by 2 1/8 inches wide. The inkwell is in pristine condition and is ex-William Covill, Bob Mebane, and John April collections.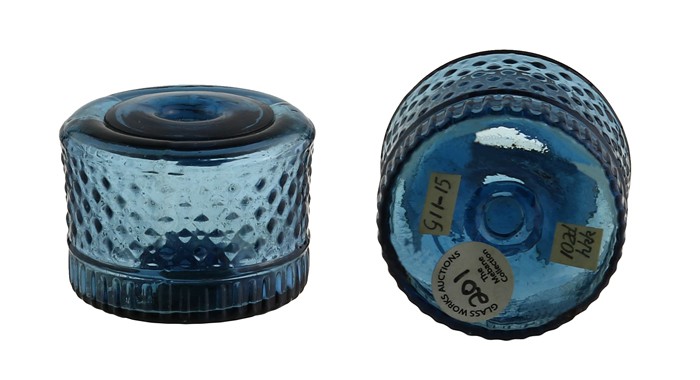 In the last two decades, the Pennsylvania Department of Transportation (PennDOT) has been engaged in a massive redevelopment of I-95 along the Delaware River in Philadelphia, including a three-mile stretch directly north of Center City through the neighborhoods of Kensington-Fishtown, Port Richmond, and Northern Liberties. The excavations have yielded around a million artifacts that span nearly 6,000 years of human activity, from prehistory through the Industrial Revolution to World War I. In particular, the excavations have uncovered rich nineteenth-century deposits, with an especially massive quantity of early American glass from the Kensington and Dyottville Glass Works and neighborhoods nearby where many glass factory workers lived. During portions of the 1-95 dig, numerous shards of the GII-15 inkwell were uncovered. Many were in a partial completion or "worked" state by a gaffer, offering irrefutable evidence that the GII-15 inkwells were produced there.
The museum has quite a few examples of Kensington–Dyott glass. See the museum example of a GIV-34 Masonic Arch – Frigate And "Franklin."
Thomas W. Dyott was the American patent-medicine king, glassmaker, temperance advocate, and reformer. Born in England in 1771, Dyott started out as a druggist's apprentice in London and came to America arriving in Philadelphia in the 1790s. He was close to penniless and rented a basement room where by day he polished shoes and by night manufactured shoeblack. In 1807, Dyott opened a drugstore, added "M.D." to his name, and soon became the largest dealer of what he called 'Family Medicines' in the country. In 1833, Thomas Dyott purchased the Kensington Glass Works in Philadelphia, where he eventually employed 400 workers to make the bottles for his many medicines. This eventually was renamed Dyott or Dyottville Glass Works.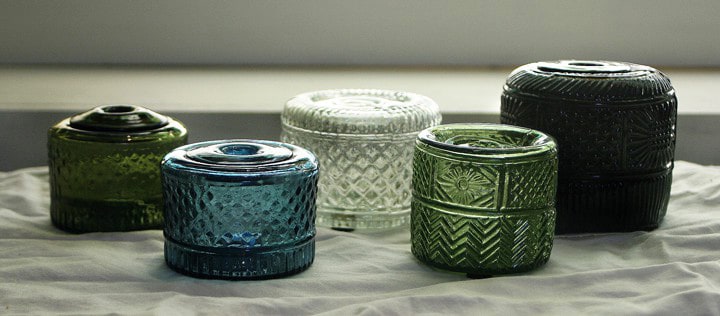 Primary Image: The GII-15 Blown Three Mold Geometric Inkwell imaged on location by Alan DeMaison, FOHBC Virtual Museum Midwest Studio
Support: Reference to American Bottles and Flasks and Their Ancestry by Helen McKearin and Kenneth M. Wilson, Crown Publishers, New York, 1978.
Support: Reference to Ink Bottles and Inkwells, William F. Covill, Jr., 1971
Support: Reference to Letter from Philadelphia–Empire of Glass, An unusual industrial history emerges from some of the city's hippest neighborhoods, By Margaret Shakespeare, Archaeology, A publication of the Archaeological Institute of America, March/April 2017
Support: Reference to Dyottville Glass Works by Bill Lockhart, Pete Schulz, Beau Schriever, Bill Lindsey, and Carol Serr
Support: Reference to The Curious Career of T. W. Dyott, M.D. Parts 1-4, by Q. David Bowers, Nov-Dec 2020, Jan-Feb 2021, March-April 2021, and May-June 2021 in FOHBC Bottles and Extras
Support Image: Auction Lot 9: Blown Three Mold Inkwell, probably Mount Vernon Glass Works, Vernon, New York, 1820-1840. Cylindrical, light sapphire blue, tooled disc mouth – pontil scar, ht. 1 3/4 inches, dia. 2 1/4 inches. GII-15 A real gem of an inkwell with a brilliant "see through" color. Fine condition. Ex William E. Covill collection. – Norman Heckler Jr. & Sr., Norman C. Heckler & Company, Auction #195
Support Image: Auction Lot 57: Blown Three Mold Inkwell, probably Mt. Vernon Glass Works, Mt. Vernon, New York, 1820-1840. Cylindrical, medium sapphire blue, disc mouth – pontil scar, ht. 1 3/4 inches, dia. 2 1/8 inches. GII-15 Beautiful color. Pristine condition. Ex William Covill collection, ex Bob Mebane collection. – Norman Heckler Jr. & Sr., Norman C. Heckler & Company, Auction #106
Support Image: GII-15 Mt Vernon type Geometric Ink – John April, Small Inkwells, Peachridgeglass.com, November 2013
Join the FOHBC: The Virtual Museum is a project of the Federation of Historical Bottle Collectors (FOHBC). To become a member.