G.O. Blake's Bourbon Co. Ky. Whisky
G.O. Blake's Bourbon CO. KY. WHISKY.
Pond, Reynolds & Co. Sole Agents For Pacific Coast

George O. Blake, Luther Adams, George Taylor – Boston, Massachusetts

Edward B. Pond, Frank B. Reynolds, and Samuel More – San Francisco, California

Amber Fifth
Provenance: Richard T. Siri Collection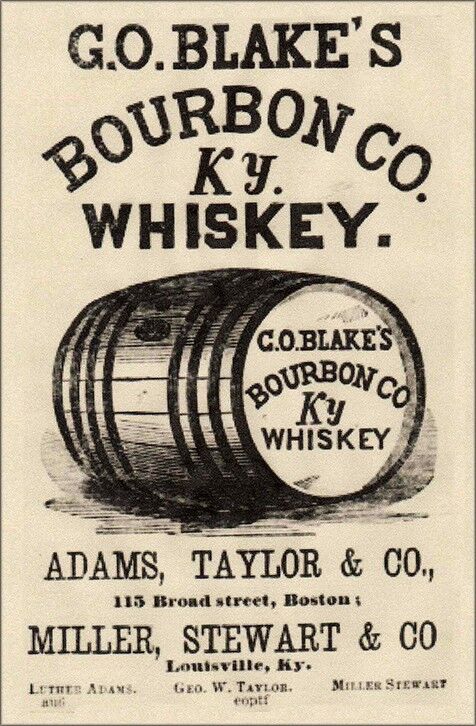 The G.O. Blake bottle variations foretell a long and complex history which we will commence with here. It involves many men in many places.
Our museum specimen is the earliest example with the embossed G.O. Blake's name. It would have been made no earlier than 1872 and no later than 1876. This applied top bottle is usually found in shades of amber and is typically found with a good bit of crudity and character.
Luther Adams formed a partnership with George W. Taylor for the purpose of foreign commissions and wine importing in Boston, Massachusetts, on January 2, 1871. George Oliver Blake was admitted as a partner in the firm a year later on January 1, 1872.
George O. Blake
Blake was born on October 10, 1835, in Medford, Massachusetts, son of Oliver and Hepsibeth Tufts Blake. He died about four months after entering the partnership on May 5, 1872, thereby causing the partnership of Adams, Blake & Taylor to be dissolved and a new partnership was formed on May 6, 1872, under the title of Adams, Taylor & Co., with Miller Stewart becoming the silent partner.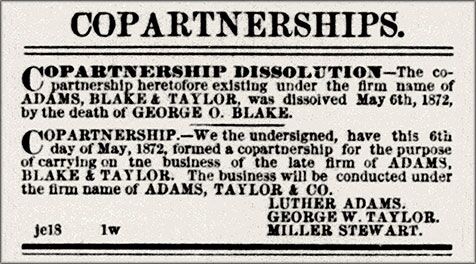 About two months into Blake's tenure with the partnership, the trade-mark using Blake's name, as "G. O. Blake's Bourbon Co. Whisky" was registered with the U.S. government patent and trademark office. Notice how the spelling on the trademark says "Whiskey" while the bottle embossing says, "Whisky."

Miller Stewart was working as a bookkeeper for C.P. Moorman & Co. in Louisville, Kentucky, from 1869 to 1871. At the time he joined the partnership of Adams & Taylor he was also either rectifying or distilling whiskey under the name of Miller Stewart & Co., with Thomas H. Hastings as his silent partner. So, Stewart was likely the source of whiskey for both Adams, Taylor & Co. in Boston as well as Miller Stewart & Co. in Louisville. Both companies had an ownership interest in the trademark name of "G. O. Blake's Bourbon Co. Kentucky Whiskey" and, at times, both companies used the name separately.
The firm of Miller Stewart & Co. of Louisville, Kentucky, was noticed as dissolved in the San Francisco Chronicle on September 16, 1878, even though Miller continued in the distilling business at least until about 1884. The dissolution notice may have been in reference to Thomas H. Hastings leaving the partnership.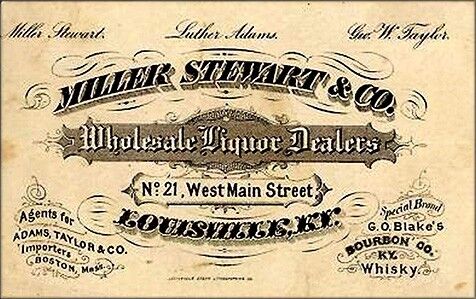 It should be recognized that Miller Stewart & Co. was consistently marketed and even called out in many reference sources as "Miller, Stewart & Co." as if the name represented two individuals. This is an error that was perpetuated throughout most of his career and can be found in numerous advertisements and documents related to the sale of his whiskey brands.
Miller Stewart
Miller Stewart, the singular man, was born in Cincinnati, Ohio in 1830, and died May 14, 1896, in Covington, Kenton County, Kentucky. He is buried in the Cave Hill Cemetery, Louisville, Kentucky. He married Anna Cordelia Sparke in Vicksburg, Mississippi, on January 12, 1855, and operated a gentleman's clothing store from about 1859 in Vicksburg with a partner, William H. Stephens. Beginning in 1868, both Stewart and his wife are noted as supplying a testimonial for Walker's Tonic Bitters of Louisville, KY. See William H. Walker and his Tonic Bitters.
After retiring his firm in 1878 it appears that Stewart did not give the liquor business up completely. On November 2, 1880, Stewart joined with William B. Maddux, William N. Hobart, and Lewis Oliver Maddux to create a stock company titled "The Old Guard Distilling Co.", of Covington, Kentucky. The Cincinnati Commercial Tribune on January 25, 1882, notes Miller Stewart & Co. as being a rectifier in Covington, and the same was noted in 1883.
Confirming that Stewart had a close working relationship with his old partners is evident in the name of his youngest son, whom he named George Blake Stewart, born March 10, 1872, about two months before the death of George O. Blake on May 5, 1872.
In 1878, Miller Stewart & Co. of Louisville sued Pond, Reynolds & Co., and its successors, More, Reynolds & Co., of San Francisco for $75,000 for infringement of their trademark of "G. O. Blake's Bourbon Co., Ky., Whiskey", which was argued and submitted in the United States Circuit Court. As a partner in the firm of Adams, Blake & Taylor, Stewart had rights to the trademark which was registered March 19, 1872, as U.S. Trademark No. 703, and re-registered May 4, 1875, as No. 2416. Even though More, Reynolds & Co. held the west coast rights to use and sell Blake's Whiskey, Stewart claimed that the actual whiskey being sold under the Blake name was not derived from Stewart and was an inferior product.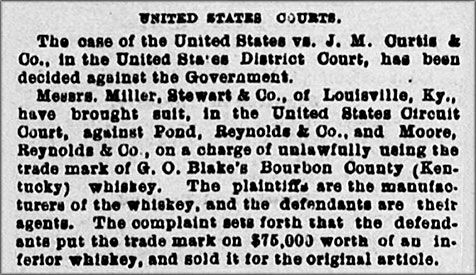 The final disposition of the case was not uncovered, however, it is clear that More, Reynolds & Co. no longer handled Blake's Whiskey, and their bottles were altered to indicate that they were agents for G. W. Clark's Bourbon Co. Kentucky whiskey. A search for G. W. Clark as a Kentucky distiller revealed nothing.
Edward Bates Pond
Edward Bates Pond was a native of Jefferson County, New York, where he was born in 1833. He arrived in California in 1854 by wagon and first located in Oroville, then on to Chico, California. In 1858, he went back to his hometown of Belleville, New York by wagon to convince family members to join him in California, and he then returned by wagon. In 1867, he came to San Francisco and established the wholesale liquor firm of Pond, Reynolds & Co. on February 15, 1868.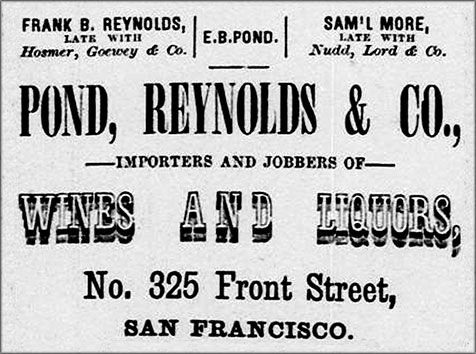 After leaving the firm in 1876, Edward Pond became entertained by politics. He was first elected to the San Francisco Board of Supervisors in 1882 and in 1886 was elected mayor, until December 1890. After losing his bid as the Democratic Governor he turned to the banking business and remained president of the San Francisco Savings Union until March 1909. Pond died in San Francisco on April 21, 1910. His obituary appeared alongside that of Mark Twain in the San Francisco Call.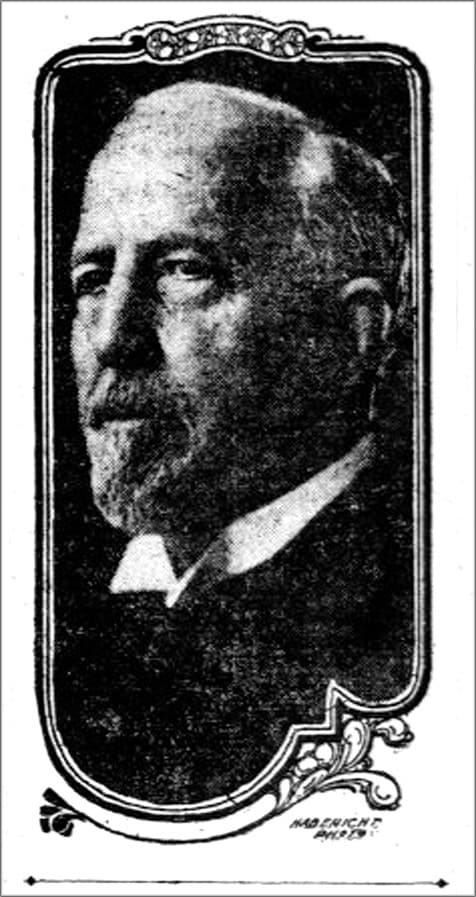 Edward Pond sold his interest in Pond, Reynolds & Co. to his partners and the business was dissolved on March 24, 1876. The two remaining partners continued under the name of More, Reynolds & Co. Reynolds then removed from the business and More operated as Samuel More & Co. from March 11, 1881.
Frank Bailey Reynolds
Frank Bailey Reynolds, was a native of Augusta, Maine, born about 1831. He is first noted in the 1859 San Francisco Directory as a salesman with the wholesale liquor company of Blackman, Howard & Co. Reynolds was admitted as a partner in the firm on January 15, 1863. Through various name changes, he remained with this firm until he joined with Edward Pond in 1868. After retiring from More, Reynolds & Co. in 1880, he partnered with Henry Schammel in the Standard Packing Co. and the California Vinegar Works in San Francisco. Apparently not to his liking he became a commission merchant by 1884 and finally an insurance agent in 1886 until a few years before his death. Frank Reynolds died April 7, 1900, at the St. Helena Sanitarium, Napa County, California, where he stayed after suffering a debilitating stroke two years earlier in San Francisco.
Samuel More
Samuel More was in the employ of the well established wholesale liquor company of Nudd, Lord & Co. as a salesman until it went down in flames by a spectacular fraudulent attempt of deception and theft of a shipload of liquor by partner Charles S. Lord. The company had no choice but to dissolve on October 31, 1867. Asa Nudd, the surviving partner, continued the company as Asa D. Nudd & Co. in order to settle all its business activities. (Daily Alta California, November 2, 1867) Faced with financial ruin, divorce proceedings, and a certain prison sentence, Charles Sherwood Lord died in San Francisco on July 17, 1868. (San Francisco Call, July 19, 1868) His official cause of death is listed as typhoid fever, but one has to wonder.
A native of Moresville, Delaware, New York, Samuel More was born March 14, 1836. He died in San Francisco on December 8, 1887. Upon his death, Judge Coffey appointed E. B. Pond, who was Mayor of San Francisco at that time, as a special administrator of the estate of More. Pond petitioned to be executor since More was head of Samuel More & Co., wholesale liquor dealers, and Pond felt the company needed immediate attention and should continue until the estate was settled. The company continued in the name of Samuel More & Co. with the surviving partners, Colin McRae Smith, Charles Flammer and Ludwig Euphrat. It persisted until 1895.
Support: Primary research and related support images provided by Eric McGuire.
Support Images: Secondary bottle images courtesy Jeff Wichmann, American Bottle Auctions.
Support: YouTube Video G.O. BLAKES BOURBON CO. KY WHISKEY POND, REYOLDS & CO. SOLE AGENTS FOR PACIFIC COAST. Thomas 115. 1868-75. Applied top. A fairly scarce western fifth, these are one of four semi-similar variants and this is the first and earliest. These bottles were made at a time when the west was a seedy place more reminiscent of Deadwood than New York City. The booze was strong and flowing freely and among the best you could get was Blake's brand. The bottle has loads of whittle and lots of overall crudity. It is a darker slightly orange-amber as we see in many of the earlier fifths and has a solid strike and pretty much all the things collectors are looking for. A wonderful and genuine artifact of the old west at its peak. A grade 9.7. – Jeff Wichmann, American Bottle Auctions
Support: Reference to Spirits Bottles of the Old West by Bill & Betty Wilson.
Support: Reference to Whiskey Bottles of the Old West by John L. Thomas, 2002.
Support: Reference to Toward Solving the Mystery of G.O. Blake by Jack Sullivan at Those Pre-Pro Whiskey Men!