GIV-3 Masonic Arch and Eagle and J.K B Topaz StriAted Flask
GIV – 3
Masonic Arch and Emblems – Eagle & J.K B
Historical Flask

Attributed to Keene Marlboro Street Glassworks
Keene, New Hampshire
Topaz With Profuse Puce Striations Pint
Provenance: Sandor P. Fuss Collection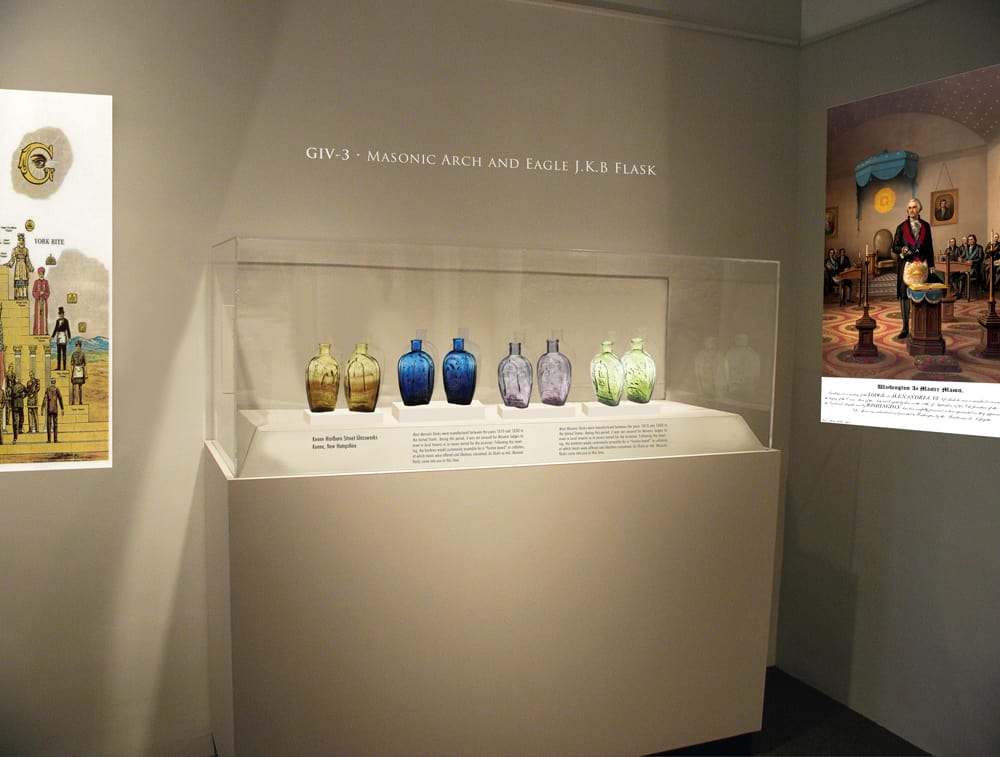 Here is a rather unusual "GIV-3 Masonic Arch and Eagle JKB" flask pint that is striated with two different colors, one being the base topaz glass color, the second being the pronounced puce striations. This flask would be considered extremely rare. To date, we are not sure who the initials "JKB" are for.
The flask was most likely produced when two or more batches of molten glass were mixed together either accidentally or purposely by the gaffer, possibly at the end of the day to use the remaining material in the pot rather than wasting it. Another possibility is a different color batch of glass being attached to the tip of the blowpipe while being dipped into a yet different color being blown into the flask.
In all likelihood, this piece was probably produced at the end of a production run. The gaffers were just doing their job, and every once in a while, an off-color example would have been blown and just put into the run to satisfy inventory. These flasks were made for utility, not display or collecting.
In the McKearin American glass historical flask charts, the "heavy Masonics" are considered to be the GIV-1 through GIV-15 examples. Most glass scholars and collectors believe them to be one of America's first historical flasks, that were made during or just after the War of 1812. Based on research and archaeological digs, heavy Masonic flasks have been attributed to the Keene Marlboro Street Glassworks in Keene, New Hampshire, the New England Glassworks in Temple, New Hampshire, and the Mt. Vernon Glassworks in Vernon, New York.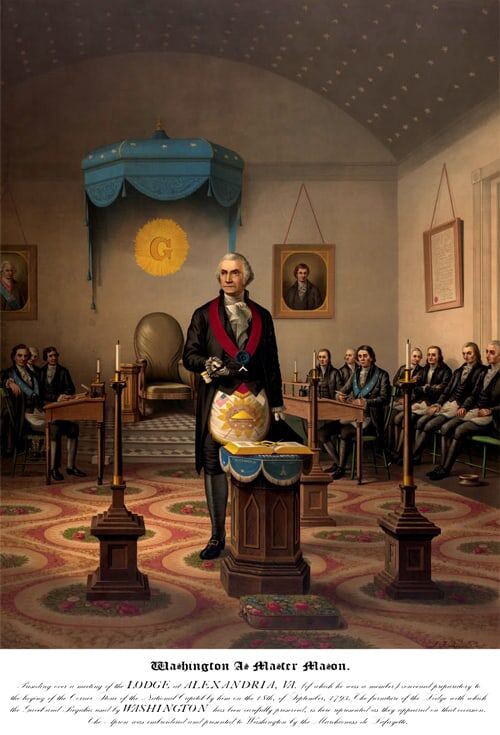 Most Masonic flasks were manufactured between the years 1810 and 1830 in the United States during the period American Freemasonry, which was considered both a fraternal and patriotic organization, was at its zenith, During this period, it was not unusual for Masonic lodges to meet in local taverns or in rooms rented for the occasion. Following the meeting, the brethren would customarily assemble for a "festive board" or collation, at which toasts were offered and libations consumed. As likely as not, Masonic flasks came into use at this time.
The early Masonic lodges in the United States usually met in one room of a local tavern. These taverns were gathering places for exchanging news and gossip as well as for eating and drinking. At the taverns, it was customary for a Mason to partake of the food and liquid refreshments, but each Mason was responsible for his own drinking habits. During this period of time Masonic flasks or pocket flasks, became common at Lodge meetings. Drinking and fellowship were enjoyed after the Masonic meetings were concluded. Quite possibly, this flask sat on a table and was used during a meeting.
We have a second striated GIV-3 Masonic Arch and Eagle JKB flask in similar coloration which is interesting considering the production comments above. See the museum's second example of a topaz striated GIV-3 Masonic Arch and Eagle. This flask resides in an east coast collection and is an ex Crawford Wetlauffer collection piece.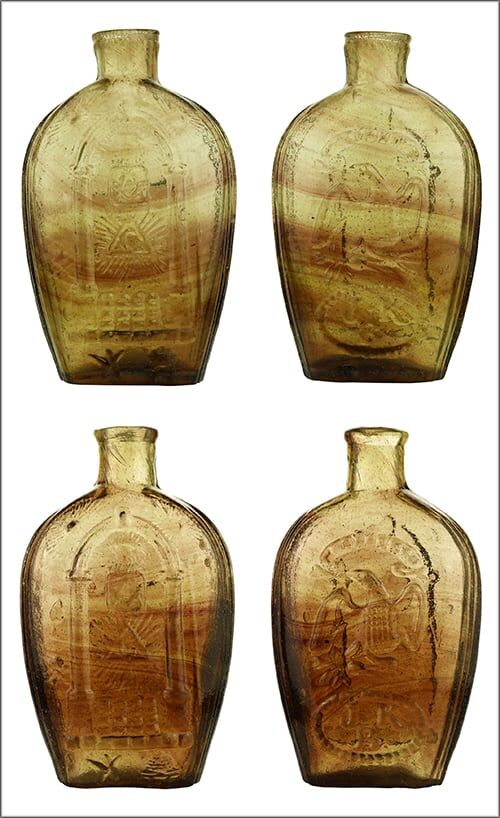 See our Museum example of a GIV-3 Masonic Eagle in cobalt blue
Masonic flasks, like other flasks, are bottles whose cross-section is elliptical or ovate, whose convex or flat sides rise to a shoulder or taper into a narrow short neck, and whose volume range from half-pint to quart.
There are some fifty-one (51) varieties of Masonic flasks, bearing a combination of thirty-one (31) different symbols commonly associated with Freemasonry. Quite a few of these symbols can be found on our flask.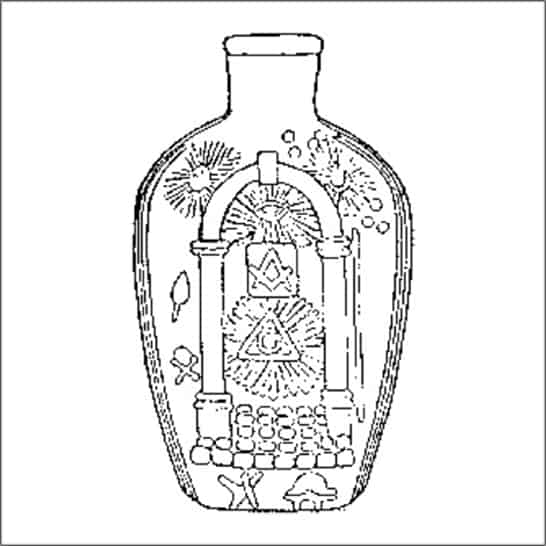 On what is considered the primary face or obverse side of the flask are two embossed columns rising from a mosaic pavement consisting of 31 bricks, in rows of 8, 8, 5, 5, and 5. Connecting the columns is a curved archway with a central keystone. Below the keystone is an all-seeing eye surrounded by rays. Below the rays is an open book with a compass and square forming a diamond shape. Between the columns is a radiant triangle enclosing embossed 'G'. At the left of the columns is a trowel over a skull and crossbones. Above the trowel and to the left of the keystone is a blazing sun with rays. Below the pavement are a beehive to the right and a crossed level and plumb line to the left. To the right of the columns is Jacob's Ladder ascending to a radiant quarter moon with four stars above and three stars below. The stars appear as dots with no points.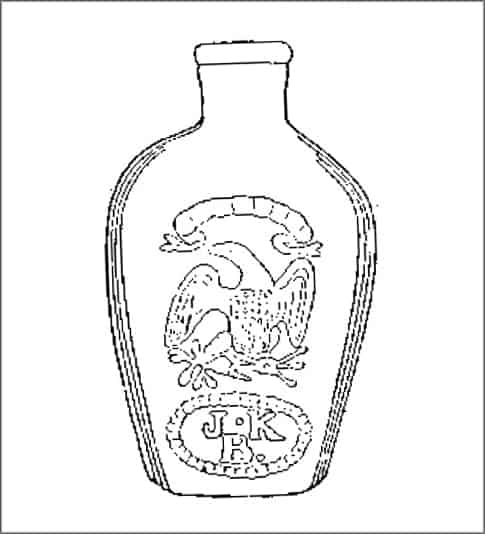 The reverse of the flask depicts an embossed eagle with its head facing left. Above the eagles head is a banner or ribbon containing heavy crimping. The eagle has a breast shield with twelve small dots at the top. There are three rows of four dots. The right wing is foreshortened to give the eagle a more three-dimensional appearance. There are three arrows or thunderbolts in the right talon and an olive branch in the left talon. Below the eagle is a large embossed beaded oval frame. Within the oval frame is two typographic lines reading, "J. K" which is above the " B."
The pint flask is pontiled and usually has a tooled lip, but can occasionally have a plain lip or a heavy collar lip which is rarer.
Known colors are light green, clear light green, and clear which are considered rare. Peacock green, dark yellow-green, clear yellow-green (amber tones), clear blue-green, greenish-blue, amber, yellow-olive to clear, olive-green to amber, clear olive green (amber tones), pale lavender, and clear (bluish tint) are very rare; and yellow-green (dark amber neck), puce, gray-blue, sapphire, peacock blue, and cobalt blue are extremely rare.
Our museum example of a striated GIV-3 Masonic Arch and Eagle JKB flask was probably produced at the Keene Marlboro Street Glass Works in Keene, New Hampshire somewhere from 1815 to 1830.
Primary Image: Both striated GIV-3 Masonic Arch-Eagle JKB flasks imaged by the FOHBC Virtual Museum midwest studio by Alan DeMaison.
Support Images: Auction Lot 231: Masonic Arch And Emblems – Eagle And "J.K / B." Historical Flask, probably Keene Marlboro Street Glassworks, Keene, New Hampshire, 1815-1830. Colorless with profuse amethyst striations in the lower third of the flask, inward rolled mouth – pontil scar, pint; (7/16 inch chip on edge of mouth, light exterior high point wear). GIV-3 A very heavy flask with a wonderful color combination and strong mold impression. Glenn Quimby collection. – Norman C. Heckler & Company, Auction #177.
Support: Reference to American Bottles and Flasks and Their Ancestry by Helen McKearin and Kenneth M. Wilson, Crown Publishers Inc., New York, 1978.
Support: Reference to Mason Flasks – Pieces of History by Charles I. Bukin, Antique Bottle and Glass Collector, January, 1993
Support: Reference to The Rise and Decline of Masonic Flasks by Jeffrey G. Burcham, Virginia Research Lodge No. 1777, December 13, 1997
Support: Reference to Striated Beauties by Mark Vuono, Antique Bottle & Glass Collector, August 2013