B.B. Wilcox Patent Fruit Jar
PATD MARCH 26th 1867
B. B. Wilcox
Benjamin B. Wilcox, New Haven, Connecticut

Forest Green Quart
Provenance: Darrell Plank Collection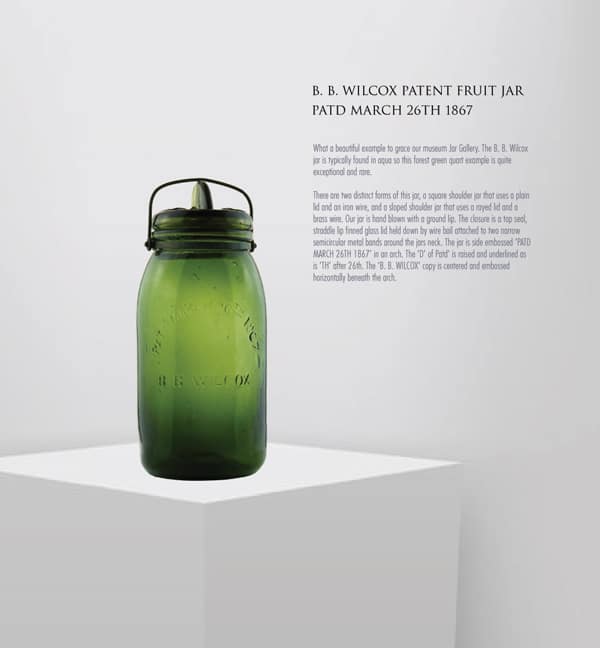 What a beautiful example to enhance our museum Jar Gallery. The B. B. Wilcox jar is typically found in aqua so this forest green quart example is quite exceptional and rare.
There are two distinct forms of this jar, a square shoulder jar that uses a plain lid and an iron wire, and a sloped shoulder jar that uses a rayed lid and a brass wire. Our jar is hand-blown with a ground lip. The closure is a top seal, straddle lip finned glass lid held down by wire bail attached to two narrow semicircular metal bands around the neck of the jar. The jar is side embossed 'PATD MARCH 26TH 1867' in an arch. The 'D' of Patd' is raised and underlined as is 'TH' after the 26th copy. The 'B. B. WILCOX' copy is centered and embossed horizontally beneath the arch.
There are usually numerals from 1 to 22 embossed on the jars though our museum example does not have a number. These numbers occur above and below the B. B. Wilcox typography. Aqua versions of the jar have ten rays on the lid. There are no rays on the amber, white milk glass, and some aqua jars.
In 1868, the Wilcox Patent Fruit Jars were initially manufactured by the Fort Trumbull Glass Company in New London, Connecticut for distribution in the east. A & D. H. Chambers (Alexander and David H. Chambers) in Pittsburgh were the manufacturers for the west. Two early newspaper advertisements are represented below asserting this information. There are quite a few western advertisements such as L. Powers & Co. advertising that they had Wilcox's Patent Fruit Jars for sale in Sacramento, California in 1869. Apparently, the jars were also made circa 1870-1875 by the Ellenville Glass Works of Ellenville, New York.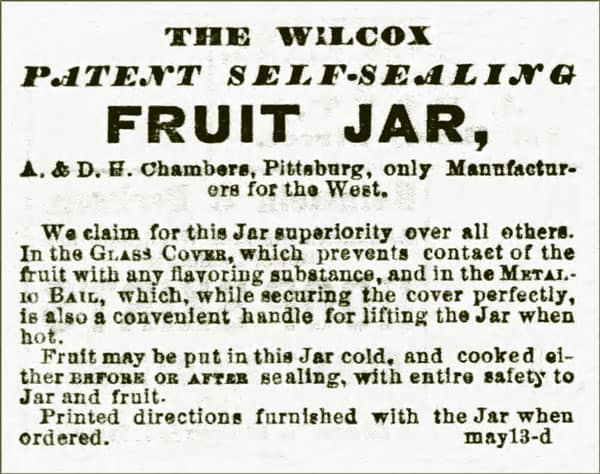 Benjamin B. Wilcox was born about 1820 in Cornwall, Connecticut. Not much is known about his early life except that he married Eliza A. Brainerd of Portland, Ct. on May 29, 1842. At that time he was living in Old Saybrook, Ct. They had three children, Maria, Curtis, and Samuel. This information can be gleaned from 1850, 1860, and 1870 United States Federal Census reports.
In 1850, Wilcox was listed as a mechanic as far as his trade. In the 1860 census, he was listed as a machinist. The machinist occupation would follow his name every year from 1860 to 1867 in the New Haven, Connecticut City Directory so we can assume this was his primary occupation.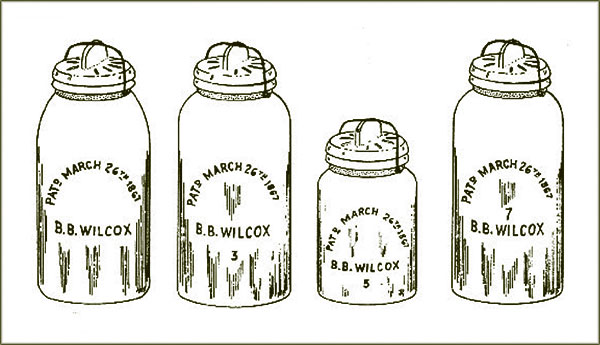 B. B. Wilcox put his tooling and mechanical expertise to use as he received Patent No. 63,193 for an "Improvement in Fruit-Jars" on March 26, 1867. That same year he created the Wilcox Jar Company which lasted until 1871. In 1868, the Wilcox Patent Fruit Jar won First Premium or Prize in the autumn New York State Fair in Rochester.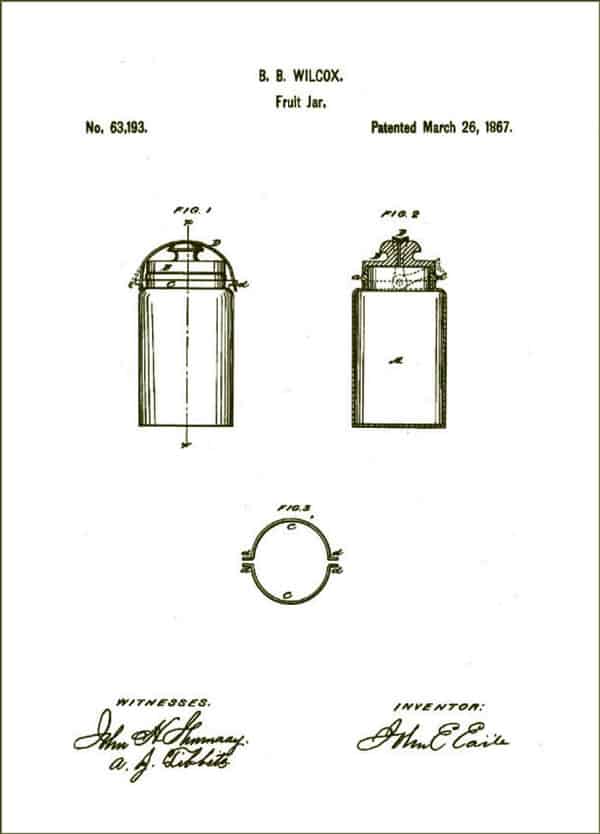 Wilcox within his patent application stated that his Patent Fruit Jar was superior for the following reasons:

First – It's completeness in its arrangements and combinations as a Perfect Fruit Preserver.

Second – It is provided with a divided Ring, which is easily attached to or detached from the Neck of the Jar, and secured by the Bail.

Third – When the band and bail are applied, its combinations form a complete handle, thereby dispensing with all lifters or other appliances, which have hitherto been in use for removing the Jar from boiling water.

Fourth – It is constructed with a Glass Cover, which sets over the Neck of the Jar, resting on an elastic band on the outer surface of the shoulder, this preventing any flavor being imparted to the Fruit by metallic or other substances. This advantage alone renders its superiority such as to bring it into immediate and general use with the public.

Directions for sealing, opening and the time required for cooking – would accompany each package.
When looking at the patent, it is quite different from the actual jar. The patent calls for a split-ring trunnion, instead of the one-piece band used. It also calls for a stamped metal yoke instead of the wire bail, and the yoke had an additional function in closing, with an intervening gasket, a small orifice in the center, or the glass lid which would allow venting during the boiling operation.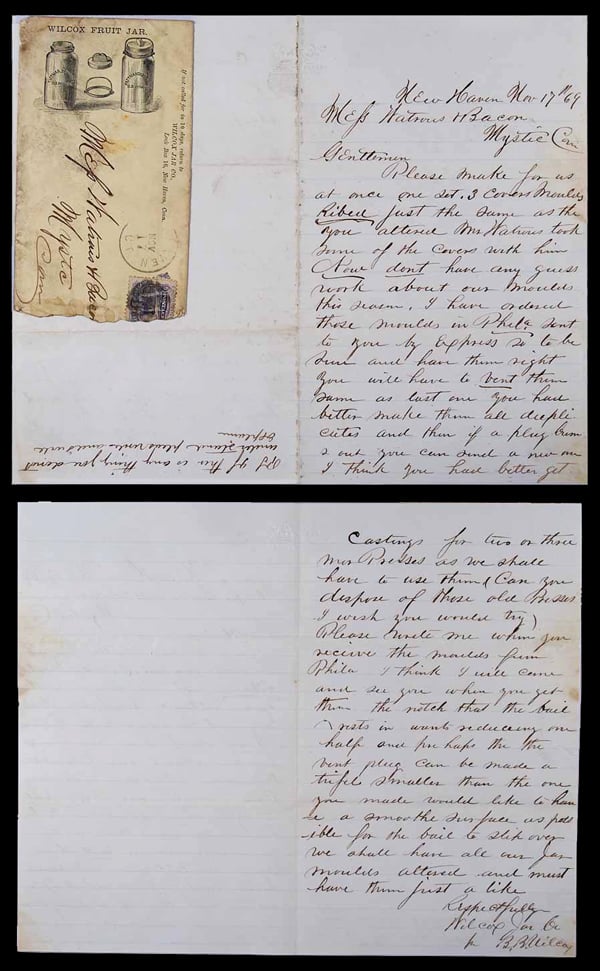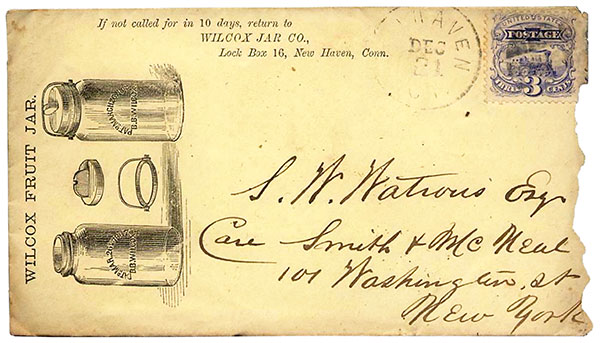 Support: Reference to Fruit Jar Annual 2020 – The Guide to Collecting Fruit Jars by Jerome J. McCann
Support: Reference to Red Book #11, the Collector's Guide to Old Fruit Jars and use of Creswick illustrations granted by Douglas M. Leybourne, Jr.
Support: Reference to Other M Marks by Bill Lockhart, Beau Schriever, Bill Lindsey, and Carol Serr with contributions by David Whitten
Support Image: Auction Lot 11910: Early Wilcox Fruit Jar Envelope & Letter. 1869 – Greg Spurgeon, North American Glass
Support Image: Medium aqua quart with original closure and "rayed" glass lid, minor scratch here and there, otherwise about perfect. – D. Owen Grove Auctions