GI-119 Columbia / Eagle Portrait Flask
GI – 119
BUST OF COLUMBIA WITH LIBERTY CAP – AMERICAN EAGLE PORTRAiT Flask
Cobalt Blue Pint
Probably Union Co. Kensington
Philadelphia, Pennsylvania
Provenance: Sandor P. Fuss collection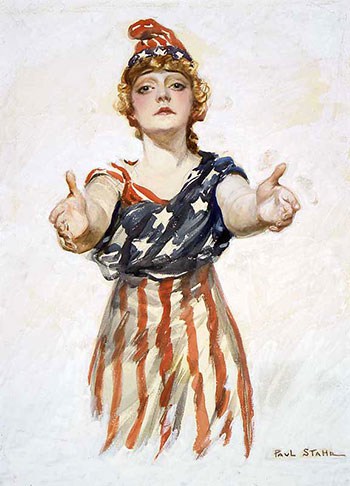 The cobalt blue GI-119 Columbia Eagle historical flask is one of the most, if not the most desirable and exciting historical flasks as it embodies young America and its greatness. On one side we see Columbia who is the female personification of the Americas, the New World, and particularly the United States. On the reverse, we see a handsome American eagle, our national symbol used as a sign of strength and worthy of her trust. It was made in the mid to late 1830s.
There are four (4) charted Columbia Eagle flasks, GI-117 to GI-120. The first two are embossed 'KENSINGTON' on the Columbia's face and 'UNION CO' on the American Eagle side. Our museum example is GI-119 which had the mold altered and the copy removed. GI-120 is embossed 'ASHTON' and 'HOUGH.' Research has not confirmed the actual glass house history though it is thought that Union glass company in Kensington, Philadelphia, Pennsylvania made all four flasks.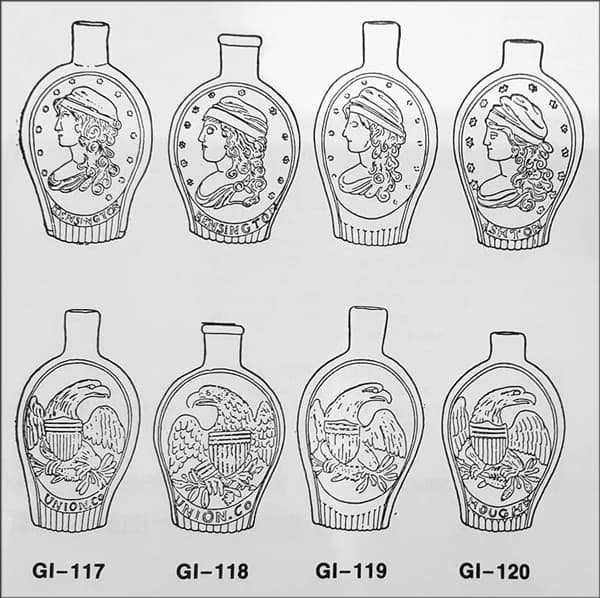 Our museum example of a GI-119 Columbia – Eagle historical flask has an embossed profile of Columbia facing left wearing a Liberty Cap on the flask front. Thirteen small 6-pointed stars surround the bust of Columbia in a horseshoe arrangement. There are ten short graduated ribs at the bottom of the flask. The reverse depicts an embossed American eagle facing right. The shield has ten vertical bars under two horizontal bars. The left-wing is foreshortened to give a three-dimensional effect. Three arrows or thunderbolts are in the left talon and an olive branch is in the right talon. As on the front, ten short graduated vertical ribs are at the bottom. The flask edge is a single broad vertical rib. The flask has a plain lip and pontil mark. Known colors for this extremely rare flask is clear or colorless, moss green shading to amber, and cobalt blue.
Our museum example is one of only three known examples, with the other two having minor lip damage.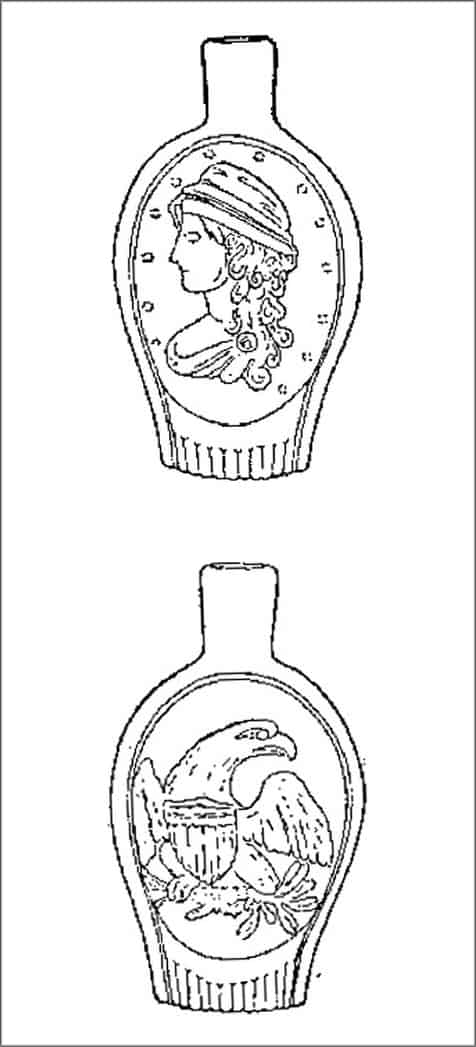 From 1829 to 1837, the Philadelphia mint produced silver coins with the likeness of the 'Bust of Liberty' on one side and an 'American Eagle' on the other. On these coins, the 'Bust of Liberty' is almost identical to the embossing on the flask.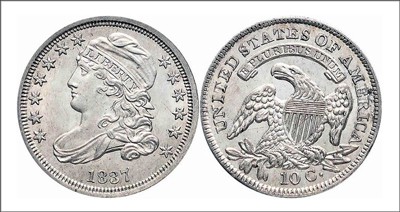 Support Images: Front and back example with a graduated grey background: Cobalt blue non-lead glass; mold-blown; plain lip, pontil mark. Obverse: Columbia with Liberty Cap facing left; thirteen small six-pointed stars surrounding bust, ten short graduated vertical ribs at bottom of the flask. Reverse: large American Eagle, head turned to right; shield with ten vertical and two horizontal bars on breast, wings partly raised and right foreshortened. Thunderbolt (three arrows) with feathered ends showing in its right talons, olive branch in left. Ten short graduated vertical ribs at bottom of flask; similar to GI-117. Inscription: none. Edges: single broad vertical rib. – Corning Museum of Glass
Support Image: Auction Lot 169: BUST OF COLUMBIA WITH LIBERTY CAP – AMERICAN EAGLE, (GI-119), Kensington Glass Works, Philadelphia, Pennsylvania, ca. 1830 – 1840, cobalt blue pint, pontil scarred base, sheared and tooled lip. An in-making chip extending from the pontil was created when the pontil rod was removed. Perfect post production condition, very bold impression and almost no trace of wear. – Glass Works Auctions
Support: Reference to American Bottles and Flasks and Their Ancestry by Helen McKearin and Kenneth M. Wilson, Crown Publishers Inc., New York, 1978.
Read More: The Bust of Columbia Liberty Cap Eagle Historical Flask