Ludlow's Infallible Patent Jar
Ludlow's Infallible Patent Sealer Jar
June 28, 1859
William D. Ludlow, New York, New York
E. Carter & Co., Brooklyn, New York

Viridian Green Pint
Provenance: Jerry McCann Collection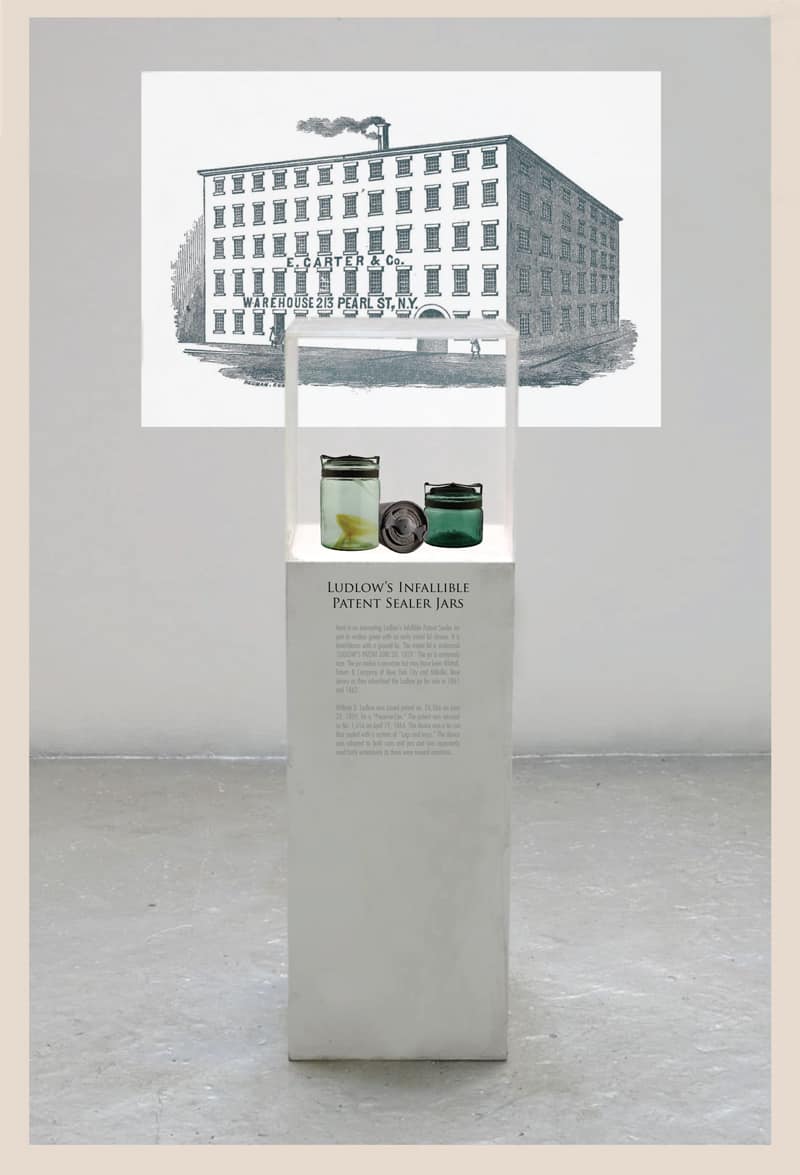 Here is an interesting Ludlow's Infallible Patent Sealer Jar pint in viridian green with an early metal and glass lid closure. It is hand-blown with a ground lip. The metal lid is embossed 'LUDLOW'S PATENT JUNE 28, 1859.' The jar is extremely rare. The jar maker is uncertain but may have been Whitall, Tatum & Company of New York City and Millville, New Jersey as they advertised the Ludlow jar for sale in 1861 and 1862. Elsewhere the jar was being advertised in eastern newspapers in 1859. Prior to this, the Ludlow Patent Cans were advertised.
William D. Ludlow was issued patent no. 24,566 on June 28, 1859, for a "Preserve-Can." The patent was reissued as No. 1,656 on April 19, 1864. The device was a tin can that sealed with a system of "Lugs and keys." The device was adapted to both cans and jars and was apparently used fairly extensively as there were several variations.
Our museum example pertains to patent no. 33,002 that William D. Ludlow received on August 6, 1861, for an "Improvement in Stopping Jars, &c." His sealing device consisted of "two curved inclined arms" attached to a bar that sat atop the lid. The inclines engaged stationary lugs in the jar finish to affect a screwing action to seal the jar. This is sometimes referred to as a "propeller." The cast iron clamp for these jars was meant to have a rubber cushion on the underside of the center to help prevent the breakage of the glass lids.
Edward Carter and George W. Robins with E. Carter & Company in Brooklyn, New York advertised that they were the exclusive manufacturers of Ludlow's Patent Infallible Cans and Jars. They said that their subject cans and jars, would never fail to seal, and were unquestionably far superior to any on the market. They said that other cans were so difficult to seal that even the most skillful and experienced, with the greatest care, lost much valuable fruit and their labor every year. Accompanying the cans were directions for preparing fruit and sealing, guaranteeing satisfactory results.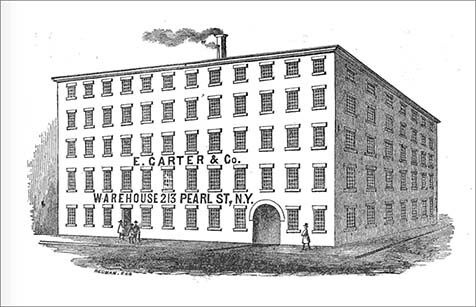 E. Carter & Co. was established in 1834 by Edward Carter. Twelve years later, George W. Robins joined him in business. They performed their metal work out of a substantial five-story factory with a front of 100 feet on York Street by 75 feet on Adams Street. The factory was fitted up with a great variety of valuable and ingenious machinery, driven by a superior 15-horse power engine. One primary area within was the cutting-room, containing a number of presses and dies, which performed the process of cutting and forming up. From there, items went into the stamping-room, where, from one solid piece, a beautifully finished plate, with all its ornamentation, is produced in a single minute. The operation of spinning tops or covers formed another interesting feature of the machinery. They reported that they employed 120 hands.
We also have another beautiful quart example of an aqua Ludlow's Infallible Patent Sealer Jar with striations in the Jarr Gallery.
Primary Image: Both Ludlow's Infallible Patent Sealer Jars imaged on location by the FOHBC Virtual Museum midwest studio led by Alan DeMaison.
Support Image: Ludlow's Infallible Patent Sealer Jar in aqua with striations. – Jerry McCann Collection
Support: Reference to The New-York Hand Book, and Merchants' Guide, 1859
Support: Reference to Fruit Jar Annual 2020 – The Guide to Collecting Fruit Jars by Jerome J. McCann
Support: Reference to Red Book #11, the Collector's Guide to Old Fruit Jars by Douglas M. Leybourne, Jr.
Support: Reference to The Bodine Glass Companies, Sha.org