Draped Shoulder Pickle
Draped Shoulder Pickle
Unknown
Pale Blue Green Bottle
Provenance: Lou Pellegrini Collection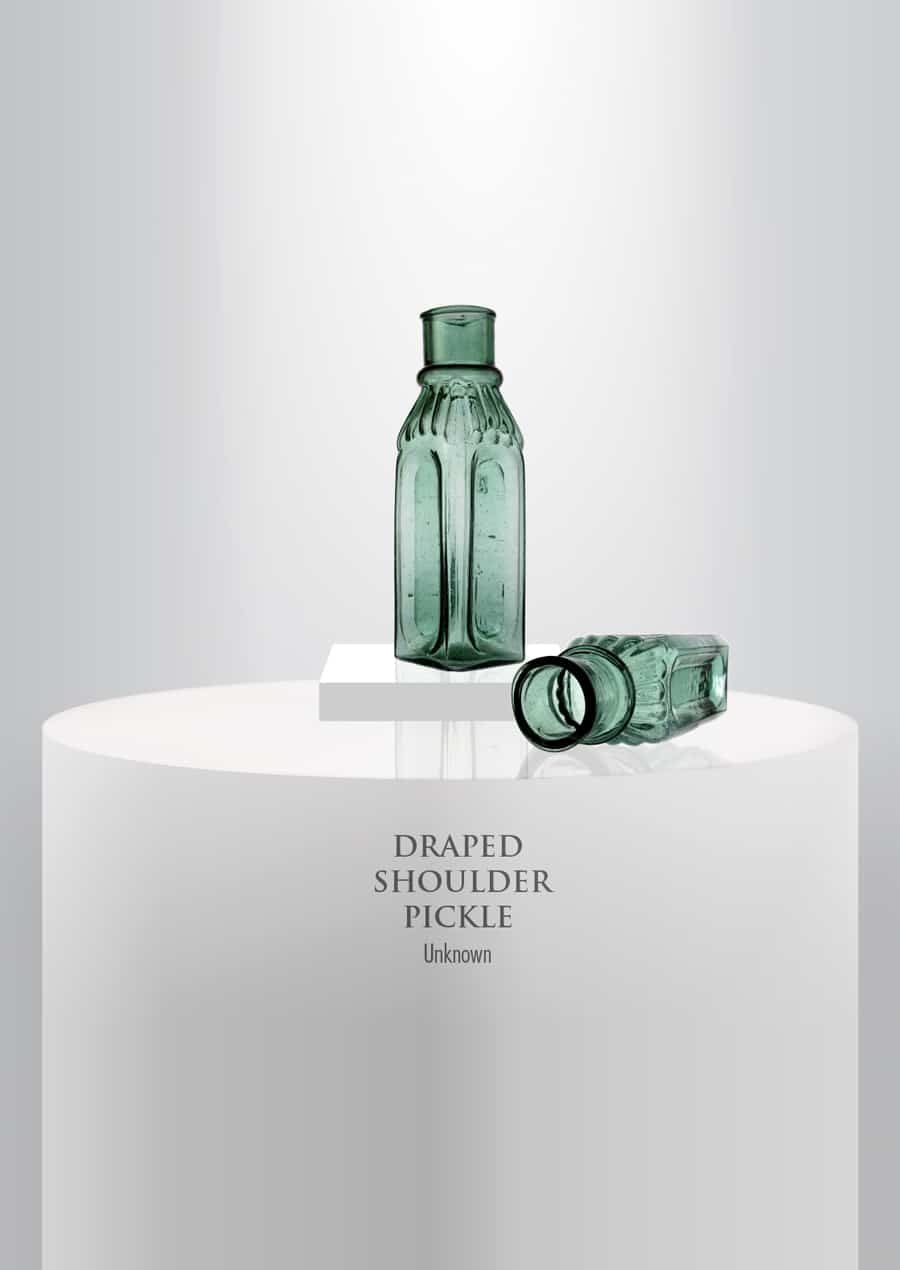 The design and proportions of this small preserve bottle, or jar as they are sometimes referred to, are magnificent. The 7" tall blue-green aquamarine bottle is square with a "draped and beaded shoulder" effect.
The four sides of the bottle occur under the teardrop draping. Within the side panels are four tall indented beveled oblong areas that are radiused on the ends. A label or labels may have been placed in the recessed areas. The top of the shoulder draping connects to a large bulbous ring. The neck is tall and wide, connecting to a tooled and rounded mouth. The bottle side corners are angled. There is an indented circular base. The bottle is not embossed with any copy.
The bottle contents could have been some type of preserves like pickles or berries necessitating a wider bore. A similar bottle is pictured on page 453 of Ketchup Pickles Sauces – 19th Century Food in Glass.
See our museum example of a Berry Preserve Bottle.
See our museum example of a Wells Miller & Provost fancy pickle jar.
Primary Image: Draped Shoulder Pickle imaged by the FOHBC Virtual Museum west coast studio led by Gina Pellegrini.
Support Images: Auction Lot 136: Cathedral Pickle Bottle, America, 1840-1860. Square with beveled corners and fancy cathedral arches, aquamarine, applied square collared mouth – pontil scar, ht. 11 5/8 inches. Similar to Z pg. 453, top left Crisp and clean with good whittle and bubbles. Attractive draped shoulders. Fine condition. – Norman Heckler Jr. & Sr., Norman C. Heckler & Company, Auction #151
Support: Reference to Ketchup Pickles Sauces – 19th Century Food in Glass by Betty Zumwalt, 1980
Join the FOHBC: The Virtual Museum is a project of the Federation of Historical Bottle Collectors (FOHBC). To become a member.