Improved Standard Patented April 17 1888
Improved Standard
Patented April 17 1888
John B. and Robert Johns, Massillon, Ohio
Aquamarine Quart
Provenance: Ron Hands Collection
Our "Improved Standard" jar is very rare having only been made from 1892 to 1894 and is attributed to John B. and Robert Johns of Massillon, Ohio. The ice-blue-aquamarine jar is embossed in a bold sans-serif typestyle 'IMPROVED STANDARD' in a top convex arch on the face of the jar. Centered beneath is 'PATENTED', also in an arch. The third line of embossed copy reads 'APRIL . 17TH' in an inverted concave arch. There is a "period" between "April" and "17th." The "TH" is raised, smaller, and underlined. Beneath this created typographic circle is a straight line horizontal embossed '1888.' with a period.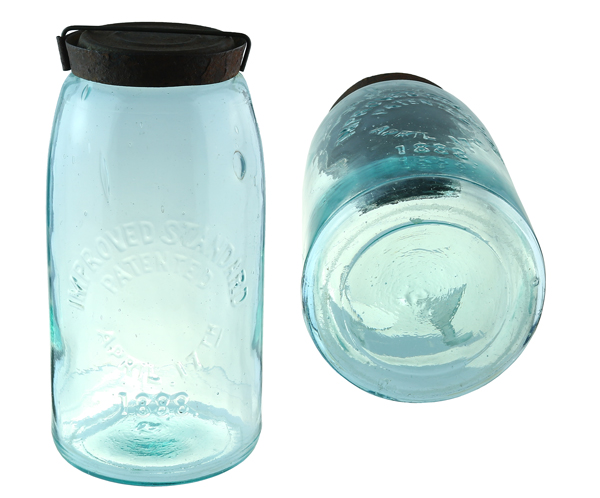 This quart wax sealer jar was hand-blown and has a ground lip that used a tinned iron lid and a tinned iron band that curled around the jar top to form a channel for the wax. The band was held in place by wire across the top.
The Johns family immigrated to the United States from Wales in 1863 and first worked in bottle factories in Pittsburgh, Pennsylvania, and Findlay, Ohio.
On February 14, 1888, John B. Johns and Robert Johns, living in Massillon, Ohio, applied for a patent for a "Fruit–Jar" and received Patent No. 381,250 on April 17, 1888. The patent document discussed the problems with wax-sealer fruit jars and how their new design would be the solution. This patent and subsequent accompanying description suggest that the brothers worked at Reed & Co., a glass factory that opened in 1880. In all likelihood, the Johns brothers made the jar before moving to Fairmont, West Virginia, in 1892. There is also thought that Massillon Glass Works may have made the jar.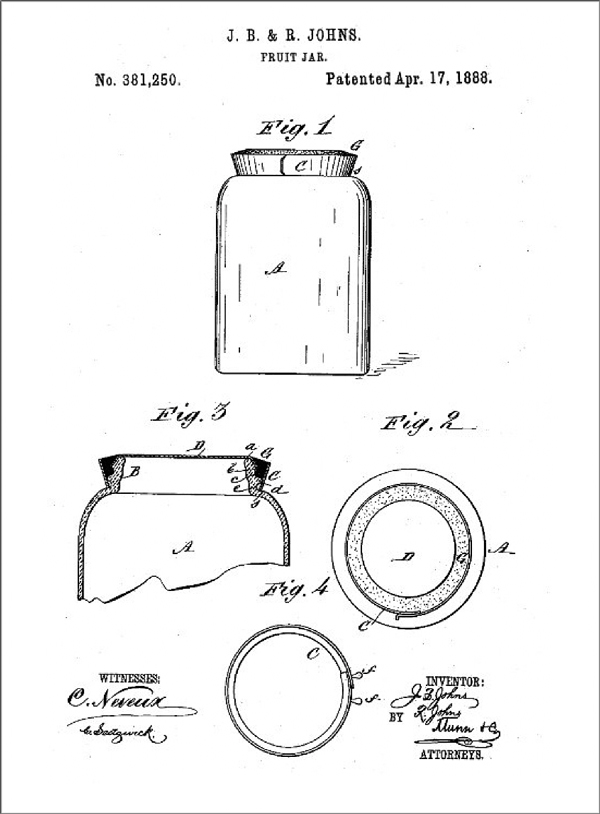 The Johns brothers, a West Virginia glass family, were involved in three glass firms, all located at Fairmont, West Virginia, between 1892 and 1912. Although the initial firm—the Fairmont Bottle & Glass Co. quickly dissolved into bankruptcy, John's Bros. (1893-1906) was more successful, primarily producing fruit jars, soda, and beer bottles. The final firm—the Fairmont Bottle Co.—was a reorganization to form a corporate structure. Although the brothers attempted to machine-make milk bottles in 1905, the early machines were unsuccessful, and they never tried to adopt others. By 1912, mouth-blown soda and beer bottles were obsolete, and the firm closed rather than shifting to automation.
Primary Image: Improved Standard jar imaged on location by Alan DeMaison, FOHBC Virtual Museum Midwest Studio
Support Image: Auction Lot 7507: IMPROVED STANDARD Patd 1888 Iron Ring Wax Sealer Quart, Aquamarine. Replica metal ring and an early unmarked tin cap, sparkling glass, edge chipping along the ground mouth, embossing strong, base unmarked, late 1800s, rare – Greg Spurgeon, North American Glass, May 2014
Support Image: Auction Lot 778: IMPROVED STANDARD PATENT 1888 Wax Sealer Quart, An aqua quart embossed on the front in a circular arrangement: "IMPROVED STANDARD PATENTED APRIL 17TH 1888". Sparkling glass without damage or stains. Has a thin flake on the inner mouth, not quite detached. Unusual wax sealer mouth style with a ground lip finish and made for a detachable metal ring to serve as the outer mouth. Comes with an early tin cap. The metal ring is a fine old replica. From the Philip Robinson Museum collection. – Greg Spurgeon, North American Glass, March 2009
Support: Reference to The Fairmont Bottle Co. and the Johns Brothers by Bill Lockhart, Dean Six, Beau Schriever, Bill Lindsey, and Carol Serr
Support: Reference to Fruit Jar Annual 2020 – The Guide to Collecting Fruit Jars by Jerome J. McCann
Support: Reference to Red Book #11, the Collector's Guide to Old Fruit Jars by Douglas M. Leybourne, Jr.
Support: Reference to Fairmont Glass Works, Indianapolis, Indiana Steve Lang , Bottles and Extras, March–April 2021
Join the FOHBC: The Virtual Museum is a project of the Federation of Historical Bottle Collectors (FOHBC). To become a member.