C.D. Postel S.F. Cal.
C. D. Postel
T. M. (Sheaves of Grain)
S. F. Cal.
Christian Dietrich Postel, San Francisco, California
Yellow Amber Quart
Provenance: Eric McGuire Collection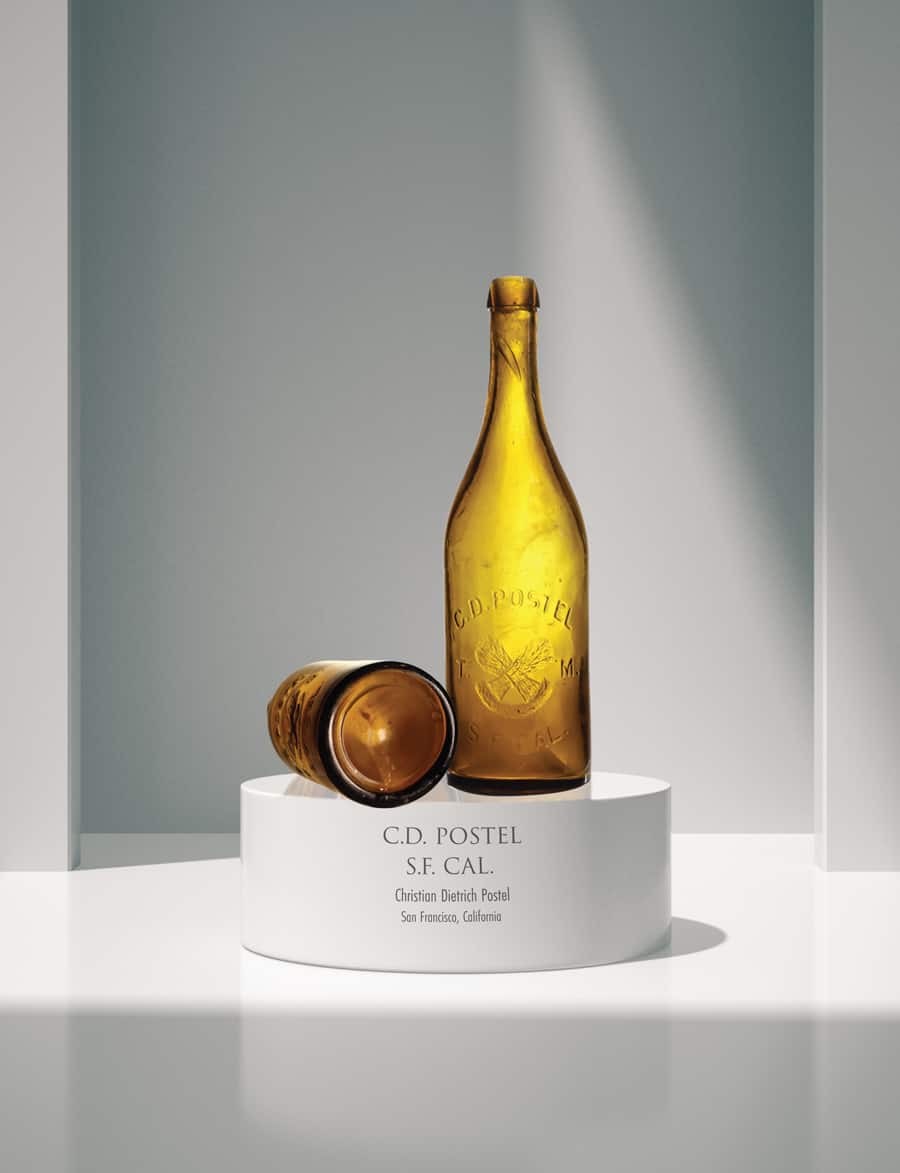 This rare yellow-amber Western beer was put out by Christian D. Postel in San Francisco, California. The quart measures 11 ½ inches tall and was dug in an outhouse in San Francisco in the 1970s. The most striking component is the embossed sheaves of wheat on the face of this hard-to-find early beer bottle.
The embossed copy consists of sans serif letters in an arch reading 'C. D. POSTEL' set over pictorial crossed sheaves of wheat. These graphics are flanked by the letters 'T. M.' for Trade Mark. It must be assumed that the mark was proprietary since no Federal or State trademark deposition was located. The bottle has an applied tapered mouth, and the base is smooth.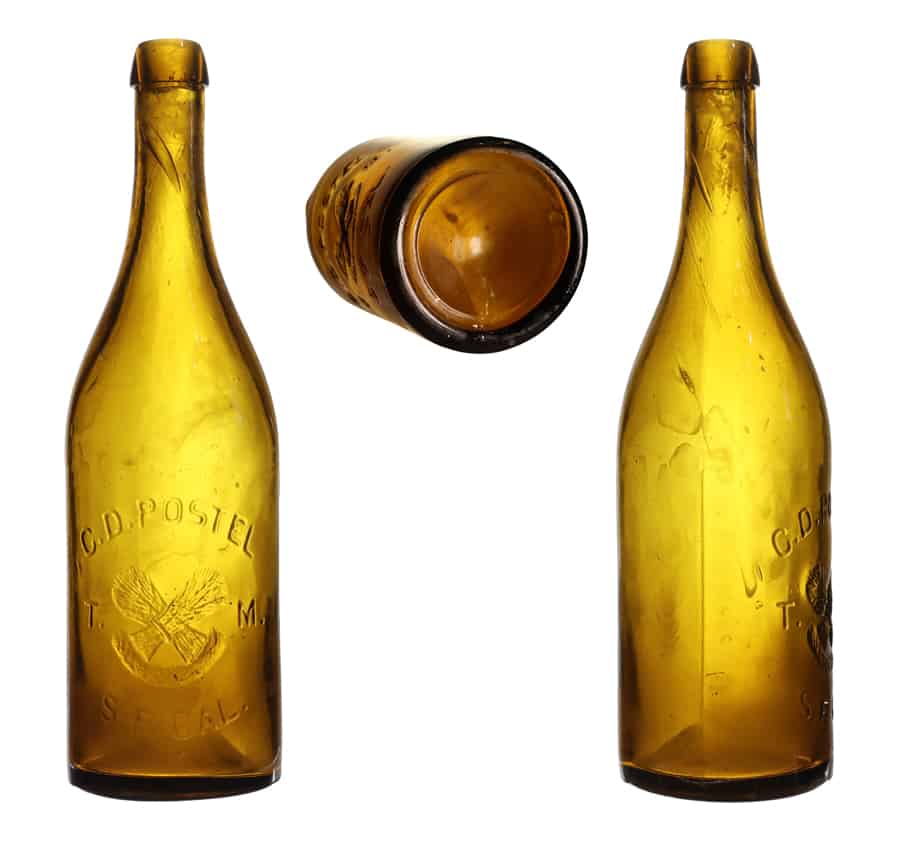 Christian Diedrich Postel, born in Germany in 1850, started out in the grocery business in San Francisco, California. As early as 1868, he is listed as a clerk at 409 Pine Street. Records note that he was naturalized on February 26, 1875. From the 1870s until 1880, his grocery and now liquor business was located at the southeast corner of Taylor and Pacific. In 1881, the directory listing changed to Postel & Brother as Frederick A. F. Postel joined Christion D. Postel selling groceries and liquors at the southwest corner of Valencia and 23rd and the Taylor & Pacific location. In 1882, Arnold Postel joined Christian as a clerk. Frederick Postel was now on his own with a liquor saloon at the southeast corner of New Montgomery and Jessie.
The earliest reference to Christian D. Postel selling beer as an agent was in the San Francisco Chronicle on April 11, 1884, when his advertisement stated, "ALL FAMILIES WHO WISH A GENUINE, pure lager beer should send for the Fredericksburg to C.D. Postel, 539 California, or LANG BROTHERS, Eddy and Powell, St. Ann's building." Postel was a member of the Beer Bottlers' Protective Association as early as March 1883, but it is not known if he had his unique bottles blown at that time. It is highly likely that he did.
By September 1885 Postel moved his bottling operations across the Bay to Oakland, where he advertised his "genuine Fredericksburg Bottled Lager Beer… Sole Bottler." C. D. Postel sold bottled beer simultaneously from Oakland and San Francisco until 1886. He and his family returned home to Germany for an extended stay, and when he returned, Postel moved his residence to Alameda, California. He became interested in real estate and became reasonably successful.
It must be noted that while Christian D. Postel was a beer bottler in 1886, the Postel Brothers (Arnold & Rudolph were possible cousins) were bottlers of Fredericksburg beer located at 919 Dolores and the northwest corner of Bush and Sansom. At the same address, there was also a Postel Brothers & Lau (Albert Lau), proprietors of the Cosmopolitan Saloon and agents of Fredericksburg bottled beer.
Primary Image: C. D. Postel T. M. S. F. Cal bottle imaged by Eric McGuire, FOHBC Virtual Museum West Coast Studio.
Support: Research by Eric MeGuire, Petaluma, California.
Join the FOHBC: The Virtual Museum is a project of the Federation of Historical Bottle Collectors (FOHBC). To become a member.