GV-10 "Lowell / Railroad" and Horse and Cart – Eagle Flask
GV – 10
"Lowell / Railroad" And Horse And Cart – Eagle
Historical Flask

Coventry Glass Works, Coventry, Connecticut
Dark Olive Green Half Pint
Provenance: Anonymous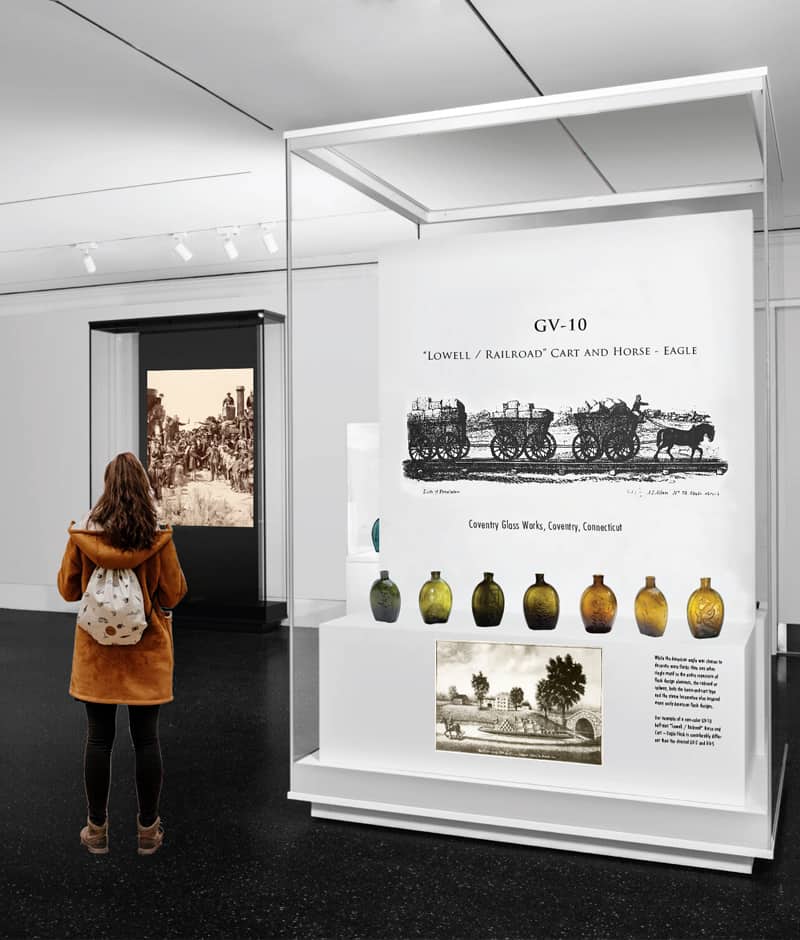 While the American eagle was chosen to decorate more flasks than any other single motif in the entire repertoire of flask design elements, the railroad or railway, both the horse-and-cart type and the steam locomotive also inspired many early American flask designs.
Our example of a rare-color GV-10 half-pint "Lowell / Railroad" Horse and Cart – Eagle flask is considerably different than the charted GV-2 and GV-5 "Success to the Railroad" examples on adjacent exhibits. It is also an extremely rare color for this common flask that was produced at the Coventry Glass Works in Coventry, Connecticut from 1830 to 1848.
See the museum example of a GV-2 "Success to the Railroad" – Locomotive flask attributed to Lancaster Glass Works.
See the museum example of a GV-5 "Success to the Railroad" and Horse and Cart flask attributed to Mount Vernon Glass Works.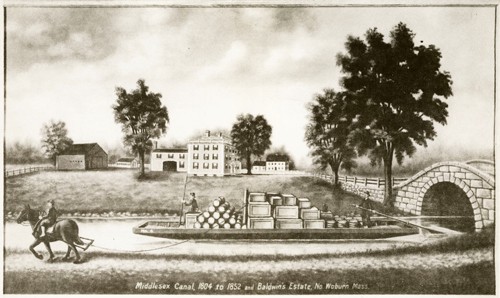 Incorporated in 1826 to serve as a mill town, Lowell, Massachusetts became known as the cradle of the American Industrial Revolution because of its textile mills and factories. While it was the water pow­er of the Merrimack River that powered the mills of Low­ell, it was the railroad that built the city.
When it opened, the Middlesex Canal was a 27-mile barge canal connecting the Merrimack River with the port of Boston. The canal was 30 feet wide, and 3 feet deep, with 20 locks, each 80 feet long and between 10 and 11 feet wide. It also had eight aqueducts. Built from 1793 to 1803, the canal was one of the first civil engineering projects of its type in the United States and was studied by engineers working on other major canal projects such as the Erie Canal. Twenty years later, Locks & Canals Corp. turned its first water wheel on the Merrimack. Raw cotton was shipped to Lowell on canal boats, and finished cotton was shipped to Boston. But the canal would freeze in the winter, limiting the transport of goods.

The concept of railroads came from England. The first railroad in the United States was built to move granite in Quincy in 1826 and was powered by horses. The same year, a line was built in Pennsylvania for hauling coal. Lowell manufacturers sought to build a rail line in the late 1820s, but the Massa­chusetts legislature was slow to approve the idea. The railroad received a charter on June 5, 1830, giving it exclusive rights to provide rail ser­vice between Boston and Lo­well. The line was built on a care­fully laid out 26-mile route through Charlestown, Cam­bridge, Medford, Winchester, Woburn, Wilmington, Tewks­bury, Billerica to Lowell. No grade was greater than 10 feet per mile. Bridges were constructed to carry wagon traffic over the railroad. The cost of construction was $1,600,000.
When looking at the GV-10 "Lowell / Railroad" and Horse and Cart – Eagle flask you will see on what is considered the primary or obverse flask face, an embossed horse pulling a long cart on rails toward the neck of the flask. The cart is filled with five barrels and boxes. Embossed copy reading 'RAILROAD' is placed in an arc above the cart and horse. 'LOWELL' is embossed in an arc below the rail. A horseshoe rib surrounds both inscriptions, the horse and cart, and rails.
The reverse of the flask pictures a large embossed American eagle with its head turned toward the lip. A breast shield contains seven vertical and two horizontal bars. The eagle has three arrows or thunderbolts in the right talon and an olive branch in the left talon. A total of thirteen five-pointed stars surround the eagle with five stars above the eagle's head. Three stars are closer to the lip and five stars are closer to the base.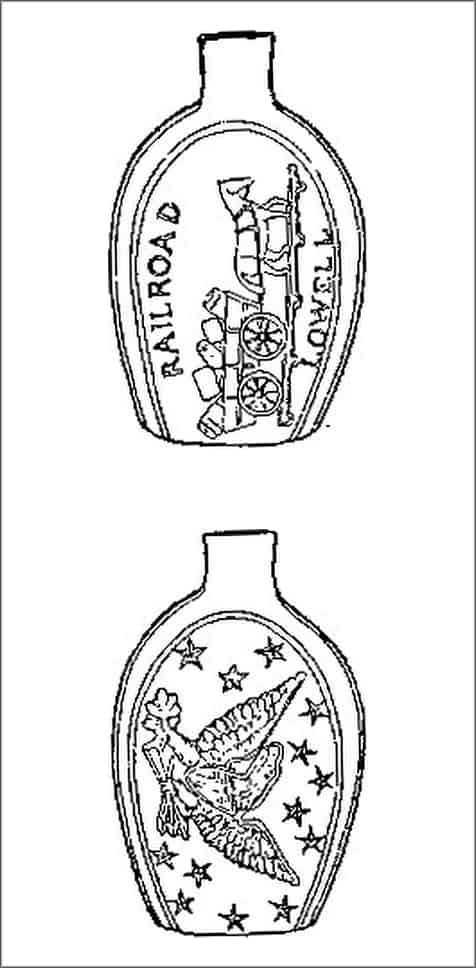 The half-pint flask has a plain lip and pontil mark. The flask edge is vertically ribbed (3) with a heavy medial rib.
Known glass colors are olive amber and dark olive green which are considered very common. Light amber and medium amber are considered common. Emerald green is considered rare. Our dark-olive example is extremely rare.
Coventry Glass Works
Seven men agreed to erect a glass factory in Coventry, Connecticut on January 14, 1813, along the Willimantic River. Four of the men, Captain Nathaniel Root, Ebenezer Root Nathaniel Root Jr., and Joseph A. Norton all of Coventry were not glassmakers. The group included Eli Evans, Thomas W. Bishop, and Uriah Andrews, glassblowers from East Hartford that had the experience to run the day-to-day operations. Eli, Thomas, and Uriah were to use their expertise where needed in the glass factory and be compensated at $26 per month and $45 for each year they worked in the plant. In 1816 there was an agreement to expand by adding buildings. Lack of wood is said to be the reason for the glassworks closing in 1848, but accounting books seem to indicate sales into 1849.
Primary Image: "Lowell / Railroad" And Horse And Cart – Eagle flask imaged on location by the FOHBC Virtual Museum midwest studio led by Alan DeMaison.
Support Images: Auction Lot 24: "Lowell / Railroad" And Horse And Cart – Eagle Historical Flask, Coventry Glass Works, Coventry, Connecticut, 1830-1848. Bright golden amber, sheared mouth – pontil scar, half pint; (light exterior high point wear). GV-10. A brighter color than normal with a crude "orange peel" exterior surface. Fine condition. Robert and Janice Weekes collection. – Norman Heckler, Norman C. Heckler & Company, Auction #164
Support Images: GV-10 yellow-olive and olive amber examples of "Lowell / Railroad" And Horse And Cart – Eagle historical flasks from Jim Hagenbuch, Glass Works Auctions
Support Images: Auction Lot 37: "Lowell / Railroad" And Horse And Cart – Eagle Historical Flask, Coventry Glass Works, Coventry, Connecticut, 1830-1848. Medium to deep forest green, sheared mouth – pontil scar, half pint; (1/4 inch flake on edge of mouth). GV-10 A beautiful color not often seen with this mold. Norman Heckler, Norman C. Heckler & Company, Auction #170
Support Images: Auction Lot 709: GV-10 HORSE PULLING CART – EAGLE PICTORIAL / HISTORICAL FLASK, half-pint, embossed "RAILROAD / LOWELL" on obverse, sheared mouth, heavy, crude rough pontil mark, olive green. Attributed to Coventry, Circa: 1830-1850. Condition: Undamaged except for a minute flake to inner mouth. Just a hint of high-point wear. Size: 5 1/2″ H. Provenance: From the Nancy DuPont Reynolds Cooch estate collection; proceeds to benefit the Toledo Museum of Art's Collection Fund. Reference 1: Literature: McKearin/Wilson – American Bottles & Flasks and Their Ancestry, p. 605, GV-10. – Jeffrey Evans, Jeffrey S. Evans & Assoc.
Support Image: David C. Johnson's lithograph of the "Granite Railway" – The American Antiquarian Society, Worcester, Massachusetts.
Support: Reference to American Bottles and Flasks and Their Ancestry by Helen McKearin and Kenneth M. Wilson, Crown Publishers Inc., New York, 1978.