G E Mustard
G E Mustard
Possibly Griesehop & Einhaus, Cincinnati, Ohio
Blue Aquamarine Barrel
Provenance: Lou Pellegrini Collection
Our early side-embossed 'G' and 'E' mustard bottle is not positively identified as we can find no specific information or examples previously found and documented. The current thinking is the jars were made for Griesehop & Einhaus, in Cincinnati, Ohio. Griesehop & Einhaus were first listed in the Cincinnati directories as grocers and liquor dealers in 1853, and as grocers only in 1855. In 1856, the partnership changed to Einhaus & Sager.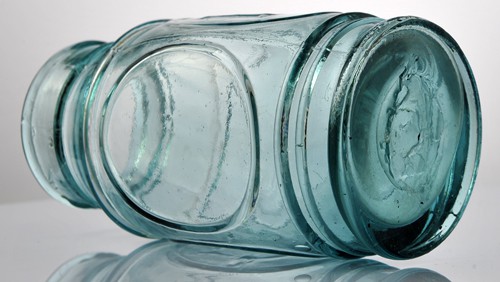 One prominent west coast digger says that he dug two examples of these mustards in San Francisco, and one in Stockton, California. All three were open tube pontil base jars. One example was a very deep teal glass and the other two were very light aquamarine glass. Over the years, a few others have been dug in the Cincinnati area, as well as shards or damaged examples.
See the museum example of an embossed "G K" mustard jar.
Mustard was a culinary requirement during the 19th century to spice up otherwise bland dishes and to cover up the off-flavors of foods in the age before refrigeration and other effective food preservation techniques. Mustard was also thought to be a cure for ailments ranging from congestion to hysteria, snakebite to bubonic plague.
The first mustard bottles were vials imported from England and the term mustard bottle first started being used in colonial advertising around 1758. This replaced shipping mustard in casks which was more expensive and cumbersome.
In 1825, Paul Louit established a small company in Bordeaux, France to market food products, which through the efforts of his descendants would become the mustard and chocolate manufacturer Louit Frères & Co. They would become the largest industry in southern France shipping their mustard globally. The advertisement below shows a ringed Moutarde Diaphane barrel jar that is similar to our museum example. You can see that the paper label carried all the pertinent information.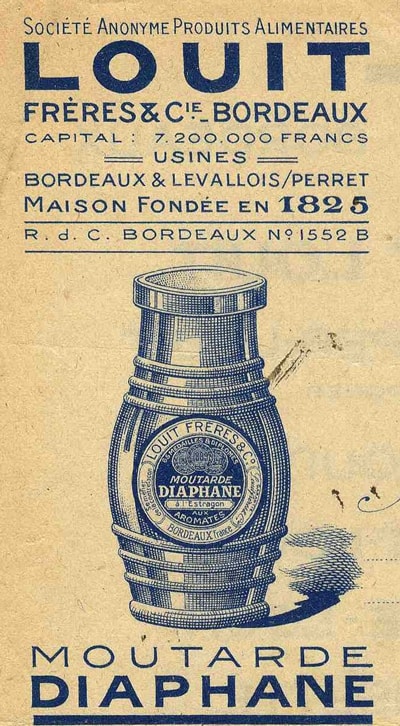 The French had a wide distribution of mustard in the United States. Their imported jars have been found in ocean and river shipwrecks and in many household privies and city trash pits. In the United States, many of the larger northeastern and midwest cities had popular mustard brands that were shipped to the west coast and specifically California gold country where this museum example was found.
See the museum example of a H. Baader Mustard Manuf Philadelphia.
See the museum example of a Wm. Schotten & Br. St. Louis mustard.
In the second half of the 19th century, many of the United States mustard manufacturers were regional and had a small distribution area. Mustard consumption was growing and the need for bottles multiplied in cities and towns. Mustard manufacturers many times placed embossed initials on their jars and would have relied on paper labels to promote the brand. They might have been a local grocer too. Of course, over time, the labels have long worn off, especially if the bottle was buried in the ground.
Mustard, both dry and prepared, was most commonly packaged in stylized wide mouth, squatty barrel-shaped bottles from the mid-19th until well into the 20th century.
The barrel mustard bottles typically have three molded rings or bands above and below the central label area. Other conformations ranging from two to at least six rings have also been noted as well as some with vertical staves. Most examples have rings that are separated by a distinct space, as opposed to figural bitters barrels that use tight rings.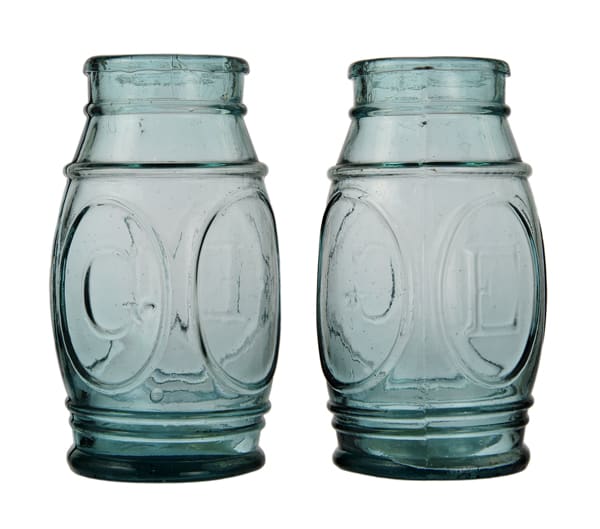 Our small aqua cylindrical jar measuring 4-½" tall by 2-¼" wide, is an interesting assemblage of geometric ovals, curves, and rings. The four embossed outline vertical ovals appear like windows. Two opposite windows each contain a single large embossed classic serifed character, either the 'G' or 'E.' The are two embossed rings below the windows and one ring above. An embossed ring also occurs at the juncture of the barrel form and neck. The mouth is ringed and rolled. There is a ring on the base while the bottom has a pronounced rough pontil.
With imagination, the barrel form bottle or jar looks like the French novelist Jules Verne diving bell or time machine from his Voyages extraordinaires, a series of bestselling adventure novels including Journey to the Center of the Earth (1864), Twenty Thousand Leagues Under the Sea (1870), and Around the World in Eighty Days (1872).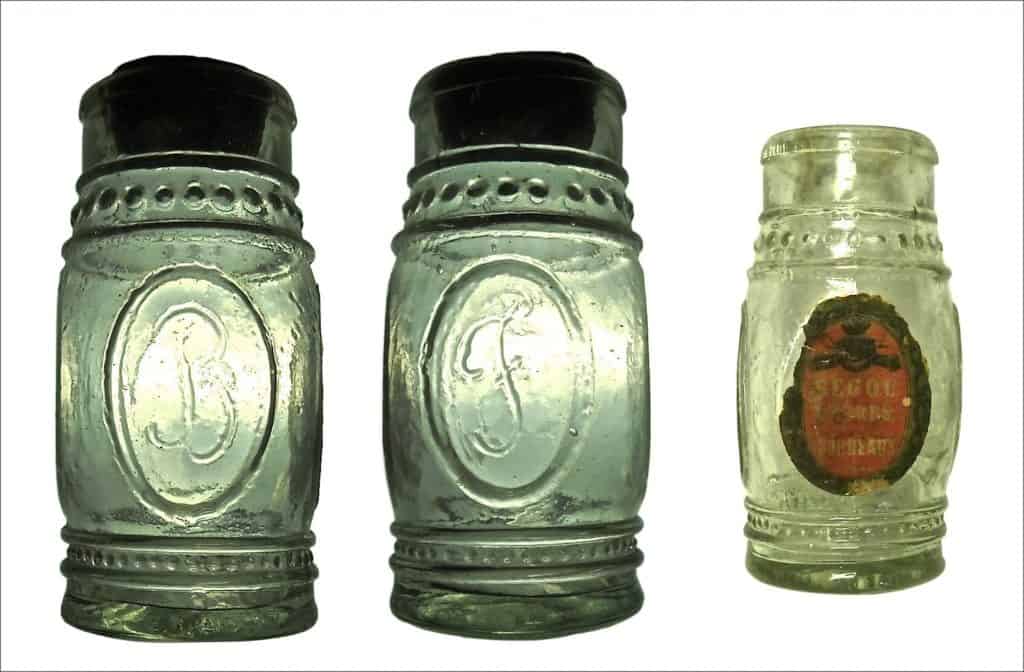 Primary Image: The "G E" mustard bottle imaged by the FOHBC Virtual Museum west coast studio by Gina Pellegrini.
Support Images: Auction Lot 109: Lot of (2), Rare, "G" – "E" Barrel Mustard Jars, probably 1853 – 1856. Bright, bluish aqua and sapphire blue, both are barrel form with oval body panels, sheared and outward rolled mouths – sand type pontil scarred bases, ht. 3 ¾"; (bright aqua example professionally cleaned to original luster and near mint condition; sapphire example professionally cleaned with a little ground wear and some minor etching remaining). Believed to have been blown for Griesehop & Einhaus, Grocers, Cincinnati. Both of these very scarce-to-rare pontiled mustard jars were dug in Cincinnati in the 1980's. Over the years, a few others have been dug in the Cincinnati area, as well as shards or damaged examples. Griesehop & Einhaus were first listed in the Cincinnati directories as Grocers and Liquor dealers in 1853, and as Grocers only in 1855. In 1856, the partnership changed to Einhaus & Sager. A very attractive, and rare, pair of early mustard jars. – John Pastor, American Glass Gallery, Auction #33
Support: Reference to American Bottles and Flasks and Their Ancestry by Helen McKearin and Kenneth M. Wilson, Crown Publishers Inc., New York, 1978.
Support: Reference to Ketchup Pickles Sauces – 19th Century Food in Glass by Betty Zumwalt
Join the FOHBC: The Virtual Museum is a project of the Federation of Historical Bottle Collectors (FOHBC). To become a member.