Thos Maher Porter & Ale, Savannah, Ga
T. Maher
Savannah, GEO
Porter & Ale
Thomas Maher, Savannah, Georgia
Blue Green Porter
Provenance: Michael Newman Collection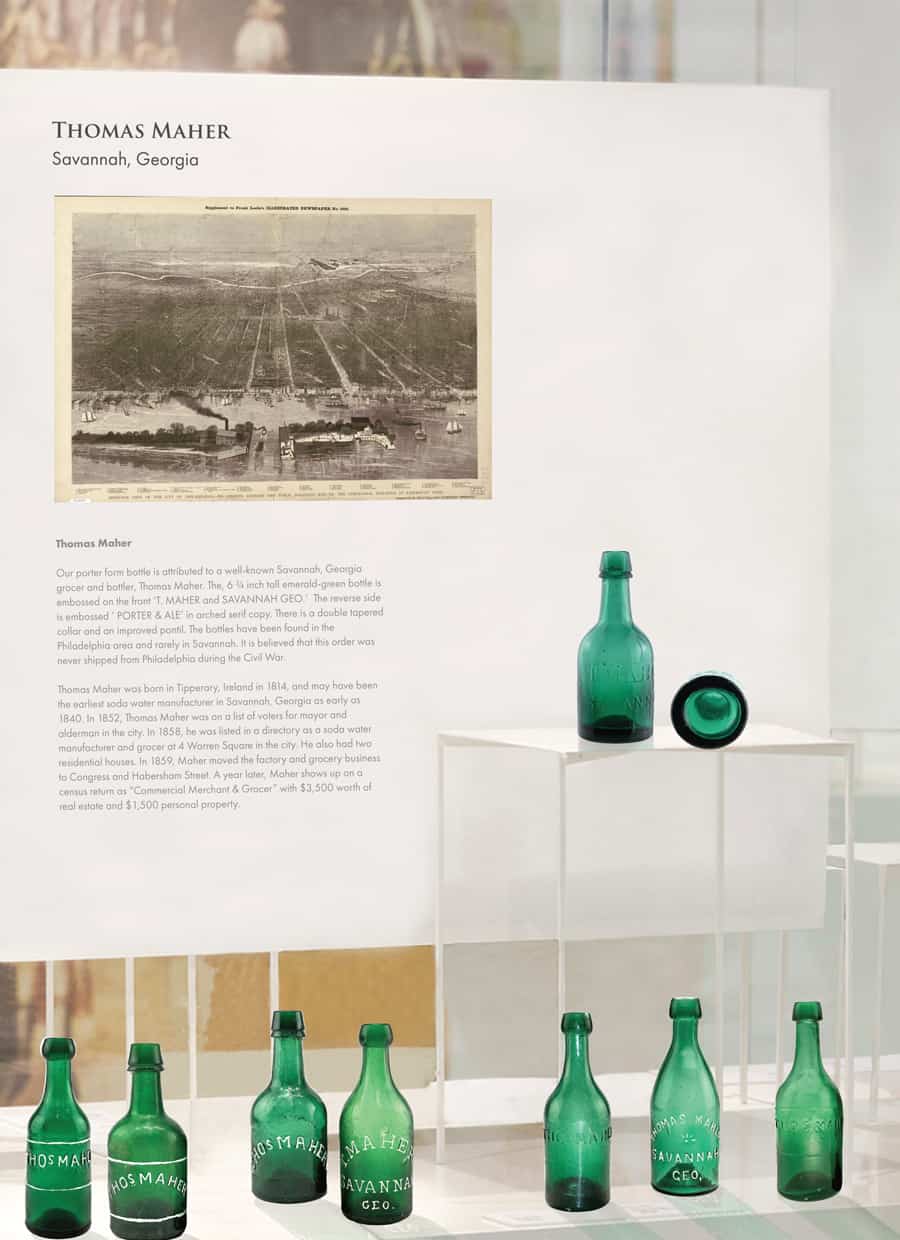 Our squat Porter form bottle is attributed to the well-known Savannah, Georgia grocer and bottler Thomas Maher. The 6 ¾ inch tall blue-green bottle is embossed on one side in a bold serif typestyle 'T. MAHER' and 'SAVANNAH GEO.' in three horizontal centered stacked lines. The opposite side of the cylindrical bottle is embossed 'PORTER & ALE' in an arched serif type. There is a double-tapered collar and a smooth base which date the bottle to after 1860. The bottles have been found in the Philadelphia area and rarely in Savannah suggesting that the Maher order was never shipped from the Dyottville Glass Works near Philadelphia during the Civil War.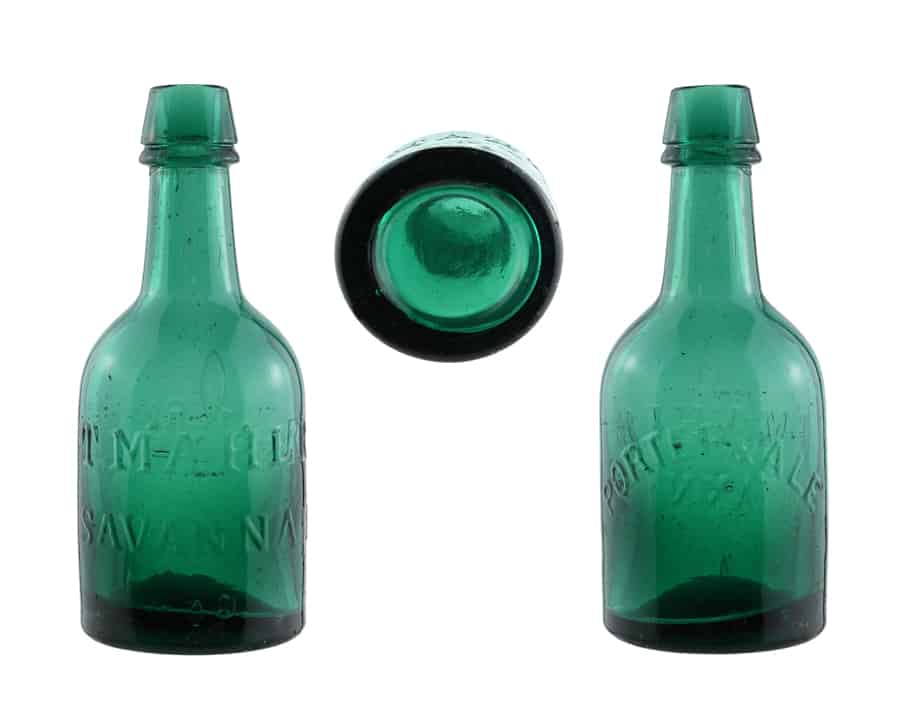 Thomas Maher was born in Tipperary, Ireland in 1814, and may have been the earliest soda water manufacturer in Savannah, Georgia, as early as 1840. In 1852, Thomas Maher was on a list of voters for mayor and alderman in the city. In 1858, he was listed as a soda water manufacturer and grocer at 4 Warren Square in the Savannah City Directory. He also had two residential houses. In 1859, Maher moved the factory and grocery business to Congress and Habersham Street. A year later, Maher is represented on an 1860 United States Federal Census Return as a commercial merchant and grocer with $3,500 in real estate value and $1,500 in personal property.
Over time, at least eight different bottle molds with different embossings were made for Thomas Maher, indicating he was quite successful. The earliest bottle known for Maher is an open pontil soda water blown at the Dyottville Glass Works. Today it is recognized as the only known Savannah soda with an open pontil which is a circular glass inclusion on the bottle base, which is caused by the use of the blow-pipe instead of a punty rod. The punty rod can cause a solid glass pontil or a variety of so-called improved pontils. The use of a blowpipe pontil would generally speed things up by not having to use a punty rod. The reason for the ring of glass that we call an open pontil is that it was readily available, with glass left over from the snapping off the previously blown bottle. Most open pontil bottles were made before 1855.
The last bottles made for Thomas Maher were embossed Porter and Ale and found only in Philadelphia, where they were made. Maher's last shipment of bottles was likely held up due to the blockade of the South during the Civil War. It is believed the bottles were sold and used by local Philadelphia merchants. Maher did not advertise in any city directories or newspapers for some reason, leaving only his bottles as a record.
Thomas Maher was married to Winifred, also of Tipperary, Ireland, and the couple had at least three children: James, Johanne, and Winiford M. Maher. Thomas Maher died in Savannah on April 18, 1861. He was 47 years old and was buried in the Catholic Cemetery in Savannah. Maher's widow Winifred remarried on December 22, 1863, to James McGrath, and eventually, his son James Maher formed a partnership with his stepfather. The firm known as James McGrath & Co. was a grocery business at 19 Whitaker Street. The firm also had another location at 175 Bay Street. Both were wholesale and retail dealers in groceries and liquors.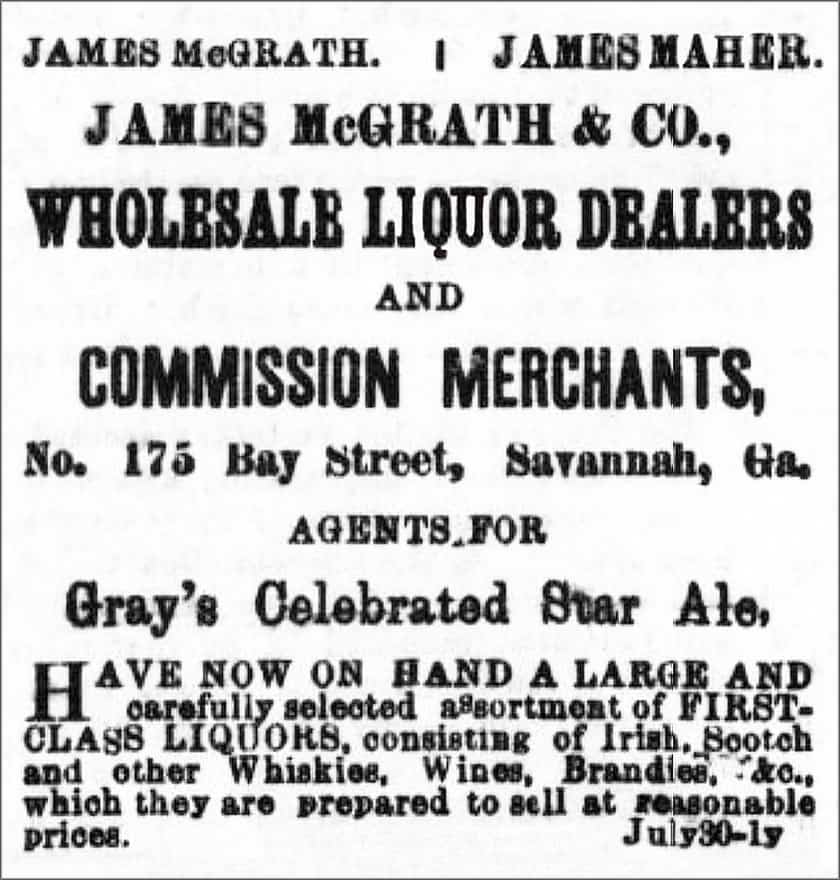 Primary Image: "Thos Maher Savannah Geo Porter & Ale" Type 7 bottle imaged on location by Alan DeMaison, FOHBC Virtual Museum Midwest Studio.
Support: Secondary Maher bottle images primarily from Glass Works Auctions, Early Georgia Sodas and Soda & Beer Bottles of North America.
Support: Research by David Kyle Rakes, Summerfield, Florida.
Support: Reference to Early Georgia Sodas, The Bottles & Proprietors, Atlanta, Augusta, Columbus, Macon, Savannah & Valdosta by David Kyle Rakes and Ferdinand Meyer V, September 2021.
Support: Reference to Soda & Beer Bottles of North America, Tod von Mechow.
Join the FOHBC: The Virtual Museum is a project of the Federation of Historical Bottle Collectors (FOHBC). To become a member.