GX-24 "Jared Spencer" Medallions and Diamond Diapering Flask
GX – 24
"Jared / Spencer" In A Medallion Above Diamond Diapering
"Manchester / Con." In A Medallion Above Diamond Diapering
Decorative Flask

Pitkin Glass Works, Manchester, Connecticut
Light Olive Amber Pint
Provenance: Anonymous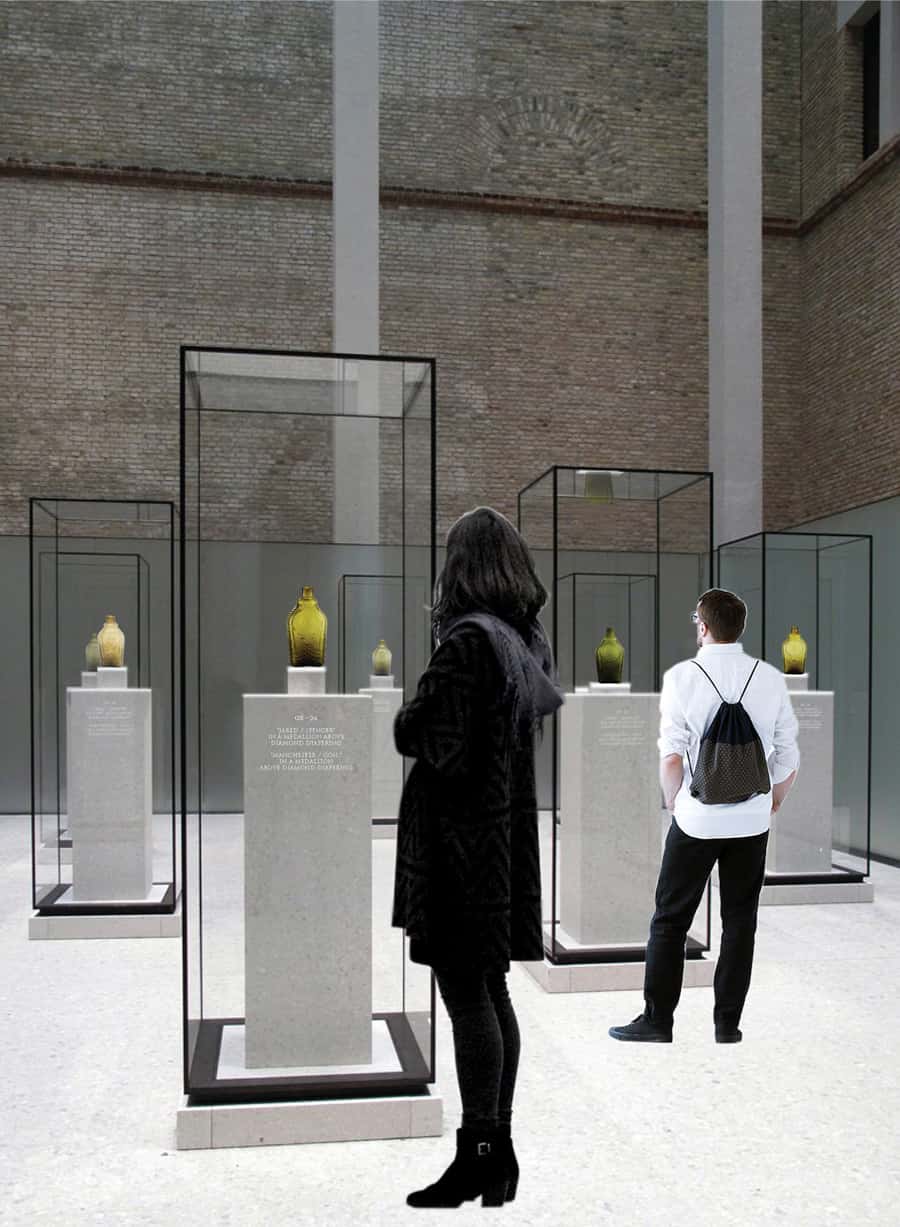 When a light yellow-olive, pint GX-24 Jared Spencer flask was last auctioned in the Norman C. Heckler – Warren C. Lane, Jr., Esquire Collection of Historical Connecticut flasks in 2012, it included the "Three Kings", the Jared Spencer Historical Flasks GX-24, GX-25, and GX-26.
Our museum has an excellent, light olive-amber example that we have featured along with the second specimen from the Heckler auction. These are magnificent early American decorative flasks. The "Three Kings" are pictured together below with Norman Heckler, Sr.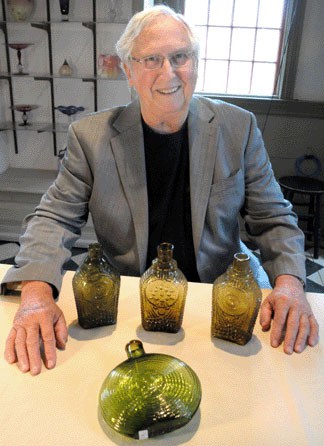 See the museum example of a GX-25 Jared Spencer Flask
See the museum example of a GX-26 Jared Spencer Flask
One of the most sought after items in the flask group having been collected by the earliest collectors for a century or more and prized ever since."

Norman Heckler
As an example of how bottles increase in value over the years I would cite a few instances. In 1931 I purchased a flask known as the Jared Spencer and marked Manchester, Conn. from Stephen Van Rensselaer for $75. A few years later a friend collector offered me a $500 G. E. electric refrigerator for this flask and right away the wife made up my mind to accept. About three years later the same friend obtained a duplicate of the flask and traded it back to me for three flasks that cost me a total of $45.00. In 1956 a duplicate of this flask sold for $570.00."

Charles Gardner fromThe Lure of the Empty Bottle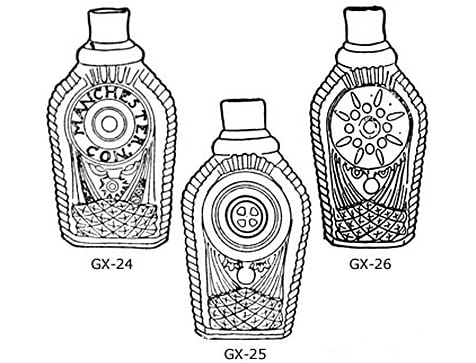 On what is considered the primary face of the pint GX-24 Jared Spencer flask you will see a large medallion with the embossed 'JARED SPENCER' copy in a circle enclosing two convex rings and a concave middle. Below the medallion is a pendant sunburst with a concave center and loop at either side above. Flanking the sunburst shield are ribs converging with sunken diamonds (3) between. A heavy diamond diapering design covers the lower part of the flask.

The reverse of the flask is the same as the other side except for the embossed 'MANCHESTER CON.' in the medallion.
The pint flask has a plain lip and pontil mark. The side is corrugated horizontally. The corrugations extend around the flask at the base and juncture of the neck and body.
The GX-24 flask can be found in gold amber, clear amber, light olive amber, and olive amber glass. All are considered extremely rare.
This private mold Jared Spencer flask was produced at the Pitkin Glassworks or John Mather's East Hartford glassworks that became Manchester in 1823, both in Connecticut.
Primary Image: The GX-24 Jared Spencer flask imaged on location by the FOHBC Virtual Museum midwest studio led by Alan DeMaison.
Support: Reference to American Bottles and Flasks and Their Ancestry by Helen McKearin and Kenneth M. Wilson, Crown Publishers Inc., New York, 1978.
Support Images: Auction Lot 34: "Jared / Spencer" in a Medallion Above Diamond Diapering – "Manchester / Con." in a Medallion Above Diamond Diapering Decorative Flask, Pitkin Glass Works, Manchester, Connecticut, 1815-1830. Light yellow olive, sheared mouth – pontil scar, pint. GX-24. One of the most sought-after items in the flask group having been collected by the earliest collectors for a century or more and prized ever since. Good embossing, beautiful color, extremely rare. Ex Dr. Charles Osgood collection, Warren "Bud" Lane collection. – Norman C. Heckler & Company, Auction #100