Wm F. Kidder & Co. New York
Wm. F. Kidder & Co.
New York
William F. Kidder, New York City, New York
Oval Amber Druggist Bottle
Provenance: Brian Bingham Collection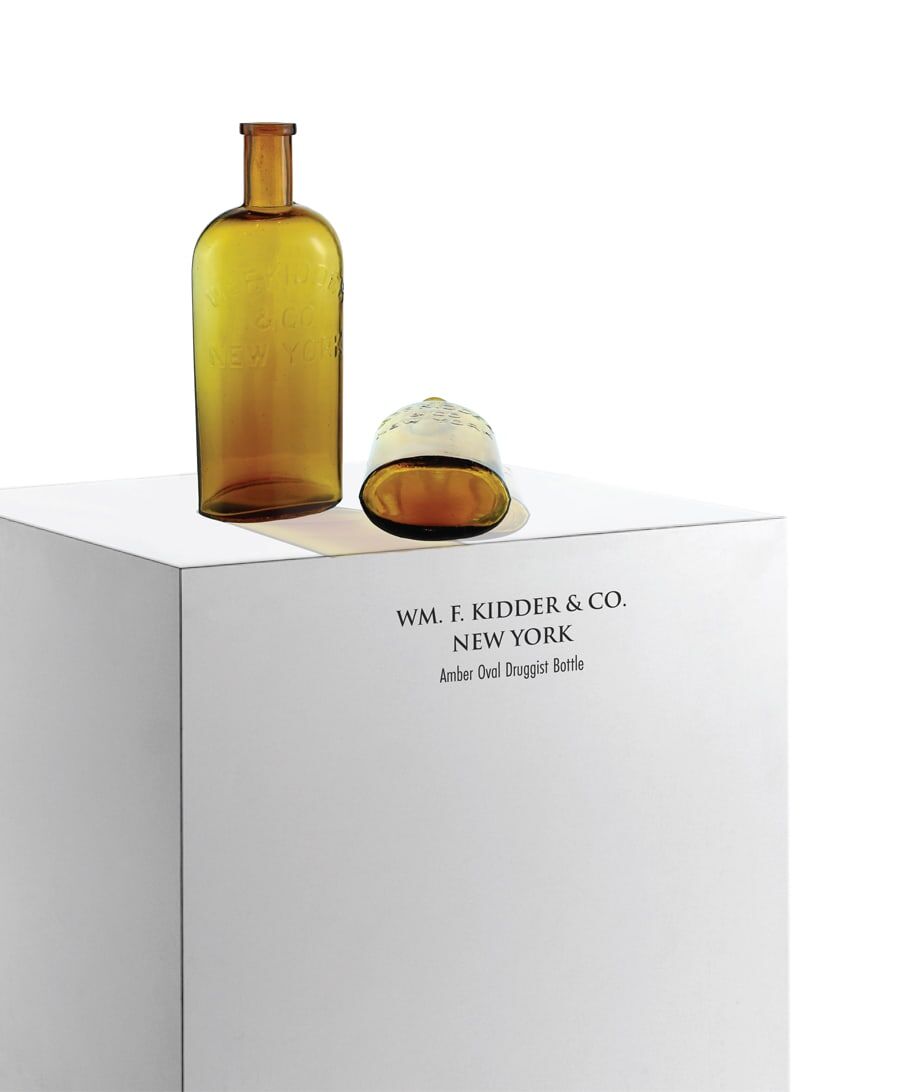 William F. Kidder was born sometime around 1828 in New York. He was a druggist and chemist associated with many patent medicines and drugstore products. The first time we see him listed with any substance was when he partnered with Eugene Wetherell. Newspaper advertisements for Kidder & Wetherell & Co., located at 32 (sometimes 52) Cedar Street in New York City, sold Dunro's Catarrh Snuff in 1869 and Kasarine, a hair pomade, in 1870.
By 1873, the partnership had changed to Kidder, Wetherell & Co., now at 83 John Street. They relied on constant and continuous advertising to sell a variety of products. As an example; on just one page within the Christian Leader newspaper, Kidder, Wetherell & Co. had their name at the bottom of different ads for Flagg's Instant Relief, Hathorn Spring Water from Saratoga, Dr. R. A. Wilson's Pills, French Pepsin, Dr. Gallup's Syrup of Brier Root, Beckwith's Pills, Dr. Hedge's Fever and Ague Annihilator, Dr. Hurley's Worm Candy and Brandin's Salve.
In late 1873, Wetherell was gone from the partnership and William F. Kidder & Co., 33 John Street, was noted as the successors to Kidder, Wetherell & Co. William Kidder would have several more partners and then renamed his business, Kidder & Laird, in April 1877 which lasted to May 1884. Kidder was also financially interested in the Carbolic Soap Company and the Pulsometer Pump Company and was a New York City transportation board member. He lived and owned valuable property in Orange, New Jersey, and had a good reputation in the wholesale druggist trade. Kidder also was well-known as a breeder and seller of thoroughbred horses.
Though he remained in the drug business, Kidder's newspaper patent medicine advertising slowed tremendously in 1875 through the decade's end. Over the coming years, his name was used in a few testimonials for products such as Pond's Extract in 1881. In 1887, William F. Kidder & Co., still at 83 John Street, was back to aggressive newspaper advertising for his new product Digestylin, which he was also manufacturing. Advertising said it was a potent remedy for Indigestion and Dyspepsia. He sold it for $1.00 a bottle.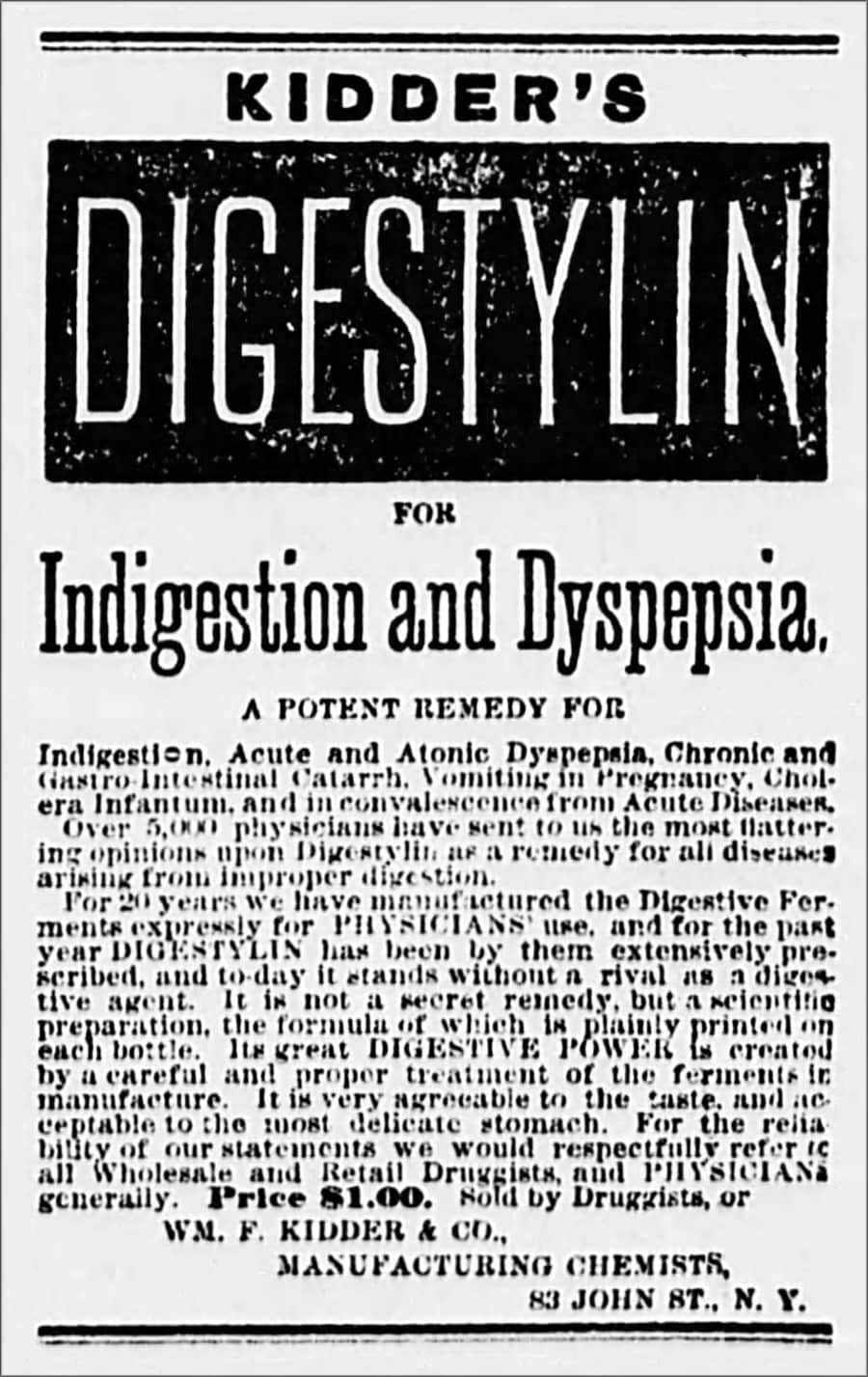 Our oval museum bottle may have contained Kidder's Digestylin and had a label saying such affixed to the amber glass. The 12-ounce, smooth base, mouth-blown druggist bottle is embossed "Wm. F. Kidder & Co., New York" in three lines on the face. Examples can also be found in colorless glass.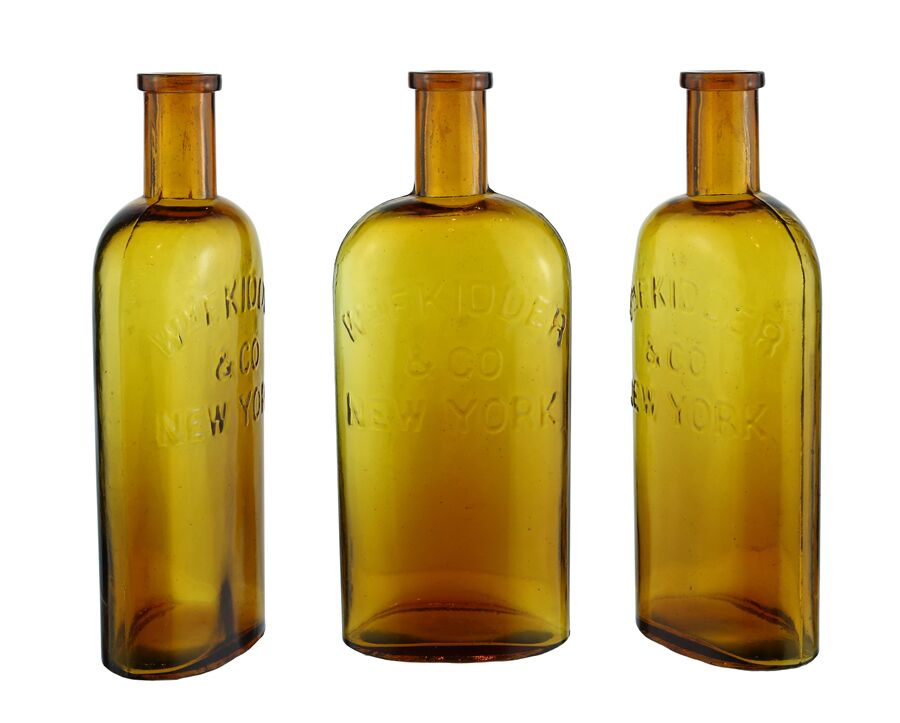 On January 14, 1888, William F. Kidder & Co. was noted as being in trouble in the New York Tribune. This was just after Kidder filed, on December 19, 1887, Articles of Incorporation for William F. Kidder & Co. with a capital stock of $100,000. "William F. Kidder and Vas Houghton, composing the firm of William F. Kidder & Co., dealers and patent medicines at No. 83 John st., made an assignment yesterday to Benjamin Y. Pippey. The failure caused great surprise in the trade, as a year ago he had claimed property worth $150,000. Mr. Kidder, who lives in East Orange, did not come to his office yesterday, and his clerks could not give any of the details of the failure. It was stated there, however, that Mr. Kidder had spent large amounts in advertising his specialties, and the returns had come in slowly lately. Business had been dull and obligations were maturing which he could not meet. The failure of his former partner, George W. Laird, some months ago, had also affected him indirectly, as he had aided one of Mr. Laird's creditors to a considerable extent. Mr. Kidder had hoped to pull through, but found he was unable to." Friends of Kidder said that the firm was solvent and would pay 100 cents on the dollar in a short time as Kidder held valuable real estate that he could not realize immediately.
Several weeks later, a more optimistic notice appeared in the March 1888 edition of the Druggist Circular and Chemical Gazette. "The assignee of Wm. F. Kidder & Co. reports the nominal assets at $38,000, actual assets at $21,000 and gross liabilities at $62,000. There is an effort being made to effect a settlement with the creditors so that business may be resumed."
It appears Wm. F. Kidder continued in business, remaining with the company for several years. They were still listed at 83 John Street with the classification "patent medicines" in the 1890 and 1891 New York City directories. The following year, the company moved to 19 Beekman Street, and by that time, Kidder must have sold out or diminished his role, as he was no longer listed or associated with the business or address.
The 1895 New York City Copartnership and Corporation Directory listed Wm. F. Kidder & Co. as a New Jersey Corporation with a capital of $12,000. Still located at 19 Beekman Street, George Currier was listed as president, and Frank W. Bailey and Horace W. Campbell as secretary and treasurer, respectively. Around 1900, the company moved to 26 Cliff Street, where William F. Kidder & Co. was still listed with the same officers. They vanished from the directories by 1904.
Primary Image: Wm. F. Kidder & Co. New York bottle imaged by Alan DeMaison at the FOHBC Reno 2022 National Antique Bottle Convention mobile imaging station.
Support: Reference to Wm. F. Kidder New York, Mike's Bay Bottles, February 7, 2020
Join the FOHBC: The Virtual Museum is a project of the Federation of Historical Bottle Collectors (FOHBC). To become a member.