Bininger's Peep-O'-Day No. 19 Broad St. N.Y.
Bininger's Peep-O'-Day
No. 19 Broad St. N.Y.
Abraham Bininger, Isaac Bininger, Abram Merritt Bininger
New York City, N.Y.
Amber Flask
Provenance: Chris Bubash Collection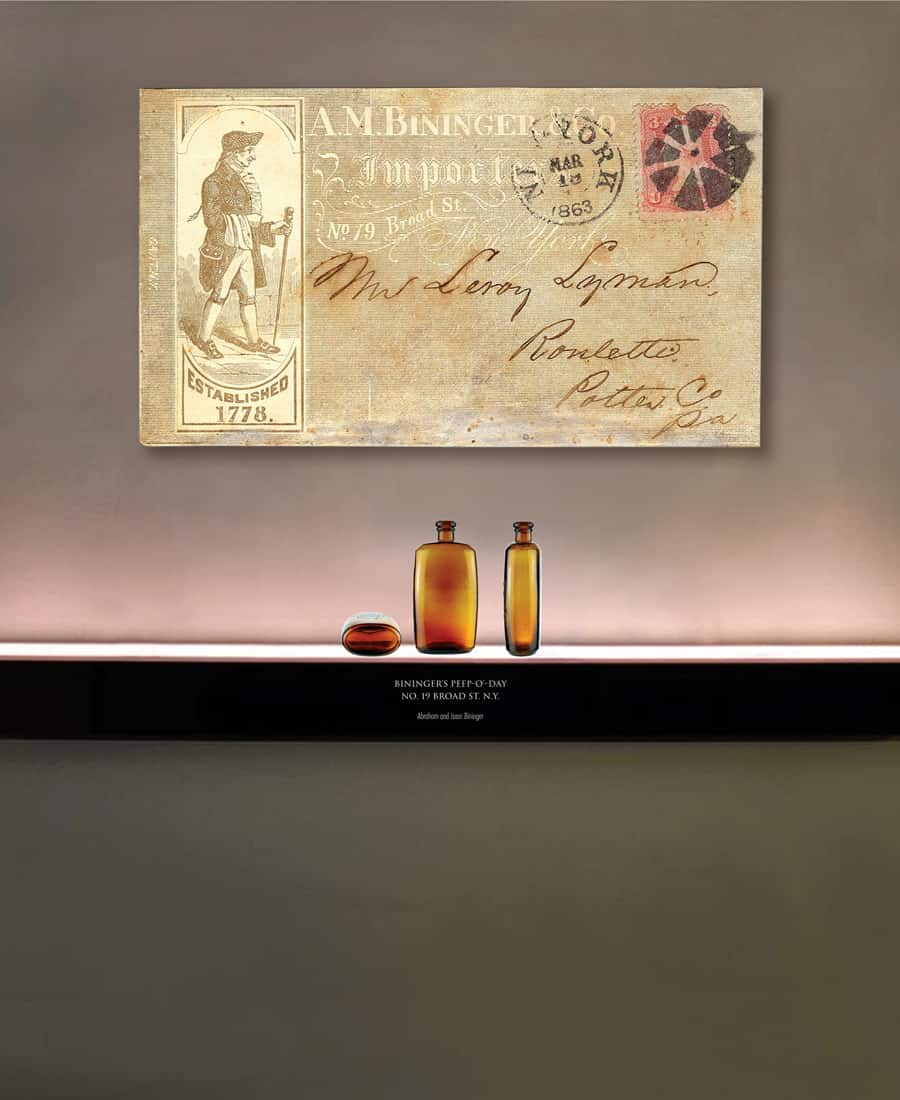 Antique bottle collectors cherish Bininger bottles from New York City. The variety of shapes, embossing, glass color, and history is remarkable. Abraham Bininger would establish the famed A. Bininger grocery house. His brother Isaac and his son Abram Merritt Bininger were responsible for the parallel Bininger liquor empire and A. M. Bininger & Co., located at No. 19 Broad St. in New York City.
Our 7 5/8″ tall amber flask is a somewhat odd vertical rectangle bottle. It is embossed 'BININGER'S' in a serifed typestyle in an arc on the face of the bottle. 'PEEP–O'–DAY' is embossed in sans-serif type in the second straight horizontal line beneath followed by 'NO. 19 BROAD ST. N.Y.' in two lines, again in a serifed alphabet beneath. The "o" of "No" is lowercase. The number "19" seems to be italicized. "Broad St. N.Y." is a concave arc creating the fourth line. The "T" of "ST" is smaller and raised. The entire typographic arrangement forms a circle. There is an applied double collar mouth, and the base is smooth.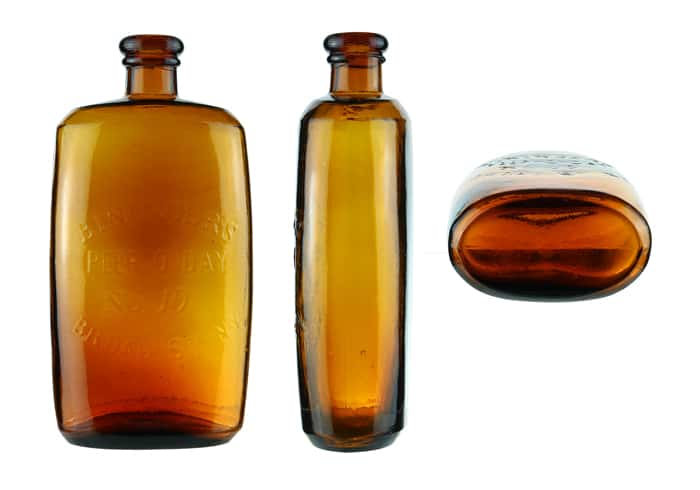 The eldest or founder of the American Bininger name was Abraham Bininger, born in 1720 (d 1811) and a native of Bulock (or Baden-Bulach) in Canton Zurich, Switzerland. In 1734, he came with his father, Christian Bininger, and mother on a brig from a port in Europe to Savannah, Georgia.
The vessel was within two days' sail of her port when Christian Bininger and his wife died, and their bodies were committed to the deep. Young Abraham, then a lad, was educated in the great Methodist Whitfield Orphan School in Savannah. A large crowd of Moravians had settled in this Southern city. This group emigrated north to Philadelphia, and young Bininger came with them where he was educated in the Moravian tenets with the intention of becoming a preacher in that faith.
Abraham settled at Christian Spring, a mile from Nazareth, and there began his preaching. He married at the same time and became the father of five sons, and a daughter who died at a very young age. The second eldest was named Abraham, who was destined to found the great Bininger grocery house in 1778 in New York City. His brothers were Christian, Joseph, John, and Isaac.
In 1761, Abraham was dispatched to New York to begin an apprenticeship at a tanner and leather dresser trade in the Swamp. Back in the early days of New York, Manhattan was narrower, swampy, and full of things called slips, narrow slivers of harbor left for boats. Abraham served there seven years but did not like the business and declared he would never engage in it for a living.
After his apprenticeship, Abraham made a living by working at day's work as a common laborer. He hired out wherever he could get a job. He had at this time a friend named Peter Embury, who was a nephew of the Methodist minister, the founder of John Street Church. Peter was also a celebrated and well-known grocer and wine merchant. Embury went early into the grocery line and was located at the corner of Beekman and Nassau streets. Peter had a sister, and she married Abraham Bininger when he left the tanning business.
Kate Embury Bininger was a beautiful, outgoing girl and was very smart. She soon discovered that it was uphill work for her husband Abraham to support a family with the earnings of a day laborer, and she proposed to assist him by taking in washing and ironing. Abraham agreed, and their little money-making endeavor commenced. Kate then proposed that Abraham should purchase a sales table to stand outside of their door, and she would, while washing, keep her eyes looking out of the window at this table and its contents of their merchandise.
Their place of business was a little shanty, on old Augustus street, eventually City Hall Place. At first, the young wife only sold a few cakes, cookies, and sugar plums. It changed to cabbages, potatoes, fruits, tobacco, snuff, and finally, a few groceries. Here was indeed the first seed of the great Bininger grocery house.
As noted previously, Isaac Bininger was the brother of Abraham and, after the war, lived with his father at Camden Valley, N.Y. He was rather educated compared to his brother Abraham. Isaac opened a store at Camden Valley, which was described as the most extensive store between Albany and Montreal, even though this was a rather primitive region and time. Isaac was the genesis of the A. M. Bininger liquor empire.
Isaac was very successful and sent word down to New York City for his brother Abraham to come up and share in the mercantile prosperity of the Bininger stock. Abraham departed from New York, leaving his wife Katy in charge of the shop on Augustus street, and joined his brother at Camden Valley as a partner. After a short time, the brothers decided that Abraham should come back to New York and sell or barter away the produce and products from his and Kate's stand and buy goods for the return trip. Abraham, following the agreement, returned to New York, never to leave it again as all this experience allowed him to start the great grocery house under his name. Up to this period, Abraham and Kate's business had not progressed beyond selling a few penny's worth of snuff, sugar, tobacco, candies, and vegetables. After working with his brother Isaac for some time now and being the sole agent for New York City, they dissolved the partnership, and Abraham received his share of the profits.
Abraham would open up a small grocery store in Maiden Lane, opposite the old Oswego market. It was a great store in those days as it became the place to buy fresh produce, fruits, and groceries. Prosperity flowed in, and the prudent grocer bought two lots opposite the market, Nos. 10 and 12 Maiden Lane. By 1843 it was said that no house in the United States had such a large stock of grocery items, choice wines, liquors, cigars, and such.
Abram Merritt Bininger, Isaac's son, was born in 1800 and would follow a similar path, starting in groceries. He went on and founded A. M. Bininger, eventually becoming A. M. Bininger and Co., located at No. 19 Broad Street. This address is embossed on our Bininger's Peep-O'-Day flask. This company was responsible for all the great bottles, advertising, and labels.
Interestingly, both entities said they were the "first" retail Bininger, which is another story. A. M. Bininger would die in October 1870. His obituary said he was one of the oldest merchants of New York City and was a gentleman that was highly respected and esteemed by all who knew him.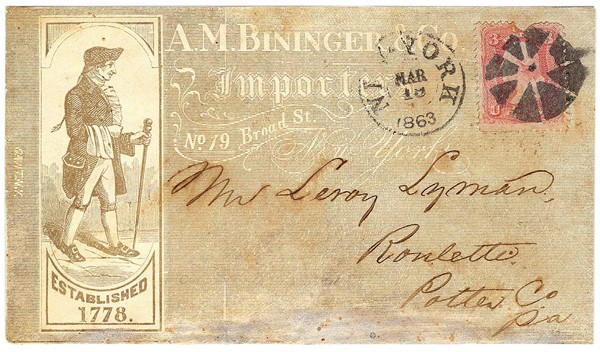 Primary Image: Bininger's Peep-O'-Day flask imaged on location by Alan DeMaison, FOHBC Virtual Museum Midwest Studio
Support Image: Auction Lot: BININGER'S / PEEP-O-DAY / NO. 19 / BROAD ST. N.Y., (Denzin BIN-35), New York, ca. 1860 – 1870, amber flask, 7 5/8"h, smooth base, applied double collar mouth. A tiny chip, possibly in the making, is on the inside edge of the lip. Also, some light scratches commonly associated with this bottle. – Glass Works Auction, Auction #96 (Part 2)
Support: Reference to The Old Merchants of New York City by Joseph Alfred Scoville, 1863
Support: Reference to Abraham Bininger by John B. Pine, The New York Genealogical and Biographical Record. Devoted to the Interests of American Genealogy and Biography (1870-1910); New York Vol. 33, Iss. 3, (Jul 1902): 135.
Join the FOHBC: The Virtual Museum is a project of the Federation of Historical Bottle Collectors (FOHBC). To become a member.