GIX-11 • Scroll Flask
GIX – 11
Scroll Flask
Attributed to a Midwest Glass House

Cobalt Blue Pint
Provenance: Alan DeMaison Collection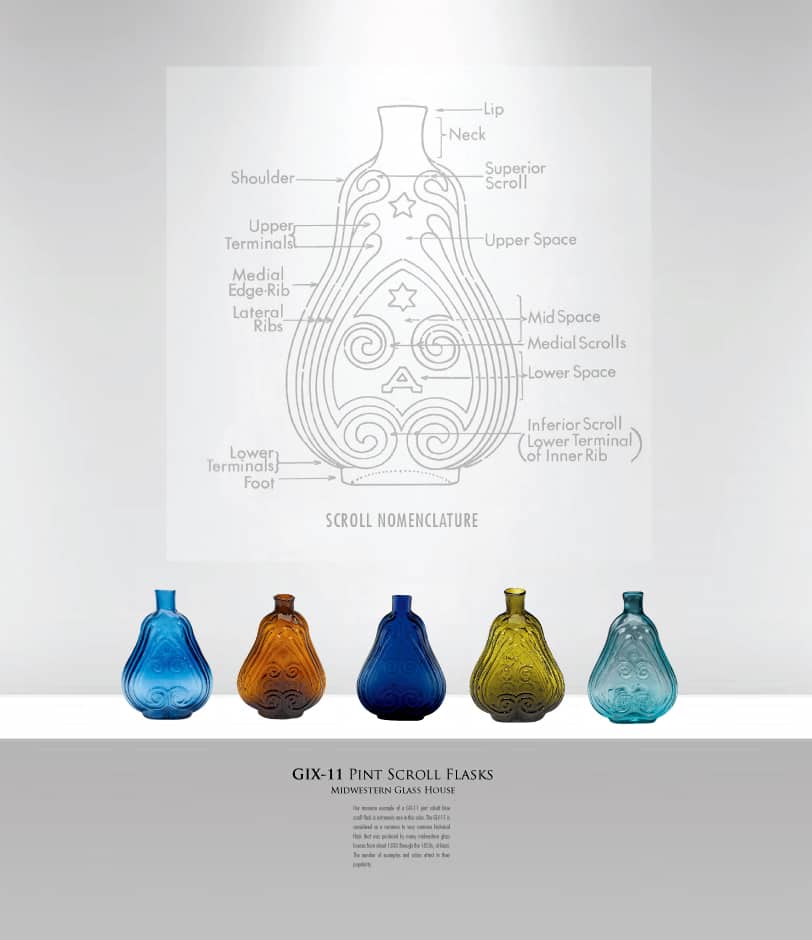 Our museum example of a GIX-11 pint cobalt blue scroll flask is extremely rare in this color. The GIX-11 is considered as a common to very common historical flask that was produced by many midwestern glasshouses from about 1830 through the 1850s, at least. The number of existing examples in many glass colors attest to their popularity.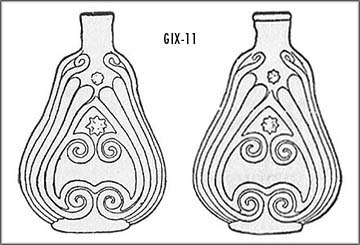 The GIX-11 pint scroll flask is devoid of embossed typography and appears the same on both sides. The flask has medial scrolls that are well defined with space between the scrolls. The upper space has a small eight-pointed star that is usually not well defined and a medium eight-pointed star just above the mid-space. The GIX-11 can be found with a plain or flat collar lip with a base that has a pontil mark or iron oxide deposit.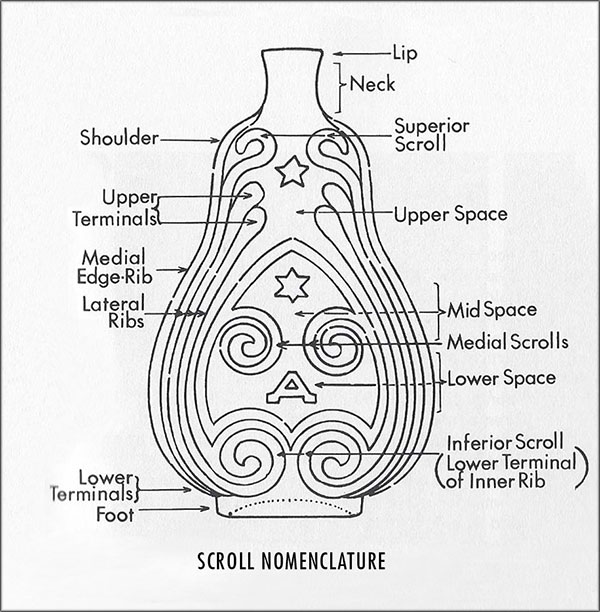 As far as glass color, the GIX-11 scroll flask is very common in aqua, common in bluish aqua, comparatively scarce in a green tint, light amber, golden amber, deep golden amber, light golden amber, clear bright amber, amber, dark amber, red amber, and scarce in apple green, sage green, deep blue-green and pale cornflower. It is rare in emerald green, emerald green (bluish tone), yellow-green, bluish emerald green, blue-green, citron, olive-yellow, olive amber, olive green, dark olive green, dark olive green (black), cornflower, light sapphire, and moonstone. It is very rare in pink, dark sapphire, and extremely rare in peacock blue, cobalt, dark blue (black), and purple.
The GIX-11a variant has two medium eight-pointed stars. An example is pictured below.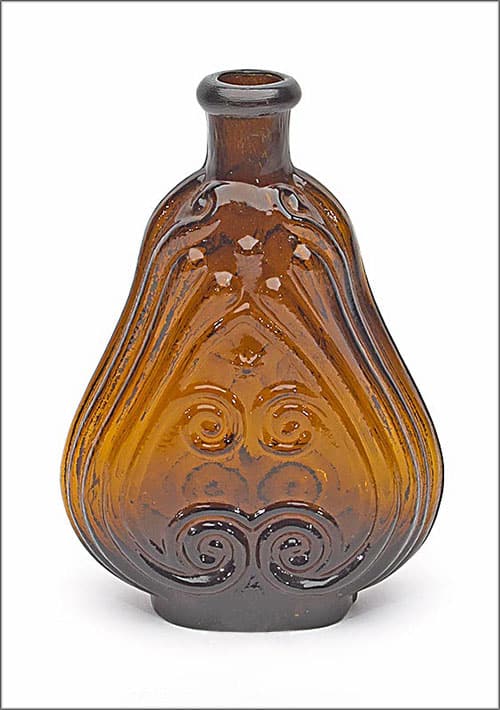 Primary Image: GIX-11 Scroll Flask imaged on location by the FOHBC Virtual Museum midwest studio led by Alan DeMaison.
Support: Reference to American Scroll Flasks by Mark Vuono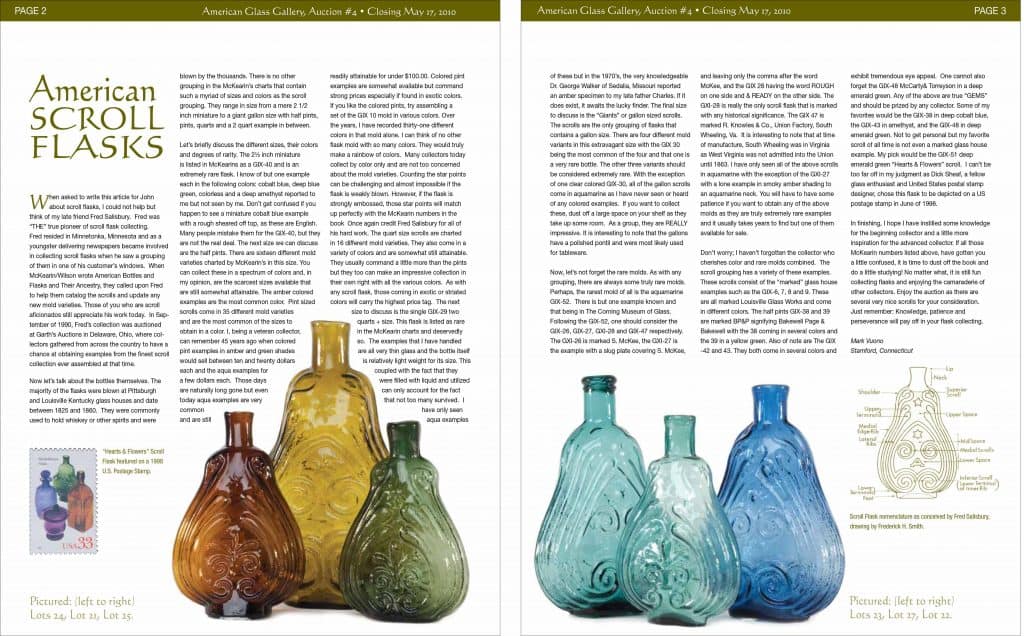 Support: Reference to Price guide to all flasks by Mike Roberts, 1981
Support: Scroll nomenclature by Fred Salisbury. Drawing by Frederick H. Smith.
Support Image: Auction Lot 169: GIX-11 SCROLL FLASK, pint, ill-defined upper star and eight-point lower star, sheared mouth, rough pontil mark. Strong aquamarine, Attribution: United States. Circa: 1840-1860. Condition: Undamaged with just a hint of wear. Size: 7″ H. – Jeffrey Evans, Jeffrey S. Evans & Assoc.
Support Images: Auction Lot 19: Scroll Flask, Midwest America, 1845-1860. Yellow with a strong olive tone, sheared mouth – pontil scar, pint; (light exterior high point wear). GIX-11, Rare and wonderful color. Fine condition. – Norman Heckler, Norman C. Heckler & Company
Support Images: Lot 49: Scroll Flask, probably Louisville Glass Works, Louisville, Kentucky, 1845-1860. Medium yellow amber, sheared mouth – pontil scar, pint; (three chips from the mouth edge, the largest being 3/8 inch). GIX-11 Excellent exterior surface condition. Despite the lip chips this is still a beautiful flask. – Norman Heckler, Norman C. Heckler & Company
Support Images: Lot 321: Scroll Flask, probably Kentucky Glass Works, Louisville, Kentucky, 1845-1860. Medium blue shading to lighter blue in the base, sheared mouth – iron pontil mark, pint; (interior and top edge of mouth have been resin coated, large interior bubble near base has loss of cover glass). GIX-11 Generally fine condition. Dr. Charles and Jane Aprill collection. – Norman Heckler, Norman C. Heckler & Company