Jones' Empire Ink N.Y.
Jones' Empire Ink N.Y.
Theodore Lent, New York City, New York
Multi-Sided Yellow Olive-Green Master Ink Pint
Provenance: Michael George Collection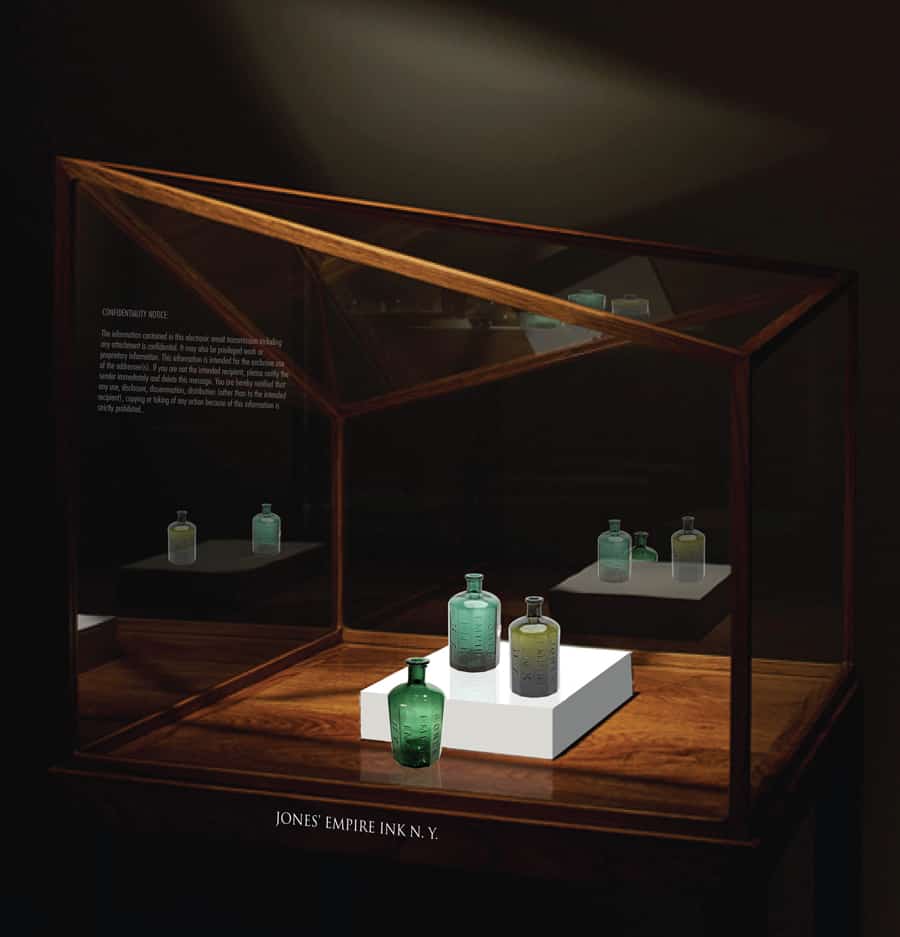 Our museum example represents an extremely rare twelve-sided master ink. This pint-size bottle is 5 13/16″ tall and was blown in yellowish olive green glass, has an applied square collared mouth and a tubular pontil scar. It was previously in the Alan Evanuk collection. The bottle is found in two sizes, pints and quarts. This example is embossed on four consecutive panels, from shoulder to base, in a serif typestyle, 'JONES" (panel 1), 'EMPIRE' (panel 2), 'INK' (panel 3), and 'N. Y.' (panel 4). The bottle was also made in emerald green glass.
The proprietor of Jones' Empire Ink was Theodore Lent who was initially a plumber before he began selling inks and go-withs. He was also a flim-flam man who was married to "The Ugliest Woman in the World."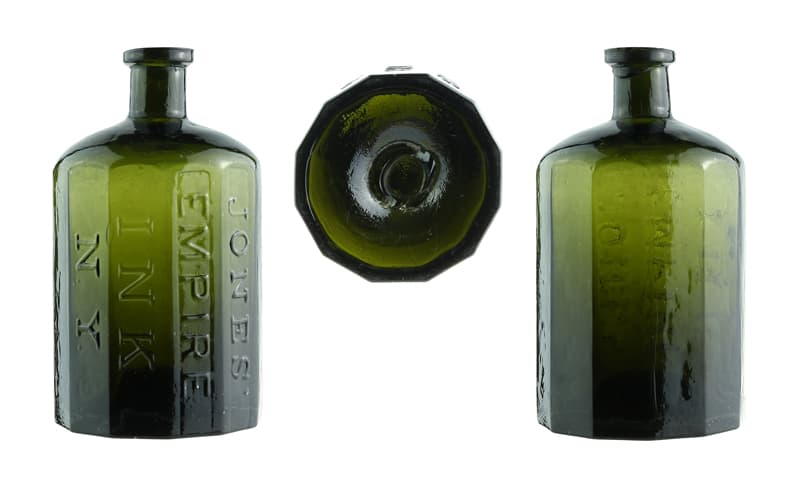 Theodore Lent advertised Jones' Empire Ink for only a short period of time from late 1850 to January 1852. His business address was 87 Nassau Street in the 5-story Sun Building in New York City. His advertising said he was the manufacturer of "Liquid Blueing, Starch, Furniture Polish, British Lustre &c., &c." Other advertising said, "Jones' Empire Black Ink, warranted not to corrode Metallic Pens." He sold his quarts per dozen for $1.50 and his pints for $1.00. You can find the majority of his small advertisements in 1851 in regional newspapers and specialty publications like the United States Post-office Guide and the American Railroad Journal.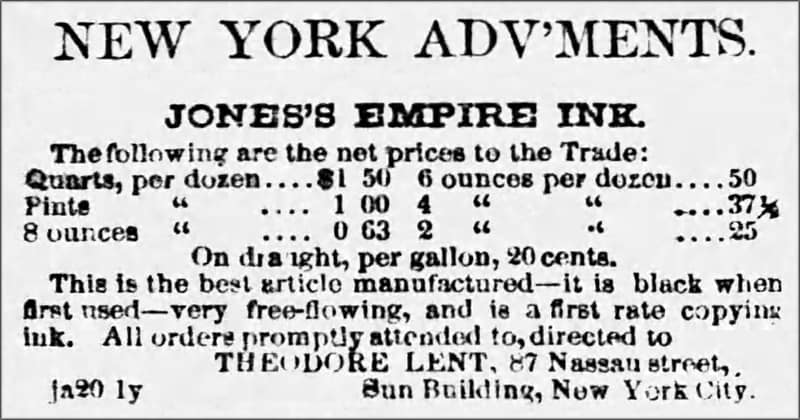 Not too much is known about Theodore Lent other than he was born in New York City around 1826. His father was Samuel E. Lent and his mother was named Catherine. He was living with his parents and working as a plumber in the late 1840s. It is suspected that he took over the ink business from his father who was listed as both a merchant and an agent from 1843 to 1852 or so.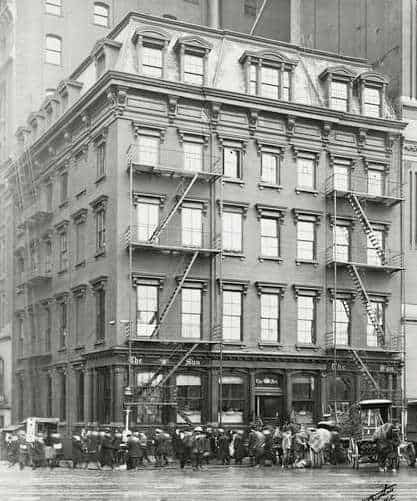 Theodore Lent was frequently in court and listed in newspapers being charged with various nefarious things like obtaining items under false pretenses, leasing space in buildings he did not own, forgery, or embezzlement. For example, Lent was charged with Forgery and False Pretenses for presenting a "forged promissory note to Mr. Christian F. Pfiefer, an importer of watches on No. 35 Courtland Street, dated July 14, 1848, for the sum of $185" purporting to be drawn by Theodore B. Hatfield. For this, Lent received a gold watch. Hatfield was his former employer when Lent was a plumber.
Another time Theodore Lent was arrested on a warrant issued by "Justice Osbourne, in which he stands charged with obtaining $100 and over, from various persons." Lent would present bills to customers on Hatfield's billhead and receive payment when the money was due to his employer. Another time, in 1853, it was a "Matter of False Pretenses" as he obtained several hundred dollars from a female named Bertha Juratzék, a keeper of a house of ill-fame at No. 74 Mercer Street." That same year he was charged with leasing spaces in buildings he was not responsible for nor owned. He seems to settle down for a year or two as an auctioneer. From there he met and married Julia Pastrana, the "Ugliest Woman in the World."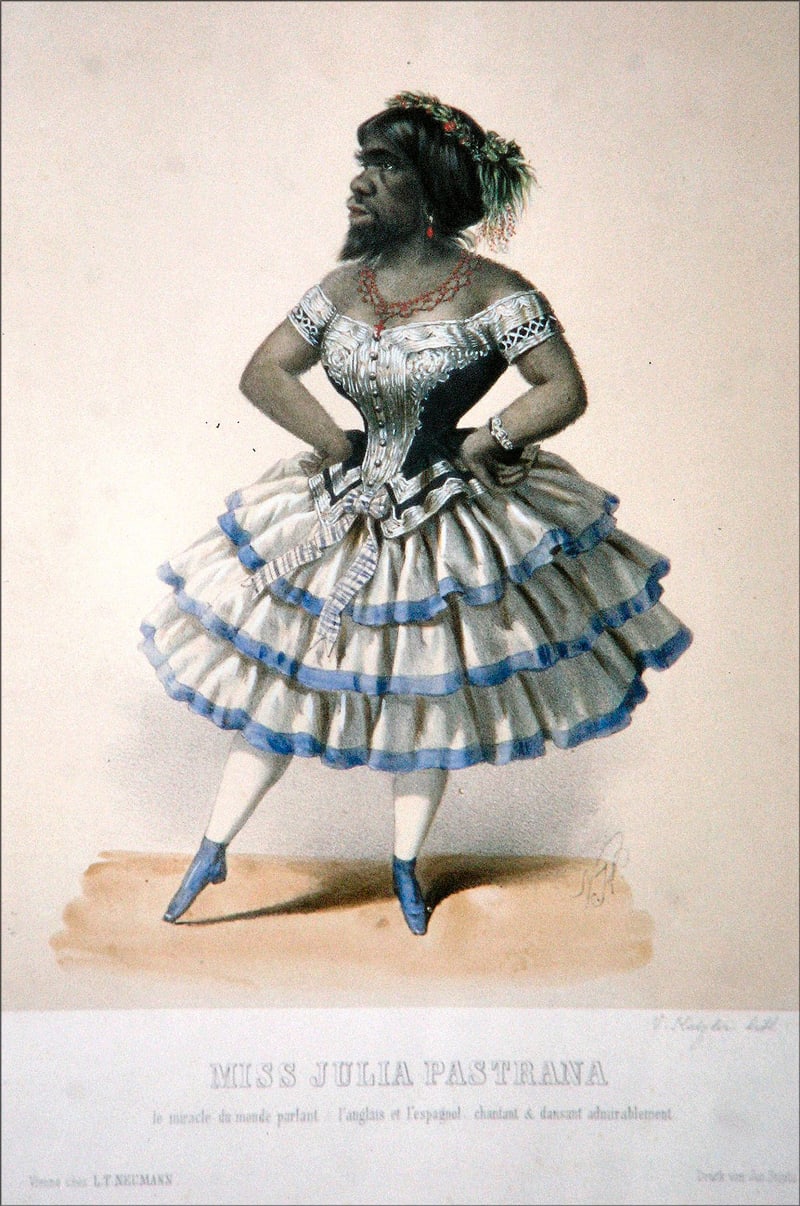 Theodore Lent called his wife, who he would manage for profit, a "bear woman." An 1854 advertisement in the New York Times said she was the "link between mankind and the ourang-outang." She became known in the popular imagination during the mid-19th century as "the ugliest woman in the world." Pastrana was born in Mexico in 1834. She had two rare diseases, undiagnosed in her lifetime: generalized hypertrichosis lanuginosa, which covered her face and body in thick hair, and gingival hyperplasia, which thickened her lips and gums.
It is thought that a customs official in Mazatlán, purchased Pastrana and brought her to the United States. At first, Pastrana performed under the management of J. W. Beach, but in 1854, she eloped with Theodore Lent who she met in New York City, marrying him in Baltimore, Maryland. Lent took over her management, and they toured throughout the United States and Europe. Pastrana was advertised as a hybrid between an animal and a human and worked in sideshows and freak shows under the stage names the "Baboon Lady", the "Dog-faced Woman", the "Hairy Woman", the "Ape-faced Woman", the "Ape Woman", the "Bear Woman", and "The Nondescript". However, during her performances, she illustrated her intelligence and talent: singing, dancing, and interacting with the audience.
During a tour in Moscow, Pastrana gave birth to a son, with features similar to her own. The child survived only three days, and Pastrana died of postpartum complications five days later. After she died, her body and the body of her baby appeared for decades in "freak" exhibitions throughout Europe.
Primary Image: Jones' Empire Ink imaged on location by Alan DeMaison, FOHBC Virtual Museum Midwest Studio
Support: Reference to American Bottles and Flasks and Their Ancestry by Helen McKearin and Kenneth M. Wilson, Crown Publishers Inc., New York, 1978.
Support: Reference to Ink Bottles and Inkwells, William F. Covill, Jr., 1971
Support Image: Auction Lot 77: "Jones' / Empire / Ink / N.Y." Master Ink Bottle, America, 1840-1860. Twelve-sided, yellowish olive green, applied square collared mouth – tubular pontil scar, ht. 5 13/16 inches; (minor roughness on mouth edge). C #769 A very appealing bottle with bold embossing and the always popular sided form. Generally fine condition. Alan Evanuk collection. – Norman Heckler Jr. & Sr., Norman C. Heckler & Company, Auction #159
Support Image: Auction Lot 62: "Jones' / Empire / Ink / N.Y." Master Ink Bottle, America, 1845-1860. Twelve-sided form, bright emerald green, applied square collared mouth – iron pontil mark, ht. 5 3/4 inches. C #769 This one has it all; color, condition and outstanding form. Rare and desirable. Fine condition. Ex Charles B. Gardner collection. – Norman Heckler Jr. & Sr., Norman C. Heckler & Company, Auction #128
Support Image: Item IK144, JONES – EMPIRE – INK N.Y., twelve-sided, bluish emerald green, 7 ¾" high, Iron Pontil, large applied lip, bold embossing, nicely whittled, has a small (3/8") lip repair to the underside of the flanged lip, this is difficult to see and impossible to photograph, also has a few tiny wear marks. One of the best ink bottles in existence. I can find only three of these having been sold at auction in the past thirty-five years, two in deep olive green and this beautiful emerald example. In 2004 one of the deep olive ones brought $17,600 at auction. An impressive, extremely rare and important bottle, circa 1850 – From greatantiquebottles.com, the website of Ed and Kathy Gray.
Join the FOHBC: The Virtual Museum is a project of the Federation of Historical Bottle Collectors (FOHBC). To become a member.