P.E. Weaver King City Soda Works
P. E. Weaver
King City Soda Works
Peter Elijah Weaver, King City, California
Aquamarine Hutchinson
Provenance: Lou Pellegrini Collection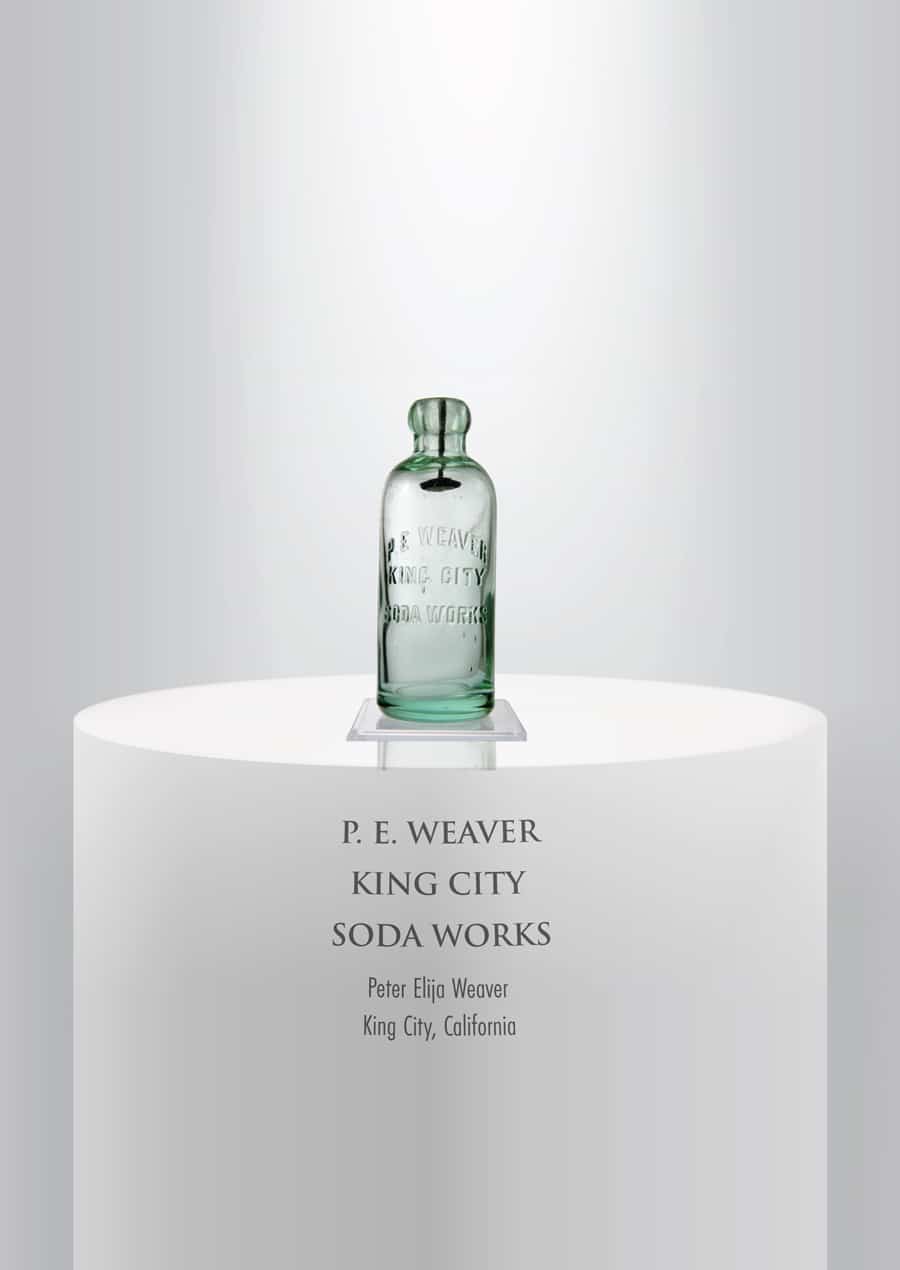 Our pale green aqua P. E. Weaver King City Soda Works bottle is rare. The bottle is cylindrical and is referred to as a Hutchinson or "Hutch" and retains the original stopper. Charles G. Hutchinson invented and patented the Hutchinson Patent Stopper in 1879 as a replacement for cork bottle stoppers which were commonly used as stoppers on soda water or pop bottles. His invention employed a wire spring attached to a rubber seal. Production of these stoppers was discontinued after 1912.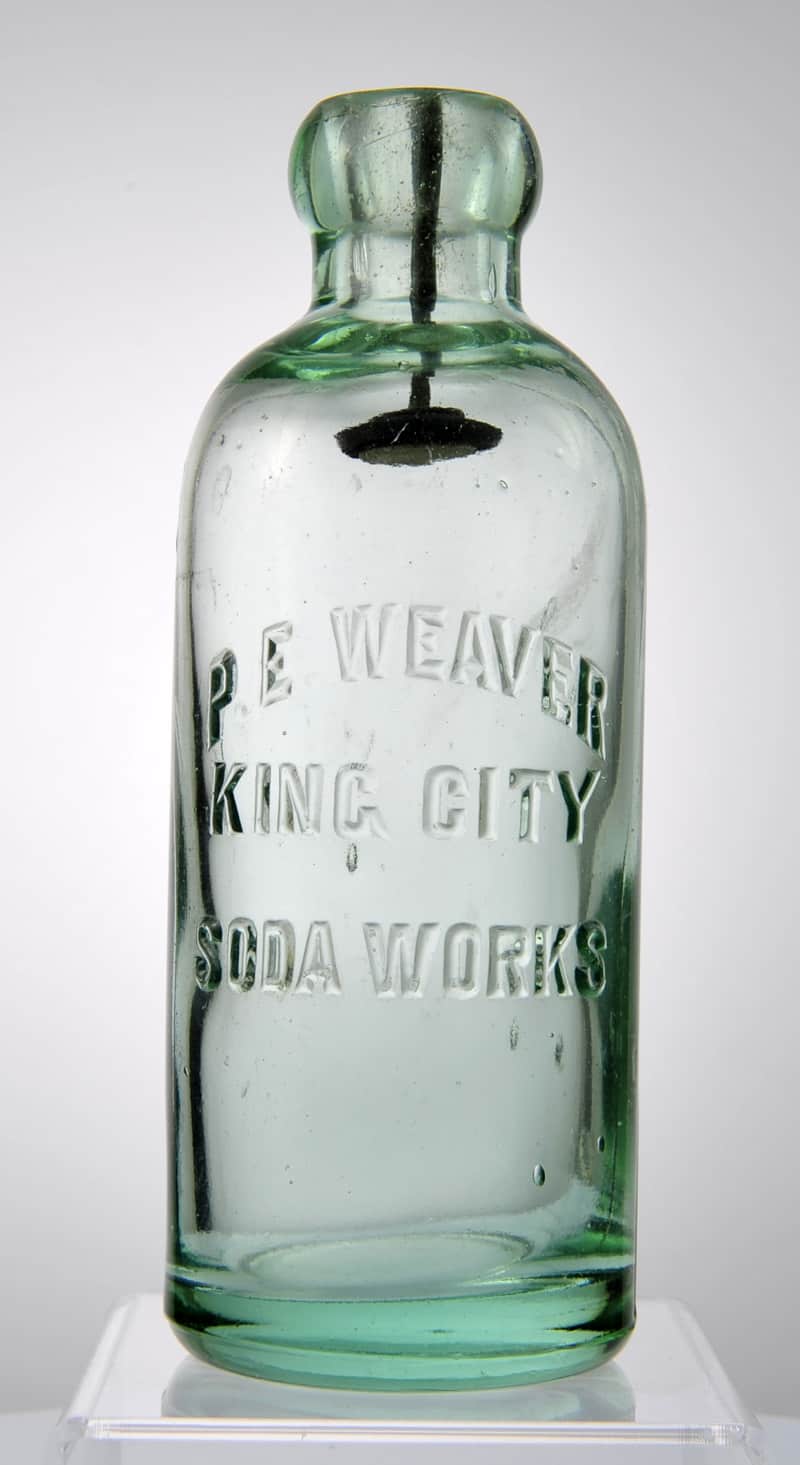 The Weaver King City Soda Works bottle was made in a four-part mold and measures 6 ½ inches tall by 2 ½ inches wide. The bottle is embossed on thefront plate, 'P. E. WEAVER' in a convex arch centered over 'KING CITY SODA WORKS' in two horizontal straight lines. The typestyle has a chamfered look due to the depth of the bas relief.
See the museum example of a "J. C. Buffum & Co. City Bottling House Pittsburgh, Pa." Hutchinson.
See the museum example of the similar C. F. Riley Soda Works bottle.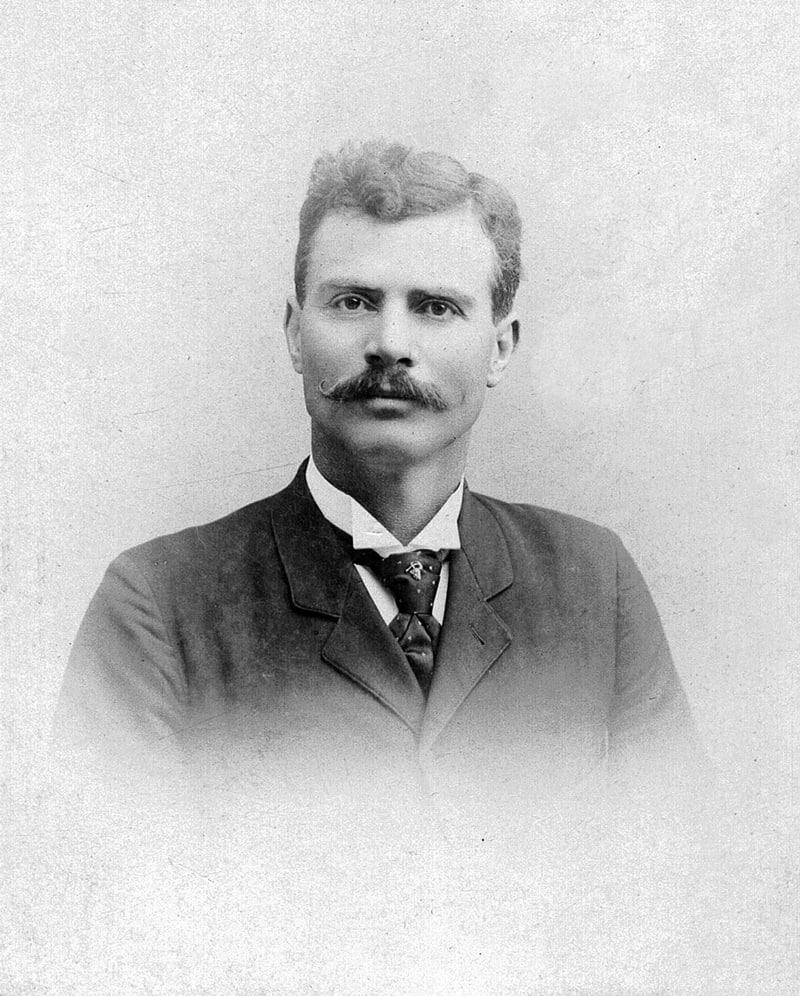 Peter Elijah Weaver was born in Kansas in 1859, according to his tombstone inscription and census records. His father was Peter W. Weaver (possibly born in 1829), and his mother was Ellen (Bunton) Weaver. Peter, the father, was a wagon maker and later a farmer. In his early years, our subject, P. E. Weaver, was a farmer too.
At some undetermined point, Pete Weaver moved to King City, California, where he married Alice (Brown) Weaver (1875-1936). They would have three daughters, Nellie, Alice, and Ellen.
Weaver started his soda water business in the late 1880s or 1890s, as the 1900 United States Federal Census indicates him as an established soda water manufacturer. His business was the King City Soda Works. King City is located in Monterey County, California. In 1908, there was a newspaper notice that said, "The new soda water man, Mr. Bassi, was down from King City the fore part of the week delivering boxes of soft drinks to his customers in town. He has lately purchased the soda works from Pete Weaver."
Weaver would remain in the soda water business, though to what extent is unknown. There was a notice in the 1926 King City Russler noting that P. E. Weaver was an agent for the Salinas Valley Ice Co. located at Third and Ellis Streets in King City. Pete Weaver would die on March 20, 1933.
Primary Image: P. E. Weaver King City Soda Works bottle imaged at the FOHBC Virtual Museum west coast studio by Gina Pellegrini.
Support Image: P. E. Weaver (au) / King City / Soda Works // Aqua, Hutchinson style soda. 6 5/8 ' tall, and a clean bottle. Four-piece mold, with a few nice bubbles in the body. Good condition, with a little base wear, and a 1/4″ flake at the base in front. Also, a few light body scratches. No other problems. Extremely rare…which means less than ten specimens known. In Good Condition. Date: 1890's –1900. City: King City, State: California – Holabird Western American Collections, HWAC #77403
Support Image: P. E. Weaver King City Soda Works, aqua, Hutchinson style soda. – Jeff Wichmann, American Bottle Auctions.
Support: Reference to Soda & Beer Bottles of North America, Tod von Mechow
Support: Reference to The American Pontiled Soda Database Project, Tod von Mechow
Support: Reference to Hutch Book by Ron Fowler. This website focuses on the historical development of the North American soft drink industry from 1879 to World War I. The Hutchinson era features the Hutchinson Bottle Directory, a fully searchable, free access database cataloging extensive data on over 17,000 different Hutchinson bottles.
Join the FOHBC: The Virtual Museum is a project of the Federation of Historical Bottle Collectors (FOHBC). To become a member.