Wells Miller & Provost Fancy Sauce
Wells Miller & Provost
Fancy Sauce Bottle
John B. Wells, Ebenezer Miller & Stephen H. Provost
New York City, New York
Sapphire Blue Sauce Bottle
Provenance: Lou Pellegrini Collection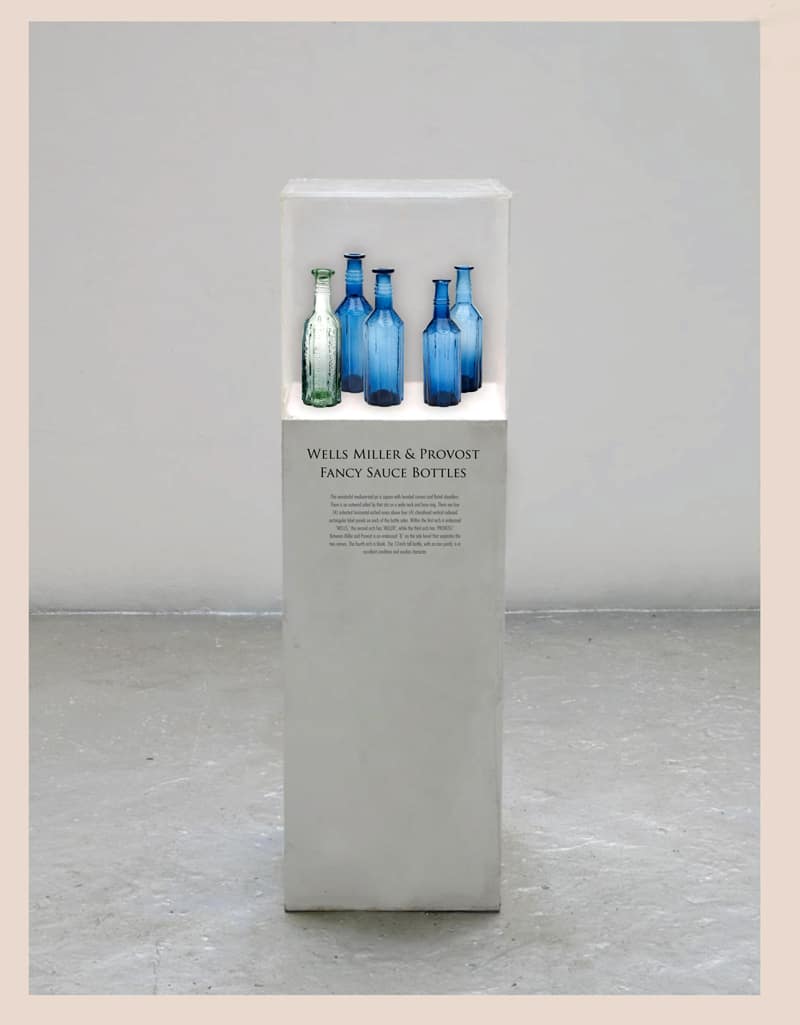 The sapphire blue Wells, Miller & Provost fancy sauce bottles are one of the most sought-after bottles and brands in the Foods & Sauces category. Quite a bit of mold design is evident in bottles that come in roughly two sizes for the shoulder embossed bottles. There are also aquamarine side panel embossed bottles that also contain the Front Street New York City address. All are included in the museum gallery.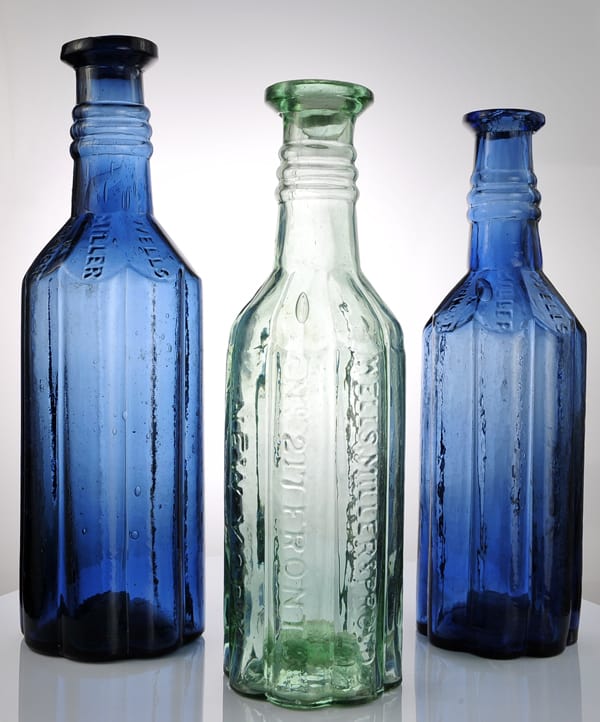 Our subject medium to deep sapphire blue cylindrical form bottle is 9″ tall and has eight convex vertical panels making up the bottle sides. Likewise, there are eight petaled shoulder panels aligning with the side panels. Three sequential shoulder panels have neck-to-shoulder embossed copy reading 'WELLS,' 'MILLER' and '& PROVOST.' The neck is tall, cylindrical, slightly tapered, and connects to an applied square collared mouth with a bevel beneath. The neck is adorned with three bisecting decorative rings in relief. There is a rough pontil scar. A horizontal lead label would have adhered over at least three of the radiused side panels. Surviving labels have been found that identified tomato catsup, peaches, plums, and gooseberries.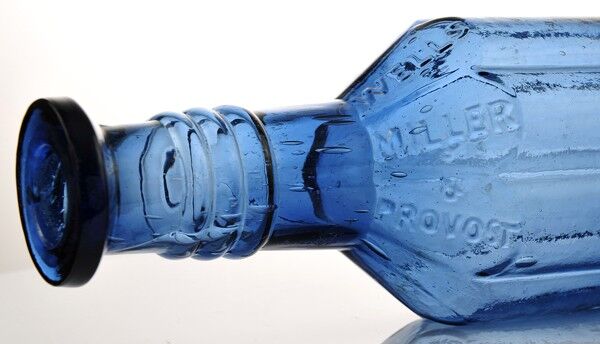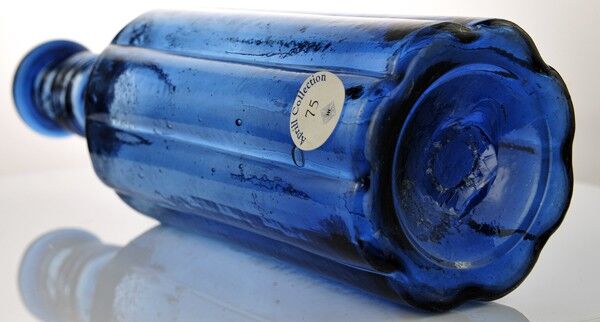 Wells Miller & Provost
John Babcock Wells was born in New York City in September 1812. He was the second son and child of George and Mary (Babcock) Wells. He was one of twelve children which included six sons and six daughters. Both his parents were from old Connecticut stock.
Wells secured an ordinary common school education. One of his first jobs was being an apprentice to learn the trade of chair-painting. During this apprenticeship, when to him a shilling was a large sum, he learned the habits of prudence and economy which followed him throughout life.
Soon after attaining his majority (or perhaps a little before) John Wells, in company with his elder brother George Jr., succeeded his father George in the pickle and preserve business, who had his store on Water Street, near the United States Hotel. George Wells Sr. had been in the grocery business since 1805 or so, much of the time at the 194 Water Street address. The new grocery partnership in 1833 was G. & J. B. Wells at the same address.
In 1835, John Wells married Hannah L. Miller from Stamford, Connecticut. They had five daughters and one son John who would later die in the Battle of Antietam in September 1862. In the early 1850s, Hannah would die and John would marry his second wife, Adeline Rowland. They had two sons and two daughters.
After a few years, John's brother George moved on as John B. Wells was listed as a grocer on Water Street from 1836 to 1839. A partnership with Ebenezer Miller, John's brother-in-law from Stamford, Connecticut, developed in 1841. A listing in Longworth's American Almanack, New York Register and City Directory for 1842 read, "Wells & Miller, pickles, 194 Water, 242 Front." Sometime around 1844, Stephen H. Provost joined the business that was renamed Wells, Miller & Provost. This is the name embossed on our subject bottle.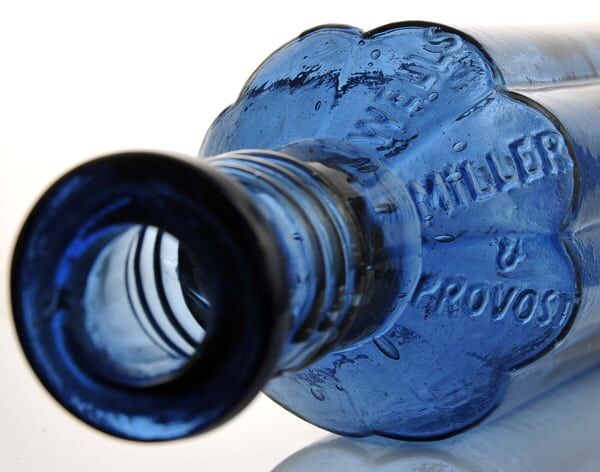 By 1849, Wells, Miller & Provost were advertising their Compound Extract of Blackberry. By 1852, they had expanded and were located at 215 & 217 Front Street and 52 Tompkins. They were prominently advertising pickles and had become one of the most prolific manufacturers and distributers of embossed bottles for that period.
Ebenezer Miller died in the mid to early 1850s and Wells & Provost was formed at No. 321 Pearl Street in New York City. So prosperous were they in business, that on the death of Ebenezer Miller, a few years after, his widow received over $41,000, as his share of the business.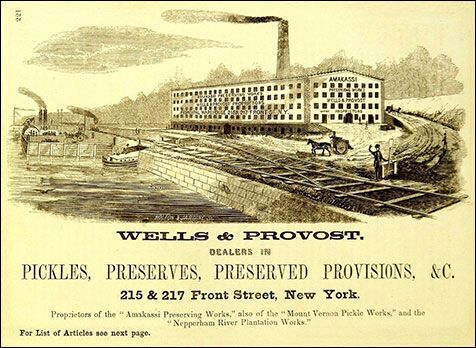 Wells & Provost were the proprietors of Spratt's Patent July 18, 1854 Self Sealing Can for Preserving Fruits, Vegetables &C. Their main warehouse was located on 215 & 217 Front Street in New York. Advertising said, "Wells & Provost, Dealers in Pickles, Preserves, Preserved Provisions, &C., Proprietors of the Amakassi Preserving Works, also of the Mount Vernon Pickle Works and the Nepperham River Plantation Works.
In 1854, the company expanded to the west coast when D. R. Provost, the son of Stephen was sent to San Francisco, California. He established a western outlet for their products, and even filed a trademark in October 1863 for a 'concentrated vinegar.'
Wells & Provost continued in business until 1863 when from ill health and other causes, John B. Wells sold out his interest to his partner, and Stephen Provost continued alone. Wells would die on April 23, 1872.
The the museum example of a Wells, Miller & Provost fancy pickle jar.
Primary Image: Large and small sizes of Wells Miller & Provost sapphire blue shoulder embossed sauce bottles and an aqua side embossed example imaged by the FOHBC Virtual Museum west coast studio by Gina Pellegrini. Examples from the Lou Pellegrini collection.
Support: Reference to American Bottles and Flasks and Their Ancestry by Helen McKearin and Kenneth M. Wilson, Crown Publishers Inc., New York, 1978.
Support: Reference to Ketchup Pickles Sauces – 19th Century Food in Glass by Betty Zumwalt
Support Image: Wells, Miller, and Provost's Compound Extract of Blackberry Created advertisement, c1849. – Library of Congress
Support Image: Auction Lot 47: "Wells / Miller / & / Provost" Fancy Peppersauce Bottle, America, 1840-1860. Cylindrical with eight vertical lobes, medium sapphire blue, applied square collared mouth – pontil scar, ht. 8 inches; (professionally cleaned with remaining wear marks). Z pg. 429, #5 Bright color and attractive form. Dr. Charles and Jane Aprill collection. – Norman Heckler, Norman C. Heckler & Company
Support Image: Auction Lot 75: "Wells / Miller / & / Provost" Fancy Peppersauce Bottle, America, 1840-1860. Cylindrical with eight vertical lobes, medium sapphire blue, applied square collared mouth – pontil scar, ht. 9 inches. Similar to Z pg. 429, #5 Pristine condition with bold embossing. It would be hard to find a better example. Dr. Charles and Jane Aprill collection. – Norman Heckler, Norman C. Heckler & Company
Support Image: Auction Lot 200: "Wells / Miller / & / Provost" Fancy Peppersauce Bottle, America, 1840-1860. Cylindrical with eight vertical lobes, medium to deep sapphire blue, applied square collared mouth – pontil scar, ht. 9 1/8 inches; (professionally cleaned with remaining wear marks, several flakes from edge of mouth, the largest being 1/8 inch). Similar to Z pg. 429, #5 Beautiful rich color and strong embossing. Dr. Charles and Jane Aprill collection. – Norman Heckler, Norman C. Heckler & Company
Support Image: Auction Lot 274: "Wells / Miller / & / Provost" Fancy Peppersauce Bottle, America, 1840-1860. Cylindrical with eight vertical lobes, rich sapphire blue, applied square collared mouth – pontil scar, ht. 8 inches; (1/2 inch chip from edge of mouth). Z pg. 429, #5 Strong embossing and a pretty shade of blue. Dr. Charles and Jane Aprill collection. – Norman Heckler, Norman C. Heckler & Company