Hibernia Bitters
Hibernia Bitters
Braunschweiger & Bumsted
San Francisco, Cal.
H 113

Herman Braunschweiger & Edward H. Bumsted
San Francisco, California

Yellow Square
Provenance: Richard T. Siri Collection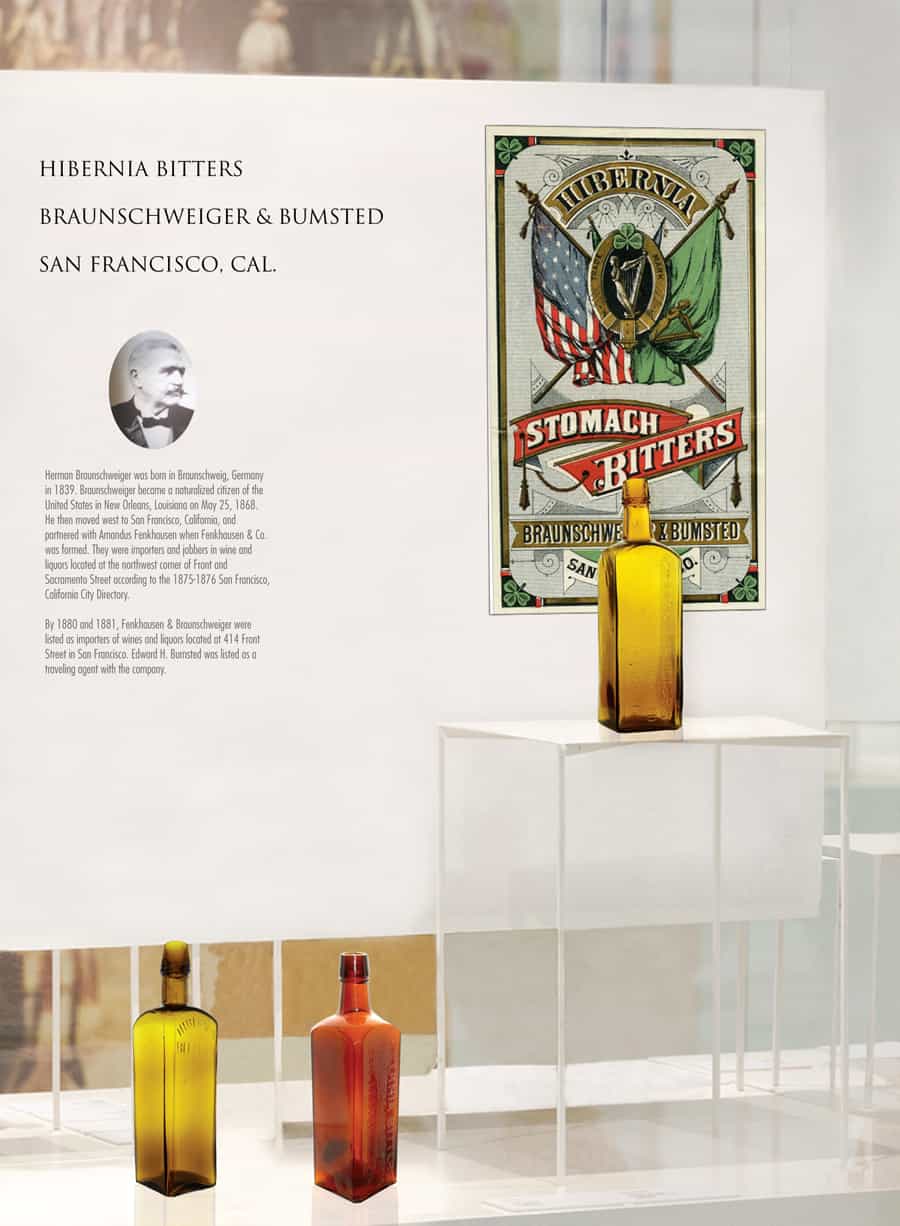 Hibernia Bitters is a very rare western square that is usually found in amber glass. Our museum example is extraordinary as it was made in a very vibrant yellow amber glass that is full of character.
The bottle has an applied mouth, a smooth base and was produced first in 1882. The embossed copy reads, 'HIBERNIA BITTERS' (1st line), 'BRAUNSWEIGER & BUMSTED' (2nd line), and 'SAN FRANCISCO, CAL.' (3rd line). The copy occurs on one face of the four sides. Another blank panel, probably the opposite side, would have been for a paper label.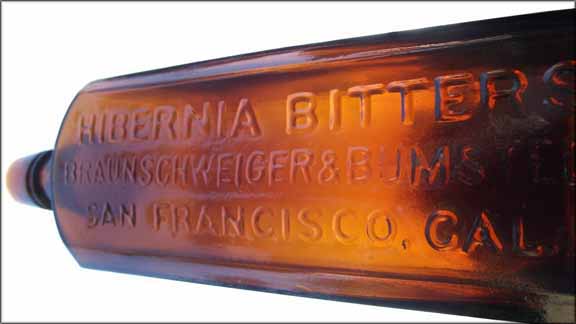 Herman Braunschweiger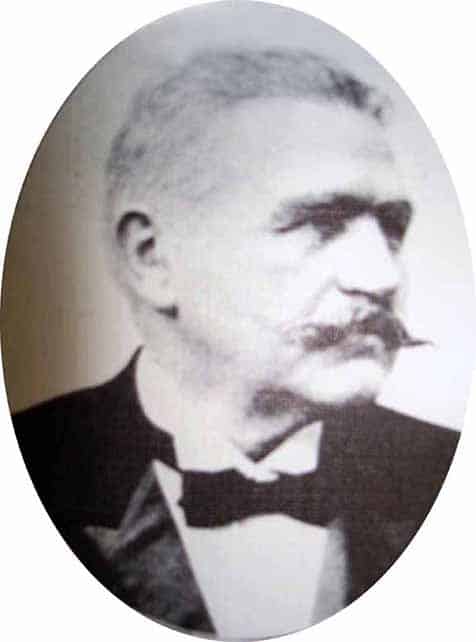 Herman Braunschweiger was born in Braunschweig, Germany in 1839. Braunschweiger became a naturalized citizen of the United States in New Orleans, Louisiana on May 25, 1868. He then moved west to San Francisco, California, and partnered with Amandus Fenkhausen when Fenkhausen & Co. was formed. They were importers and jobbers in wine and liquors located at the northwest corner of Front and Sacramento Street according to the 1875-1876 San Francisco, California City Directory.
By 1880 and 1881, Fenkhausen & Braunschweiger were listed as importers of wines and liquors located at 414 Front Street in San Francisco. Edward H. Bumsted was listed as a traveling agent with the company. See the Old Pioneer Whiskey "Walking Bear" bottle in our museum Spirits Gallery where Fenkhausen & Braunschweiger were Sole Agents.
Braunschweiger would leave Fenkhausen as he partners next with Edward H. Bumsted and they name their business Braunschweiger & Bumsted. See the Bear Grass Kentucky Bourbon bottle in our museum Spirits Gallery where Braunschweiger & Bumsted were Sole Agents.
On April 11, 1882, Herman Braunschweiger representing Braunschweiger & Bumsted of San Francisco, California filed with the Secretary of State their claim for the following trade-mark and label for Hibernia Stomach Bitters that was to be sold in bottles and barrels.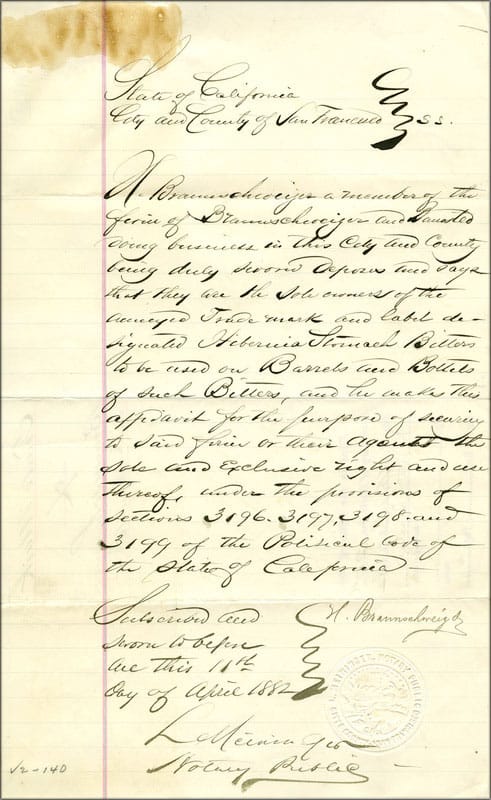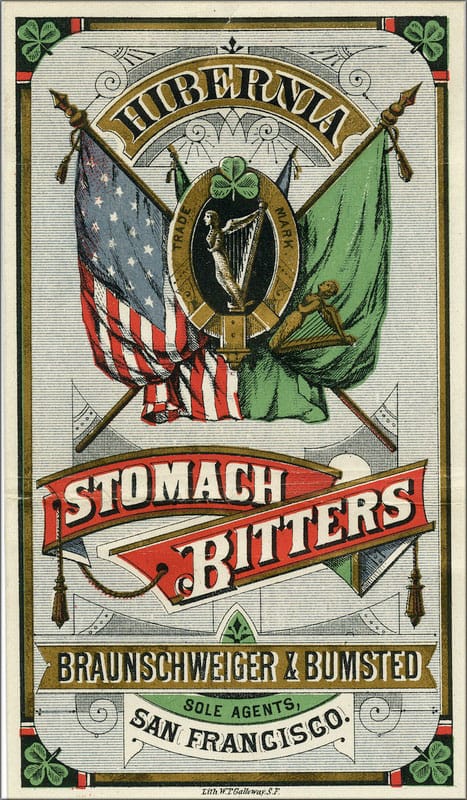 Braunschweiger & Bumsted besides selling Hibernia Bitters were also representing Golden Anchor, Golden Chief, Golden Rule, Golden Cupid, and Silver Wedding liquors. They were located at 223 California Street up until 1884. They announced a Dissolution of Copartnership on August 9, 1884, in the Daily Alta California.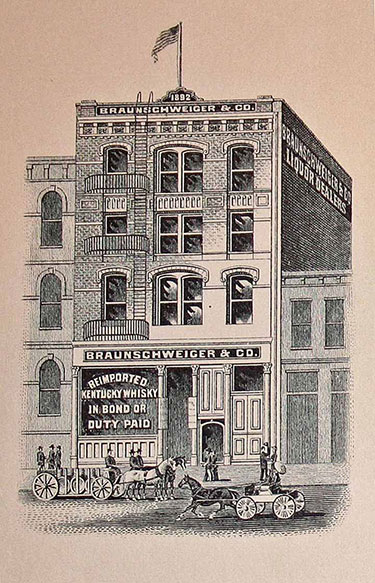 Braunschweiger & Co. was launched that year and announced in the same newspaper. They would prosper for a decade. Along the way, his son Edward would join him in business, first as a bookkeeper.
The Carlyn Ring and W. C. Ham listing in Bitters Bottles is as follows: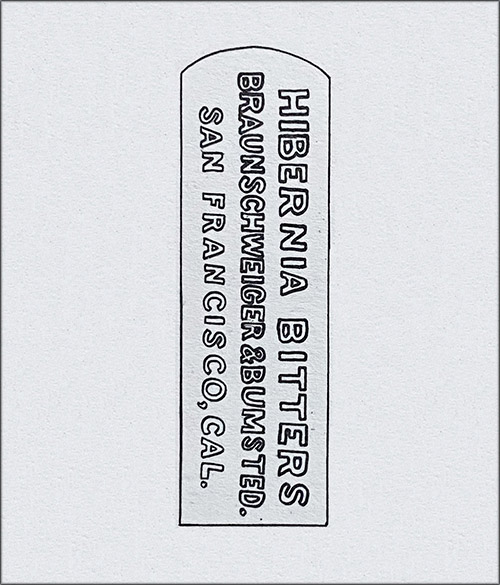 H 113 HIBERNIA BITTERS / BRAUNSCHWEIGER & BUMSTEAD. / SAN FRANCISCO, CAL. // f // f // f //
10 x 2 ¾ (7 ¼) 3/8
Square, Amber, LTCR, Applied mouth, Very Rare
Primary Image: Hibernia Bitters bottle imaged on location by the FOHBC Virtual Museum midwest studio led by Alan DeMaison.
Support: Reference to Bitters Bottles by Carlyn Ring and W. C. Ham. Use of Hibernia Bitters illustration courtesy Bill Ham
Support Image: Amber Hibernia Bitters from the Ferdinand Meyer V collection. Ex: Bryan Grapentine.
Support Image: Auction Lot 45: HIBERNIA BITTERS Applied top H 112 in medium to light amber. 1886-90. These bitters were put out by the Braunsweiger and Bumstead partnership, most known for their Bear Grass whiskey. It's no surprise that they tried their hand at the lucrative bitters market. Here's a beautiful example of this sought-after western bitters. It has the applied top and is in generally great shape. We've not seen a crude example of this bottle, being made in a period of transition, it's not unlikely that there are some out there with more crudity than we've seen. A hard to acquire bottle, this is a good one that grades an 8.5. – Jeff Wichmann, American Bottle Auctions, Auction 70, Part 1 of the Don Dwyer Collection
Support: Reference to Hibernia Bitters, Herman Braunschweiger & the Bumsted guy at Peachridge Glass.
Join the FOHBC: The Virtual Museum is a project of the Federation of Historical Bottle Collectors (FOHBC). To become a member.