Clarke & Co. New-York.
Clarke & Co.
New – York.

Eliza Clarke, New York, N.Y.

Dark Green – Magnum Quart
Provenance: Dave Merker Collection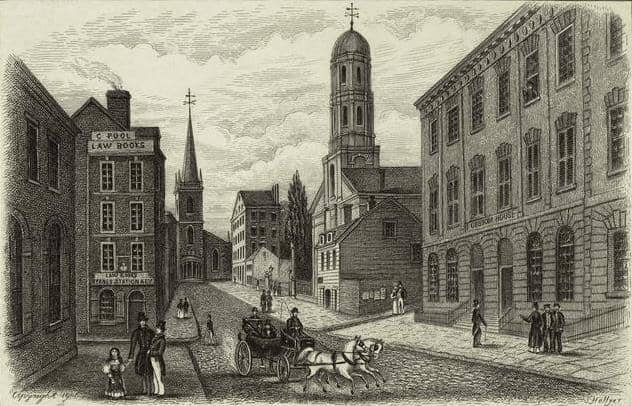 Here is a wonderful example of a dark green, high shoulder Clarke & Co. New-York magnum quart. This crude example is in fine condition and was made at the Mt. Vernon, N.Y. Glass Works. This three-mold example is iron pontiled and has embossed shoulder copy reading, 'CLARKE & CO.' and 'NEW-YORK'.
John Clarke was born on May 12, 1773, in Yorkshire, England, and immigrated to America where he settled in New York City. In 1808, Clarke went into business with Thomas Lynch who was from Ireland. Their Lynch & Clarke Soda Water Establishment was located at 254 Broadway on Wall Street. In 1823, they added Congress Spring mineral water to their repertoire as Clarke had purchased the spring and adjacent land for development. See our Lynch & Clarke museum example.
John Clarke was married to Eliza (Bryer) White who was the widow of Charles White. After Lynch's death in 1833, Clarke had his own bottles made that were embossed 'JOHN CLARKE'. See our John Clarke Museum example. These were the "JOHN CLARKE" and the "JOHN CLARKE – NEW YORK" molds (Tucker C-3 through C-5). We can date these bottles from 1833 to 1846.
After John Clarke's death in 1846, his wife, Eliza ran the company for several years and had bottles produced with the embossing "CLARKE & CO – NEW YORK" (Tucker C-6 through C-9). This would be our museum example.
About 1856, a son from Eliza's first marriage, William White became the owner of the company and had bottles produced embossed 'CLARKE & WHITE – NEW YORK' (Tucker C-10 & C-11). After William White died, Chauncy Kilmer bought a controlling share in 1865 and started the Congress & Empire Spring Company.
Primary Image: Clarke & Co. New York imaged on location by the FOHBC Virtual Museum midwest studio led by Alan DeMaison.
Support: Reference to Collector's Guide to the Saratoga Type Mineral Water Bottles by Donald Tucker
Support image: Auction Lot 250: "Clarke & Co." – "New-York" Mineral Water Bottle, America, 1860-1880. Cylindrical, deep olive green, applied sloping collared mouth with ring – smooth base, quart. T #C-8E Type 1 A beautiful example with lots of whittle, very bold embossing, and foamy bubbles throughout. Fine condition – Norman C. Heckler & Company
Support image: Auction Lot 73: "Clarke & Co. / New York" Mineral Water Bottle, America, 1845-1860. Cylindrical, rich bluish green, applied sloping collared mouth with ring – iron pontil mark, pint; (professionally cleaned with some remaining wear marks). T #C-9A Type 3 Interesting large drip of glass on the interior of the neck. – Norman C. Heckler & Company
Join: The Saratoga Type Bottle Collectors Society. Request information at jullman@nycap.rr.com