Prepared Food Bottle (was Green Indented Panels)
Unembossed Fluted Cylinder Bottle
Probably For Preserved or Prepared Foods
Viridian Green Vessel
Provenance: Lou Pellegrini Collection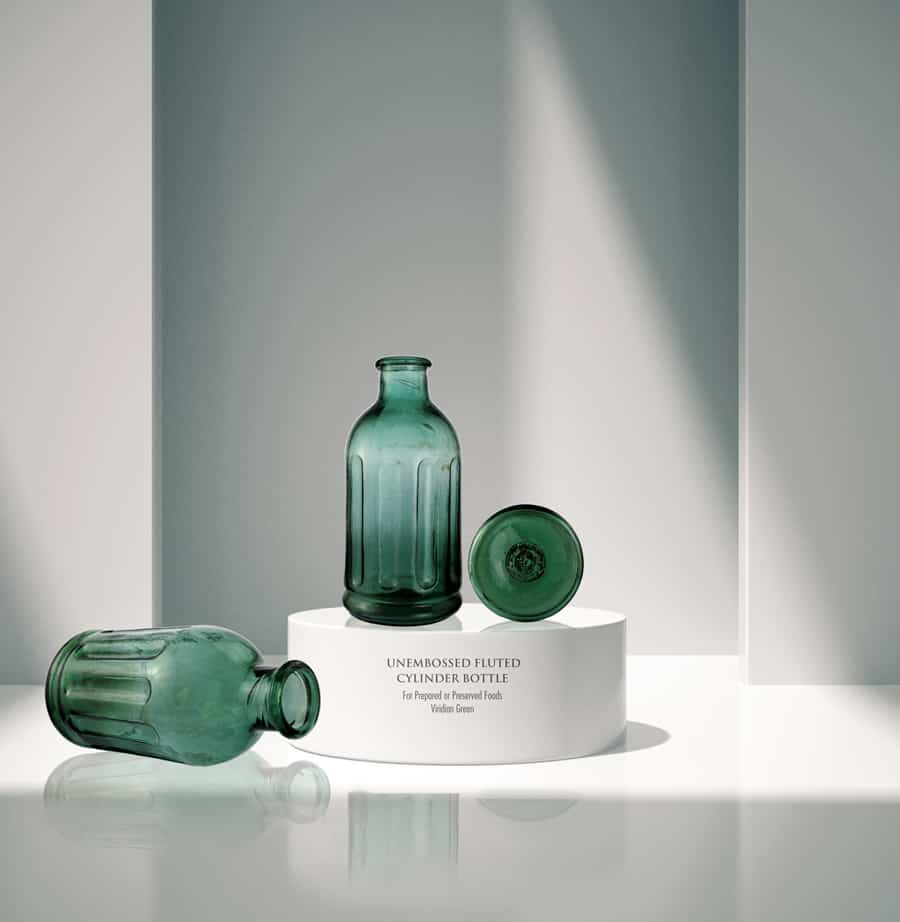 Glass makers offered a wide assortment of cylindrical or round glass vessels designed for bulky food products from the 19th through the mid-20th century. Products like small pickles, relish, or "chow chow," a pickled vegetable mix, were bottled in cylindrical jars similar to our museum example.
These cylindrical food bottles and jars all share the binding elements of having round bodies in cross-sections with relatively parallel sides and fairly wide mouths or bores to facilitate packing and removing the products contained within. These products might have been an assortment of variously preserved or prepared foods with most of the contents usually dried, pickled (sometimes in alcohol) or cured. It should be noted that canning, preserve, and commercial food packers often used jars to contain and distribute their wares during the last half of the 19th century until well into the 20th century. Food packers recognized the value of offering the consumer a re-usable home canning jar along with their product. You can visit the museum Jar Gallery to see various examples.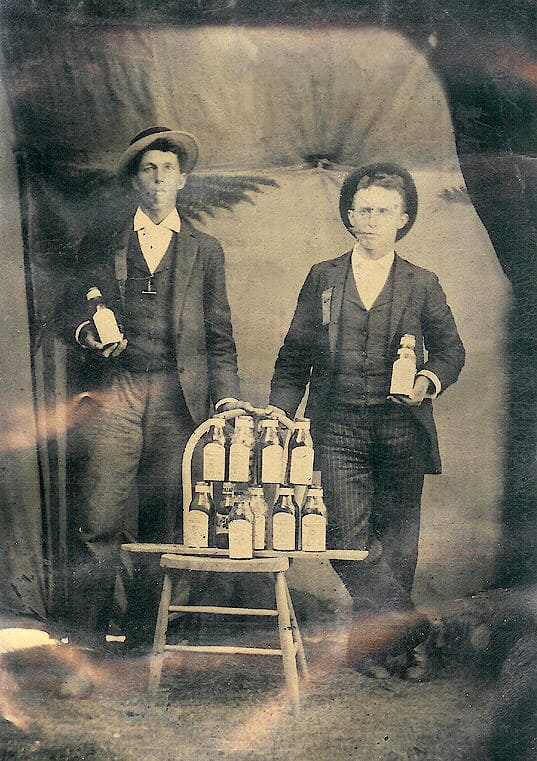 These types of bottles were either free-blown or dip molded with no body mold seams in evidence. They had pontil scarred bases, crudely tooled or rolled mouths and finishes, and an overall crudeness that bespeaks an early 19th-century heritage. The bottles were most likely sealed with a large cork and wax, though could have been sealed with other primitive methods.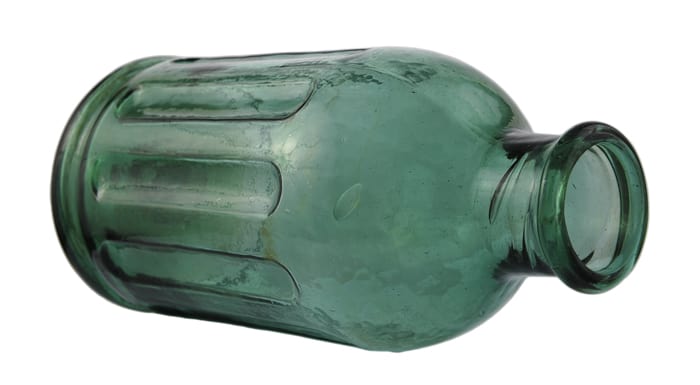 Our museum example is interesting as it is partially fluted. The bottle measures slightly less than 8 1/2 inches tall and slightly more than 3 1/2 inches wide. The rich viridian green glass has seven recessed vertical "finger" or "hotdog" depressions. The shoulders are rounded, connecting to a short neck with a nicely rolled medium-wide mouth. The bottle form sits on a pronounced bulbous pedestal ring curving and rebounding under the bottle form and base, which is iron pontiled. The bottle is not embossed as far as the proprietor, maker, or product. The bottle producer would have placed the proprietor's paper label on the opposite smooth side of the cylinder.
Primary Image: Unembossed fluted cylinder bottle imaged by the FOHBC Virtual Museum west coast studio by Gina Pellegrini.
Support: Reference to Ketchup Pickles Sauces – 19th Century Food in Glass by Betty Zumwalt, 1980
Support: Reference to Historic Glass Bottle Identification & Information Website, Bill Lindsey
Join the FOHBC: The Virtual Museum is a project of the Federation of Historical Bottle Collectors (FOHBC). To become a member.