J. Sargant's Japan Ink Alleghenytown
J. Sargant's Japan Ink Alleghenytown
John Sargant, Allegheny City, Pennsylvania
Blue Aquamarine Ink Bottle
Provenance: Chip Cable Collection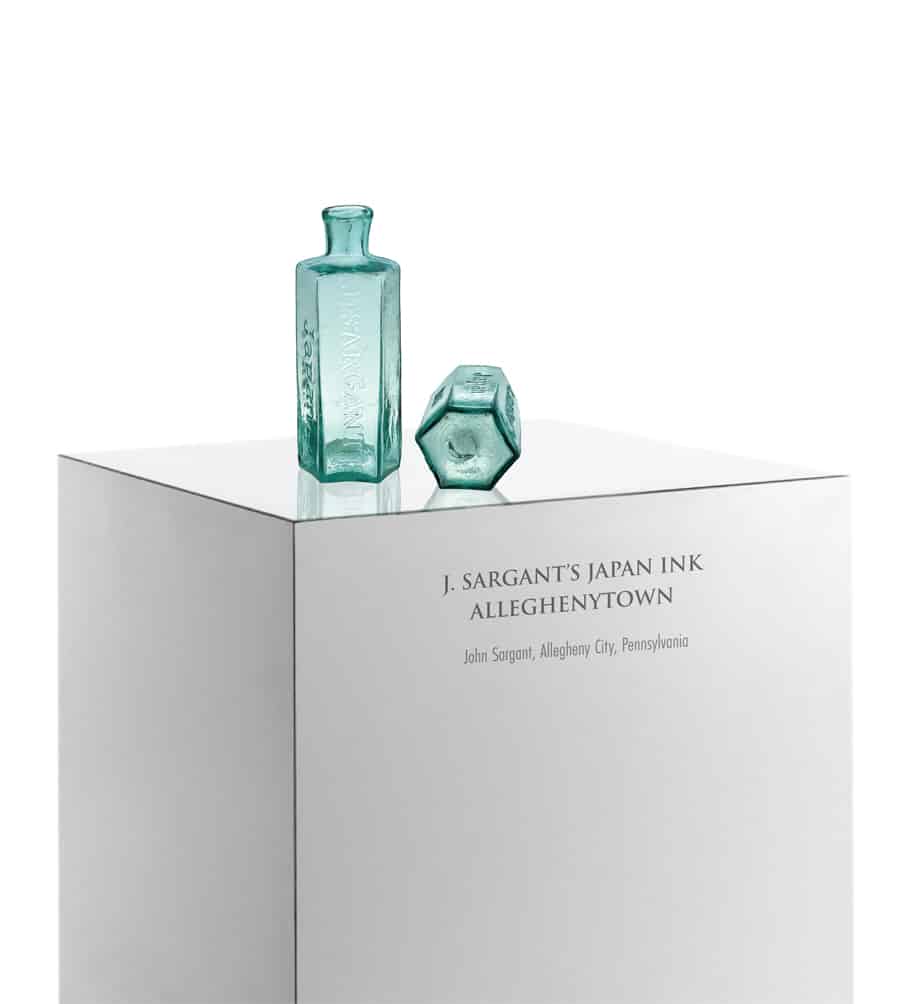 Our "J. Sargant's Japan Ink Alleghenytown" bottle is extremely rare as only two examples are reported in collections. The 4 1/2 inch tall, multi-sided blue aquamarine bottle is misshapen and crude and has a tooled mouth and a base pontil scar. It was blown in a Pittsburgh glasshouse in the late 1830s. The consignor obtained the bottle from an Ohio collection.
Information suggests that the small and large bottles used by ink manufacturers for packaging were common utilitarian types of the time, which could have included square, polygonal, and cylindrical bottles. The kinds of ink offered to the public were red, black, India, French and Japan. There was also ink for marking fabrics and by the time of the Revolution, a method of stamping instead of writing on fabrics had been invented.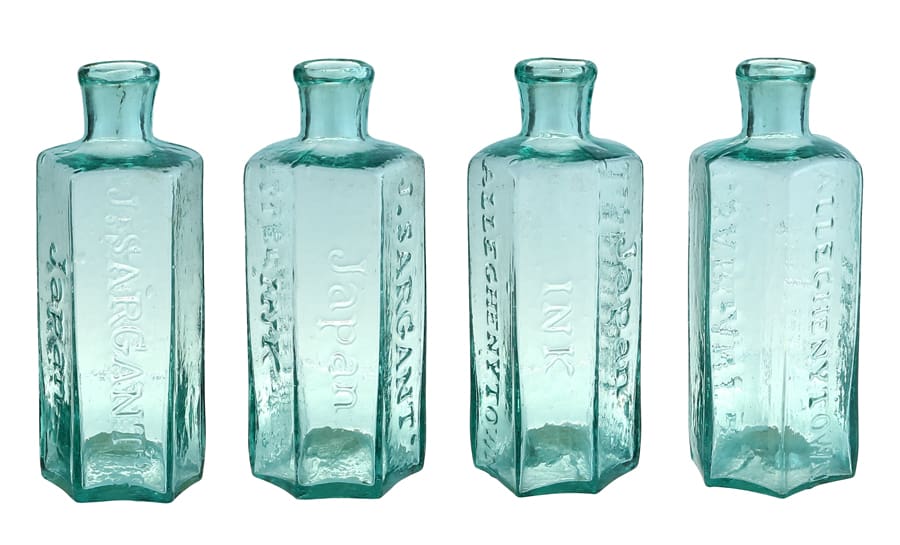 The hexagonal ink bottle is embossed shoulder to base on four successive panels reading 'J. SARGANT'S' (panel 1–uppercase serif type), 'Japan' (panel 2–initial cap serif type), 'INK,' (panel 3–uppercase serif type), and 'ALLEGHENYTOWN' (panel 4–uppercase smaller serif type). "Alleghenytown" probably should have read, "Allegheny City" with a space but was shortened to fit the panel. The fifth and sixth panels are blank and may have displayed a long-lost paper label.
The City of Allegheny was laid out in 1788, and lots were sold in Philadelphia by the State government or given as payment to Revolutionary War veterans. It was incorporated as a borough in 1828 and as a city in 1840.
Japanese ink was first recorded in 610 AD when a Korean monk transmitted ink production methods to Japan. Besides carbon soot, the other ingredient of traditional Japanese ink was animal-based glue extracted by boiling the dermis or the layer of skin below the epidermis of an animal such as a cow or a deer. The glue was highly adhesive and was used as a bonding agent in traditional art forms. Sticks of ink were produced by mixing the soot with this glue and drying it. In addition, fragrant substances such as musk, borneol, or Japanese apricot blossom essence was added to lessen the glue's unpleasant smell. The result was a clean scent when the ink stick was rubbed down.
In colonial America, literacy was growing though writing letters was somewhat expensive when you included mailing. There was, however, a broad market and need for ink for diaries and books. Commercially manufactured ink was sold by printers, stationery and bookshop keepers, libraries and even apothecary shops. The ink bottles and inkwells were made by American glasshouses who would use French, British, India, or Japan ink that was manufactured for distribution and imported to America. Japanese or Japan Ink ink was sold in Europe in the 1700s and appeared in New York newspaper advertising around the turn of the century.
See the museum example of a Bertinguiot Inkwell.
From the best we can tell, John Sargant was born in Virginia sometime around 1807. We first see listings and notices for John Sargent and even Dr. John Sargant, in Allegheny City (Pittsburgh) in the 1830s. In 1842, his first discoverable Japan Ink advertisement stated, "John Sargant, Druggist and Apothecary, Federal street, Allegheny City.—selling 20 gross and 5 barrels Japan Ink, warranted first quality.—Also, a carefully selected assortment of Drugs, Medicines, Paints, Dye-stuffs, Oil, Turpentine &c., Diuretic or Back-Ache Pills, Liver Pills, certain cure for the Dysentery, Diarrhoea (sic), &c., for sale.
There is evidence that after his time in Pittsburgh, Sargant would move to Louisville, Kentucky, and become successful in the drug business and real estate, where his real estate value was $10,000 and personal estate $500, in 1860. Not much more is known of Mr. Sargant.
Primary Image: The J. Sargant's Japan Ink Alleghenytown bottle imaged on location by Alan DeMaison, FOHBC Virtual Museum Midwest Studio.
Support: Reference to Ink Bottles and Inkwells, William F. Covill, Jr., 1971
Support: Reference to Nara Ink, Japan's oldest and largest sumi ink production area
Join the FOHBC: The Virtual Museum is a project of the Federation of Historical Bottle Collectors (FOHBC). To become a member.