James Connor 819 Carpenter St Philada Weiss Beer
James Connor
819 Carpenter St
Philada
Weiss Beer
James Connor, Philadelphia, Pennsylvania
Multi-Sided Weiss Beer
Provenance: Tod von Mechow Collection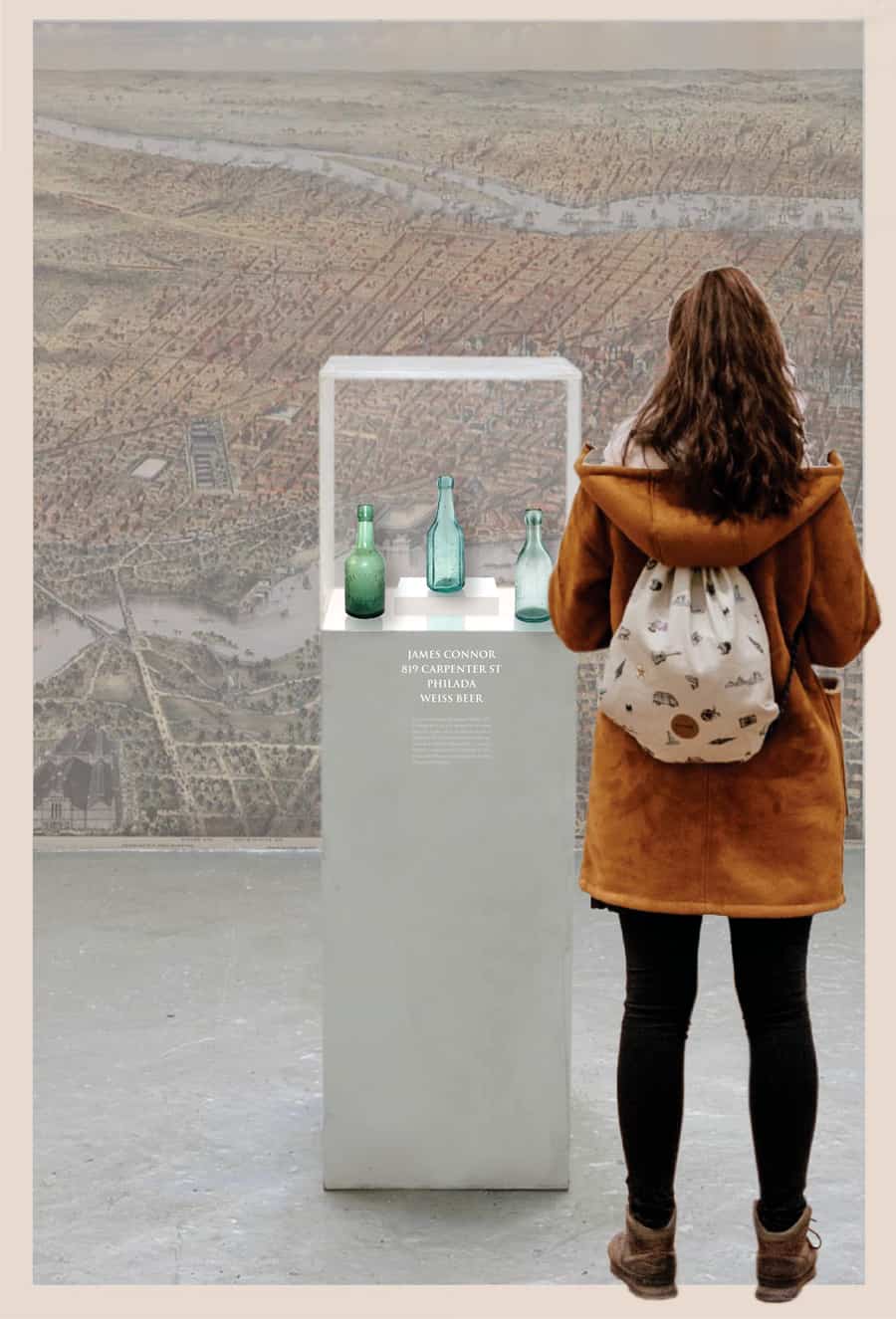 James Connor, of Irish descent, came to America destined to be a soda water manufacturer and bottler. We see him first in Philadelphia in 1867 and can follow him year by year through the turn of the century at the same address, save for a few years. One of the bottles associated with Connor is our wonderful multi-sided Weiss Beer bottle.
Weiss Beer or Weissbier is the classical wheat beer of Bavaria and one of Germany's most outstanding and distinctive beer styles. Weissbier means "white beer" in German. This name derives from the yellowish-white tinge imparted by the pale wheat and barley malts from which the beer is made.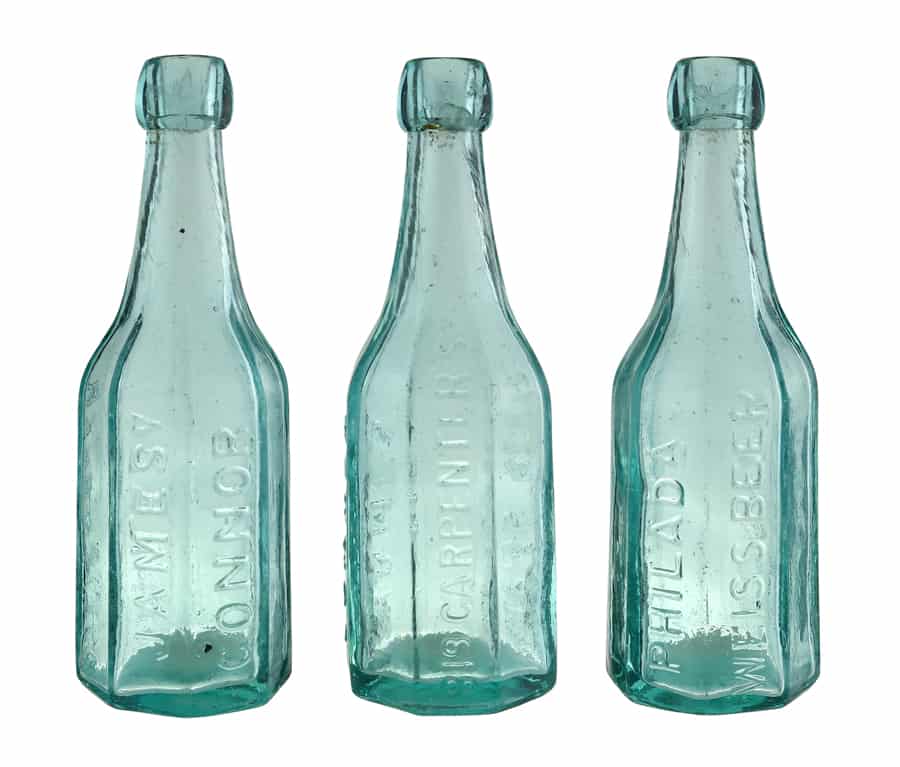 Our unusual sided Weiss Beer bottle measures 8 1/8 inches tall by 2 ¾ inches wide. The aquamarine bottle has eight distinct sides and is embossed on five sides in a sans serif typestyle, from base to shoulder, 'JAMES CONNOR 819 CARPENTER ST. PHILADA WEISS BEER.' The "T" in "ST" and the "A" in "PHILADA" are raised, smaller and underlined. Two bottle side panels are blank. The bottle neck is tapered and terminates with an applied rounded tapered mouth. The base is smooth. The glass manufacturer is unknown.
James Connor was born in Ireland around 1843. His life story is elusive though we first see him in 1867, a young 24 years old, as a partner with Smith & Co. located at 1033 Pascal Street in Philadelphia. Thomas Smith, Michael J. Maloney and James Connor were listed as bottlers. We have included a bottle image from this juncture.
Sometime in late 1868, Smith & Co. moved to 819 Carpenter Street. This address was constant up to 1908 or so. From 1874 to 1878, Smith was absent from the partnership, which now was called Maroney & Connor. They would alternately be listed as bottlers and mineral water manufacturers in Philadelphia city directories. James Connor was also living at the 819 Carpenter Street address.
The 1880 United States Federal Census reported that James Connor was 37 years old, with occupation listed as a mineral water manufacturer. His family members at the 819 Carpenter Street Philadelphia address included Catherine, 40, wife; Annie, 17, daughter; Regina, 14, daughter; Catherine, 12, daughter; James, 7, son; George, 5, son; and Margaret Connor, two months, daughter.
1880 would also be the year that James Connor would run his mineral water and bottling business alone until his death after the turn of the century. From 1882 to 1885, Philadelphia city directories also promoted that James Connor was manufacturing and distributing Weiss Beer as embossed on our bottle.
One interesting fact is that the German brewers used pottery bottles for their Weiss Beer bottles, while the English and Irish bottlers of Weiss Beer used glass bottles during the same period.
Primary Image: "James Connor 819 Carpenter St Philada Weiss Beer" bottle imaged on location by Alan DeMaison, FOHBC Virtual Museum Midwest Studio.
Support: Reference to Soda & Beer Bottles of North America, Tod von Mechow
Support Images: Second example of "James Connor 819 Carpenter St Philada Weiss Beer" courtesy Wayne Huebschman, Soda & Beer Bottles of North America.
Join the FOHBC: The Virtual Museum is a project of the Federation of Historical Bottle Collectors (FOHBC). To become a member.